Weekend Boxset: World Cup Qualifiers, UEFA Matchday 6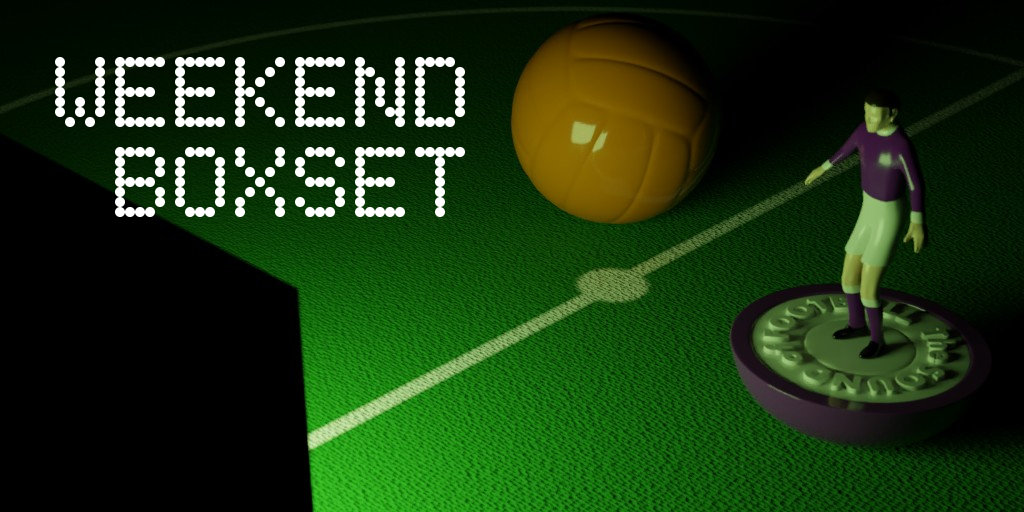 Six great matches to take you from Friday to Sunday. It's the Sound of Football Weekend Boxset.
All times are BST (GMT +1)
Nearly all the European World Cup qualifiers will be transmitted in the UK between ITV, SKY and S4C in Wales. What follows is my selection with occasional references to other games you may want to keep an eye on.
Friday
World Cup Qualification, UEFA Group A: Sweden v France
19.45 on Sky Sports 1
The final weekend of the European season gets underway with the top two teams in Group A kicking off in a must-win encounter for both sides. The onus is greater on the Swedes who have a three point gap to overhaul and could top the group with a win. But they'll be puffing their cheeks out as they look upon a French squad already laden with talented players like N'Golo Kanté, Paul Pogba and Antoine Griezmann, joined by breakout youngsters Ousmane Dembélé and Kylian Mbappé. Pity poor Pontus Jansson.
Elsewhere in this group, the Netherlands simply must find a barrel load of goals against Luxembourg (19.45 on Sky Sports Red Button) and hope that Bulgaria trip up against Belarus (19.45 also on the Sky Sports Red Button). The Dutch are showing a few signs of recovering and lie in fourth on seven points. However, if the conditions are favorable they could rise to second.
Saturday
World Cup Qualification, UEFA Group F: Scotland v England
17.00 on ITV 1 & Sky Sports 1
England coach Gareth Southgate's attempt to fashion a team ethic among his player resorted him to packing them all off on a Royal Marine boot camp that would have had the FA accounts department rubbing their glasses with concern at the insurance bill. Everyone came through unscathed and now emboldened with militaristic bondage the English travel north to face a Scotland team whose national press are wondering just how long after the result they will have to wait before the coach Gordon Strachan is sacked. Levity aside, this game is being played against an emotional backdrop of a national election, only two days earlier, and in the wake of terrorist attacks that have shaken the UK. This is likely to be a tense match on many levels, which the Police would rather have been played earlier. Let us hope that afterwards we are only talking about the game.
Meanwhile, in Group C, second placed Northern Ireland travel to Azerbaijan (17.00 on Sky Sports 4). Can the Irish consolidate their position behind Germany, who will be humping San Marino later in the evening (19.45 on Sky Sports 1).
World Cup Qualification, UEFA Group E: Poland v Romania
19.45 on Sky Sports Red Button
Only a point separates second to fifth in Group E. Top team, Poland are scuttling over the horizon on 13 points, a clear six ahead of Montenegro and Denmark, with Romania and Armenia just a point behind them, so I guess this is not so much about catching the Poles but trying to get ahead in the playoff race. That being said, Group E are currently bottom of the playoff table so all of the chasing pack need to get a move on or they're liable to be landed with the mother of all wooden spoons. Romania's task is all the greater against a Polish team who have only dropped points once this campaign, against bottom of the group Kazakhstan. When theses sides met in Bucharest, the home side lost 3-0. If Robert Lewandowski can improved on his 8 goals in this qualifying period, they should be another step closer to Russia.
Also, in this group, Denmark are off to Kazakhstan (17.00 Sky Sports Red Button) and Montenegro host Henrikh Mkhitaryan's Armenia (19.45 also on Sky Sports Red Button).
Sunday
FIFA U20 World Cup Final, Venezuela v England
11.00 on British Eurosport 2
England are rubbish at International tournaments, right? Well this summer is already something of a golden one for the Three Lions. Their U17s made it to the final of the annual UEFA tournament (losing to Spain on penalties), the U18s made it to Saturday's final of the Toulon tournament, and here the U20 side have reached the Youth World Cup final for the first time ever. England came from a goal behind in their semi final against Italy to win 3-1, a scoreline that did not flatter their performance in any measure. New Liverpool signing Dominic Solanke scoring twice and providing an assist for Everton's Ademola Lookman. Venezuela are the surprise package of the tournament but have four players who have already featured as full internationals, including Manchester City loanee Yangel Herrara. It was his decisive penalty in the semi final shootout that saw them through against Uruguay, after his side snatched a late equaliser. Venezuela have conceded just two goals in their six games including a highly controversial penalty awarded with the dubious help of the Video Assistant Referee in their semi final.
Given the performances of the England sides so far this summer, it may be of interest to follow the progress of the U19 team and the U21 team in their respective UEFA tournaments in Georgia in July and in Poland later this month.
World Cup Qualification, UEFA Group D: Republic of Ireland v Austria
17.00 on Sky Sports 1
Ireland's steady, if unremarkable improvement under Martin O'Neill continues. They are second in Group D, level on points with Serbia. However, with Wales and Austria beneath them they have dangerous opponents and it is entirely possible that only one point could separate four teams by the end of play on Sunday. Austria were disappointed to lose to the Republic in Vienna but, with a few notable exceptions, are lacking true quality. In fairness, you could also say the same about the Irish and perhaps, after a long domestic season, a home reverse is not out of the question.
World Cup Qualification, UEFA Group D: Serbia v Wales
19.45 on S4C & Sky Sports 1
This is a tough test for the Welsh in Belgrade against the group leaders. While not a vintage side this Serbian team has plenty of steel in the shape of Aleksandar Kolarov, Nemanja Matić, Aleksandar Mitrović, Serbian player of the year Dušan Tadić and of course new Crystal Palace favourite Luka Milivojević. If the defensive midfielder ends up on the winning side he may even have an influence on the identity of his club boss. Should Wales lose for the first time in this qualifying phase, manager Chris Coleman may seek new pastures and quit while he is ahead. His team have managed only one win so far and Wales need a result to get back in the hunt. Meanwhile, the Palace manager's job is still vacant and Coleman is a former player of some standing.
This is the last Weekend Boxset of season 16/17, we will start again with the new season in August.
See you then and have a great summer.