Weekend Boxset: Experience Bij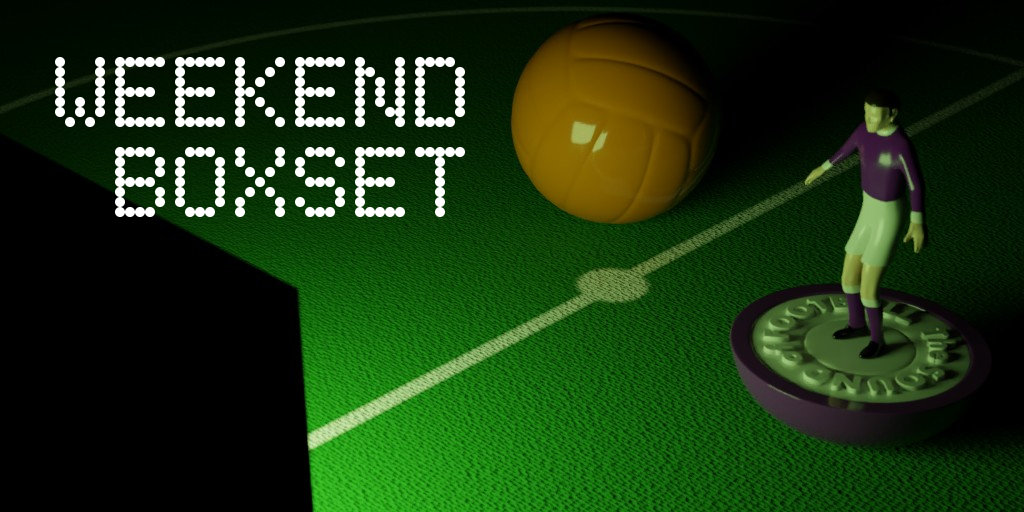 A Midland derby, Spurs still at Wembley, Joel Campbell's latest European adventure, and Harry the Hornet's leaving party.
Seven great matches to take you from Friday to Sunday. It's the Sound of Football Weekend Boxset.
All times are BST
Friday
Championship: Birmingham City v West Bromwich Albion
19.45 on Sky Sports Football & Main Event
Pfff! The Nations League has barely started and here we are already taking a break for club football. Oh well. Let us console ourselves with what we hope will be a full-blooded Midlands derby. There are however, dark clouds looming over St Andrews. Birmingham City has fallen foul of the EFL's financial governance laws. City is currently running at a loss that exceeds the threshold laid down by the League. A transfer embargo was imposed in the summer and a points deduction is in the offing. Moreover, Garry Monk's team are fifth from bottom with a miserable four points. This club seems to lurch from one crisis to the next with no sign of being able to take a breath, let alone move forward. West Brom are doing OK under new coach Darren Moore and not showing too many signs of post relegation ennui. This is possibly because they were able to forward plan for Championship in April. Apparently the new coach has freshened up the tactics board and brightened the mood at the Hawthorns. A chance to edge closer to the top is available with a win against the Blues. TD>
Saturday
Premier League: Tottenham Hotspur v Liverpool
12.30 on Sky Sports Premier League & Main Event
As late as July, this match was scheduled to be the first game at the new White Hart Lane. That first game in their rebuilt stadium is now pencilled in as being their home game against Chelsea on 24 November but, well, put it this way I'd hold back on posting your Christmas card to them at that address. Klopp's side will feel they need to make up for their performance at Wembley last season. That 4-1 defeat marked a turning point in Liverpool's campaign - one they're still enjoying, while for Spurs it seemed to finally bury the notion they had a Wembley "hoodoo" (yeah, remember that). Top of the pile with four wins from four, Liverpool should go into this with a lot of confidence, Spurs meanwhile will be hoping that their defeat against Watford is not an indication that problems off the field are spilling on to it. GS
Premier League: Watford v Manchester United
17.30 on BT Sport 1
Many are quick to emphasise the importance of managerial stability at football clubs. If a coach can establish themselves then they are likely to prosper. Frequent changing of coaches, they say, is not good for a club's long term success. Watford however, are showing that this thinking is all a bunch of Paul Merson. Since August 2014 the Hornets have had 8 (eight) different coaches. In some cases (such as Oscar Garcia and Billy McKinley) the circumstances have been unfortunate. However, Marco Silva, Walter Mazzarri and Quique Sanchez Flores have all come and gone with great haste and Watford have not only survived but thrived. While few expect them to maintain their 100% record for long, their most recent win was against a decent team (with all due disrespect to Burnley, Palace and Brighton). It looks, from the outside, that any chaos at the Hertfordshire club is only surface deep and that things are running pretty smoothly. By contrast, Manchester United are, to quote an old Star Trek VHS game,
experiencing Bij
. That's why this preview has focussed on the home side because if they win, all the media focus will be on Jose Mourinho and the deepening crisis at Old Trafford rather than the good work that is being done at Vicarage Road. TD
Serie A: Frosinone v Sampdoria
19.45 on Eleven Sports 2
The career path of Joel Campbell reads like the stuff of a football management computer game. In the seven years since leaving his home country of Costa Rica he's played for seven different clubs in the top flight of six European leagues. Unable to obtain a work permit after signing for Arsenal at 19, he spent the next four seasons on loan to Lorient, Betis, Olympiacos and Villarreal. He spent one season full season with the Gunners before again going on loan to Sporting CP and, last season, back again to Betis. Out of contract in the summer he starts life in with a new club, Frosinone. Based in Lazio (though a good 50 miles from the capital), Frosinone are starting their second stint in the top flight. When they were last in Serie A in 2015/16 one of their few wins was a 2-0 home victory over today's opponents. This season's Sampdoria side look in good shape though and should feel buoyed by their excellent 3-0 win against Napoli last time, which included a spectacular back-heeled volley by Fabio Quagliarella (yes, it's worth hunting down). GS
Sunday
Premier League: Everton v West Ham United
16.00 on Sky Sports Premier League & Main Event
Everton fans are certainly not the type to get carried away with an unbeaten start to the season. Two seasons ago, under the newly installed Ronnie Koeman, they won four of their first five - they then went on to win just one of the next ten. By mid-season they were in seventh spot and that's where they remained for the rest of the campaign. Goodison Park is not a fun place for the Hammers at the best of times, so going there looking for your first points of the season looks an even bigger ask than usual. That said the Toffees will be without summer signing and new danger man Richarlison as he completes his three match ban for his red card against Bournemouth. GS
MLS: DC United v New York Red Bulls
18.00 on Sky Sports Football
Wayne Rooney's start to life in MLS didn't get off too well but since he's become fit enough to last 90 minutes DC's form has shown a marked improvement. So much so, it's now in their own hands to make it to the play-offs, having closed the gap between them and Montreal to just two points with a game in hand. The two sides met just three weeks ago with Red Bulls coming out on top in a very close game - one of a long series of games this season the New York side have just edged. Those results have been enough to put them top of the Eastern Conference but it could be said that their 3-0 defeat last time out against the aforementioned Montreal, has been coming. GS
La Liga: Sevilla v Getafe
19.45 on Eleven Sports 1
After guiding the Manchester City backed Girona to a more than respectable 7th place last season, Pablo Machin has moved to take charge of Sevilla. This is a significant step up in terms of prestige. SFC are one of those big clubs that sit behind the big two and while few anticipate them winning the La Liga title, their European pedigree allows them a high profile with expectations to match. Machin got off to a flyer with a 4-1 win over Rayo Vallecano but only managed a 0-0 draw against Villarreal and, horror of horrors, lost
El Gran Derby
to Real Betis. So there's some work to do. Their opponents also lost their derby game but that is understandable as they were playing Real Madrid. In fact there is nothing between them in terms of points. Both teams will have a better idea about what kind of seasons they are about to have. TD
Whatever you watch, have a great weekend.