Weekend Boxset: End of season 2018/19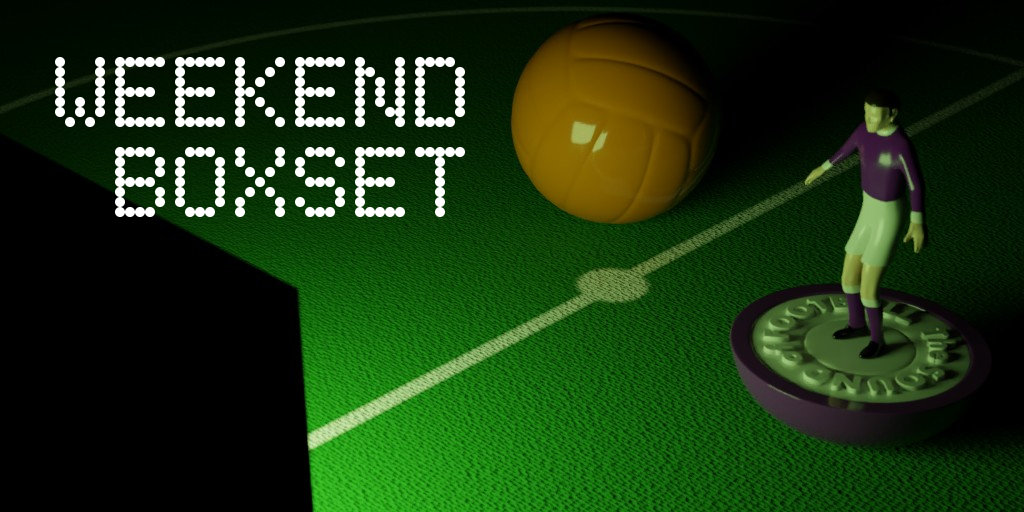 How can we top the high drama of the Champions League semi-finals? How about the Premier League finale and a whole load of play-off semi-finals?
Seven great matches to take you from Friday to Sunday. It's the last Sound of Football Weekend Boxset of 2018/19.
All times are BST (GMT+1)
Friday
League Two Play-Off Semi-Final 1st Leg: Tranmere Rovers v Forest Green Rovers
19.45 on Sky Sports Football
Tranmere Rovers playing on a Friday night alone is enough to make those of a nostalgic bent misty-eyed. Throughout the seventies and eighties the Wirral side regularly played their home fixtures on a Friday night to avoid clashing with their two neighbours in Liverpool. The nineties was Tranmere's time though, spending the decade in the second tier and having three consecutive play-off runs at the top flight. The 21st century hasn't been so kind but Nicky Mellon's side have the chance to make their third play-off final in as many seasons. The first of those finals was when these sides met at Wembley for the 2017 National League Promotion Final. Forest Green won that day 3-1 and have won both league encounters between the sides this season. Both sides have a lot of recent play-off experience; Wembley awaits and it'll definitely be Rovers who make it though. GS
Saturday
Championship Play-Off Semi-Final 1st Leg: Aston Villa v West Bromwich Albion
12.30 on Sky Sports Football & Main Event
The last time these sides met at Villa Park, Darren Moore was in charge of West Brom and led them to a 2-0 victory. That win left them fourth in the table with Villa languishing in 10th. In the following games Moore's side lost to promotion rivals Leeds and Sheffield United. Failure then to beat a rock-bottom Ipswich side at home cost him his position as manager. Caretaker James Shan has stabilised the side, finishing the season where they were after their win over VIlla. In contrast, that result proved catalysing for Villa - after drawing their next game against Stoke they went on to win their next ten games, a streak only ended by that bizarre game against Leeds and defeat to the Champions Norwich once a play-off place had already been secured. It's sure to be a cracking derby and there should be goals with three bang in-form strikers: Tammy Abraham with 25 for the season for Villa, and Dwight Gayle and Jay Rodriguez both on 22 for West Brom. GS
Extra viewing: Now the embargo has been lifted for the summer you can watch football at 3pm on a Saturday in the UK. Why take advantage of such a rare luxury with AFC Fylde v Salford City in the National League Promotion Final on BT Sport 1.
Championship Play-Off Semi-Final 1st Leg: Derby County v Leeds United
17.15 on Sky Sports Football & Main Event
Hey, hey, what do you say? Someone took your plans away. So what's all the fuss. There ain't nobody that spiiiiiiiiies like us.
The spying scandal that involved these two clubs back in January now seems like one of those things that it's hard to believe actually happened. Marcelo Bielsa doesn't need any reminding about it, taking sole responsibility for the caper, his bank account was made £200,000 lighter by the EFL as punishment - a figure that is now used as a benchmark against low-ball fines for far more serious offences. Whether the information gained from Leeds snooping had any hand in their 2-0 win is open for debate but it allowed them, at the time, to take a four point lead at the top of the Championship. Since then there has been an air of inevitability about Leeds' decline, leading to these sides meeting in the play-offs. Frank Lampard's side are in great form and have timed their run to perfection - snatching a top six place two games before the season's end having been outside the play-off zone since January. Good current form and some swashbuckling performances in knockout competitions this season makes it hard to imagine Derby not progressing but despite recent performances this is a very good Leeds side, as Lampard discovered in his first home game in charge, losing 4-1. GS
League One Play-Off Semi-Final 1st Leg: Sunderland v Portsmouth
19.30 on Sky Sports Football & Main Event
I'm not feeling this. Not one bit. Sunderland just recorded their lowest ever league finish and now we have to go through the play-offs and the prospect of yet another Wembley disappointment -
probably on penalties… to Charlton
. To be fair, that might be the most optimistic thing I can say about this sorry situation; the Mackem's have failed to beat Portsmouth on each of their three attempts this season, one of which was on penalties, at Wembley. Momentum is not with the hosts, having recorded just one win in their last five. Pompey may draw confidence from their marginally better finish to the season, but it's really that Wembley result that gives them the edge in my opinion. I'll still watch this, and you should too. If this week's taught us anything, it's that any odds can be overcome - so there is hope… and that's what kills you. JB
Sunday
A-League Semi-Final: Sydney v Melbourne Victory
10.00 on BT Sport 1
In a way, this fixture was inevitable. Two great rivals' respective seasons come down to 90 minutes - or longer - at Jubilee Oval. Last season, a Sydney team that had dominated all before them saw their season collapse in a pulsating semi-final against eventual champions Victory. And this season we go again. If anything, this game has even more intrigue than last season. Sydney finished second on the regular season ladder but only impressing in fits and starts. Victory finished one place behind but when they've hooked it together they've been a joy to watch. Add in that both sides will be recovering from long trips to Asia for midweek Champions League ties, and you've got all the ingredients for an absolute classic. Don't expect much Corinthian spirit on display here. GA
Extra viewing: The only EFL play-off semi-final we haven't previewed is the first leg of Doncaster Rovers v Charlton Athletic. You can watch it on Sky Sports Football from 12.15.
Premier League: Liverpool v Wolverhampton Wanderers and Brighton & Hove Albion v Manchester City
15.00 on Sky Sports Premier League & Main Event
How do you get a team back down to earth after a match like Liverpool's 4-0 win over Barcelona in the Champions League play-off semi-final? Having booked their place in Madrid and knowing that their title chances depend on an unlikely result elsewhere, Liverpool may struggle to hit their straps against a side who could be playing in the Europa League this July (if City win next weekend's FA Cup Final). Despite their Premier League safety being assured, Brighton put on a fantastic defensive display against Arsenal at the Emirates last Sunday. If they do the same this weekend, they could shut the current champions out. If the Seagulls grind out another draw, Liverpool just have to win to secure their 19th league title - their first since 1990. We don't make predictions on the Sound of Football, but I for one would certainly not be surprised if this season has one major shock still left in it. GS
League Two Play-Off Semi-Final 2nd Leg: Mansfield Town v Newport County (1-1)
18.00 on Sky Sports Football & Main Event
In another world, this would have been a very different fixture, as the narrative would have suggested Paul Tisdale's MK Dons would have been facing off against former employers Exeter City. But a late Jamille Matt goal for Newport saw them clinch the final play-off spot while Mansfield will have to dust themselves down after losing their winner-takes-all promotion clash with MK. History is not on the Stags' side either. In the last decade, only one side finishing fourth has gone on to triumph in the playoffs, while knock-out specialists County know how to win these type of games, having dispatched Leicester and Middlesbrough in the FA Cup this season. All the signs suggest South Wales will be well represented at Wembley later this month. GA
That's it for this season. We'll be back in August, but for now, whatever you watch, have a great weekend.