Weekend Boxset: When we do make predictions, we go big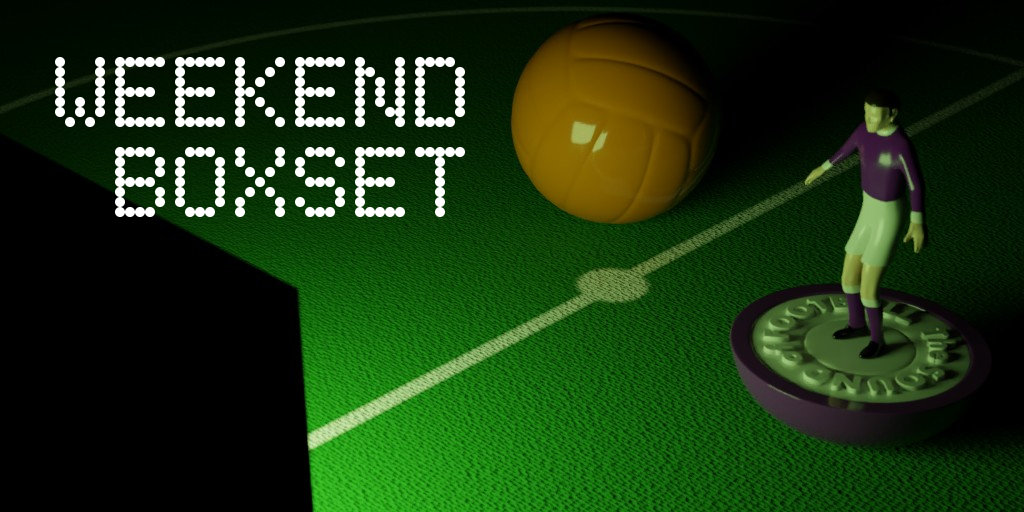 Sibley is still away so it's four great matches to take you from Friday to Sunday. It's the Sound of Football Weekend Boxset.
Get the Weekend Boxset in an email every week
All times are BST (GMT+1)
Saturday
Premier League: Sheffield United v Liverpool
12.30 on BT Sport 1
If there was ever a bigger banana skin for Liverpool then it's this fixture against newly promoted, and this season's surprise package, Sheffield United. Their B team did lose against Sunderland's Bs midweek, which is a dig I just can't leave out, but they've taken points off Bournemouth, Palace, Chelsea and Everton this season, propelling them to a lofty tenth place. Chris Wilder has warned his players of any shirt swapping this weekend, typifying the resolve of this impressive outfit. They'll need all of that, and then some as the Reds are blah, blah, blah, impressive going forward, blah, blah, blah Klopp, blah, blah, blah likeable, blah, blah… ENOUGH! This needs to stop sometime, so why can't it be the at best performing of the promoted teams? City have stumbled this season, so for this title race to have any interest at all, we need the entire Liverpool team on their arses, heads in hands, their shirts discarded, and ignored, as the victors walk among the vanquished. Bollocks: they'll lose 4-0.
Premier League: Everton v Manchester City
17.30 on Sky Sports Premier League & Main Event
If the pressure on Marco Silva was eased somewhat with their League Cup win midweek against second-tier Sheffield Wednesday, it will surely return Saturday tea-time, subtle as Thor's hammer smashing through his beautifully decorated office wall. Manchester City took their defeat to Norwich very badly. So badly, in fact, that no quarter was given to Watford the following week - and that's putting it mildly. The Toffees go into this game off the back of straight defeats to Bournemouth and Sheffield United which can't be filling Silva's men with confidence ahead of this particular tie. Despite the obvious talents of Pickford, Delph, Richarlison and the brilliant Gylfi Sigurdsson running through the team, they have failed to get into their stride this term. For City, this may well be a nice warm-up for their coming Champions League tie, a competition they are desperate to win, which means Silva may also face the indignity of being (well) beaten by a team who don't even play their full-strength side. Expect blood.
La Liga: Atlético Madrid v Real Madrid
20.00 on Premier 1
A big city derby and a top of the table clash to boot. What a shame no bugger's got Premier Sports. Still, for you international types not scrabbling around for a dodgy feed at five to eight on a Saturday evening, you're probably in for a treat. After their shocking Champions League display against PSG, Real have bounced back with back to back wins which has put Real top of the table and kept the Zidane doubters (Zidoubters?) at bay at least until the next Champions League match. Atleti are just a point behind. Simeone's team dropped points against Sociedad and Celta recently which has slightly taken the wind from the sails. Still, Diego Costa, Álvaro Morata and the mercurial João Felix in the offing we're in for a treat. Plus, with G Bale and K Trippier likey to feature there is a bit of retro Premier League interest.
Sunday
Bundesliga: Fortuna Düsseldorf v Freiburg
14.30 on BT Sport ESPN
Fortuna in the boxset for the second week in a row? This wouldn't happen if Graham was here. Anyway, I'm not here for F95, I'm here for Freiburg. the modestly sized club that for the most part can be found in the lower part for the Bundesliga table are currently fourth. Usually what happens is at the end of each season die Brausgauer end up losing their best player (apart from Nils Petersen, of course) and this stops them from building a foundation for the nest campaign. Last summer, however, only Florian Nierdelechner left so coach Christain Streich had some continuity. And it's paying off, by George. Player to watch (apart from Nils Petersen, of course) are Jonathan Schmid at right-back, Mike Frantz, the captain in midfield and German Under 21 star Luca Waldschmidt. Freiburg are not likely to stay in such a lofty position for long but they are set fair for a good season and it would pay to catch them now, in their pomp. All of which means they'll lose 4-0.
Whatever you watch, have a great weekend.