Weekend Boxset: Raise the traditional curtain!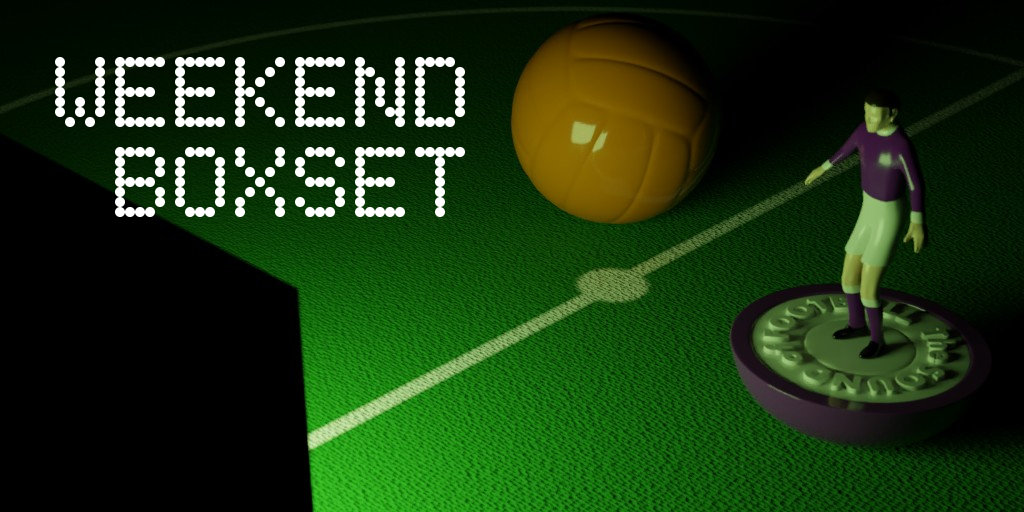 The old and new seasons continue to overlap with the English season opener taking place on the same weekend as the A League and the UWCL finals.
Seven great matches to take you from Friday to Sunday. It's the Sound of Football Weekend Boxset.
Get the Weekend Boxset in an email every week
All times are UK (BST)
Friday
Ligue 1: Lyon v Dijon
20.00 on BT Sport 2
Having watched the Champions League final stages, viewers may have wondered how a side as talented as Lyon finished as low as seventh in the PPG completed 2019/20 Ligue 1 season. The short answer would be their terrible start to last season, which saw them win just the first two of their opening ten games. That start saw rookie manager Sylvinho fired just four months into the job and replaced by probably the safest pair of hands in Ligue 1 management - Rudi Garcia. Not that there's been a miraculous turn in fortune since his arrival - his first game in charge was this fixture and it ended 0-0 - but on the back of their showing against Manchester City, and with Rennes and Lille likely to lose key players in the transfer window, they should be contenders for the top three. If they are to return to the Champions League they will need to start with a good win here against lowly Dijon. GS
Saturday
FA Women's Community Shield: Chelsea v Manchester City
12.30 on BBC One
If the Women's Community Shield seems unfamilar to you, don't worry, it's not because you're shamefully out of touch, it just hasn't been played for a number of years. It was last contested between Arsenal and Everton in 2008 at Macclesfield Town's Moss Rose ground. Now with increased interest in the women's game and the WSL kicking off next weekend, the FA have reinstated the fixture as part of a Wembley double header. Unlike the men's match that follows, this won't be a game of FA Cup winner versus the winner of a full league programme. Chelsea's third WSL title will have an asterisk beside it, having been awarded on points per game with more than a third of the season remaining. In truth though, the season was already over. Chelsea, despite being unbeaten in their 15 games, were a point behind City with a game in hand. However, all the games between the big three in the league had all been played out, and in that mini-table Chelsea were comfortably top. Both sides are still in the 2019/20 Women's FA Cup, with quarter finals due to be played at the end of September and the final set for 31 October. Hopefully, by then, at least some spectators will be allowed in to watch. GS
FA Community Shield: Arsenal v Liverpool
16.30 on BT Sport 1
This fixture is traditionally billed as the new season's curtain raiser but for reasons far more important than football, today's game will be played a month later than usual, swiftly followed by a Nations League (
Nationnnnsss Leeeeaaague
) break, then in the middle of next month, the season finally starts. Don't get me wrong. I'm not against any of this. However, I must admit to something of a writer's block when it comes to a game that doesn't mean anything, meaning even less. Hopefully, the sides will make this something of an occasion. On paper at least, the prospect of seeing Liverpool's finest squad in a generation pitted against a resurgent Arsenal side, should be one to savour. Arsenal came out victors that last time the sides met, with Liverpool taking the points earlier in the season. Of course, in between, there was a mental five-all draw with a penalty shoot-out in the League Cup - if this is half of that game, we're in for a treat. JB
MLS: Atlanta United v Orlando City
20.30 on Sky Sports Football
This fixture may be postponed. Orlando's 3-1 win over Nashville on Wednesday night was the only game of the six scheduled that day to happen. Alongside the NBA and MLB, MLS players (including those from Atlanta United) took the decision to boycott their games in protest of another police shooting of a black man: Jacob Blake of Kenosha, Wisconsin. According to reports Mr. Blake was arriving at a domestic incident, to which police had been called. He was shot seven times in the back by Officer Rusten Sheskey, while getting out of his car. Mr. Blake was unarmed and his three sons were in the back seat. Sport is one of the cornerstones of public life in the US and black athletes have been some of its most revered and influential figures. Now they and their teammates are taking direct action in defiance of racial injustice and demanding permanent change. And so they should because, without justice, there is no value in sport or any other facet of our public lives. TD
Sunday
A League Grand Final: Melbourne City v Sydney
09.30 on BT Sport 1
And so Australia's extended season comes to an end with a grand final line up that was predictable on paper but surprising in reality. Sydney and Melbourne City cantered to first and second place in the regular season league with minimal problems but since the A League resumed post-lockdown, neither side has looked convincing, Sydney in particular throwing a massive wobble after securing the Premier's Plate. The Sky Blues were thankful that an out-of-sorts Perth were their semi-final opponents rather than a Wellington side who have given Steve Corica's men plenty to think about, while Melbourne City were one game too far for knackered debutants Western United. As for the final itself, expect a tense game. Despite City's Jamie Maclaren and Sydney's Adam Le Fondre topping this season's scoring charts, goals have been hard to come by when these two have met. If the defensive issues that have plagued both teams post-lockdown re-emerge at Bankwest we could be in for a cracking final, but if both sides revert to form it wouldn't be a surprise to see this go all the way to penalties. GA
Scottish Premiership: Hibernian v Aberdeen
16.30 on Sky Sports Football
There's nothing like a good start to the season, and in Scotland at least, this has been nothing like a good start to the season. Having curtailed all football north of the border in early March, both Celtic and today's visitors were forced to postpone two fixtures each having failed to observe COVID safety rules. Despite this, the top of the table still has it's usual blue/green tussle. However, this time the green belongs to Hibernian, who are second only on goal difference to Rangers. Former Sunderland manager, Jack Ross, is now in charge at Easter Road, having joined in November last year following an ownership change. I was always in the Ross camp, and, if I had my way, he'd still be on Wearside. Having taken maximum points in their two games since losing to Rangers on the opening day, Aberdeen might fancy their chances. However, they went down 3-0 in the same fixture last year, in one of Ross's early games. With the momentum behind them, both my head and my heart says it's a home win. JB
UEFA Women's Champions League Final: Wolfsburg v Lyon
19.00 on BT Sport 1
Wendie Renard's second-half header booked Lyon's place in their 5th (fifth) consecutive final in what was a physical semi-final against a tough PSG side. Lyon are the acknowledged masters of the European game, having won the Champions League six times in all and for the last four years in succession. Missing the final is England's Nikita Parris who was harshly sent off during the semi-final. Her compatriot Lucy Bronze will be turning out for the final time in an OL shirt. She is likely to return to England. Wolfsburg are no strangers to the final. They were victors in 2013 (beating Lyon) and again the following year. However, the German champions lost to Lyon in 2016 and 18. Bookies will be placing short odds on the French team to make it a fifth straight win. You may think that there is a lack of balance in the women's game with one team dominating and you may be right. But fret not: The WSL clubs along with Barca, PSG and Bayern Munich are getting stronger. Eventually, we will start to see other teams lift the European Cup, albeit from familiar clubs already dominating the men's game. TD
Whatever you watch, have a great weekend.