Weekend Boxset: The Cup goes ahead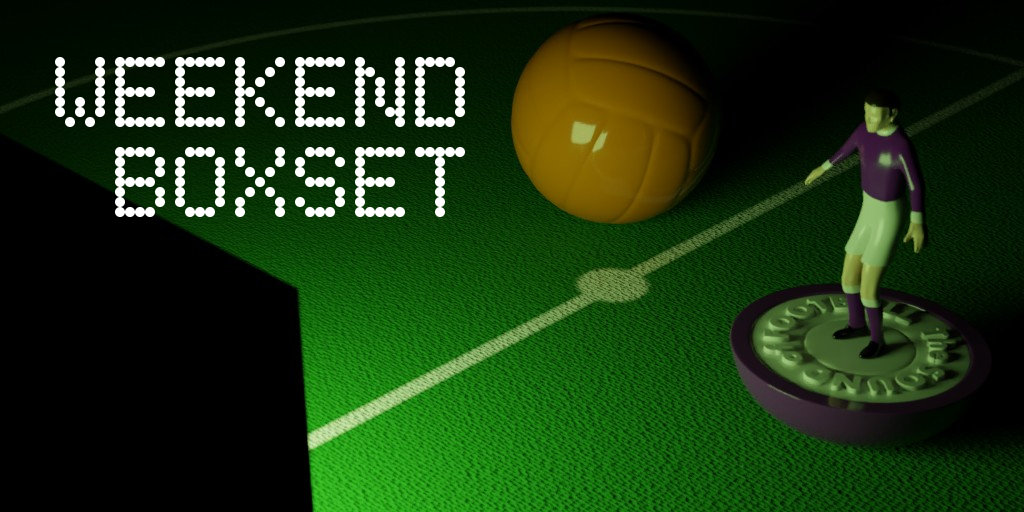 England's back in lockdown but the First Round Proper of this season's FA Cup has been allowed to go ahead.
Seven great matches to take you from Friday to Sunday. It's the Sound of Football Weekend Boxset.
Get the Weekend Boxset in an email every week
All times are UK (GMT)
Friday
FA Cup First Round: Harrogate Town v Skelmersdale United
19.45 on BT Sport 1
England has entered a four week lockdown in a (some would say belated) effort to bring down Covid-19 infection rates. For this period, games are suspended for clubs that sit below Step 2 of non-league. However, special dispensation has been given to those clubs who are still in the FA Cup, clubs like Skelmersdale United who are from the North West Counties League, on the fifth tier of the non-league pyramid. League Two new boys Harrogate Town were themselves still part-time as recently as 2017. Under manager Dan Weaver and his father and chairman Irving Weaver, the side have made steady, sustainable progress. Weaver senior joined his son at the club in 2011 - when the side had just seven season ticket holders. The club has only recently returned to their Wetherby Road ground having to start the season at Doncaster's Keepmoat while their 3G pitch was ripped up to conform with EFL rules. Skelmersdale are unlikely to cause an upset, they managed to avoid anyone from the top two tiers of non-league during their run of six qualification rounds, but the windfall of a televised 1st round game will be a much needed lifeline for the club and could change their fortunes for years to come. GS
Saturday
Premier League: Everton v Manchester United
12.30 on BT Sport 1
A week is a long time in football, especially if you're Ole Gunnar Solskjaer. Seven days ago his side were being praised for the way they dismantled RB Leipzig, a result that followed an equally fine display away to PSG, a draw against Chelsea and a big win against Newcastle. Now, following defeats to Arsenal and Basaksehir, United have gone back to the toothless and directionless side that went into the last international break having been hammered 6-1 at home by Spurs. Injuries and suspensions have halted Everton's excellent start to the season, seeing them go into this game also having lost their last two games. They are however turning Goodison Park into a fortress but as United seem to save their best displays for the road, it's anyone's guess as to how this one will turn out. With another international break following this game, the result could be season defining for Everton but it could be career defining for United's under pressure manager. GS
Bundesliga: Borussia Dortmund v Bayern Munich
17.30 on BT Sport 1
I'll skip the usual preamble about "Der Klassiker" and how it's a marketing construct because life's too short. Also, if you're looking to this fixture as a potential title decider then you may be disappointed. Six of the last seven "Der Klassikers" have been won by Bayern and as fun and exciting as this Borussia team is to watch, it'll be a brave punter who backs them to win this game. Bayern were given a stiff examination by Salzburg in the Champions League on Tuesday and yet still managed to win 6-2. Even when they play poorly they find a way. Despite my pessimism, Dortmund, are in great form in the Bundesliga and level on points with the Bavarians. Erling Haaland is on fire and will be battling for the golden boot with Bayern's Robert Lewandowski this season. If you're interested in young Jude Bellingham's progress, he's coming on splendidly but occasionally makes mistakes. If he plays, the 17-year-old box-to-box midfielder will receive a stiff test against the Champions which will do him the power of good. It won't be a formality but Bayern to win 3-1. TD
La Liga: Atletico Madrid v Cadiz
20.00 on LaLigaTV
This could be an interesting match but not if you like free-flowing football. It's a bit outdated to say that Atleti only play entirely defensive football but traditionally they do prefer to play without the ball. Newly promoted Cadiz definitely have an aversion to the high possession game. Last week's 2-0 victory at Eibar was achieved with just 28% of the ball. As the result suggests, their approach is working. Álvaro Cervera's team are currently fifth in the table and seek to perform a Madrid, double having beaten Real 1-0 in early October. Victory over Atleti will not be easy however, Simeone's team are unbeaten and have only conceded twice all season. It's possible that they may have some difficulty navigating around all those Cadiz bodies. However, with João Félix, Luis Suarez and Marcos Llorente in such good form I suspect that they'll exploit a mistimed press to two and find their way to goal. TD
Sunday
Serie A: Lazio v Juventus
11.30 on Premier Sports 1
So who stands between Juventus and a tenth consecutive Scudetto? Milan with the always resurgent Zlatan are top of the early table but their midweek Champions League humbling at home to Lille may point to problems ahead. Maybe Atalanta can hold their nerve to challenge all the way. Maybe Napoli can pull themselves together. Maybe Sassuolo can do a Leicester. In all that, not many will be looking at Lazio - a side that has, throughout Juve's current run of titles, generally been 30 points off the pace. The side has seen improvement in the three seasons under Simone Inzaghi, winning the Coppa Italia in 2019 and finishing in the Champions League places last season with a club record point tally (Sven's double winners of 1999/2000 played a 34 game season). Their start to this season hasn't been great: a couple of big defeats to Atalanta and Sampdoria and needed two goals deep in injury time to beat Torino. They still rely on the goals Ciro Immobile, who didn't make the trip to St Petersburg in midweek but should start this one. Juve's own talisman, Cristiano Ronaldo returned to the side after an extended Covid-19 lay-off with two goals against Spezia, ending a run of three leagues games without a win for
the Old Lady
. GS
FA Cup First Round: Eastbourne Borough v Blackpool
14.30 on BT Sport 1
The Blackpool team coach takes to the superhighway, coast-to-coast, for this FA Cup seaside special. In the past, this tie would have been a proper banana skin. However, thanks to the dread 'rona, there will be no Sussex hordes to greet them. No packed house at Priory Lane. No disgruntled regulars, impatiently queuing at the bar, wondering where all these fair-weather fans were last week when Welling were here (and secretly glad that they weren't). National South side Eastbourne are in decent nick this season. 6th in the table but just three points off the leaders, Dartford. The south coast club are to be doubly congratulated for making it this far. Not only did they beat Dulwich Hamlet in the last round but they spared the rest of us what would have been BT's fawning and nauseatingly overly romanticised portrayal of the farrago of hipsters and lefties that populate the Hamlet's terraces. You know the sort. Blackpool are sat mid-table in League 1 and after the crap their fans have had to endure in recent years could use a Cup run. If they keep their noses clean then they'll be one step closer to the Third Round. TD
Premier League: Manchester City v Liverpool
16.30 on Sky Sports Premier League & Main Event
Do you remember 2019? You know, when you could hug your Nana, buy toilet rolls without suspicion and watch actual football matches in actual football grounds? Well, back at this point of the season Liverpool were, and I think this is the correct term, absolutely spanking it: seven wins from seven and everybody talking about the new invincibles. Well, seven games into the new season and they again sit at the top of the table, but this time around they've dropped points against Everton and dropped their trousers against Aston Villa. City too have shown a decline over the same period swapping a lofty second with a more humble tenth. Not quite match of the day now, is it? That said, they're both going great-guns in the Champions League, which does make you wonder... With both teams having to improvise following injuries to high profile players such as Van Dijk and Agüero, it may allow further opportunities for the younger players. As for which way this will go, it's hard to tell. City will certainly need to be on their game, and Liverpool will need to be on their bloody feet. JB
Whatever you watch, have a great weekend.