Weekend Boxset: A tale of two Manchester Cities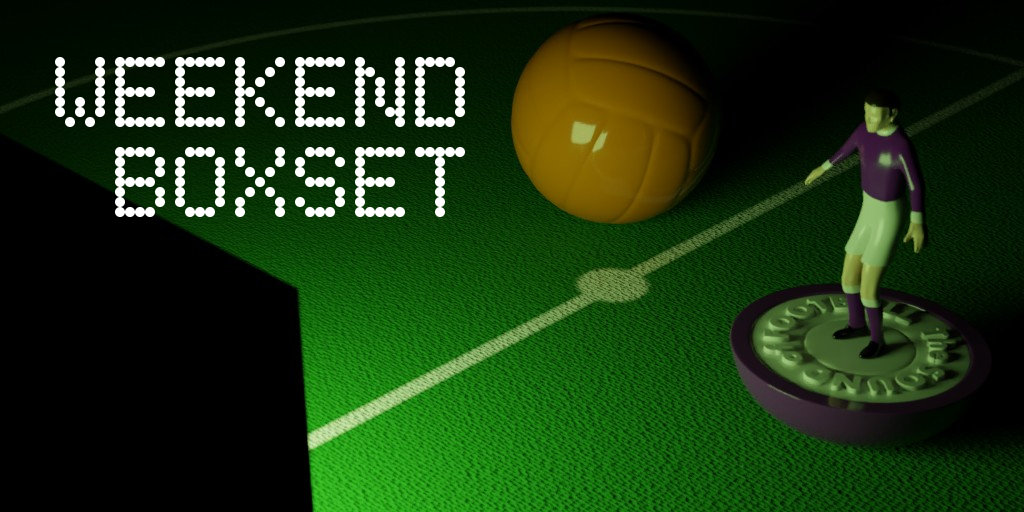 Pep may not have endeared himself to fans in the last week - calling for to do better support at games and then suggesting that B teams be introduced to the EFL - but maybe a win against Chelsea will restore relations. There's also a season defining game for the women's side too, against Arsenal.
Seven great matches to take you from Friday to Sunday. It's the Sound of Football Weekend Boxset.
Get the Weekend Boxset in an email every week
All times are BST
Friday
Bundesliga: Greuther Fürth v Bayern Munich
19.30 on Sky Sports Mix
To coin an old phrase oft used by footie hacks or yore, there is a swagger about Bayern Munich this season. Their dismantling of Barcelona in the Champions League and subsequent demolition of Bochum 7-0 last weekend cemented the Bavarian giant's place in the order of things both internationally and domestically. Robert Lewandowski has now scored 15 goals in consecutive games. If he scores in this match he will beat Gerd Müller's record. Leon Goretzka and Joshua Kimmich are in the imperial phase of their careers and coach Julian Nagelsmann has finally been able to get a tune out of Leroy Sane. Up next is Greuther Fürth. An old name that has roots in the origins of organised football in Germany but with a paper-thin squad with only one point to their name since their promotion, this season. Bayern don't go easy on teams like this so barring the greatest brain farts in the history of everything this should be a one-sided goal-fest. Enjoy... if you like that sort of thing. TD
Saturday
Premier League: Chelsea v Man City
12.30 on BT Sport 1
It's hard to look past the two men standing on the technical areas over those standing on the actual pitch in this one. Clearly, Thomas Tuchel and Pep have proven themselves to be giants of the game and, despite all of the evils of the Premier League, there is something special in them battling it out on this little island. That said, Tuchel does have some way to go to catch Pep, but until he's universally referred to using just his first name, he won't have really made it, will he? 'Aah, but I have beaten that Spaniard (sic) the last three times I played him - including the Champions' League Final'. Fair point. '..we are also top of the league, three points clear of City, and we even beat Spurs - he did not even manage that'. He's referring to City's opening day loss in North London, if you hadn't already guessed. I bet that one's still pretty raw, but I couldn't get an interview with Pep to confirm. Juve next for TT's men (he seems to like that particular moniker), which may complicate his thoughts ahead of Saturday? 'Perhaps. But he has PSG next in the Champions League and still has to go to Anfield to get a result - I would love it if we beat them, love it'. Predictions? Well, after TT was so generous with his tea and chocolate Hobnobs, how can I go for anyone else but Chelsea? JB



Premier League: Brentford v Liverpool
17.30 on Sky Sports Premier League & Main Event
There was a time when describing a side as "playing percentages" was a slur; a euphemism for lumping the ball up the field in the hope that someone can get on the end of it. These days, it could easily describe the systems used by the data analysts employed by clubs like Brentford and Liverpool to help them gain a competitive advantage: maximising goal-scoring opportunites while minimising risk. Brentford have made a stunning start to their first Premier League season. Like Sheffield United and Leeds in seasons before, they've come up from the Championship and fearlessly carried on doing what they do well. Their whirlwind opener against Arsenal was always going to be a tough act to follow but after a run of close games they were back to their best in the 2-0 win at Wolves last weekend. Will their best be enough to get the better of an unbeaten Liverpool side? The form book would suggest not but let's not forget that Liverpool were three wins from three in their opening games last season - including wins against Chelsea and Arsenal - before they took a trip to Aston Villa, and we all know what happened there. GS
La Liga: Real Madrid v Villarreal
20.00 on LaLigaTV
From a moustache-twirling, last gasp comeback win at Valencia to a midweek drubbing of Mallorca, Real Madrid are hitting their stride. Marco Asensio's hat-trick may have caught the headlines on Thursday morning but it's the magnificent Karin Benzema who is the star of the Real attack with eight goals and seven assists. This season also looks like the breakthrough for Vinicius Jnr. The young Brazilian has five goals and two assists. Consider also the rehabilitation of Eden Hazard and Isco and Los Blancos are worthy title favourites. Who needs Mbappe? The last time we had Villarreal in the
Boxset
things were not looking good for the Europa League holders. However, on Wednesday they romped to a 4-1 win against local rival Elche. The Yellow Submarine's first league win will certainly buoy Unai Emery's team with extra confidence ahead of this tough fixture. TD
Sunday
Serie A: Juventus v Sampdoria
11.30 on BT Sport 1
Juventus may have finally got their first win of the season but few will be convinced they have turned a corner. The Old Lady needed a second half comeback to overhaul Spezia on Wednesday - a side Lazio put six past just before the international break. In the five years of Allegri's first stint as manager of the club he had a win percentage 75%; five games into his return and it's just 20%. But the turnaround in the club's performances cannot solely be blamed on losing their top scorer for the last three seasons. Their CR7 project was designed to make the club an international commercial success as well as bring the Champions League back for the first time since 1996 - neither happened. Sampdoria were having a decent if not spectacular start to the season until last night's 4-0 defeat at home to Napoli. After narrowly missing out on a point against Milan and then holding the champions Inter to a 2-2 draw, they got a comfortable first win of the season against Empoli. That defeat should give the Turin side hope they can get another win under their belts, but Sampdoria have shown already this season that they can compete with the best - and this Juve are far short of the best. GS
Premier League: Arsenal v Tottenham Hotspur
16.30 on Sky Sports Premier League & Main Event
This preview would have been very different had I been writing it before the international break. At that time Arsenal were three defeats from three while Spurs were three wins from three. But while Arsenal's disastrous start has been halted with two wins, Spurs have suffered consecutive 3-0 defeats. Neither side look Top Six contenders let alone Champions League material. Both sides have already been comprehensively beaten by Chelsea, and they've scored just five goals between them in the ten league games they've played this season. In fairness, both have suffered from lengthy injury lists, but that in itself has highlighted how thin their squads are compared to the genuine challengers. At least for Arsenal the players that wanted to go in the summer have left, either released or loaned out. Tottenham are still relying on players like Kane and Ndombole to do a job for them - both scoring in their midweek League Cup penalty win over Nuno's old side Wolves. Kane is a notoriously slow starter but fans will still be concerned that the circus surrounding his supposed move to City in the summer will have an effect on his performances for the club. The good news is, he absolutely loves scoring against Arsenal, getting 11 of his club's 19 goals against the Gunners since the start of 2015. GS
Women's Super League: Arsenal v Manchester City
18.45 on Sky Sports Football
While the WSL season is short, it's not short enough to call the third match of the season a title decider, but a win for Arsenal would certainly give them the upper hand in the chase. Arsenal got off to a great start with a win over champions Chelsea, while an injury ravaged City slipped up against Spurs just before the international break. Both results were affected by decisions that would probably have been overturned if VAR was in operation, leading to calls from Chelsea manager Emma Hayes for its introduction, safe in the knowledge that even with new TV deals there's not enough money floating around the league to install the extra cameras required and the goal-line tech. Having played for the US in Paraguay on Tuesday it's unlikely Tobin Heath will make a debut for the Gunners in this one but with City missing key players including Steph Houghton and Lucy Bronze, this is a game Arsenal will be looking to win to open a six point lead on one of their main title rivals. GS
Whatever you watch, have a great weekend.