Weekend Boxset: The F to A Cup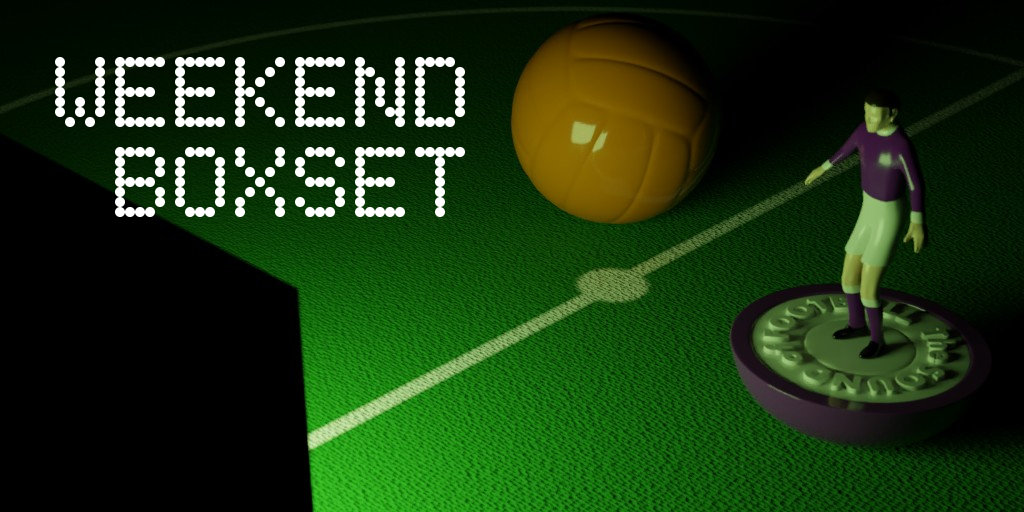 Not since 1988 has FA Cup coverage been shared free to air by BBC and ITV. Back then, few games were shown - none from before the third round - but this time there are six first round games across the weekend. Two of which make it into this Boxset.
Seven great matches to take you from Friday to Sunday. It's the Sound of Football Weekend Boxset.
Get the Weekend Boxset in an email every week
All times are GMT
Friday
FA Cup first round: Sudbury v Colchester United
19.55 on BBC Two
The real football is finally here: it's FA Cup day! Well, to be fair it's been going since mid-August when the Extra Preliminary round was played out. Today's hosts entered the competition in the following round and have recorded five victories between then and today. This fixture is all the more important for Subury as this is their first appearance in the first round proper since the 2000/01 season when they crashed out 6-1 away to Darlington. Suffolk's own AFC Sudbury are the child of Sudburys Town and Wanderers who became one in 1999 (the A stands for amalgamated). These days they play in the Isthmian League North Division on a 3G pitch at The Suds' Kings Marsh Stadium. They play in a rather fetching yellow and blue Hummel outfit, which I only draw your attention to because I love Hummel kits. Today's opponents, Colchester United are just 14 miles down the A134 but four divisions higher in League Two. The visitors will welcome the break from league football having endured a disappointing start to the season, sitting, as they are, in seventeenth place. There's a potential giant-killing on the cards here, therefore, my usual ill-thought-out prediction is that that is exactly what we're going to see. Enjoy. JB
Saturday
Premier League: Manchester United v Manchester City
12.30 on Sky Sports Premier League & Main Event
It's hard enough to escape the Ronaldo narrative at the best of times but it's all over this fixture. In the summer it looked certain that, after being unable to get Harry Kane, City would secure the services of CR7 to fill the gap of a 30+ goals a season striker following the departure of Sergio Aguerro. It didn't happen and United stole him from under their noses. The issue, it appears, is that City couldn't offload any of their many attacking players. City were comfortably top scoers in the league last season with 83 but their top scorer was Ilkay Gundogan with "just" 13 - as far as ninth on the golden boot table. Having goals from a number of sources sounds like a nice problem to have - Arsenal, Norwich and Brighton would say that City don't have any trouble scoring, having been tanked by them. However, when you look at the numbers, you see that City have already failed to score in three of their ten games this season - as many times as they were shut out in the whole of last season (two of those three were against United). Where will the goals come from in this game? Well I think we all know one name that will appear on the scoresheet. GS
Bundesliga: RB Leipzig v Borussia Dortmund
17.30 on Sky Sports Mix
Since emerging from the Red Bull underground laboratory, Leipzig have mixed well with Dortmund to produce some high-quality football matches. But this season's version is a little short-handed and bedding in a relatively untried coach. Jessie Marsch is not exactly a novice but the former Red Bull Salzburg coach has understandably struggled to meet the high standards set by his predecessor, Julian Nagelsmann. His burden is even greater in view of the loss of two of RB's best player who followed Nagelsmann to Bayern: Dayot Upemecano and Marcel Sabizer, the latter leaving after the start of the season. They can still carry a tune though and had they prevailed in their 2-2 draw with PSG (sans Messi), few would have begrudged them. They face a Borussia Dortmund side, without Erling Haaland. BVB are still in decent nick in spite of their absent talisman. They kept a rare clean sheet and held an aggressive Koln at bay last weekend. However they're smarting after the 3-1 defeat to Ajax on Wednesday. The result hinged on a controversial sending off of Mats Hummels by showbiz ref Michael Oliver. Welcome to the Premier League, lads. TD
La Liga: Real Madrid v Rayo Vallecano
20.00 on Premier Sports 2 and LaLigaTV
The realignment of Spanish football in the wake of the collapse of the Super League, and financial problems at Barcelona and Real Madrid seems to be throwing up some interesting stories. Rayo having just got promoted to La Liga find themselves nicely poised in sixth on the back of some tremendous performances that belie the traditional 26% possession football associated with first division newbies. Most eye-catching player is if course Radamel Falcao. At 35
El Tigre
is showing that age is no barrier to nicking goals and grabbing headlines. Falcoa is not an ever present but has netted four in five games. Meanwhile, Real Madrid continue to challenge leaders Real Sociedad. While performances have improved under Carlo Ancelloti I would still say they are a little too workmanlike to be a proper Real side. That said in Vinicius Jr and Karim Benzema are combining well and they stood out in Madrid's 2-1 win over Shaktar in the Champions League. I think Real are the favourites but there is plenty of encouragement for Rayo. TD
Sunday
FA Cup first round: Sheffield Wednesday v Plymouth Argyle
12.15 on ITV
Looking on course to secure his third promotion in just his fourth season in football management, Ryan Lowe is fast becoming the next guy people will be wondering why he's not being linked with jobs in the upper echelons of English football. In his first season as manager he took Bury up into League One - just before it all emerged that the ownership had disastrously mismanaged the club. He repeated the feat with Plymouth the following season and, after a season of getting used to life at that level, now look strong contenders to go up again, to the Championship. Stronger, you'd have to say, than Wednesday, as shown in the 3-0 defeat Plymouth handed them in their League One fixture at Home Park in September. This is the Cup though, and sides with genuine ambitions of going up can, these days at least, see the competition as a side-show, and that would be a shame if that happened here. Argyle have lost just once in the league this season while Darren Moore has steadied Wednesday's up-and-down start with a run of six games unbeaten, the last of which was a comfortable win over Sunderland. GS
Premier League: West Ham United v Liverpool
16.30 on Sky Sports Premier League & Main Event
Season 85/86 in English football is a foreign country - but it's well worth a visit. It was the first season of the isolation from Europe following Heysel. Liverpool, relieved of the distraction of the European Cup, achieved what had alluded them in all their years of dominance and won the League and Cup double. But just four points short of the Reds were West Ham in third place. Could this season see The Hammers break into the top four for just the second time in their history? It's unlikely; one of the many other regular contenders will probably inch past them as so often happens. And if Manchester United finally cotton on that Declan Rice is a thing now and stump up something truly ridiculous for him in January - it'll probably be them. (Would that make him the new Paul Ince?) David Moyes celebrated his 1000th game in management this week with the 2-2 draw in Genk - a result that sees them through to the knockout phase of the Europa League with two games to spare. Liverpool have also acheived that in the Champions League, which allows both sides to concentrate on domestic matters until the spring. A real test for this exciting West Ham side and a real test for Liverpool too - should be a cracker. GS
Serie A: Milan v Inter
19.45 on BT Sport 1
Despite their disappointing showing in the Champions League, Milan continue to set a breathtaking pace in Serie A. Having, like Napoli, dropped just two points in their opening 11 games, a yawning gap of 12 points has already opened up between the top two and fourth place. In the middle of that gap sit Inter, which sets up this
Derby della Madonnina
perfectly. Should Milan win, the race to the Scudetto effectively becomes a two horse affair. But should they lose, then suddenly Inter are back in the reckoning to defend their title. Inter got another good win in Europe on Wednesday, in Moldova, putting them in the box seat to progress to the next stage of the Champions League. Milan's ambitions for this season must now be purely domestic. They were fortunate to grab their first point from four games, at home to Porto, leaving them in the position of having to win both their remaining games to even have a chance of stealing the consolation of a Europa League knockout place. Both sides are relying heavily on goals from players deep into the autumn of their careers. Milan have Zlatan and Giroud, while Inter look to evergreen Edin Dzeko, who joined from Roma in the summer at the age of 35. Having already got seven so far this season, he's outscoring his considerably younger strike partner, Argentine Lautaro Martinez. GS
Whatever you watch, have a great weekend.