Weekend Boxset: Set your alarm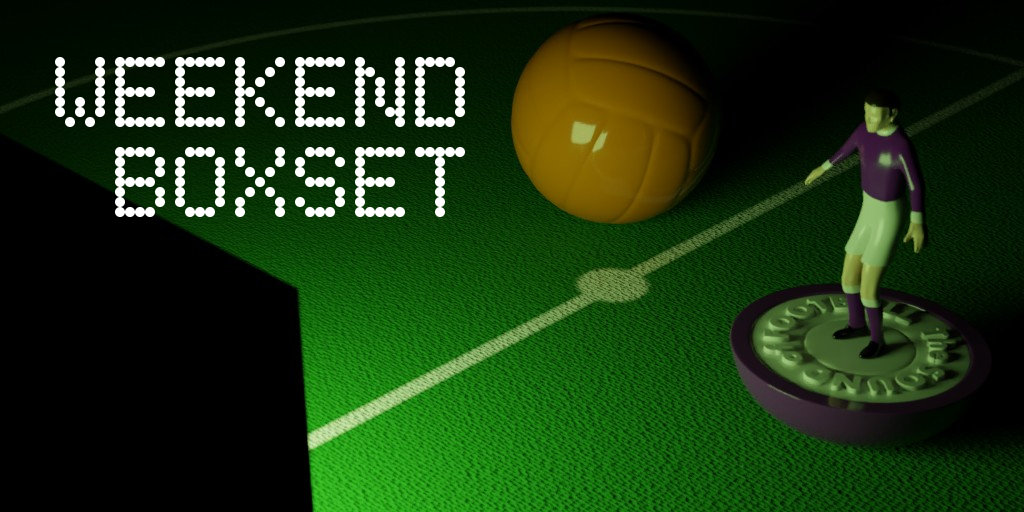 Plenty of excitement this weekend with
O Clássico
, the South Wales derby and Spalletti returning to Roma. All that and a World Cup draw too.
Seven great matches (and a draw) to take you from Friday to Sunday. It's the Sound of Football Weekend Boxset.
Get the Weekend Boxset in an email every week
All times are UK (GMT+1)
Friday
Primeira Liga: Porto v Benfica
20.15 on BT Sport 2
A little under a month ago, while writing a preview of their home clash against top-of-the-table rivals, Braga, I described Porto as not 'having the best of times by their own high standards'. While accurate at the time, their 4-1 win over Braga served as something of a springboard: in the three matches that followed, Porto beat Bayer Leverkusen home and away in the Champions League either side of a 2-0 away win against Portimonense on the Algarve. They also made short work of third tier Anadia in the Taça de Portugal, netting six. Conversely, tonight's visitors needed extra-time and penalties to overcome lower league Caldas. To be fair, they did rest a number of first-teamers, possibly with an eye on this fixture, possibly to recover from three matches in a week - including a Champions League double header against PSG where they shared the points. Their recent cup hiccup aside, it's no understatement to say that Benfica have been on fire this season. In the summer they appointed former Leverkusen and PSV coach, Roger Schmidt, following a poor 21/22 campaign. Despite losing 34-goal Darwin Núñez to Liverpool, Schmidt has certainly got
As Águias
singing and has managed to get much more out of already established players such as Gonçalo Ramos and João Mário. They sit top of Liga Portugal with tonight's hosts three points behind in second. A hard one to call, this one. Porto are a great side in fantastic form, but Benfica are looking unstoppable at the moment. JB
Saturday
FIFA Women's World Cup 2023 draw
07.30 on FIFA+
Set yourself a reminder for Saturday morning to make yourself a cup of tea, go back to bed and watch the draw for next year's Women's World Cup on your phone. The early start is because the draw is coming live from New Zealand where the expanded 32 team tournament starts next July. If you've listened to this week's podcast you'll know that we conducted our own version of the draw. Much like the co-hosted men's World Cup of 2002, the competition is effectively split in half by the draw; one half playing in Australia, the other (mostly) in New Zealand, with sides on one half avoiding those on the other all the way to the final. A fortunate draw for England (in Pot 1) could see them in the half of the draw that avoids the stronger host nation, the
Matildas
, as well as the top three ranked sides in the World - USA, Germany and Sweden - but it didn't work out that way when we did it. World Cup first-timers Ireland are in Pot 3 so will be pinning their hopes on being drawn with the similarly ranked
Football Ferns
to give themselves a fighting chance to reach the knockout phase. GS
Women's Super League: Tottenham Hotspur v Manchester City
11.30 on Sky Sports Premier League
In their last seven encounters, Spurs have only beaten City once but in view of the recent patchy form of their opponents, this could be a chance for a second, at their new home for this season, Brisbane Road. Having lost their first two games to Villa and Chelsea, the early season pressure on City coach Gareth Taylor was lifted last weekend with their first three points of the season, a 4-0 win over an admittedly poor Leicester City. Despite losing some key players in the summer, such as Georgia Stanway, City should have more than enough talent for the coach to get a tune out of and it's baffling that they continue to disappoint. Taylor will be buoyed by the fact that two of the front three were on the scoresheet against Leicester. Goals from Lauren Hemp and Yui Hasegawa accompanied a brace from Bunny Shaw, an imposing central striker who will be expected to be the focal point of the attacking trio alongside Hemp and Chloe Kelly. Shaw's compatriot, the Jamaican international striker, Drew Spence is the player to watch for Spurs who bounced back after a chastening 4-0 derby day defeat to Arsenal, Spence was on the mark in the 2-1 at Leicester and featured heavily in their 1-0 win against newly promoted Liverpool. TD
Premier League: Chelsea v Manchester United
17.30 on Sky Sports Premier League & Main Event
Two clubs who made poor starts to the season but have since turned things around, meet in what promises to be quite the game of football. Since Graham Potter took charge in September, Chelsea have yet to lose in the Premier League and only conceded one goal in those four matches. Contrast this with the seven conceded in the last four under Potter's predecessor Thomas Tuchel and you can't help but be impressed by the impact the former Brighton boss has made. The disappointing goalless draw at Brentford should be offset against the club's punishing schedule and the fact that their Champions League campaign is back on track. Manchester United's 2-0 win over Spurs on Wednesday was probably their most complete performance. They have won games, under ten Hag, before but the difference was that the players were very much on the same page. There was even time for a little narrative. Cristiano Ronaldo, leaving for the dressing room before the final whistle, after having reportedly refused to come on as a sub, looks symbolic of his final days at Old Trafford. The former
Ballon D'Or
winner is not travelling to Stamford Bridge which is a shame because he'd be more than useful as an impact sub. Perhaps the great man considers such a role beneath his dignity. TD
Ligue 1: Marseille v Lens
20.00 on BT Sport 2
Marseille failed to take advantage of PSG's now regular post-Champions League sluggishness in last weekend's
Classique
. Neymer scored the only goal of the game and celebrated wildly with the provider Kylian Mbappe - which did nothing for those who enjoy dressing room feud gossip (thankfully the
Ballon D'Or
came along to reignite that tiresome narrative). Marseille could have got something from the game, and could have drawn level in the table with the Parisiens, but the result was sealed once the referee brandished a softish straight red for Samuel Gigot - his second dismissal of the season. Lens knocked Marseille from third in the table with a win over struggling Montpellier, getting them back on track after their first defeat of the season in the
Derby du Nord
. Both sides are defensively tight, so this game is also likely to be decided by a single goal, but the real winners could yet prove to be PSG who will no doubt take advantage of at least one of these sides dropping points. Ligue 1 is worth keeping an eye on this season, as much as anything for the fact that it's reducing to 18 teams so there'll be four teams relegated with no play-off safety net. GS
Sunday
Championship: Swansea City v Cardiff City
12.00 on Sky Sports Football
Given the need to put even more unnecessary heat under games like this, it's a surprise the marketing guys haven't redubbed this fixture
Y Clasur
, instead of the more cumbersome South Wales derby. In his first season since joining from MK Dons, Russell Martin led Swansea to their lowest league placing since their 2008 promotion from League 1. Having finished in the play-offs for the previous two seasons, a 15th place finish in the Championship could have been seen as a worrying turn but the fact that his side saved their two best performances of the season for this fixture did much to convince the fans that his vision for the club is worth sticking with. Scorelines of 3-0 in Swansea and 4-0 in Cardiff, marked the first time a side has won both home and away league ties in the 31 seasons (across all four levels) of this derby. This season started slowly for the
Swans
but a run of wins - notably blighted by a shock 4-0 defeat at Turf Moor - has lifted them to just three points short of top-placed QPR. Having sacked their manager Steve Morison last month, Cardiff had experienced a bounce under the interim care of his former assistant Mark Hudson, including an impressive win against high-flying Blackburn. They have since lost their last two leaving them back in 18th, where they were when they sacked Morison. GS
Premier League: Tottenham Hotspur v Newcastle United
16.30 on Sky Sports Premier League & Main Event
Last time Newcastle were here, in April, they ended up on the wrong end of a 5-1 mauling, but if Tottenham's lacklustre display against Manchester United in midweek is any indicator, the home side will do well to get more than a point here. It's hard to isolate what the problem is at Spurs. Is it the pressure of the Champions League? If it is, they can secure their place in the knockout stage this week, with a game to spare, when they host Sporting. Or is it, as some suspect, that certain key players are holding something back with less than a month to go before the World Cup? A winter World Cup was always going to present this problem to some degree but every top club would be in the same boat and you would suspect that someone like Antonio Conte would manage it better than others. Kulusevski out is a blow but Spurs were failing to convince before he picked up his thigh strain, even in wins like the 6-2 against Leicester. Can Newcastle take advantage? No team has conceded fewer than the
Dirty Mags
this season so if they can restrict Spurs as much as United did, it's theirs to win. GS
Serie A: Roma v Napoli
19.45 on BT Sport 1
In what is turning out to be one of the most open Serie A seasons in years, Napoli are emerging as surprise title contenders. After losing a host of players in the summer, including Kalidou Koulibaly, Arkadiusz Milik, Fabián Ruiz and Lorenzo Insigne the Neapolitan club were expected to have a transitional season. Instead, they are top of both the Serie A table and their Champions League group and playing some blinding football into the bargain. Coach Luciano Spalletti has done well to blend in the newcomers. Huge credit must also go to sporting director Cristiano Giuntoli for his recruitment. One such newcomer is six goal Georgian striker Khvicha Kvaratskhelia, dubbed "Kvaradona" by the fans. With all that said, there are few more adept at toppling teams on the crest of a wave than Jose Mourinho. Now in the second season of his Roma project Mou also has his eyes on the Scudetto. But his plans have hit a snag with the injury of summer signing Paolo Dybala. The Argentine striker injured his thigh after scoring a penalty against Lecce earlier this month. This puts additional pressure on Englishman Tammy Abraham. There is more English interest in the shape of Chris Smalling who, while being one of the league's top centre backs, is not as good as Harry Maguire, at least according to Gareth Southgate. TD
Whatever you watch, have a great weekend.