Weekend Boxset: 2023 FA Cup third round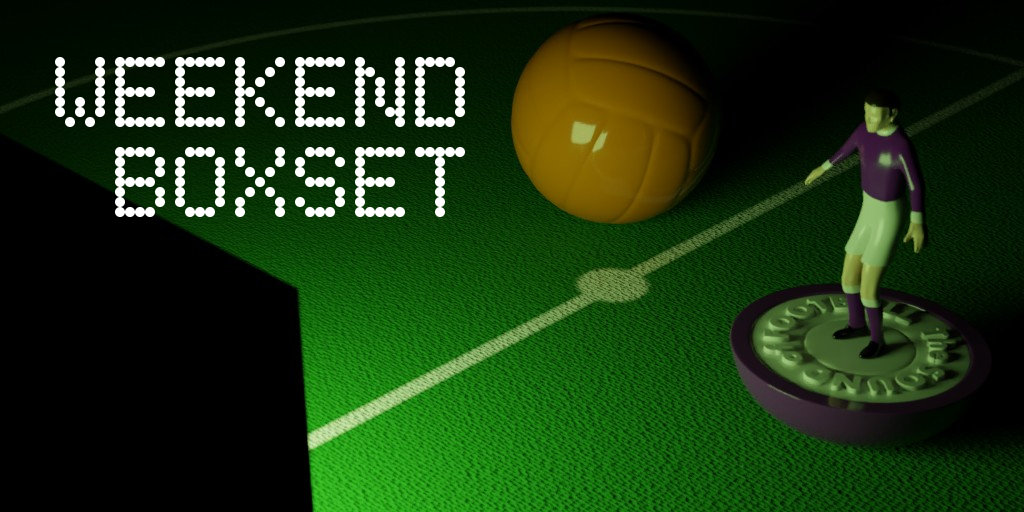 Happy New Year! After a break for the World Cup and the festive period we're back with a 100% free to air FA Cup special.
Seven great matches to take you from Friday to Sunday. It's the Sound of Football Weekend Boxset.
Get the Weekend Boxset in an email every week
All times are UK (GMT)
Friday
FA Cup 2022/23 third round: Manchester United v Everton
20.00 on ITV and STV
As I write this with a little over 24 hours until kick-off, Frank Lampard is still in post as Everton manager. It does seems unlikely they'll sack him before his side make the short journey to Manchester. Well, at least that's what I'm hoping, or this will become something of an alternative history… Hmmmmm, perhaps in that alternate time-line, despite the odds, Lampard inspires a famous victory at the Theatre of Dreams. His remarkable decision to bring back Ellis Simms from his loan spell at Sunderland, wasn't just him clutching at straws in the pathetic death-throes of his miserable tenure, but actually the turning point in what history will regard as the moment he became the new Ferguson. Simms would go on to score in every round of the cup, which they win convincingly in a one-sided final against City. Their solitary win in all competitions since early October is soon forgotten when relegation is comfortably avoided and the following season they achieve highs not seen since the Howard Kendal era. At the same time, ten Hag begins a dramatic decline, reversing an incredible run of results with 'ten' straight defeats. JB
Saturday
FA Cup 2022/23 third round: Gillingham v Leicester City
12.30 on BBC One
This season's
Magic of the Cup
offers us the team that won the trophy in 2021 taking on the side currently bottom of the EFL. Gillingham are five points from safety in League Two with just two league wins all season, but things look set to change at that club. Paul Scally, who bought the club for £1 and saved it from administration back in 1995, has sold up to US investor Brad Galinson. Under Scally's control the club rose to the second tier for the first time and reached their only FA Cup quarter final, but relations between him and a section of the club's support have soured in recent years, coming to a head after relegation on the final day of last season. On Thursday the new ownership announced the return of club legend Andy Hessenthaler as Head of Recruitment and the appointment of Kenny Jackett as Director of Football, and reportedly have opened the coffers for a busy January in the transfer market to help manager Neil Harris escape relegation to non-league. Leicester are certainly one of those sides for whom the World Cup break has done no favours. Having started the season dismally, Brendan Rogers had seemingly turned things around for the Foxes, with their narrow loss to City being the only defeat in the month leading up to the enforced break. They've lost all three of their league games since returning to action and have quickly slipped back into the crowd scene that is the Premier League relegation fight. They may have more important things to think about but with a tough EFL Cup quarter final trip to a Newcastle side sniffing silverware coming up next week, the FA Cup offers the best chance to rescue a disappointing campaign. GS
FA Cup 2022/23 third round: Coventry City v Wrexham
17.30 on S4C
No doubt the inside story of Wrexham's FA Cup run will be thoroughly documentaried in Season 2 of "Welcome to Wrexham". The club's owners Rob McElhenney and Ryan Reynolds are desperate to get CPD Hollywood promoted, and the club is competing with Notts County for top spot in the National League. But the FA Cup is bursting with storytelling potential and could help plug a big gap in their finances as they bankroll a non-league club on EFL salaries. It has been said that Reds' top scorer, Paul Mullin (17 goals in 23 games this season), is Championship quality and he will get the chance to demonstrate that accolade against a mid-table side from that division who are lurching from one off the field crisis to the next. Coventry City were recently handed a suspended points deduction due to the poor state of the pitch at the CBS Arena following the rugby sevens tournament in last year's Commonwealth Games. The Sky Blues only have an agreement to play at that stadium (now the proud possession of Mike Ashley) until the end of this season. At least they have finally settled their tax bill so won't have the HMRC coming after them. Coach Mark Robins has said he may need to rotate his players due to fixture congestion. Under the circumstances it's no wonder the Boxset has identified this as a giant killing. Although, I'm not altogether sure which club is the giant. TD
FA Cup 2022/23 third round: Liverpool v Wolverhampton Wanderers
20.00 on ITV4
A welcome break from the relegation headache he inherited, Julen Lopetegui takes his Wolves side to Anfield in a clash against the current FA Cup holders, Liverpool. Quite a time to visit Anfield, where Jürgen Klopp's side, while in a fairly respectable sixth, have already been dumped out of the League Cup against rivals Manchester City. They also suffered a deserved defeat at Brentford in mid-week which was to become their fifth game without a clean-sheet - it's fair to say that all is not as it should be at Liverpool. Adding to his woes, Klopp will also be unhappy that van Dijk, Diaz and Jota are unavailable due to injury and the influential (and brilliant!) Jordan Henderson remains a doubt. I'd argue that Lopetegui can go into this fixture relatively pressure free. He was brought in to prevent a relegation, not win trophies - well, at least for this year. He's also enjoying a relatively good start to his time at Wolves, who've had him on their radar for several years. Wins against Gillingham in the League Cup and away to Everton followed by a decent draw against West Midlands rivals Villa, were only punctuated by a narrow loss to in-form Manchester United Football Club. While the bookies have this as a dead-on win for the home side, a cheeky little flutter on Wolves doing the do might be worth a punt. JB
Sunday
FA Cup 2022/23 third round: Cardiff City v Leeds United
14.00 on ITV and STV
A Premier League side away at a Championship side in the third round of the Cup always has banana skin written all over it, especially as Leeds haven't made it past this stage of the competition since 2017. Cardiff though are in a parlous state right now and with a rookie manager at the helm and reports of illness sweeping through their already thin squad they shouldn't be expected to provide an upset. And it's not easy to see where things could get better for them either; a transfer embargo still hangs over them from the unpaid fee for the late Emiliano Sala owed to Nantes and it's unlikely that will be lifted before the end of the month. Leeds have already been active in the open window with new signing Austrian international Max Wober looking set to make his debut at centre back. The 24 year old former Ajax and Sevilla player was one of Marsch's first signings at Red Bull Salzburg for what was then a record fee for the Austrian Bundesliga. GS
FA Cup 2022/23 third round: Manchester City v Chelsea
16.30 on BBC One
In terms of glamour, this is the tie of the round. It's also part two of a double header. Part one was a Premier League match played last night. City prevailed at the Bridge thanks to the increasingly productive partnership of Jack Grealish and Riyad Mahrez combining for the latter to score the only goal in the game. It was genuinely a game of two halves which warranted its narrow score line. In fact had Chelsea's keeper, Kepa, been on his toes it might have stayed goalless. Now attention is turned to the FA Cup which may not be either club's top priority but despite its diminished status, the venerable competition is far from chump change. With no prospect of winning the league and with a coach already under pressure, Chelsea's need is probably greater, and the club could use a long cup run to keep the fans engaged with the project. Brian Potter's team have only managed one win in the last five and that was to Bournemouth which doesn't count. The 1-1 draw with Forest was positively alarming and the Blues need to put in a shift against the champions unless they want to chuck their coach under the bus. Dropped points against Everton aside, City can be happy with their restart. However, the difference between their first and second half performances last night should worry Pep Guardiola who admitted after the game that some of his players need more time to recover from the World Cup. It's possible that he will rotate but he can't afford too many changes. The game will have a sombre tone following the passing of Chelsea legend Gianluca Vialli. The Italian striker was among the first wave of great players coming into the Premier League in its formative years and remains a respected figure beyond Stamford Bridge. TD
La Liga: Atlético Madrid v Barcelona
20.00 on ITV4, LaLigaTV and Viaplay Sports 1
A tasty Spanish plate to round off a weekend of Cup action. Atleti secured a hard fought 2-0 win against Elche in what was a feisty affair which saw both teams suffer red cards. Antoine Griezmann, with his new pink hair, assisted Joao Felix for the opener. Spanish international Alvaro Morata got past the disappointment in Qatar with his team's second, albeit with a very fortunate deflection. The Madrid club's coach, Diego Simeone, was under pressure going into the World Cup break and he will be delighted with his player's, especially Pablo Barrios. The 19-year-old put in an impressive performance and scored his maiden goal against Oviedo in the Copa del Rey this week. Keep an eye out for him. Meanwhile in Cataluña, Barcelona are not exactly having it their own way. They narrowly beat third division CF Intercity, 4-3 in the Copa del Rey on Wednesday and laboured to a 1-1 draw with local rivals Espanyol at the Camp Nou, last weekend. The game saw 14 (fourteen) yellow cards and three reds - although referee Antonio Mateu Lahoz (yes, him again) rescinded Espanyol's second red following a VAR review. But there is still more Barca red card controversy. Robert Lewandowski was initially given a three-match ban, following his dismissal in the last game before the World Cup break. The club launched a last-minute appeal against the length of the ban which enabled Lewandowski to play against Espanyol, who were incensed and lodged a protest. The appeal failed and Barca's top scorer will not play for the next three games. TD
Whatever you watch, have a great weekend.