Weekend Boxset: RIP John Motson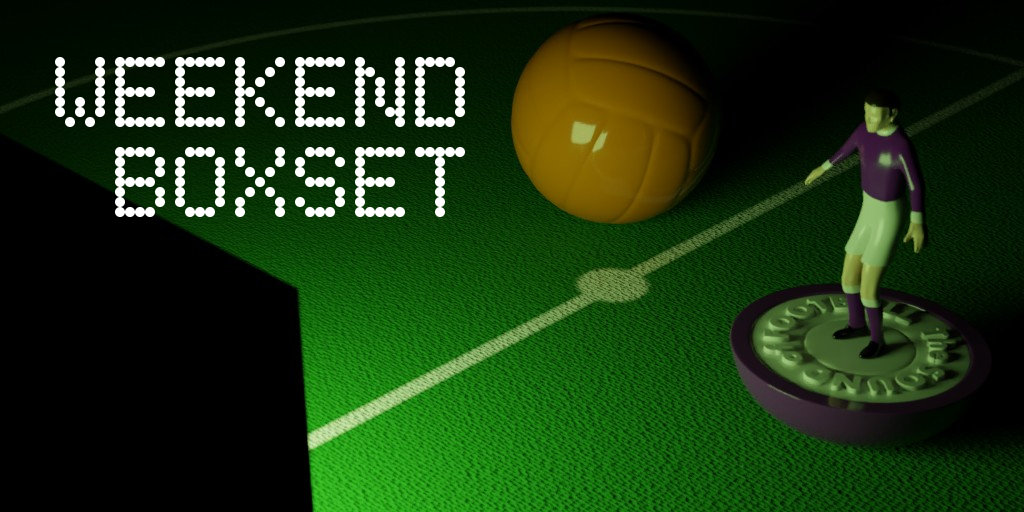 This week we'll be listening to as much as watching these games. BBC Football commentator John Motson's style and passion were uniquely his, but he influenced everyone who followed in his profession. We will miss him and we'll celebrate what he gave to us.
Seven great matches to take you from Friday to Sunday. It's the Sound of Football Weekend Boxset.
Get the Weekend Boxset in an email every week
Share this with someone on
WhatsApp
All times are UK (GMT)
Friday
Premier League: Fulham v Wolverhampton Wanderers
20.00 on Sky Sports Premier League, Main Event & Ultra
Who are the two most improved Premier League teams in this post-World Cup, second stage of the season? Yes, that's right, it's these two - the only sides in the top flight to have doubled their points tally since the restart. Going from being one of the pre-season favourites to go straight back down to the Championship, as they always do, Fulham sit on the brink of a return to European football. So well has Marco Silva got his side playing, they can finish the weekend level on points with Newcastle (though the Mags will have two games in hand). Also surprising is that most of this has happened without the goals of Aleksander Mitrovic, who missed the last win away to Brighton with a niggling hamstring injury and is a doubt for this one. What is working for the Cottagers though, is the lusaphone trio of Willian, Pereira and Palhinha, who have really got things clicking in midfield. Not short of talented Portugese speakers themselves, it's a couple of English players that have been noticeable in Wolves recent improvement under new coach Julen Lopetegui. Craig Dawson had a sensational debut, scoring in the 3-0 win over Liverpool, after signing from West Ham. Max Kilman made two goal-line clearances in that game and already the pair look to be forming a decent partnership at centre-back. Kilman is a former England futsal international, though he's also eligible to play for Ukraine through his parents. I'd love to say this will be an all-action Friday night thriller but I think it's the defensive qualities of both sides that will shine in this one. GS
Saturday
Championship: Coventry City v Sunderland
12.30 on Sky Sports Football, Main Event & Ultra
I watched this fixture, the first for both sides of the current campaign, in Carvoeiro, Portugal with my son and a good friend. The Super Bock refreshed us in the midday heat as we enjoyed Sunderland's return to the Championship in an entertaining 1-1 draw. This time I'll be dividing my attention between the aforementioned son's own football match and this one. Standing ankle deep in mud on a bracing February morning trying to catch the action on a tiny mobile screen while simultaneously watching a bunch of teenagers kick each other, couldn't be further from that late-July day. Cov's Viktor Gyokeres and Sunderland's Jack Clarke scored that day and both have gone on to enjoy very successful seasons in front of goal. Quite why Jack Clarke comes in for so much stick from my fellow Mackems is beyond me. The talented attacking midfielder has scored important, and spectacular, goals and set up many others. Coincidently, both sides played Rotherham last time out, with contrasting results: Cov enjoyed their first back-to-back win since November while the Lads suffered a disappointing 2-1 reverse. One positive was loanee Joe Gelhardt's goal, his first in red and white since joining from Leeds - he remains Sunderland's only fit number-nine. Despite this, last season's League One play-off winners sit in a respectable eighth and are playing some very entertaining football under Tony Mobray. A home win will see Coventry move to within one point of the visitors in a consistently competitive Championship, while Sunderland could fly as high as fourth. JB
La Liga: Real Madrid v Atlético Madrid
17.30 on ITV4 & ITVX, LaLigaTV and Viaplay Sports 1
As Atleti transformed into a title-challenging, Champions League club under Diego Simeone,
El Derbi Madrileño
has grown in intensity and competitiveness. But most recently, there has been a much darker dimension to this derby fixture in the form of racism. In the reverse fixture back in September, Real Madrid player Vinicius Jnr was subjected to racist abuse from a section of Atleti fans at the Metropolitano. Prior to the game, home supporters were chanting "Vinicius is a monkey". This is believed to be in reference to criticism of the way Vinicius celebrates his goals, from football agent Pedro Bravo. Speaking a few weeks earlier on Spanish TV show Chirinuito, Bravo said that Vinicius should stop "monkeying around", a remark condemned as racist which Bravo denied. Last January, the two teams were drawn in the Copa del Rey, where once again, Vinicius was targeted by racists. An effigy of him was hung from a bridge in the city the night before the match at the Bernabeu. It was a cracking game by all accounts in which Real came back from a goal down to win 3-1 in extra time. Vinicius scored the third and did not disguise his delight or curb his celebrations. Why should he? He played some lovely football at Anfield against Liverpool in Real's 5-2 win on Tuesday and is a decent bet to get on the scoresheet in this match. But there will be no away fans to see it because they have been banned from the stadium as a direct consequence of what has happened before. TD
Premier League: Crystal Palace v Liverpool
19.45 on Sky Sports Premier League, Main Event & Ultra
Even through my black and yellow tinted spectacles, I can see that we are entering the latter stages of Klopp's tenure at Liverpool. He has achieved great things and deserves street names and statues in both Dortmund and on Merseyside, but it looks like things are unravelling. Conceding five goals at Anfield could be regarded as a sackable offense were it not for the fact that it happens so rarely that there is no precedent. There should be some mitigation in that the 5-2 Champions League loss on Tuesday was against the current holders and one of the best teams in Europe, and that the tie is not over. However, the Liverpool manager's increased irascibility suggests that he needs a break. Optimists can look to a recent upturn in Premier League results, but scratch the surface, and you'll find wins against a Newcastle team that experienced a collective in-game brain fart and Everton, who, despite encouraging signs under their new coach, were pretty bent out of shape. Up next is a trip to Selhurst Park: a ground where, despite the locals' continued celebration of "Crystanbul" (where Tony Pulis' pub team thwarted their guest's title hopes with an unlikely 3-3 draw in 2014), the Reds have an excellent record in Croydon, winning every match in the last eight. I suspect that the Liverpool players will be anxious to issue a response following their Anfield trauma, and this is the place to get it. Palace are listing somewhat and are without a win in 2023. The most excitement we can hope for would be an unwelcome late-season relegation scrap. I'm not sure there is an appetite for an upset. TD
Sunday
Premier League: Tottenham Hotspur v Chelsea
12.30 on BT Sport 1 & Ultimate
The last time these sides met was the explosive encounter at Stamford Bridge which saw both Antonio Conte and Thomas Tuchel given red cards in the chaotic scenes at full time. At the time it would have been hard to imagine that Tuchel would be fired by Chelsea within a few weeks of that match; in the build up to this game it seems unbelievable that Graham Potter still has a job with the club. Since their last away win at Villa back in October, they have taken just 12 points from their 14 league games. Without performing too much better in that time, somehow Spurs find themselves back in the Champions League places. Their win over West Ham last weekend will have restored some confidence after a heavy defeat to Leicester but the highlight of the game for Spurs fans must have been the 20 minute cameo of Son Heung Min, coming off the bench and scoring just his second goal in five months. Having scored 23 last season, a dip in form for the Korean was always going to make things tougher for Spurs. If this is a sign that he's on his way back to his best, it could also signal an upturn for Tottenham's fortunes. GS
EFL Cup final: Manchester United v Newcastle United
16.30 on Sky Sports Football, Main Event & Ultra
Sunday's League Cup Final will see two clubs very much in transition battling it out in what is the season's first major final. The (dirty) Mags are, despite recent results, enjoying a great season under Eddie Howe, while their opponents today may be about to go through an identical process whereby an unpopular ownership is swapped for a despotic state-run, sports-washing enterprise. Putting the geo-politics of the situation aside, today's match gives Newcastle the opportunity for their first major domestic trophy since their FA Cup win in 1955. Regardless of the outcome today, that stat will soon be long forgotten. One way or another, the bar-codes will be playing European football next season and that means they'll be able to attract more talent to their already impressive squad. Sadly, for this fixture at least, they're without goalkeeper Nick Pope who is rightfully suspended following his red card against Liverpool last week. Voices on social media crying 'let him play' clearly don't understand the rules surrounding suspension, or just didn't see the incident. As second choice stopper, Martin Dubravka, is cup-tied having played for today's opposition on loan, Loris Karius will fill the void. The mental strength needed to put aside the memories of the 2018 Champions League final will be more than most people can muster. The impact it had on Karius and his career cannot be underestimated and, while there's no way I'll be cheering on the (dirty) Mags, I doubt there'll be a single neutral who won't be supporting him. Ranged against him is a fine United side spearheaded by Marcus Rashford who is in outstanding form. Since he returned from the World Cup, Rashford has scored 16 goals in just 17 appearances, well ahead of the one-footed Erling Haaland. This may prove to be too much for Newcastle despite the return of Bruno Guimaraes and Joelinton. Man United are on a great run and the (dirty) Mags haven't won in their last three games. Today may not be the day for the bar-codes, but it is coming. JB
Ligue 1: Marseille v Paris Saint-Germain
19.45 on BT Sport 3
You may remember in last weekend's Boxset we drew your attention to PSG v Lille, which turned out to be a barnstormer. Things didn't look that promising for a classic tie when PSG went two goals up in the first 20 minutes, with goals from Mbappe and Neymar, but
Les Dogues
clawed their way back into the game to lead 3-2 with 20 minutes to go. Mbappe got his second to equalise with three minutes remaining, and then deep in injury time Messi scored direct from a free kick for the winner for the champions. That win helped them maintain their five point cushion at the top of the table but this week they face an even sterner test, away to their closest rival. Post-World Cup PSG are a shadow of the side that was unbeaten before the break. Three defeats, and an uninspiring loss to Bayern in their Champions League first leg has given hope to chasing sides, like Monaco and Marseille, that they are there for the taking. Marseille's season improved as soon as they where knocked out of Europe, losing just once since the end of October. Dimitri Payet, who is 36 next month, is mostly used an impact substitute these days, with the 34 year old Alexis Sanchez being the main attacking focus. Arsenal loanee Nuno Tavarez is having a much-needed confidence rebuilding campaign and is the club's second highest scorer with six from his position of left wing back, including what turned out to be the winning goal in the 3-2 away win at Toulouse last weekend. Arteta chose not to offer Marseille the option to buy Tavarez at the end of his loan, a decision that could prove to be surprisingly astute. GS
Whatever you watch, have a great weekend.