Weekend Boxset: England in a World Cup final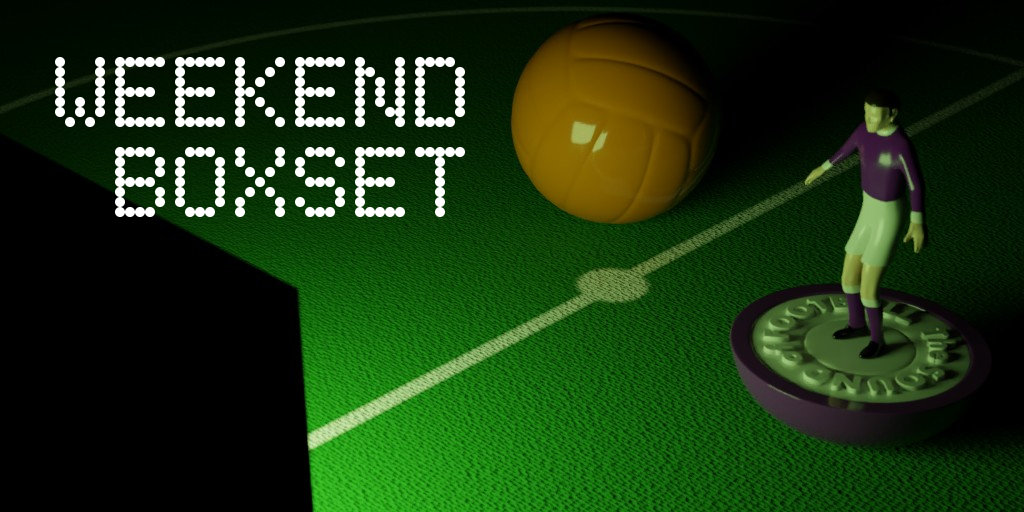 The Lionesses have made it to the World Cup final, and I'm not anywhere near bored of saying that. Apparently there's some other football on this weekend you might be interested in.
Seven great matches to take you from Friday to Sunday (one ever so slightly greater than the others). It's the Sound of Football Weekend Boxset.
Get the Weekend Boxset in an email every week
Share this with someone on
WhatsApp
All times are UK (GMT +1)
Friday
Bundesliga: Werder Bremen v Bayern Munich
19.30 on Sky Sports Action
The Bundesliga season opens with its champions in a state of flux. Last season's title should have gone to Borussia Dortmund, but the Black and Yellows choked on the final day and Bayern claimed the Salad Bowl instead. But be under no illusions, it was a difficult season for the Bavarians which exposed problems with their squad that need to be addressed. So, what did they do? Conduct a thorough re-examination followed by a patient recruitment drive or spend 100 million euros on Harry Kane. Happily, for the sake of pithy match previews, they chose the latter and we can spend the rest of the season rubbing out eyes whenever we see the England captain in a Bayern shirt and say to ourselves "Wait, that actually happened?" Despite taking the sticking plaster approach to their problems Bayern are still title favourites this season. Their opponents have not beaten Bayern Munich since Claudio Pizzaro, Mesut Ozil and co. thrashed them 5-2 at the Allianz in 2008. The last time Werder won this fixture at the Weserstadion was in 2006. The decline of Bremen from title winners to mid-table mediocrity (on a good season) offers a cautionary tale on how one of the biggest clubs in Germany can go into decline if the management team don't nip their problems in the bud, early doors. TD
Saturday
Championship: Plymouth Argyle v Southampton
12.30 on Sky Sports Football, Main Event and Ultra
The last time these sides played was in the closing stages of the 2010/11 League One season. Southampton ran out 3-1 winners at Home Park that day, in a game featuring a young Adam Lallana. The Saints went on to finish second, the first of back-to-back promotions which took them to England's top division, where they stayed until relegated, bottom, last term. By contrast, Plymouth were relegated, helped in no small part by a ten-point deduction due to the club entering insolvency, but also by the result against Saints, which confirmed their fate. Since then, the Pilgrims have bounced in a kind of purgatory between Leagues One and Two. In late 2021, then assistant manager, Steven Schumacher was appointed and they haven't looked back. Building on narrowly missing out on the play-offs, Schumacher guided Argyle back to the Championship as winners. A solid home win against Huddersfield, and a hard-fought draw at Watford has set them up nicely for their reunion with the Saints. Russell Martin, charged with stopping rot at St Mary's following their calamitous relegation from the Premier League, saw his side further depleted by the sale of James Ward-Prowse and Romeo Lavia. He'll also have to manage without another midfielder, Will Smallbone, who's injury sustained in last week's epic four-all draw against Norwich is 'worse than expected'. Heart, rather than head has me leaning towards the Pilgrims, here. A win would, symbolically at least, draw a line under nearly twelve years of pain, started that day in May 2011. JB
Premier League: Tottenham Hotspur v Manchester United
17.30 on Sky Sports Premier League, Main Event & Ultra
Ange Postecoglou makes his bow at the Tottenham Hotspur Stadium and hopefully, he'll receive a warm reception. We live in a world where a point at Brentford is something to be happy about and Spurs fans should take encouragement from the energy the players showed in their first proper match since the departure of Harry Kane. While not in the same class as his predecessor, Richarlison was a more than decent understudy and should make a suitable replacement for the England captain until or unless someone else can be found. Their new number 10, James Maddison, settled in like it was his testimonial year rather than his competitive debut. So, it all looks optimistic for the north London club which, as their fans will tell you is the time to be the most weary of calamity. Their visitors arrive with three points stolen rather than gained from their season opener. It would be over-exaggerating to say that the Wolves team they beat on Monday at Old Trafford were the better side, but they certainly did not deserve to lose the game and had the VAR not bottled it, would have won a penalty at the end of the match and with it a chance to equalise. Their friends at Sky may have dressed it up as Getting A Result Despite A Poor Performance but United need to improve if they want anything from this season. TD
Premier League: Manchester City v Newcastle United
20.00 on TNT Sports 1 & Ultimate
While eight o'clock on a Saturday night may be convenient for the TV audience (although I'm sure there are better things you could be doing), spare a thought for the N*wcastle supporters who face a late night return home thanks to this particular piece of scheduling. Don't get me wrong, I won't lose too much sleep, if any, but surely this slot would be better saved for a derby game. On the pod earlier in the week, Graham correctly observed that England's top division was now consistently a one-horse race with today's home side sweeping all before them. Arsenal may give them a run for their money, but the resources needed to compete are out of reach for most - step forward N*wcastle. By tea-time on Saturday, you'd be forgiven for conceding that the title was already on its way to the blue side of Manchester, Arsenal would finish second, and the uni-footed Skandi-Behemoth, Erling Haaland, would top the scoring charts. I was in the same place, but at that moment I watched Anthony Gordon deliver an inch-perfect cross to debutant, Sandro Tonali, who converted in spectacular style. What followed was the complete destruction of a much fancied Aston Villa side in a victory which, in my humble opinion, signals the beginning of what will be an historic season for the (dirty) Mags. City may already have another trophy in the bag in the form of the European Super Cup, but Sevilla cut them open on more than one occasion with Ederson required to (brilliantly) keep the score level. If anyone can end City's ten-game unbeaten home run, it's the barcodes - watch this (nauseating) space. JB
Sunday
FIFA Women's World Cup Final: Spain v England
11.00 on BBC One, ITV1 and STV
It's been an incredible tournament and while for much of the world this may not be the final it deserves, it certainly can't be argued that these sides don't deserve to be there. England's progress to the final has been one of party-spoilers: requiring penalties to get past a resilient Nigeria, punishing a bold Colombia side, and then breaking the hearts of the co-host nation Australia in a narrative-shredding semi-final. For Spain, it seems clear that this side has reached the final despite of their head coach Jorge Vilda, not because of him. Both sides are missing some of their best players at this World Cup but for Spain that is through choice (either the player's or the manager's). Unlike England, Spain have dominated the sides that sit well below them in the rankings but struggle against sides that are decisive in transition. Their 4-0 defeat to Japan in the group stage, was reminiscent of their 2-0 defeat to Germany in last summer's Euros - they dominated possesion in both games. That will probably be in Sarina Wiegman's thoughts when it comes to deciding what role, if any, Lauren James will have after serving her two match ban. Football is a game of fine margins, where even the smallest percentage improvement can tip the balance. The unity of coach and squad could be what tips it in favour of England. One thing seems certain: such is the quality of the young attacking talent coming through, these sides could be contesting finals for years to come. GS
Ligue 1: Lorient v Nice
14.00 on TNT Sports 1
While the Manchester United takeover rumbles on for Sir Jim Ratcliffe, there have been a lot of changes at the club he already runs, Nice. In the summer the club appointed Francesco Farioli as their new head coach, whose stock has risen with that of his mentor at Benevento and Sassuolo, Roberto De Zerbi. The rag-tag band of ex-Premier League misfits have been cleared out: Ross Barkley has gone Luton, Aaron Ramsey is back at Cardiff, Morgan Schneiderlin is now in Turkey and Nicolas Pepe has returned to Arsenal. Nice broke their transfer record to complete the signing of Nigerian striker Terem Moffi for €25m. Here he faces his old side having missed out when the sides last met in his loan spell at Nice in March. Lorient's transfer summer business has been far more controversial. Just a few days after Benjamin Mendy was cleared of rape and attempted rape charges, the club offered him a two year contract. The 29 year old former French international will not feature in the game, except perhaps as a shadow hanging over it. Having not played for two years, it will be some time before the one time world's most expensive defender is seen on the pitch. GS
Serie A: Udinese v Juventus
19.45 on TNT Sports 1
A disastrous final four games of the season crushed any hope of European football and put a dampener on what had been a decent first half of the campaign for Udinese. The Friulians prospect for this season depend on what happens in the transfer market. Midfielder Lazar Samardzic's move to Inter has stalled at the eleventh hour. Juventus are one of several potential new destinations for the 21-year-old Serbian. It's possible that coach Andrea Sottil may leave him out for this game. Another one of their players subject to transfer tittle-tattle is Portuguese forward, Beto who scored 10 goals last season and is linked to Everton and Forest. After a lengthy and somewhat intense period of horse trading, Juventus were issued with a meagre fine of €718,240 following its financial misdemeanours. With the matter settled, coach Max Allegri has a platform with which to rebuild and will be spared the hassle of fielding two teams a week thanks to a UEFA ban for not adhering to a previously agreed settlement. The timing of the ban to coincide with Juve's participation in the Conference League, a competition that was not really designed for clubs like Juventus, will surely not be lost on both parties. All being well, Juve will have sufficiently rehabilitated themselves, on the pitch at least, to improve on last season's seventh place and qualify for next season's revamped Champions League. New signings Timothy Weah and Manuel Locatelli are in contention and Paul Pogba fans will be pleased to note that the French International is finally fit and available for selection. TD
Whatever you watch, have a great weekend.