It's Football Writing and Podcasting Awards Season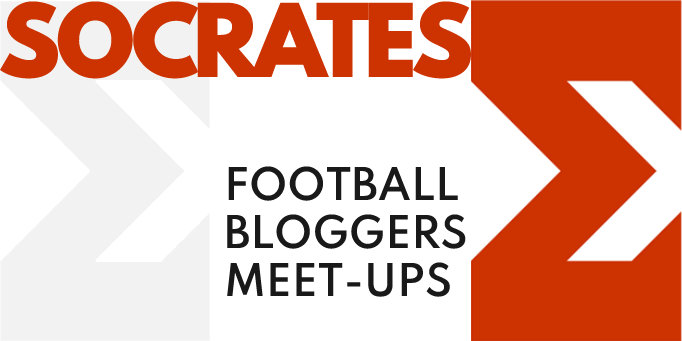 How one measures success as a football blogger or podcaster is a source of endless discussion. Whether it be down to page visits, iTunes downloads, retweets, Facebook likes, a listing in The Guardian's Favourite Things or, like me, when someone who wasn't a member of my close family actually read one of my posts, we derive satisfaction from a variety of milestones.
One of these is the emergence of various awards and one variant of these is currently
open for voting
: the Football Supporters' Federation Awards. It's pleasing to recount that a number of excellent writers and not a few Socrates members have been put forward for these gongs and I'll take each in turn:
The Football Supporters' Federation Awards 2014
Far from restricted to blogging (I've read Sergio Aguero's Halifax Town blog and it leaves a bit to be desired), these awards cover many angles of the game including the accolade of best player and best pundit. For our purposes, however, four categories are especially noteworthy:
Blogger of the Year
Socrates stalwarts Damon Threadgold and Simon Barnett of The Real FA Cup as well as Ian King of Two Hundred Percent jostle for position in this section - a kind of 'Group of Death' if ever there was one. The latter actually switched to covering topics beyond football recently (Mike Read and rabies have been among the more alarming of these) but there has still been a bundle of mighty content to enjoy from the earlier months of the year while Ian does still tip his toe into footballing waters.
His recent piece on the FA Cup
helps us segue nicely into further mention of Damon and Simon's site - a long standing paean to the game's backwaters and an inspiration to the BBC's newly revamped coverage this past month. As the two gents state, the
FA Cup is still way better than the League
.
The two sites are up against excellent Brentford fan site,
Beesotted
, a highly productive enterprise, Seb Stafford-Bloor's prolific and always-on-the-money 
Premier League Owl
and the visually inclined
Copa 90
as well as the probable winner,
Arseblog
. Undeniably superb, the decision to put the nominations to the public vote inevitably favours sites that take advantage of a partisan leanings and, 2-1 defeats to Swansea notwithstanding, the popularity of Arsenal Football Club is not in dispute.
Podcast/Radio Show of the Year
In this category, the irritatingly regular 
Football Weekly
will surely once again clean up although it faces equally listened-to competition in Five Live's Monday Night Club (John Motson defending Sir Stanley Rous and all) as well as
The Football Ramble
,
The Tuesday Club
with everyone's least favourite Liverpool baiter Alan Davies and
The Warm Up
, a Talksport production which I am not familiar with and have no intention of altering that state of affairs.
So, bias apart, you really ought to be voting for Graham Sibley, Terry Duffelen and Jan Bilton's
The Sound of Football
, originally co-hosted by Chris Oakley of the Football Attic and over 200 shows to the good now. Recent shows have focused on the issue of 'weakened teams' and 'right hammerings' - Perry Suckling probably shouldn't click on the link.
Independent Website of the Year
Although pleased to be nominated, my own site
The Two Unfortunates
has perhaps snuck into the reckoning due to some kind of Ryan Giggs-style 'lifetime achievement' award - after 5 years, posting regularly in 2014 has been an effort at times even if the likes of
John McGee
and
Susan Gardiner
have helped maintain high standards and the campaigning strand that the FSF awards should really reward is more or less present and correct.
So, alternatives in this category would number the quietly impressive
The Inside Left
, a pan-football site that has treated us to some superbly written and edited articles and good series such as their Swansongs and
One Love
vehicles and
The Anfield Wrap
, a highly respected Liverpool FC vehicle which is also responsible for a fine Reds podcast. Competing with the aforementioned are the Newcastle United blog and New Order-inspired 
True Faith
,
Fantasy Football Scout
and statisticians
WhoScored.com
- an enterprise that has just the 447,000 followers on twitter. Guess who is going to win then?
Fanzine of the Year
It's encouraging that the awards reward fanzines in this age of online interlocution and as evidenced by the likes of Chester's
The Blue and White Fanzine
and Ipswich zine
Turnstile Blues
, the format is undergoing something of a renaissance. Nominations in this category include the all ends up excellent Doncaster Rovers'
Popular Stand Fanzine
, stewarded by Glen Wilson and also containing coverage of Doncaster Belles and the campaigning
Stand
which has railed against modern football in fine style for a good time now - even they may be shocked by recent events at Wigan and Sheffield United mind.
The long running
The Square Ball
(Leeds United),
Duck
(Stoke City),
United We Stand
(Manchester United) and
A Love Supreme
(Sunderland) are also in the running for this category.
A word also for the recently held Football Blogging Awards. Although both voting stages of these are based on a public vote, this should not obscure the excellence of some of the winners and indeed, the organisers seemed to acknowledge the shortcomings of making this a mere popularity contest in allowing for a 'Judges Choice' award. Among the winners were Sheffield Wednesday fan Laura Jones for her site
YICETOR
and the brilliant Coventry City website,
The Sky Blues Blog
.
Lastly, although certainly something to celebrate, awards of this kind are not the be-all and end-all and remain highly subjective - the presence of so many outstanding sites and podcasts which
haven't
been nominated is immediate testimony to that.