Weekend Boxset: City derbies and summit meetings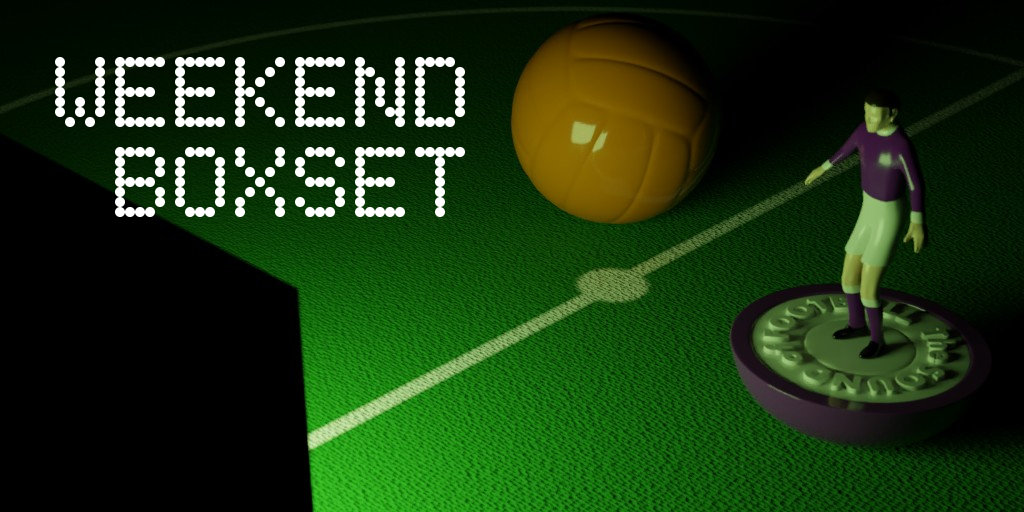 Seven great matches to take you from Friday to Sunday (plus a bonus midweek match). It's the Sound of Football Weekend Boxset.
All times shown are GMT.
Friday
Bundesliga: Hoffenheim v Borussia Dortmund
19.30 on BT Sport 3 (US: FS1)
In less than a year, 29 year old rookie coach Julian Nagelsmann has taken Hoffenheim from relegation certainties to being the only unbeaten team left in this season's Bundesliga. Nagelsmann has made stars out of Andrej Krameric, Marc Uth, Sandro Wagner and Niklas Sule (a future Premier League centre back in my opinion).That being said, they draw more than they win and in Borussia Dortmund face a dangerous if unpredictable opponent. Any team that can go toe-to-toe with Real Madrid can match Hoffenheim. However, if Dortmund were able to consistently produce their best they wouldn't be down in sixth, and coach Thomas Tuchel has taken a lot of stick after their unsatisfying 1-1 draw in Cologne last Saturday. Moreover, BVB have only won twice in ten visits to Sinsheim. Looks like a draw to me.

Saturday
A-League: Melbourne City v Melbourne Victory
08.50 on BT Sport 2
They may not dress like it but Melbourne City are part of the Manchester City franchise. They took over the ailing Melbourne Heart that never really got over the handicap of sounding like a middle of the road pop radio station. Much like the A-League, this city rivalry is young, and it was the more established Victory that used to have the upper hand. But City have come out on top in three of the last four matches, most recently knocking their neighbours out of the cup at the semi final stage. A full house at AAMI Park is anticipated. The standard is OK but the intensity will be high. If you're looking to dip your toe into the A-League there are worse games to start with. Far worse.
Premier League: Crystal Palace v Chelsea
12.30 on Sky Sports 1 (US: NBCSN)
A late thwanger from Manchester United's Zlatan put paid to a Palace point on Wednesday. In fairness to the Eagles they've been on the wrong end of some curious officiating in the last two games. However, manager Alan Pardew set them up to be far too timid and no amount of whinging about the ref can change that. Chelsea boss Antonio Conte had to make some tactical tweaks but has his team humming. That's ten straight wins for the Blues after their win against Sunderland on Wednesday. At the heart of the team is N'Golo Kante, just as he was for Leicester last year. I imagine he will claim his second successive title and there will be little Palace can do to stop him.
Serie A: Juventus v Roma
19.45 on BT Sport 3 (US: beINsports)
The Big One. 1st v 2nd in Serie A and well worth cancelling a Saturday night date for*. There is not much to separate these two teams in terms of recent form. Gonzalo Higuain for the home team and Edin Dzeko for the Romans are two strikers with tremendous pedigree. Consider also the more rounded talents of Miralem Pjanic and Mohamed Salah. In fact the potential line up of both teams oozes with class that are not the kind of players to shrink from a big occasion, especially one of great significance. Roma have a spare game over Juve and can close the gap to a point with a win in Turin. Serie A is not as miserly with goals as it used to be but I'd be very surprised to see a result by a two goal margin. Expect at least one horrific decision from the referee.
*Do not cancel your date for this game.
Sunday
Premier League: Bournemouth v Southampton
13.30 on Sky Sports 1 (US: NBCSN)
Bournemouth are a team of extremes, alternating wins and losses over the last five matches. Their last game was a win against the Champions, Leicester, which should please Southampton fans seeking comfort among the omens. Not that they need them as they're going reasonably well themselves. The Saints will, however, be disappointed not to have got a result against 10 man Stoke on Wednesday. This is something of a south coast derby although Southampton consider Portsmouth to be the biggest local rivals. Given the plight of the Fratton Park club, it looks like this is the big derby game on the south coast until Brighton are promoted. Should be a spicy atmosphere.
Premier League: Manchester City v Arsenal
16.00 on Sky Sports 1 (US: NBCSN)
Arsene looked across at his beleaguered opponent in the City dugout and his heart bled in solidarity. "It's true," he said loud enough that only he could hear "they don't appreciate us." Despite being unable to hear the Arsenal manager's words Pep looked up and their eyes met for an instant. In that moment Pep saw his future and he didn't like it. "I regret that we meet in this way," he said. "You and I are of a kind. In a different reality I could have called you friend."
La Liga: Barcelona v Espanyol
19.45 on Sky Sports 1 (US: beINsports)
Unsurprisingly it is the home side that has the upper-hand in the Derbi Barceloni and any sensible money would be put on some variation of a Barca win. However, in spite of their ninth place, Espanyol are in decent form, unbeaten in their last ten matches. As you can imagine, this city derby is of greater value to Espanyol fans than Barca (the latter no doubt feeling that they have bigger fish to fry). But there has been, in the past, a political dimension relating to the matter of Catalan nationalism and sovereignty.
Bonus Wednesday Game
Bundesliga: Bayern Munich v RB Leipzig
19.00 on BT Sport 3 (US: FS1)
The Bundesliga Hinründe closes with a round of mid-week fixtures known as
Englischer Woche
or English Week. At the time of writing, the weekend results are not known but this match will be between the first and second placed team in the league whatever the outcome. Leipizig coach, Ralf Hasenhüttel, took his team to his old employer and bottom club Ingoldstadt last week and succumbed to an extraordinary 1-0 defeat, their first of the season. No doubt the rest of the league will be forensically examining that game for ways in which they can get back at the energy drink upstarts. Not Bayern though, they'll be looking to take Leipzig's youngster to school. Expect the Champions to come right out of the blocks eager to draw blood early. With the vast array of world class talent on show and with the Bavarians returning to form they are very likely to snuffle out their guest's puny resistance.
Whatever you watch, have a great weekend