Weekend Boxset: African Cup of Nations - Gabon 2017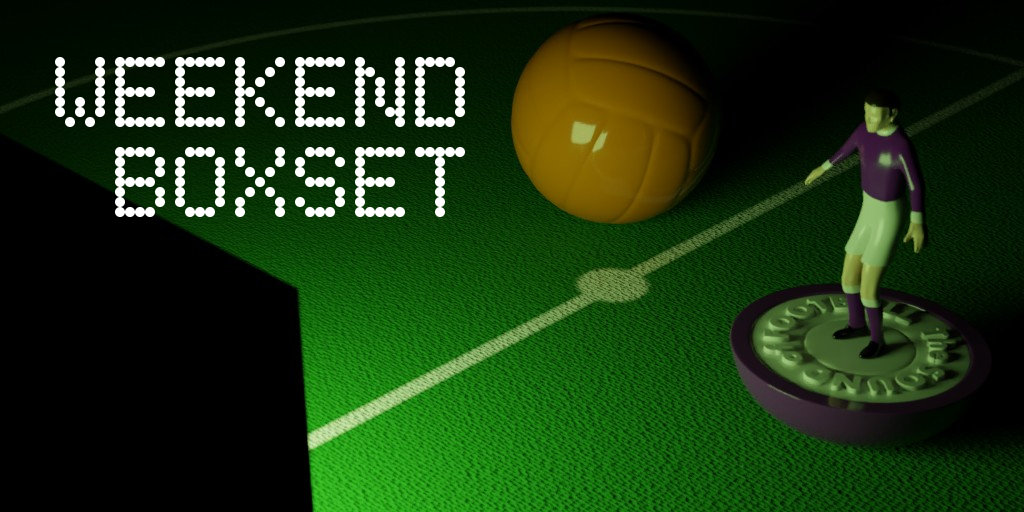 Seven great matches to take you from Friday to Sunday. It's the Sound Of Football Weekend Boxset.
All times are GMT
Friday
Championship: Leeds United v Derby County
19.45 on Sky Sports 1
The Elland Road club have received new investment from high places and are on a superb run under coach Gary Monk. Who knows, if Brighton can be prevailed upon to lose their bottle down the final stretch of the season, we may see Leeds back in the Premier League automatically. They are perhaps a little too reliant on striker Chris Wood for goals but as long as the New Zealander stays fit then there are no worries, right? Derby have come off the back of a good run of wins with a bit of a bump, only mustering a 1-0 win against Birmingham and that "shock" cup upset against West Brom in their last four. Still, two famous old clubs at the right end of the table duking it out under the lights. Who are you to say no?
Saturday
A-League: Sydney v Western Sydney Wanderers
08.50 on BT Sport 1
The folks at the Allianz Stadium are expecting 42,000 fans to turn up for this big city derby. Sydney FC are top of the table by six points while WSW are seventh which is not so impressive in a ten team league. However, the Wanderers boss, Tony Popovic, knows that his counterpart, Graham Arnold is missing defender Sebastian Ryall through injury and does not have much cover at the back after the transfer of Matthew Jurman to K-League club Suwon Bluewings. So the visitors are likely to come out swinging. Maybe there is an upset on the cards.
Africa Cup of Nations 2017 Group A: Gabon v Guinea-Bissau
16.00 on British Eurosport 2
Plans to hold the tournament in Libya were scotched for fairly obvious reasons so Gabon stepped in and they have the honour of kicking off their tournament against Guinea-Bissau. Star man for the hosts is Pierre-Emerick Aubameyang of Borussia Dortmund who needs no introduction. Their opponent's squad have qualified for the first time and are made up of players drawn from Portuguese football. Unsurprisingly the hosts are the heavy favourites for this game.
It's worth noting the kick off time of 16:00 GMT, smack bang in the middle of the embargo that prevent live TV coverage of football in the UK. I've checked with Eurosport and they confirm that they are screening the game live. Perhaps International tournaments take precedent in such matters.
Africa Cup of Nations 2017 Group A: Burkina Faso v Cameroon
19.00 on British Eurosport 2
Burkina Faso coach missed the deadline confirming his 23 man squad for this tournament. The Stallions got to the final in 2013 and much of that team is present in 2017. Long time fans of the Bundesliga may be familiar with two of their strikers. Aristide Bance and Jonathan Pitroipa. Cameroon are traditionally one of the stronger football nations on the continent but truth to tell they are no great shakes currently and are not tipped to go far.
Sunday
Premier League: Everton v Manchester City
13.30 on Sky Sports 1
Given City's recent record it's astonishing that Pep Guardiola is taking so much heat and consequently feeling the pressure. The blue Manchester club have won five of their last six and are only two points shy of second placed Liverpool. In view of the great form that Chelsea are in, City's position is about right in my opinion. Everton too are transitioning slightly with a bold new coach. Given their ambitions we can expect both teams to go for goals which makes this very much a game for the neutral.
Premier League: Manchester United v Liverpool
16:00 on Sky Sports 1
When these two clubs last met (on Red Monday) it was a bit of a damp squid. However, United are a much keener proposition and far better equipped to have a go at Klopp's attractive but vulnerable team. Beyond the long term absences, only Sadio Mane is missing for Liverpool. He's in Gabon with Senegal. Similarly, Manchester United's Eric Bailly is with the Ivory Coast team. United are also missing the two footed talents of Marcos Rojo. Both teams have Cup fixtures to overcome in the midweek which is no excuse for holding back but may be used in mitigation for the losing side. If you're looking for an additional narrative then look no further than the prospect of Wayne Rooney breaking Sir Bobby Charlton's goalscoring record, assuming he makes it onto the pitch.
Alternatively, at the same time, you can watch Algeria v Zimbabwe on British Eurosport 2.
Africa Cup of Nations 2017 Group B: Tunisia v Senegal
19.00 on British Eurosport
Tunisia are strongly tipped to do well in this competition. However, better informed people than I are concerned that the Carthage Eagles' performances are not matching the good results they have been getting in recent World Cup qualifiers. Senegal can rely on Sadio Mane for goals but this is apparently not a vintage side. The team is being coached by Aliou Cisse, who was part of the 2002 World Cup team that reached the quarterfinals. He previously coached the Under 23s.
Whatever you watch, enjoy the weekend.