Weekend Boxset: FA Cup 3rd Round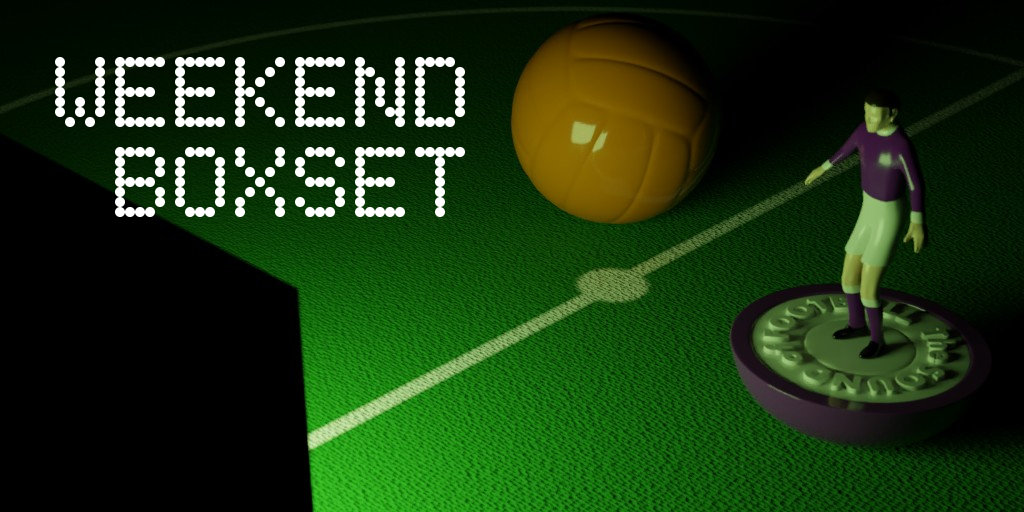 Seven great matches to take you from Friday to Sunday. It's the Sound of Football's Weekend Boxset.
All times shown are GMT.
Friday
FA Cup 3rd Round: West Ham United v Manchester City
19.55 on BBC One
Neither David or Goliath feature in this third round curtain raiser which is one of only a handful of all-Premier league fixtures. Both Bilic and Guardiola are enduring difficult seasons as they struggle with the weight of expectation. One outcome which is certain: an exit for one or the other will increase the scrutiny on their position. Bilic, in particular, will experience the jitters far more as West Ham's owners look to give the club wings.
Saturday
FA Cup 3rd Round: Manchester United v Reading
12.30 on BT Sport 2
Reading Coach Jaap Stam's return to the club where he spent three highly successful seasons prior to his controversial exit, arguably makes this one of the ties of the round. The Championship's third-placed side, with Premiership ambitions of their own, go into the fixture having enjoyed an impressive festive period which saw them match their points with goals in a three-match unbeaten run. For the holders, while they have struggled at times to convince under Mourinho, they are now top of the form table in the League. While many people grumbled about yet another seemingly straightforward United cup tie being live on TV, it shouldn't be forgotten that United are the Cup holders so you could say they've earned the right. This promises to be quite the lunch time feast.
FA Cup 3rd Round: Preston North End v Arsenal
17.30 on BT Sport 2
The Wenger boys head north hoping to erase the memory of last season's FA Cup campaign which saw them exit in the sixth round. Having lifted the famous trophy on twelve previous occasions, Arsenal will be looking to to make this season a record breaking baker's dozen. The hosts, in contrast to the rich history of their own in the competition, lie in unremarkable Championship mid-table obscurity. A chance for heroes, perhaps?
La Liga: Real Sociedad v Sevilla
19.45 on Sky Sports 2
If the Magic of the Cup™ is getting too much for you, the Spanish fixtures have a couple of interesting offerings this weekend. While these two finished 43 and 39 points behind the title winners in May, this campaign they both carry genuine Champions League hopes - the stats will tell you that over the past 10 games they've each collected more points than Barcelona. Both sides can take advantage of the erratic form of Villareal and Atleti.
Sunday
FA Cup 3rd Round: Cardiff City v Fulham
11.30 BBC One Cymru (Freesat 976, Sky 978, Virgin 864)
Wrth i glybiau'r Pencampwriaeth gychwyn cystadlu, daw Fulham o Orllewin Llundain i Dde Cymru i herio'r Adar Gleision. Caerdydd, â'r gwynt yn eu hadenydd ar ôl apwyntio'r hyfforddwr profiadol Neil Warnock ddechrau mis Hydref, sy'n eistedd naw safle o dan yr ymwelwyr, fydd yn awyddus i beidio colli sylw o'i gwaith yn y tabl. Hyfforddwr Fulham, Jokanovic, sy'n llygadu safle yn y chwech uchaf, fydd hefyd o'r un farn. Does neb yn disgwyl i'r gêm fod yn glasur ond mae'r sylwebaeth yn uniaith Gymraeg, sydd bownd o ychwanegu diddordeb.
FA Cup 3rd Round: Liverpool v Plymouth Argyle
13.30 BT Sport 2
League Two promotion hopefuls Plymouth Argyle make the journey north with two rounds of the FA Cup already in the bag, having seen off Mansfield Town and Newport County respectively. High flying Liverpool will be hoping to make it further than last year's disappointing fourth round exit at the hand of West Ham. The mouth-watering prospect of witnessing a Jürgen Klopp touchline meltdown awaits should Argyle triumph - that alone is worth tuning in for.
FA Cup 3rd Round: Tottenham Hotspur v Aston Villa
16.00 BBC One
Tottenham's Mauricio Pochettino is widely regarded as one of the finest managers in English football. Like a maestro, he conducts his talented team of disciplined professionals at the top of their game utilising an exciting, attacking, high-pressing style of play. Aston Villa, by contrast, have Steve Bruce. I'm not saying Villa are in for a hammering, but this could be the most one sided match since Yahweh versus Gomorrah from the pre-Wembley days. You won't be able to bear it, but you'll just have to watch.
Whatever you watch, have a great weekend