Weekend Boxset: A Zimbabwean dictator and a four thousand mile round trip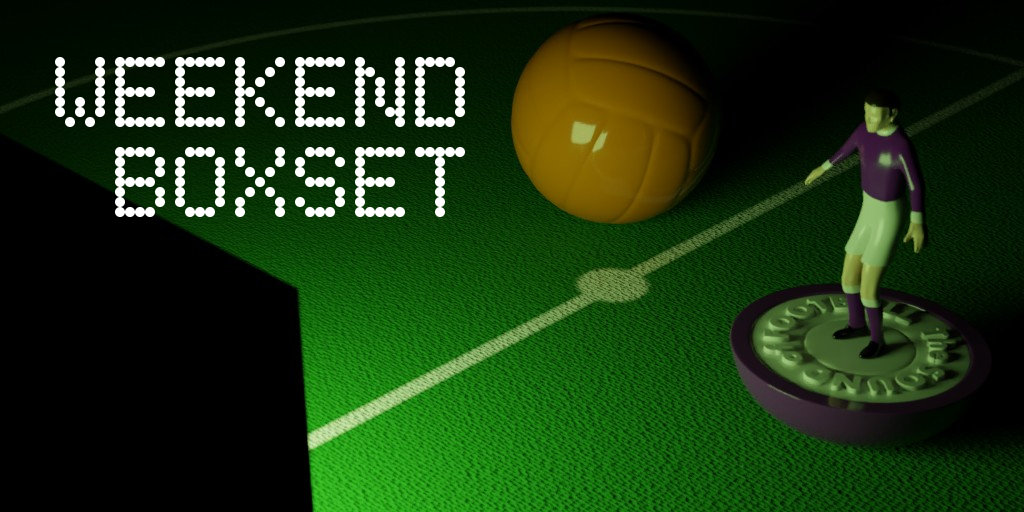 Seven great matches to take you from Friday to Sunday. It's the Sound of Football Weekend Boxset.
All times are GMT
Friday
Bundesliga: Borussia Dortmund v Ingolstadt
19.30 on BT Sport 1
Just when BVB looked like they were hitting their stride, they run into a Hertha Berlin shaped wall that interrupted their three game winning streak which included an impressive Champions League win against Benfica. Missing for the home side is Marco Reus (again), and boss Thomas Tuchel may want to give a little more attention to 19 year old wunderkind Ousmane Dembélé. The French Phenom is a joy to watch but is showing signs of a lack of discipline after the persistent tactical fouling he's suffered all season. One day the lad could snap and Dortmund could find themselves down to 10 men. Certainly Ingolstadt coach, Maik Walpurgis, should instruct his players to go after the ankles of the young Dortmund attacker. Despite an encouraging 2-2 draw with Hoffenheim, the second from bottom club's chances of getting something at the Westfalen are slim so they should take advantage of every potential weakness.
Saturday
Premier League: West Bromwich Albion v Arsenal
12.30 on Sky Sports 1
Ah yes, just what the narrative doctor ordered: a trip to a Tony Pulis team in front of the cameras. I wonder just how many Arsenal fans, are in the unenviable position of hoping that their team get caught up in the Hawthorns in order to hasten the departure of the club's greatest manager since Herbert Chapman.
This chap
, for example, who likens Arsene Wenger to Robert Mugabe must be torn between a desire to see his team succeed while at the same time prolonging the reign of such a monster. It must keep him up at night. We can only hope these pitiable creatures can summon the strength to find their way to Wembley for yet another FA Cup Semi-Final next month. West Brom supporters are far from content after have seen their team ship five goals in the last two matches with no reply. Despite all the noise around their opponents and their reputation for not liking it up them, Albion will not relish a match against the fifth placed team in the Premier League. This is very definitely going to be a Game Of Football.
Championship: Leeds United v Brighton & Hove Albion
17.30 on Sky Sports 1
For one brief shining moment it looked like Brighton would blow it. A late defeat to Newcastle followed by 3-0 reverse to Forest set the nerves jangling on the south coast. Their biggest fear is choking and losing out to Huddersfield who are playing with the freedom of an outsider. But the Albion held their nerve. They avoided the banana skin that is Rotherham away and did for Steve McClaren at Derby. Now comes another test in the shape of a full house at Elland Road and a Leeds team that is unbeaten in six. That last defeat was at home and Garry Monk's team also dropped points last time out against QPR. These, you suspect, are the kind of results that stop Leeds from breaking into the top two. This one will be too close to call a winner but my money would be on an emotional score draw.
MLS: Vancouver Whitecaps v Toronto
20.00 on Sky Sports Mix
Non-Canadians might be forgiven for seeing this fixture and thinking "Oh look! A Canadian derby." Truth be told there is not a huge rivalry between these two cities. Vancouver tend to look towards Seattle and Portland while Toronto have a whole thing going on with Montreal. That being said these teams have played each other in the Canadian Championship so there should be enough spice to attract the onlooker and there should be a full house at BC Place. Last year's beaten finalists, Toronto, are unbeaten but yet to win in the first two games of the season: a 2-2 draw with Philadelphia preceded by a scoreless game with Real Salt Lake. Expectations are still relatively high in Ontario that their club can go one better this year and win the MLS Cup. Vancouver couldn't improve on their opening day draw with Philadelphia and lost 3-2 to San Jose. The Whitecaps may shave this fixture on the head to head but their home form is bobbins: just two wins in their last eleven matches.
Sunday
Scottish Premiership: Dundee v Celtic
12.30 on Sky Sports 2
After highly impressive back to back wins against Rangers (2-1) and Motherwell (5-1), Dundee were knocked back, losing to St Johnstone last weekend. The Dark Blue's captain, Darren O'Dea, admitted "We are a strange team at times." As we all know it's consistent performances that make teams great but recent victories suggest that there is plenty to trouble Celtic in their own quest to complete an unbeaten season. Brendan Rodgers' team have dropped points only twice in the league this season. First at Inverness in September and again just last weekend in the Old Firm game. The players have faced criticism for recent lacklustre performances which is understandable as the team is in with a chance of a domestic treble and the games just keep coming. An opportunity therefore for Dundee to cause an upset or for Celtic reassert their authority.
Premier League: Manchester City v Liverpool
16.30 on Sky Sports 1
Liverpool bring to the big teams but not the small. Defeats to Southampton, Swansea, Hull and Leicester are mitigated against a point against Chelsea and wins against Tottenham, Arsenal and er Burnley. Jürgen Klopp's team also beat Man City in the reverse fixture in December. City never recovered from that first half hurricane in Monaco on Wednesday and return to Manchester wounded from their Champions League exit. Coach Guardiola will demand and expect a response. What kind of a response he gets will set the tone for the rest of the season at the Etihad. Perhaps there will be time to go over a few set pieces before the game as well.
Alternative viewing: BT Sport are showing Borussia Mönchengladbach v Bayern Munich in the Bundesliga at the same time which promises to be quite the game. 'Gladbach are the third best team in the league since the winter break and will be a stiff challenge for the mighty Bayern.
La Liga: Barcelona v Valencia
19.45 on Sky Sports 2 & Mix
After that first leg 4-0 Champions League thrashing at the hands of PSG, Barca coach Luis Enrique gave his notice and his players responded with a five game winning streak that culminated in their heroic 6-1 second leg reverse last week. All seemed to be well at the Camp Nou but things turned sour again when Enrique took a changed side to Deportivo La Coruna last Sunday and lost. Now once again the talk is of a squad lacking depth of talent and commitment. How quickly things change. Whether this season's Valencia can take advantage is open to question. The Bats are themselves still struggling to meet their own lofty ambitions and are currently 13th in the table. They can point to a 2-1 win over Real Madrid in February but since then have only gathered points against Leganes and Gijon.
Whatever you watch, have a great weekend