Weekend Boxset: Cup Semi-finals and El Clásico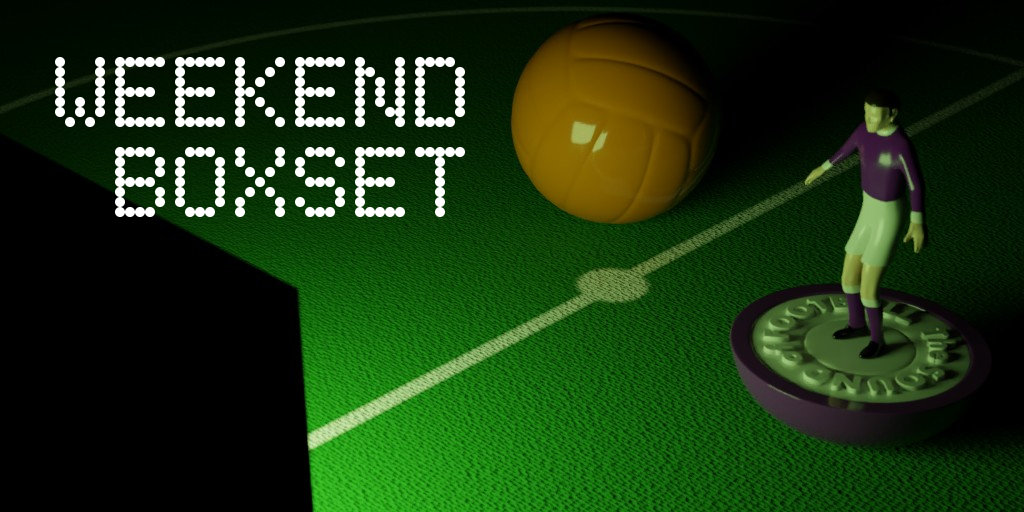 Seven great matches to take you from Friday to Sunday. It's the Sound of Football Weekend Boxset.
All times are BST (GMT +1)
Friday
La Liga: Sevilla v Granada
19.45 on Sky Sports 3 and Sky Sports Mix
Granada's problem, said new Granada coach Tony Adams before his first match in charge at the second bottom club last weekend, is that there are too many foreigners in the side. So what does he do? He signed Nigel Reo-Coker and Kieran Richardson and fields a team of 11 non-Spaniards against Celta Vigo. They lost 3-0 and Adams is already something of a laughing stock. There was talk that Sevilla coach Jorge Sampaoli would be on his way to Barcelona at the end of this season but his odds have lengthened somewhat in recent weeks. Perhaps this reflects his team's recent dip in form. Only one win in six and elimination from the Champions League at the hands of Leicester. Still, they should see this match as a chance to get back on the horse against a team coached by a 'donkey'.
Saturday
Scottish FA Cup Semi-Final: Hibernian v Aberdeen
12.15 on BBC One Scotland and Sky Sports 1
Comfortably atop the Scottish Championship, Hibs can book a place at Hampden Park for the final against one of the Old Firm, if they can overcome the Premiership Dons. Their league form is a bit patchy though with just the two wins in the last couple of games. The scale of the task seems greater when you consider the quality of their opponent. Yes, of course Celtic won the league by a street but second placed Aberdeen are nine points clear of Rangers in third place before the second phase of the league kicks off next week. But form goes out of the window in the Cup, as they say, so who knows. Should be quite the occasion but without the rancour of the other semi-final, which we'll come to shortly.
FA Cup Semi-Final: Chelsea v Tottenham Hotspur
17.15 on BBC One
After all the hand-wringing about the lack of commitment of the bigger clubs in the earlier rounds, the top two teams in the Premier League play off for a place at Wembley… or rather, another place at Wembley. How much psyching-out is going to take place during this game is unclear. Will a win for one team hand a psychological advantage to the them in terms of the title race? Probably not. What we are going to see is the best two teams in the League with complementary approaches to the game, in what we hope will be a not too nervous encounter. Can Tottenham's attack break down Chelsea's miserly defence? Will the shit-house supremo, Diego Costa, get under the skin of the North Londoners. It's tough not to be excited about this game. I'm even sacrificing Borussia Mönchengladbach v Borussia Dortmund for this cup tie.
Primeira Liga: Sporting CP v Benfica
20.30 on BT Sport ESPN
A big Lisbon derby between the third and first placed team in Liga Nos. Sporting are seeking to reduce the deficit between their rivals to five points. To do this they will need the mighty Bas Dost to add to his 28 (twenty eight) goal tally this season. Benfica's Kostas Mitroglou has a mere 15 goals this season but his strike partner Jonas has 9 including the brace he scored in his team's 3-0 win against Maritimo last week. Top man for the leaders has to be Pizzi with 9 goals and 8 assists this season. The away side probably have the edge but the derby atmosphere may make things unpredictable.
Sunday
Scottish FA Cup Semi-Final: Celtic v Rangers
12.00 on Sky Sports 2
It is easy to cheapen Celtic's achievements by measuring them against the perceived quality of the rest of Scottish football. However, winning the league as early as they have shows a determination to succeed that does the players and their coach much credit. They could easily have drifted over the line in late April rather than smash it in March, which they did. Given the margin of the league victory, the expectation is (perhaps unfairly) that a league and cup double should be straightforward. But nothing is straightforward when your hated rivals stands in your path. Rangers have not lost a game since Pedro Caixinha took charge of the team just after the last Old Firm match in mid-March. That was a game that they worked hard to get a point in order to stop Celtic from winning the title on that day. Similar determination can be expected on Sunday and Brendan Rodgers' team will have to work for it, if they want a shot at the double.
FA Cup Semi-Final: Arsenal v Manchester City
15.00 on BT Sport 1
Both teams are seeking validation for what has been a season where expectations have not been entirely met. Pep Guardiola's approach to football can be described as a touch idealistic and he has had difficulty getting his players to fully adopt his style. When it works, it really works but you feel he needs to make a few changes and another pre-season to bed his squad down. Winning the FA Cup would take the edge of the lack of league challenge very nicely. Standing in their way is Arsenal whose problems are of a somewhat different order. Winning the cup will simply not be enough for some of their fans and commentators in the media who are weary of their coach, Arsene Wenger, and want change. It would be typical of the wily Frenchman to progress to the final, win unexpectedly and prolong the agony of his detractors further.
In the unlikely event that this match turns out to be no good, Liverpool v Palace starts at 16.30 on Sky Sports 1.
La Liga: Real Madrid v Barcelona
19.45 on Sky Sports 1
Our box set ends with one of the biggest club games of the season. These are peculiar times for both Real and Barca. The former are three points clear at the top of the table and through to the final four of the Champions League; and yet Madridistas bemoan the lack of identity of their team under its coach Zinedine Zidane, the lack of opportunities for top-drawer players like Isco and James Rodriguez and the over-reliance on their
galacticos
rather than on systems and tactics. Not to mention a fairly hefty slice of luck and generous refereeing to get themselves out of tight spots, which Bayern fans are still moaning about (which is a bit rich, by the way). Barca meanwhile, despite being very much in this title race, are presented as a team in decline with a coach on notice and no replacement in sight. They're out of the Champions League; they were unconvincing in their 3-2 win against Sociedad and downright awful in their 2-0 defeat at Malaga. Still, the
Clásico
is the
Clásico
and satisfaction is almost certainly guaranteed. So sit back, crank up the Twitters and prepare your hot takes.
Whatever you watch, have a great weekend