Weekend Boxset: More than just a one horse race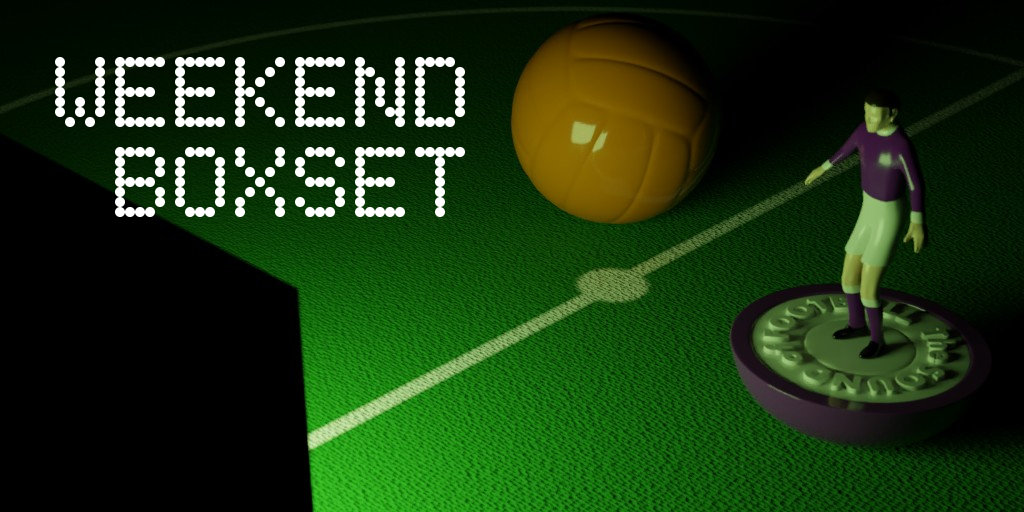 Seven great matches to take you from Friday to Sunday. It's the Sound of Football Weekend Boxset.
All times are BST (GMT +1)
Friday
Bundesliga: Eintracht Frankfurt v Werder Bremen
19.30 on BT Sport ESPN
At the restart of the Bundesliga season in January, Werder Bremen were one place above the relegation zone and Eintracht were third in the league. If Bremen win this game they will go above Frankfurt and could, temporarily at least, reach as high as eighth. Such has been the dramatic rise and fall of both of these teams. Eintracht overachieved in the first half of the season, and injuries have taken the wind from their sails. Nico Kovac's team have just 2 points to show from their last eight league matches. Meanwhile, Alexander Nouri has galvanised his team to a seven game streak in which they have dropped points only once. This is thanks largely to the fine work of new midfielder Thomas Delaney (who may be injured for this game) and the forwards, Serge Gnabry and Max Kruse.
Saturday
Premier League: Tottenham Hotspur v Watford
12.30 on Sky Sports 1
Where are we now, April? It certainly could be around this time of the season in which Tottenham choke.The thing is, I'm not sure how realistic it is that Spurs are really in a title race, so I'm not sure there is anything to choke on. Crystal Palace notwithstanding, Chelsea have stood apart this season and it has been a race of one, with Spurs keeping the Blues honest. So the pressure is off in that respect and there is no cause for collywobbles, especially against a team with an unremarkable away record like Watford.
Bundesliga: Bayern Munich v Borussia Dortmund
17.30 on BT Sport ESPN
RB Leipzig may usurp the runners up spot from Borussia Dortmund this season but it is still accurate to say that this is the biggest game in the Bundesliga. The pair have enjoyed an intense rivalry since BVB's resurgence as a force in the 90s. Both teams have red hot strikers in the shape of Pierre-Emerick Aubameyang for Borussia and former Borussen Robert Lewandowski now at Bayern. And this is just the tip of a proverbial iceberg of top class talent on display, including Arjen Robben, Ousmane Dembele, Thiago Alcantara and US phenom, Christian Pulisic. Bayern may be missing Manuel Neuer in goal and went down to Hoffenheim 1-0 in the league on Tuesday. But they will be highly motivated to avoid a league double against BVB who beat them in the reverse fixture in Dortmund and against whom they will play in the semi-final of the German Cup later in the month.
Serie A: Juventus v Chievo
19.45 on BT Sport ESPN
Eleven gentlemen of Verona travel to Turin with the purpose of blocking Juventus' path to the Scudetto. Chievo have resolutely held 11th place for the last seven rounds in Serie A but whether they have the wherewithal to hold back Juve is doubtful. Juve did drop points last weekend but that was at third placed Napoli. In fact, Massimiliano Allegri's team have not dropped so much as a point at the Juventus Stadium in 31 (thirty one) matches. Chiellini and Bonucci can be relied upon to keep those Chievo forwards at bay while Gonzalo Higuain goes looking for his 20th league goal of the season. The gap between the league leaders and second placed Roma is six points. Big enough to be comfortable so long as there are no slip ups against opposition of the calibre of Chievo.
Sunday
Premier League: Sunderland v Manchester United
13.30 on Sky Sports 1
A trip away from Old Trafford to the bottom club is just the ticket for United who are once again in the spotlight after some underwhelming results at home. The manager, not for the first time this season is calling out Luke Shaw, which conventional wisdom tells us, is a risky strategy. Sunderland's manager is on pretty thin ice himself after having rightly apologised to a female BBC reporter for threatening her with a slap. To what extent this controversy will affect the team is pretty moot to be honest. Sunderland are not playing well and there are no signs of the improved performances that led to their recent exhilarating revivals in seasons past. The gap between them and fourth bottom is ten points and, to be blunt, they look spent. If there is to be another great escape, it must begin now.
Premier League: Everton v Leicester City
16.00 on Sky Sports 1
Everton had to suck up that last minute kicker at Old Trafford in midweek. It's been a decent season for the blue half of Merseyside but with new owners comes new ambitions. A famous win at Manchester United would have taken the edge of that derby defeat last weekend and added some gloss to Ronald Koeman's first season in charge. Now they face a Leicester team who are playing like champions and with a lot of ground to make up. After five straight wins, the Foxes are up to 11th and as unkind as it is to say, you have to ask yourself where they would be had they sacked Ranieri earlier in the season. Aye, football can be shitty sometimes.
Serie A: Lazio v Napoli
19.45 on BT Sport 3
This should be pretty tasty. The home side are four points and one place behind Napoli, who occupy that all important third place Champions League spot. Lazio striker Ciro Immobile maybe carrying an injury but is likely to be risked for this match; the Italian international has scored 18 goals this season. Napoli got a decent result against Juve last week and have no injury issues. No other team has scored more goals in Serie A that Maurizio Sarri's team and they have also found the back of the net more times than any other on the road. As you can imagine their away record is pretty hot, having won their last five, so they'll be super confident heading to the Stadio Olympico. A win could take them within a point of second placed Roma. Plenty to look forward to then as we see two in-form teams in need of three points. Expect Expected Goals.
Whatever you watch, have a great weekend.