Weekend Boxset: The Nations League match days 3 and 4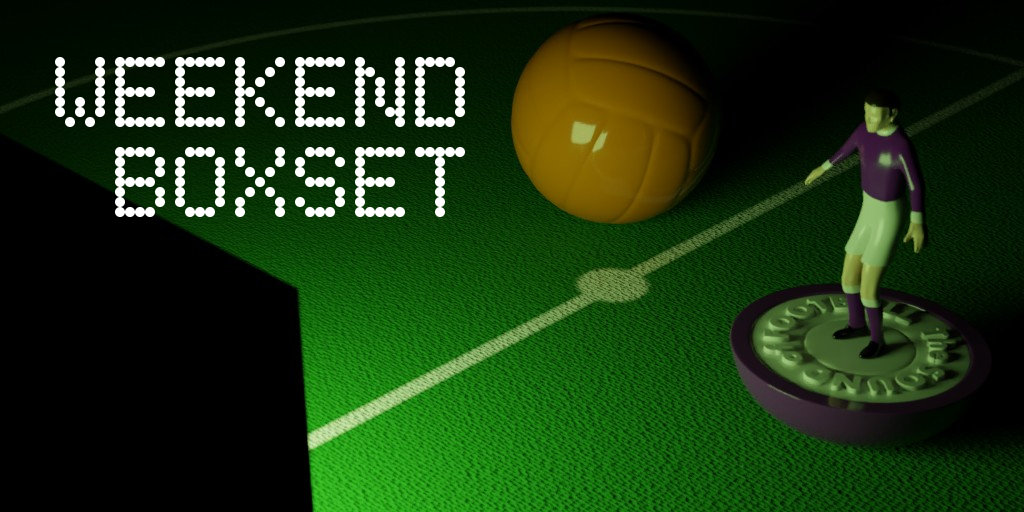 The Nations League reaches it's halfway point. Yes, already!
Seven great matches to take you from Friday to Sunday. It's the Sound of Football Weekend Boxset.
All times are BST
Friday
UEFA Nations League A Group 4: Croatia v England
19.45 on Sky Sports Main Event
Being someone who analyses England's performances a lot closer than we do, we asked Chris Nee (@ChrisMNee) from England podcast The Stiles Council to write the preview for this match. If his podcast sounds of interest, get along to www.sphinxfootball.com. There's also a newsletter that you might want to subscribe to
.
England's World Cup exit wasn't as heartbreaking as usual, what with Gareth Southgate's youthful England side taking the unusual path of exceeding the public's expectations, but being face to face with the team that ended their run might stir up some suppressed feelings. The Three Lions' second outing in the Nations League (Nations League) takes them to Rijeka on Friday evening for what's sure to be an eerie behind-closed-doors fixture against World Cup finalists Croatia. Both have been beaten by Spain since their semi-final clash, Croatia to the tune of six unanswered goals. England's squad features a handful of new players who'll be eager to get their chance to impress Southgate fo' real. But with relegation to League B an unappealing possibility, perhaps the England gaffer will err towards what he knows. CN
Saturday
UEFA Nations League B Group 1: Slovakia v Czech Republic
14.00 on Sky Sports Football
It's Non League Day on Saturday so if you're in the UK then I'd recommend heading out into the late autumn sunshine and take in a local game. If you are otherwise unable then consider this local derby between two nations that used to be one. This match is already looking like a battle to avoid relegation. Both teams were beaten by an improving Ukraine side and are looking for their first points. Czechia have a new coach. Former Slavia Prague boss, Jaroslav Šilhavý, replaces Karel Jarolím who was sacked after the 5-1 loss in a friendly to Russia, their heaviest in the team's history. On the Slovakia side, few need a second invitation to watch Marek Hamsik play but I would suggest that you keep an eye out for Ondrej Duda. The 23 year old midfielder is very much a part of Hertha BSC's success in the early weeks of the season. Duda's taken a while to settle in Berlin for various reasons and it's good to see him fulfilling his potential. He may start from the bench. Neither team is in great shape to be honest but it should be a lively atmosphere if nothing else. TD
UEFA Nations League C Group 3: Norway v Slovenia
17.00 on Sky Sports Football
These sides met the last time Norway were in an International tournament, all the way back in 2000. That time they also met in the qualifying. While Slovenia have qualified for two World Cups since then they find themselves in the third tier of the Nations League and bottom of their four team group, having lost their opening two games at home to Bulgaria and away to Cyprus. Another defeat here could see them four points adrift at the bottom with just three games left. With the possibility of two teams being relegated in the four team League C groups (do try to keep up) Slovenia can't afford to drop many more points. Norway's defeat in September away to Bulgaria was the first game they hadn't won in 2018, ending a run of five straight wins. OK, four of those were friendlies but it does go some way to show that Lars Lagerback is getting Norway back on track. GS
UEFA Nations League A Group 1: Netherlands v Germany
19.45 on Sky Sports Mix
If you don't think the Nations League is that big a deal then consider what might happen if Germany are relegated from League A. In of itself it wouldn't be the end of the world but for the already beleaguered coach, Joachim Löw, it becomes another stick for his critics to have at him. Promotion and relegation has introduced a welcome element of peril to international football and it is no surprise to me that
CONCACAF have introduced a Nations League
into their own into their calendar. On paper this is a match that Germany should win, although their opponents are hugely motivated. A lot of attention in the build up has been placed on Leroy Sanè. The German media were surprised by the shocked looks on the faces of Premier League pundits when the City player was left out of the World Cup squad They now look to him to take a leading role in the national team. The Netherlands are still trying to find their feet following the disappointment of not qualifying for the last two big tournaments. A first win in five attempts against the old enemy in front of a packed Johan Cruyff Arena would go some way to restoring some confidence in the system. The Nations League matters.
Sunday
UEFA Nations League C Group 4: Romania v Serbia
14.00 on Sky Sports Football
Serbia';s Aleksandar Mitrovic seems to enjoy the Nations League, he scored twice in Thursday's win in Montenegro, adding to the two the Fulham striker scored in last month's 2-2 draw against today's opponents. Romania looked to have dropped two points in their last when Lithuania's Arturas Zulpa equalised for the home side in the 90th minute. It would have been Lithuanian's first point of the Nations League but Mainz's Alexandru Maxim grabbed a winner in the fourth minute of injury time. That win was vital for Romania as they have already dropped points against Montenegro but with places for teams finishing level being decided on head to head results (because the competition isn't complicated enough) a win today would be almost worth 3½ points to them in their chase for top spot. GS
Alternative viewing: If you don't fancy watching Nations League all weekend you can flick over to BT Sport 1 at this time to watch Chelsea v Arsenal in the WSL.
UEFA Nations League B Group 2: Russia v Turkey
17.00 on Sky Sports Red Button
Three matches have been played so we're at the half way point in this group - so love or loathe the Nations League it doesn't hang around. The negativity surrounding Russia's prospects in their World Cup this summer seem a distant memory after some impressive displays saw them reach the Quarter Finals - a stage where the most accommodating hosts usually decide to allow their guests to enjoy the remaining competition. Russia know that a win will mean they avoid relegation and will only require a point in their remaining game in Sweden to be promoted to the top tier. This is the third time the sides will have met since June when they drew in Moscow. The choice of venue on this occasion is interesting as Sochi is about as close you can get to Turkey while still being in Russia (currently). It';s so well placed, the heads of state of the two countries met there just a few weeks ago. The plan behind the ongoing redevelopment of the Black Sea resort has been to attract Turkish tourists (visa free) and to persuade holidaying Russians away from spending all their Roubles in Turkey and Egypt. Games between these sides are always tight affairs but Turkey haven't beaten a Russian side since the days of the USSR. GS
UEFA Nations League A Group 3: Poland v Italy
19.45 on Sky Sports Football
Poland have already played Italy in this competition with the spoils shared at 1-1. On Wednesday they lost 3-2 at home to Portugal on the occasion of Robert Lewandowski's 100th cap. This landmark was further overshadowed by his younger strike partner, Krzysztof PiÄ…tek, who scored his first international goal in only his second appearance. The 23 year old joined Genoa in the summer for €4.5 million and has already scored 9 (nine) goals in 7 (seven) Serie A games and 4 (four) in 1 (one) cup match. There will be a few sporting directors across Europe asking how the former KS Cracovia player got passed them. For this match PiÄ…tek finds himself in the comfortable environs of an Italian defence. The Azzurri are trying to recover themselves after their disastrous failure to qualify for the World Cup. Serie A is teeming with young players and new coach Roberto Mancini is slowly trying to ease in some of these players. So far so not good. Just one win in five games so far, against World Cup 2030 hosts Saudi Arabia. I did watch some of their 1-1 draw against Ukraine on Wednesday and what I saw was a team with no real identity. However, as they say, Roma wasn't built in a day. TD
Whatever you watch, have a great weekend.