Weekend Boxset: FA Cup 1st Round, Super Leaguers and the Copa Libertadores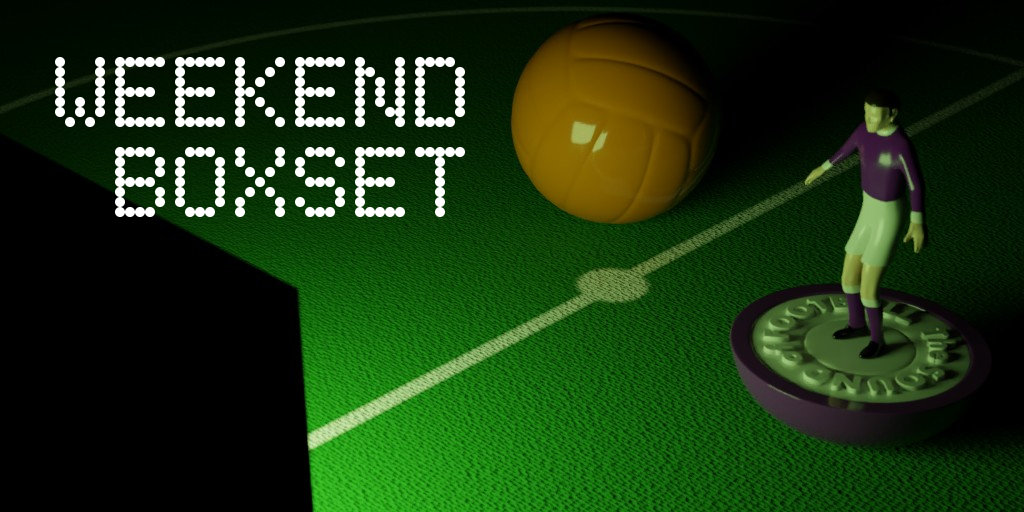 There are plenty of games from the first round proper of the 138th running of the oldest football competition. Between which, you can watch teams likely to form a breakaway Super League.
Seven great matches to take you from Friday to Sunday. And there's one to watch on Monday too. It's the Sound of Football Weekend Boxset.
All times are GMT
Friday
FA Cup 1st Round: Haringey Borough v AFC Wimbledon
19.45 on BBC Two
Sometimes the FA Cup has a habit of throwing together fixtures that appeal to both neutrals and TV bosses. And so, we head to Coles Park for the opening game of FA Cup first round for a London derby of sorts between two teams who have never met before, and in Haringey Borough's case, have never even made it to the first round of the FA Cup proper. As you'll probably already know from all the pre-coverage of this game, Borough play on White Hart Lane, half an hour walk from Spurs's stadium (which is technically on Tottenham High Road, if we're being pedantic), in surroundings that will provide a degree of familiarity for AFC Wimbledon supporters who watched their team climb from the Combined Counties Leagues to the Football League. Logic would dictate that a team who first entered this year's competition at the Preliminary Qualifying Round shouldn't really stand a chance against the League One Dons. But Neal Ardley's men are on a dreadful run of form and, assuming you discount the Checkatrade Trophy, last registered a victory back on the 29th September. Ardley is a manager under pressure from the Kingsmeadow faithful, who are usually pretty patient with managers, and if Haringey were to pull off a win, it would be hard to see him staying on. While Borough haven't exactly been setting the Isthmian Premier alight, they have already put out several stronger teams, and it wouldn't be a shock to see them give a good account of themselves in front of the cameras. GA
Saturday
FA Cup 1st Round: Maidenhead United v Portsmouth
12.30 on BT Sport 1
On 11 November 1871, Maidenhead United took to the field at York Road to face Marlow in what was one of four of the first fixtures ever played in the FA Cup. Three times quarter finalists in those early days they still play at same ground. Since 2007 Maidenhead have reached the first round proper six times but have lost on each occasion. Their awful run of recent results in the National League doesn't suggest that today will be any different. Today's opponents, the 2008 Cup winners, are top of a very competitive League One and it'll take some real FA Cup magic for an upset here. GS
Bundesliga: Borussia Dortmund v Bayern Munich
17.30 on BT Sport 2
There is a definite whiff of faded glory about this season's Bayern team. Like an old hotel that still sets the highest standards long after the Michelin Star chef has left. Reports are rife in the media about senior players unhappy with the coach, Nico Kovac. Others say that the big guns like Robben, Ribery, Boateng and Müller are losing their touch. Ultimately, this is a squad that cannot reconcile its ambitions with its decline and the only thing the old men in charge can do to manage the situation is publicly dress down the press for criticising the players, rather than making the necessary changes to that squad. However, they can still bite hard and Dortmund's coach Lucien Favre will caution his players not to make any assumptions. Victory for Borussia will establish a seven point gap between them and the Bavarians and establish a psychological advantage, vital for any club looking to unseat the historically all conquering Bayern. High stakes indeed. TD
Copa Libertadores Final 1st Leg: Boca Juniors v River Plate
20.00 on FreeSports
A rare mention for Freesports on this newsletter and an even rarer reference to the South American equivalent of the Champions League. Normally we don't see this competition on UK telly but for this final we have an opportunity to witness a new chapter in the
Superclasico
between the two great clubs of Buenos Aires. The timing of the fixture on a Saturday, is unusual and is causing some concern with the Argentine FA who are worried about domestic fixture congestion. However, the overburdened Buenos Aires Police have insisted on this kick off time. This is hardly surprising given the intense and at times violent rivalry between the two sets of fans. You may be aware of the story of two friends who support rival clubs getting into such an argument ahead of this match that one burned down the other's house. Yup that's pretty intense. It's OK though as they're still going antiquing on Sunday.
The second leg is on 24 November.
TD
Sunday
FA Cup 1st Round: Port Vale v Sunderland
14.30 on BT Sport 1
Look everyone, Jan's back with a preview of his team's chances against League Two Port Vale:
By the time the FA Cup First Round fixture came up in November 1987, Sunderland were fresh from their first ever relegation to tier three. They had said goodbye to a high-profile manager only months earlier, putting their trust in a young coach from the lower leagues. Sound familiar? Back then, Sunderland lined up against Darlington, on Sunday they will travel to Port Vale looking to continue their stellar run. Watch out for Scottish international 'keeper, Jon McLaughlin, goal machine and Academy product, Josh Maja, as well as the man Wearside now calls 'The King': Chris Maguire. In any other season, I would have given quite a downbeat prediction on Sunderland's chances, but they take on The Valiants off the back of six straight wins. While promotion remains the priority, I can't see past Sunderland for this one - Ha'way! JB
Premier League: Manchester City v Manchester United
16.30 on Sky Sports Premier League & Main Event
Both sides played on Wednesday night in the Champions League: City cruising to a 6-0 home win over Shakhtar while United snatched a breathtaking win against Juventus in Turin, despite being 1-0 down with four minutes remaining. While United's victory will have been hard fought, the confidence it will give Mourinho's men coming into this vital fixture is immeasurable. It's four years since City beat their local rivals at the Etihad, (in fact, neither side have registered a home derby win in that time) but it will take something special from the team in red to come away with anything here. With all the talk this week about Super Leagues and Financial Fair Play, Mourinho has a fully stocked toy box of barbs to throw at his opponent - win, lose or draw. GS
Ligue 1: Monaco v PSG
20.00 on BT Sport 1
Thierry Henry has had a pretty awful start to club management with Monaco. Tuesday's 4-0 home defeat in the Champions League to Brugge was his fourth loss in his five games in charge and stretched the side's winless run to 15 in all competitions. With a mounting injury crisis and confidence even lower than their league position, it's hardly a great time to face this seemingly unstoppable PSG side. Thomas Tuchel's side's 12 wins in a row has already broken the record for the best start to a season across the five biggest leagues in Europe and equals the best run of consecutive wins in a single season in Ligue 1. They will take that record for themselves from Monaco today, and go a step closer to taking the principality's record of 16 straight Ligue 1 wins. What worlds will there be left to conquer then? A European Super League perhaps? GS
Whatever you watch, have a great weekend.
Bonus Monday match
FA Cup 1st Round: Hampton & Richmond Borough v Oldham Athletic
19.45 on BT Sport 1
A short walk from both Hampton train stations or the Thames, depending on your direction of travel, just off Beaver Close, sits the Beaveree, one of London's more bucolic non-league grounds and home to Hampton & Richmond. Normally home to only a few hundred spectators, expect it to be at capacity for one of the Beavers' biggest games this decade. New manager Gary McCann, recently decamped to the Surrey borders after a decade at Hendon, has had an inauspicious start to life in the Conference South, with Hampton in the lower-mid table reaches, although the same could be said for recently relegated Oldham Athletic, who are also having an indifferent season in League Two. As such, the Latics' indifferent form means this game has potential giant killing written all over it (although whether Oldham can quite be described as giants is another question entirely), and Hampton aren't averse to pulling out big results when needed. Haringey Borough's game may get plenty of attention, but on paper, at least, the Beavers' look a slightly better bet to pull off a shock. GA