Weekend Boxset: Nations League climax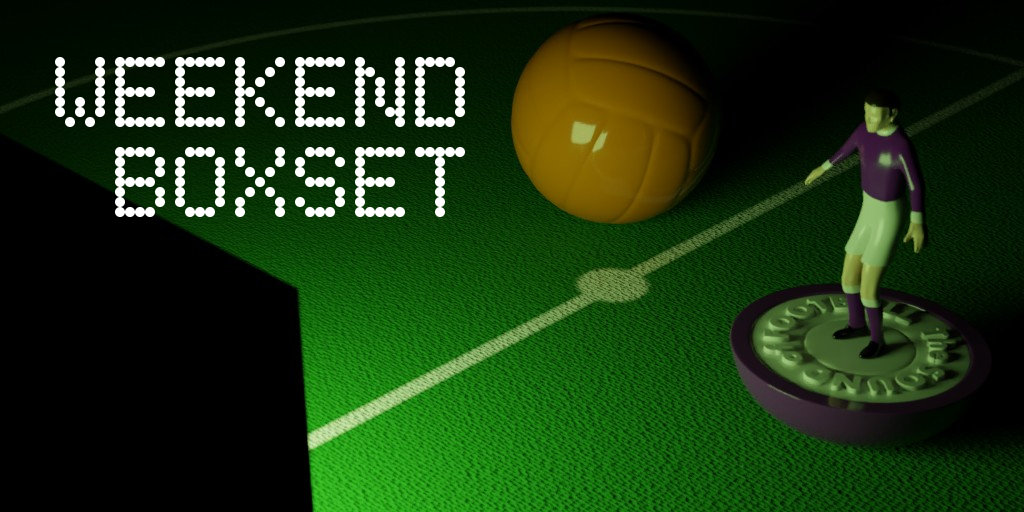 The Nations Leagues reaches a dramatic conclusion over this international break with some teams going into their last games still capable of finishing top or bottom of their groups.
Seven great matches to take you from Friday to Sunday. It's the Sound of Football Weekend Boxset.
All times are GMT
Friday
UEFA Nations League B4: Wales v Denmark
19.45 on S4C and Sky Sports Football
The Nations League has redefined international football in Europe. The three team format with promotion and relegation has been a revelation when compared to the long, drawn-out and unbalanced tournament qualification process and meaningless friendlies. Promotion to the top tier of the Nations League is assured for the winner of this match. Any draw will leave the Welsh promotion hopes relying on the result of Monday's final game of the group: Denmark hosting the Republic of Ireland, who will have already been relegated if the Danes don't lose here. GS
Saturday
UEFA Nations League C4: Serbia v Montenegro
14.00 on Sky Sports Football
If Serbia can win here then they can seal promotion if Romania lose or draw to Lithuania. Coach Mladen Krstajic has a few injury problems including Filip Kostic who has been in decent form for Eintracht Frankfurt. Replacing him is Danijel Aleksic who, at 27, is being called up for the first time since he was a 17 year old wonderkid. Now at Turkish club Yeni Malatyaspor it's fair to say his career did not live up to its early promise. Aleksandar Mitrovic scored a brace in the reverse fixture which Serbia won 2-0. The visitors did bounce back with a 4-1 at Lithuania but need to win the final two games for any chance of promotion to League B. TD
UEFA Nations League B2: Turkey v Sweden
17.00 on Sky Sports Football
When the sides met in Solna for Sweden's opening Nations League fixture in September, the home side looked to be cruising; taking a 2-0 lead early in the second half. Galatasaray's Emra Akbaba had other ideas: scoring his first two competitive goals for his country in the 88th and 92nd minutes to secure a 3-2 win for Turkey. A goalless draw in Russia followed for the Swedes but despite being bottom of the group with just one point, the nature of the Nations League means they will win the group if they can win the remaining two fixtures. A draw will suit Turkey: they can't catch Russia but their superior head-to-head against Sweden will maintain their League B status. GS
UEFA Nations League C1: Albania v Scotland
19.45 on Sky Sports Main Event
Scotland manager Alex McLeish is having a few recruitment problems. Matt Ritchie, Robert Snodgrass and Leigh Griffiths have asked not to be included in the squad for this weekend and James McArthur and retired to focus on his club football at Crystal Palace. Bournemouth's Ryan Fraser seems to be unavailable as well. There are concerns, among some Scotland fans, that a crop of their players who, in fairness tend to spend quite a bit of time of the bench, have not caught the Nations League bug. Either that or they don't fancy a trip to Albania for some reason. Add to that Steven Naismith, Stephen O'Donnell, Charlie Mulgrew, Kevin MacDonald and Ryan Fraser are injured. At this rate McLeish will be picking players from the Caber tossers. And it's a shame because top spot is still up for grabs. Even if Scotland lose to Albania they could still finish first by beating Israel on Tuesday and gain promotion to League B plus that valuable Euro 2020 Play-off. TD
Sunday
UEFA Nations League A4: England v Croatia
14.00 on Sky Sports Football & Main Event
If you decided to watch Wayne Rooney's England farewell on Thursday night, you will have missed the incredible Nations League clash between Croatia and Spain in Zagreb. The second half saw five goals, with Spain equalising twice and Croatia snatching an injury time winner. That result sets this match up perfectly with both sides facing relegation should they lose and both sides capable of topping the table and qualifying for next summer's final four tournament should they win. A draw will see Spain top the group with England relegated to League B if the game isn't goalless. Plenty of twists and turns ahead in this one. GS
UEFA Nations League B3: Northern Ireland v Austria
17.00 on Sky Sports Football & Main Event
Thursday's 0-0 between Austria and Bosnia-Herzegovina sealed Northern Ireland's fate leading to this, a thankfully rare dead rubber in the Nations League. To say it's been bleak for Northern Ireland would be quite an understatement. The only highlights of their year came in March and September's friendly matches where they overcame South Korea and Israel respectively. In the Nations League, they have yet to register a point. The Green and White army only really have pride to play for; however, we know they'll love every minute of it regardless of the result and the performance against the Republic on Thursday suggests better times are ahead. Bring on League C in 2020. JB
UEFA Nations League A2: Switzerland v Belgium
19.45 on Sky Sports Football
So three points between these two with just this last match of the group to go. Iceland, bless them, have not felt the Nations League and are relegated without a point to their name after losing 2-0 to Belgium hanks to a double strike by Michy Batshuayi. Roberto Martinez team have nine points of Switzerland's six but if the home side can win (overturning Belgium's win 2-1 in the reverse fixture) then Vladimir Petković will be celebrating an unlikely group win for his players and a place in the Final Four. The preparations are far from ideal however. On Wednesday, they were defeated 1-0 in a home friendly match against (rubs eyes thoroughly and dons glasses) yes that's right, Qatar. Judging by the line up it wasn't a full strength side. Nevertheless, that's two wins in the last seven matches for the Swiss so don't be gambling irresponsibly on a home win. TD
Whatever you watch, have a great weekend.