Weekend Boxset: FA Cup 4th Round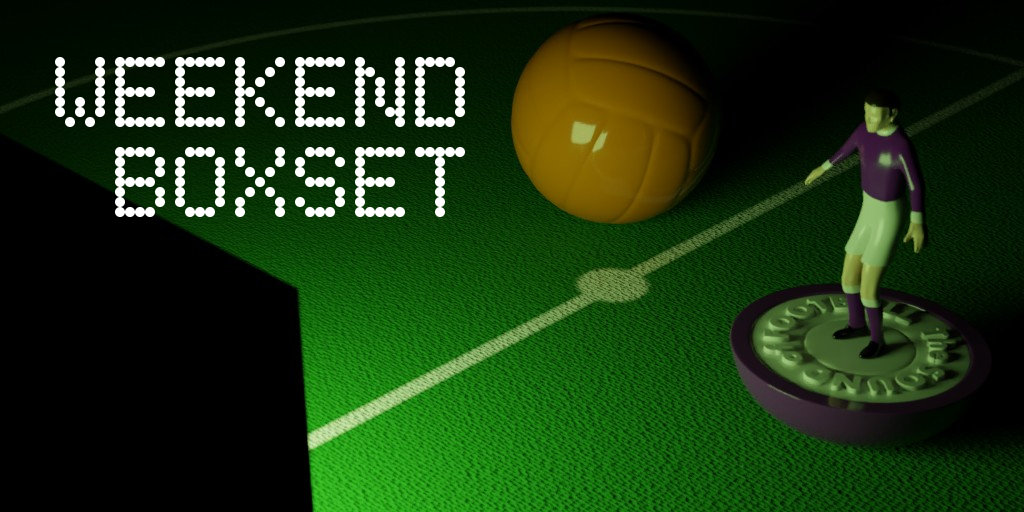 Plenty of FA Cup action this weekend with the added bonus of De Klasseiker.

Seven great matches to take you from Friday to Sunday. It's the Sound of Football Weekend Boxset.

All times are GMT
Friday

FA Cup 4th Round: Arsenal v Manchester United

19.55 on BBC One


It's highly likely that whoever Manchester United would face in this round that the game would be televised. After all, the Red Devils are one of the most popular clubs in the UK and indeed the world so why wouldn't you put them on the telly. It's not as if no one is going to watch. However, it so happens that this is all the elements of a cracking Cup tie between two of the most entertaining teams in the Premier League. Arsenal have got some personnel problems. Mesut Özil is persona non grata, Henrikh Mkhitaryan is still out injured and poor Hector Bellerin ruptured his ACL on Saturday. We won't see him back until next season. United's caretaker boss, Sir Alex Ferguson Ole Gunnar Solskjær, has Febreezed the funk out of his massively Mourinhoed dressing room and the results have been spectacular. It's seven games and seven wins with calls ringing around Christendom that Ole's loan move from Molde be made permanent. The league title is not an option for either of these two sides so there should be plenty of motivation to push on and try and win a trophy. TD

Saturday

FA Cup 4th Round: Accrington Stanley v Derby County

12.30 on BT Sport 2


When I found out that Stanley's ground was called the Wham Stadium I had high hopes that it was so named after… well, Wham! Sadly I was disappointed to find that it's an abbreviation for a local concern. Despite and perhaps because of its modest history, Stanley has international support. The other week a fan travelled all the way from South Korea to watch the team lose 4-0. Ahead of this tie, the club are rolling out the red carpet at the Wham with a temporary marquee where the drinks may not be free but there is certainly enough for everyone. Accrington are enjoying their first ever season in League 1 but have only won one league game since last Christmas. They did for Ipswich in the last round but will find giant killing Derby a different proposition. Frank Lampard's team vanquished Man United in the League Cup and Southampton in the last round of the FA Cup. How will they line up against their plucky opponents? Well after falling victim to espionage from Marcelo Bielsa, you can be sure that there will be no careless whispers from Derby. I thank you. TD

FA Cup 4th Round: Millwall v Everton

17.30 on BBC One


A rare opportunity to put the spotlight on the Lions, for positive reasons as opposed to the troubled history of a small section of its fanbase. Outward appearances suggest that Millwall are a modest lower mid table Championship side but the club is a proud part of what has traditionally been one of the poorer areas of the UK's capital. Their role in the community was nearly undermined by the local council who recently slapped a compulsory purchase order on their Stadium, The Den, in the name of regeneration. Thanks, in no small measure of grassroots campaigning, the newly elected mayor of Bermondsey has changed tack and it looks likely that not only will Millwall stay but may be in for some redevelopment as part of the £2 billion plan to transform the area. So what better way to celebrate that by staging a cup upset against an Everton team who, despite their superiority, are capable of getting caught under the floodlights at a packed house in a stadium that, when it wants to be, can get pretty lively. TD

FA Cup 4th Round: AFC Wimbledon v West Ham United

19.45 on BT Sport 2


No Hammers fan will have been shocked by their side losing to an out-of-sorts Bournemouth just a week after beating Arsenal. Such lack of consistency makes this banana skin of a fixture all the more compelling. In truth though, while a good performance might do wonders for newly installed AFC Wimbledon manager, former arch-crazy gangster Wally Downes, his side are nailed to the bottom of League One and their fortunes haven't seen much of an upturn since he took over from Neil Ardley at the start of December. Downes helped The Dons climb though the divisions in the 1980s but a broken leg effectively ended his career at 27. He left Plough Lane during the side's run to the 1988 final, to join Dave Bassett at Sheffield United. Since then he's held a number of coaching positions, some of which he's lost for reasons not entirely gone into but may be related for his somewhat "gammon-y" twitter account (now deleted). GS

Sunday

Eredivisie: Feyenoord v Ajax

13.30 on Eleven Sports 2


If you fancy a break from the Cup action this weekend, how about De Klasseiker? Feyenoord need a win from somewhere after a run of very ordinary results opened up a gap between themselves and the top two. The gap would have been bigger had PSV and today's opponents both not given up two goal leads to draw their last matches. Ajax had the chance of taking a 4-1 lead into half time against Heerenven but top scorer Dusan Tadic missed his spot kick. The visitors got the score back to 3-3 early in the second half only for Klas Jan Huntelaar to retake the lead. Heerenven got their third equaliser of the match in injury time to end the game 4-4. Both Ajax and Feyenoord made it through to the semi-finals of the Dutch Cup this week. Feyenoord are the holders but Ajax might want to push a bit harder for it this season: having last won the league title in 2014 they haven't won anything since - their longest run without a trophy since the early 1960s. GS

FA Cup 4th Round: Crystal Palace v Tottenham Hotspur

16.00 on BT Sport 2


Palace go into this fixture following back to back defeats. In fact their last win was in this competition at home to League Two Grimsby. To be fair to the Eagles, they gave Liverpool the fright of their lives last weekend, putting as many goals past the Red as all visitors to Anfield had managed this season. If they can reproduce those heroics against Spurs, then the visitors may be in for a challenging afternoon. Tottenham, by contrast have been somewhat subdued of late due to circumstances arguably outside of their control: Kane and Son are out due to injury and international duty, while the reverse against Man United was all part of the fairy-tale currently being played out in the North West. A hard fought win against lowly Fulham last week may have steadied the nerves, but, whichever way this one goes, it's certain not to be a repeat of Tottenham's 7-0 mauling of Tranmere in the previous round. JB
.
FA Cup 4th Round: Chelsea v Sheffield Wednesday

18.00 on BBC One


Wednesday's new manager Steve Bruce has spent the last few days watching England's dismal Test match against the West indies in Barbados. Having parted company with Aston Villa in October, Bruce won't be taking charge until next Friday - presumably some kind of contractual obligation that meant he wouldn't try to sign any of his former players in the transfer window. Wednesday haven't been doing too bad though under caretakers Lee Bullen and Steve Agnew, losing just one of their eight games in charge, though they did need a replay to get past League One high-flyers Luton. Chelsea have already booked a place at Wembley having beaten Spurs on penalties in the League Cup semi-final on Thursday. This match should be a little more straightforward for the holders. GS

Whatever you watch, have a great weekend.
Terry (@terryduffelen), Graham (@grahamsibley) and Jan (@janbilton)