Weekend Boxset: Young Guns (Go For It!)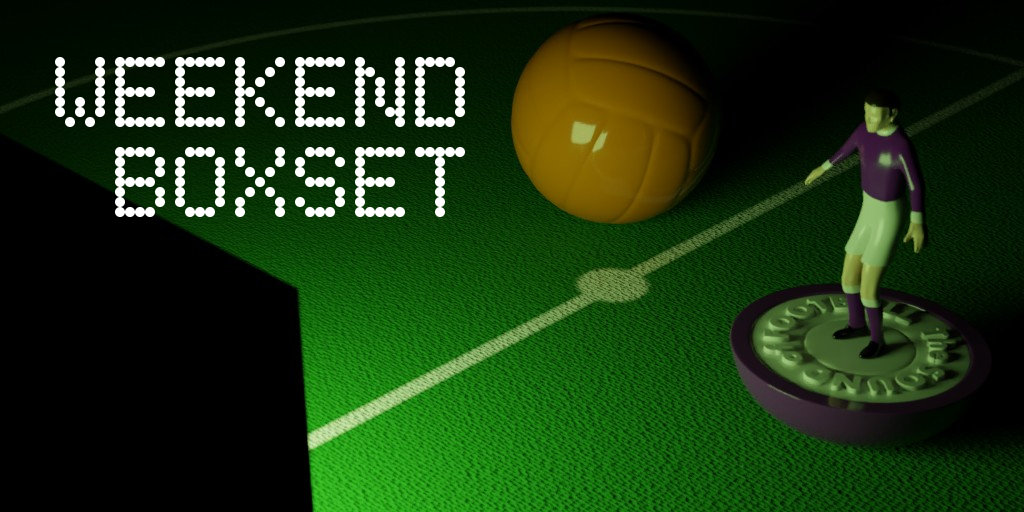 Are the good times back for Manchester United? Can Real find their own turnaround? Will Samir Nasri make a dream return to the Premier League against Arsenal?
Seven great matches to take you from Friday to Sunday. It's the Sound of Football Weekend Boxset.


All times are GMT
Friday
Championship: Leeds United v Derby County
19.45 on Sky Sports Football & Main Event
There is very much the whiff of the future of English football about this match. There's Young Jack Clarke for Leeds and young Mason Mount for Derby. Two young English lads set fair for illustrious careers. Then there's promising young manager Frank Lampard at Derby, cutting his teeth nicely in his first season of his first gig. And then there's old Marcelo Bielsa at Leeds. An Argentine coach bringing his brand of hipster friendly football to the EFL. The former Chile and Athletic coach has high pressed his players all the way to the summit of the league only for them to collapse with exhaustion over Christmas before going into steady decline and in the end counting themselves lucky to snatch the final playoff spot. At least that's what I'd be worried about if I was a Leeds fan. Still, this should be a full blooded affair bristling with progressive attacking play. Long live modern football. TD
Saturday
Premier League: West Ham United v Arsenal
12.30 on Sky Sports Premier League & Main Event
Having got through just under an hour of play in last week's FA Cup win over Birmingham, Samir Nasri could be starting a Premier League game for the first time since August 2016, against his former club. After leaving Manchester City on loan to Sevilla and then signing for Turkish club Antalyaspor, Nasri has spent the last 18 months serving a doping ban for taking a high dose vitamin drip. Contracted to the end of the season, the Frenchman could prove a particularly shrewd signing for the Hammers. At 31 (he's two days younger than Messi) Nasri has a wealth of experience in English football having played over 300 games with Arsenal and Manchester City. His inclusion will add a little spice to proceedings for the travelling fans, though after his time out of the game he might struggle to recognise anyone in his old team. GS
Premier League: Chelsea v Newcastle United
17.30 on BT Sport 1
This is probably one of those games that Magpies coach, Rafa Benitez relishes. That being a chance to pit his wits against another one of Europe's top coaches. Maurizio Sarri may be something of a nearly man in terms of honours and despite his character flaws he does set up a good team of football players. They may be slightly off the boil right now but the Blues have been very effective at times and will be favorites in this match. Benitez' players were unlucky to lose to United in their last Premier League outing but can be disappointed with their FA Cup draw against Blackburn at the weekend. Despite that Rafa will look to set up is team to stifle and contain his fellow Napoli alumnus and squeak an unlikely point at the Bridge. TD
Coppa Italia Round of 16: Bologna v Juventus
19.45 on BT Sport 3
A return of Italian football to BT for this weekend certainly helps fill the gaps in their schedules until the Bundesliga returns next Friday. It wouldn't be January without wild transfer speculation. For Juve, this means lots talk of Paulo Dybala moving to one of Europe's other giants for 100 million in return for some other similar talent going the other way for a very similar amount. The rumours are just rumours but chuck in some other names like Mbappe and you have a piece that will get ridiculous clicks. Chances of a cupset here are very slim: Bologna have only progressed past this stage once in the last 20 years and are in poor form, even for them. Their only win in their last 14 games was in the previous round at home to Serie B strugglers Crotone. Saying that, PSG got dumped out of the Coupe de la Ligue by Guingamp this week, so maybe there's a bit of Cup magic in the air on the continent. GS
Sunday
Premier League: Everton v AFC Bournemouth
14.15 on Sky Sports Premier League & Main Event
Last week's cup win over Lincoln was Ademola Lookman's first full 90 minutes of senior football since starting for RB Leipzig and against Wolfsburg last May. With a proven record in the Bundesliga and other Premier League clubs like Southampton eyeing the former Charlton prodigy, Everton will have to work hard to ensure he's happy to continues his development with them. Bournemouth added to their already impressive crop of young home-grown talent with the signing of Lookman's fellow U20 World Cup winner Dominic Solanke from Liverpool for £19 million. Solanke had been due to go on loan to Crystal Palace having only managed to make it as far as the bench once for the Liverpool this season. Question marks over his current fitness saw the loan fall through but while that may rule him out for this game, Bournemouth obviously see potential in the long term. GS
Premier League: Tottenham Hotspur v Manchester United
16.30 on Sky Sports Premier League & Main Event
Billing this game as the first serious test for Ole Gunnar Solskjær is doing the United caretaker a bit of a disservice. While his five wins from five could all be classed as "very winnable" many United fans will point out many other similar games this season where they failed to get three points. Rumours linking Pochetino as the likely full time appointment at Old Trafford will hang heavy over this one but shouldn't distract from what promises to be a excellent match. This will be Son Heung-min's last game for Spurs until he returns from the Asian Cup in the UAE. Enjoying some of his best form recently, Son will join the South Korea squad in time for their probable dead rubber of a final group game against China. Of course you can't mention things happening later than you expect without mentioning Spurs' new home, with a further delay announced this week. March 16 is the latest date to be released by the club for their first game at their new stadium, against Crystal Palace. Don't worry Eagles fans, I have a strange feeling you won't be missing out on your trip to Wembley. GS
La Liga: Real Betis v Real Madrid
19.45 on Eleven Sports 1
Under pressure Madrid boss Santiago Solari has a few staffing issues. He goalkeeper, Thibaut Courtois is out injured for this game in Seville. The beleaguered coach is also having his already tenuous authority stretched by Gareth Bale of all people. The Welsh wizard was not in the squad for the 2-0 defeat to Real Sociedad last Sunday but breached protocol leaving the Bernabeu stadium ten minutes before the end of the match. Already subject to criticism for not stepping up, following Cristiano Ronaldo's departure, Bale is likely to be find by the club. Such dramas only emphasise the lack of direction that the European Champions have this season and how much work needs to be done in the summer to turn things around both in the dressing room and on the coaching bench. Already that have started by bringing Brahim Diaz from Manchester City and surely it's only a matter of time before Solari is for the chop. His team sit in fifth place, ten points behind leaders and their arch nemesis, Barcelona and only one point ahead of their opponents in sixth. Betis will be without Júnior Firpo. The impressive young left back is another transfer target for Real Madrid but won't get the chance to show off his mad skills in front of his potential new club because of a muscle injury. TD
Whatever you watch, have a great weekend.