Weekend Boxset: After the window closes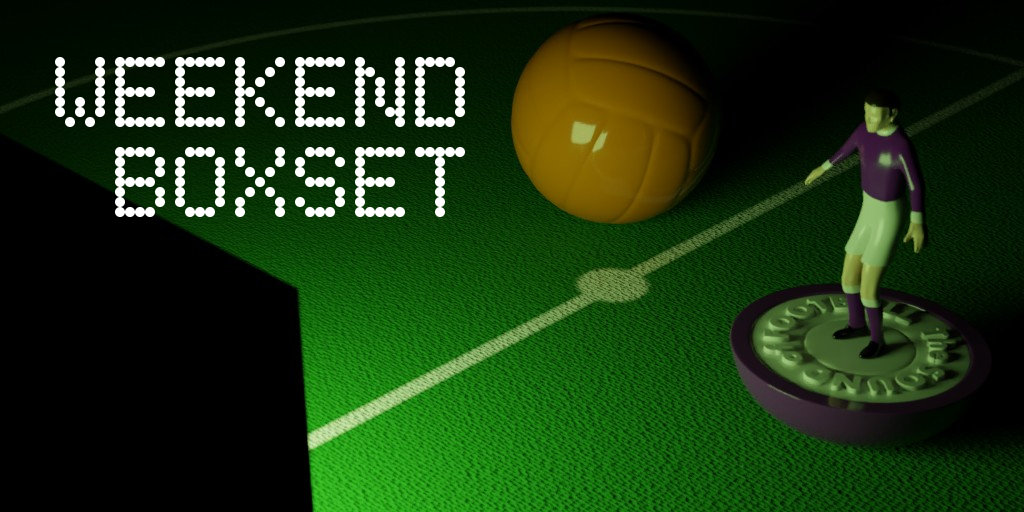 The transfer window has closed, how will teams shape up in the second half of the season?.
Seven great matches to take you from Friday to Sunday. It's the Sound of Football Weekend Boxset.
All times are GMT
Friday
Bundesliga: Hannover 96 v RB Leipzig
19.30 on BT Sport 2
Rasenballsport tick along nicely in third, thanks to the sterling efforts of Messrs Poulson and Werner up front. Not consistent enough to challenge for the title, the target for Ralf Rangnick and his team is to have a Champions League berth ready for incoming manager Julian Nagelsmann in the summer. But the Leipzig club's reputation as a high flyer will take a knock if they can't beat their opponents, who are second from bottom of the table. Hannover are an interesting club and by interesting I mean terrible. Their fans are in open revolt over the president Martin Kind's desire to privatise the club. There has been almost no investment in the squad and last weekend's 5-1 defeat at Dortmund did for coach André Breitenreiter. He was was sacked after having promoted the 96ers the season before last and then kept them up, last season. His replacement? Thomas Doll whose last Bundesliga job was over a decade ago at pre-Klopp Dortmund and he nearly relegated them. I have no idea what sporting director Horst Heldt is playing at but given that this is the same guy who hired Roberto Di Matteo at Schalke, no one should be surprised at his lack of imagination. TD
Saturday
Premier League: Tottenham Hotspur v Newcastle United
12.30 Sky Sports Premier League & Main Event
It may surprise you to learn that Newcastle's record over their last six games is (marginally) better than that of their opponents. In fact, the Mags (and believe me, this is sticking in my throat as I write) are very much in the ascendancy: a stunning win against Guardiola's mega-stars in midweek, followed by the signing of MLS title winner Miguel Almiron for a club record fee, and then the snapping up promising Monaco youngster Antonio Barreca on loan. This acquisitive activity also suggest something of a watershed for the barcodes; perhaps signalling a change in direction for their wantaway billionaire owner and potential saviour of the high street, Mike Ashley. Is he now ready to abandon this ambition to sell the club and finally give Rafa the funds he deserves to transform this sleeping giant - well, I bloody hope not! In other news, Spurs are still without Kane and Alli, but Son is back and did help them overcome Watford in midweek. Will that be enough to get the Tottenham train back on track, well, I do hope so - I'd love it if Spurs beat them; I'd bloody love it.. JB
Championship: Leeds United v Norwich City
17.30 on Sky Sports Football & Main Event
The Big One. First v Second in the table and a chance for either team to lay down a good psychological marker as well as a handy three points. Neither sides are dominating at the top of the Championship. Sheffield United and Middlesbrough are keeping them honest. In fact, The Canaries were held to a 2-2 draw by the Blades last week and were knocked out of the cup by Pompey. Daniel Farke's team have only won two from their last nine. Leeds were also relieved of their FA Cup burden by QPR and have lost two from their last four, including that classic 4-2 defeat at Forest and a 2-0 reverse at Hull who are pretty decent, to be fair. So this is a tough one to call. The home side can count Patrick Bamford and Stuart Dallas among their injuries but England fans can look forward to seeing youngsters Lewis Baker and Jack Clarke. City have no injury concerns. TD
La Liga: Celta Vigo v Sevilla
19:45 on Eleven Sports 1
It is likely that by the time you read this Celta striker, Maxi Gómez, may have completed his transfer to West Ham. The 22 year old Uruguayan international has scored 9 goals in 18 games this season and is a cracking signing by the Hammers. While it will be a big loss to Celta in the summer, the striker is likely to be staying at Celta to help them with their relegation struggle. This is just as well because missing in action, for this game, is Iago Aspas who is denied the chance to score against his old club due to a calf injury. The home side are third from bottom and have it all to do against a tough Sevilla side if they're to make up the two point gap on Vallecano immediately above them. The away side were humped 6-1 by Barcelona in the Copa Del Rey on Wednesday so may be anxious to work out some issues. Their last league outing saw them beat Levante 5-0. The strike partnership of Wissam Ben Yedder and André Silva have 29 goals between them this season. TD
Sunday
Premier League: Leicester City v Manchester United
14.05 on Sky Sports Premier League & Main Event
Both teams came from behind to earn a point among a collection of surprising midweek results. Given United's recent run of results, the visit of Burnley wouldn't have had too many punters ticking the away win box but it took a soft penalty and a last minute marginal offside equaliser to spare their blushes. Debatable decisions were also the talk of Leicester's draw against Liverpool. Some (ie Liverpool fans) felt Harry Maguire should have been sent off in the first half. A sour taste that only got more bitter when the England international scored. On the whole though Leicester were certainly good for their point and had their finishing been better, should have won the game. Maguire was on target the last time these two sides met at the King Power, snatching a point in injury time when his side were down to 10 men. Hopefully we'll see more of the sort of games we saw midweek for another ding-dong battle here. GS
Premier League: Manchester City v Arsenal
16.30 on Sky Sports Premier League & Main Event
In 2011 Denis Suarez took to the field as an 88th minute substitute for Edin Dzeko in a pre-season match for Manchester City against LA Galaxy. The next couple of seasons saw him make just two appearances in the League Cup but that didn't stop Barcelona coming in for the teenager. The nature of the deal struck could go some way to explain why he's arrived as a loan signing at Arsenal from the Catalan giants. Under the terms of the deal struck in 2013, City earn £700,000 for every 10 appearances Suarez makes for Barcelona - leading some to speculate that's the reason why the talented 25 year old midfielder has found first team opportunities so rare. Should he prove a success with the Gunners and they choose to activate the £20 million buyout option, £4 million of it will go into the already bursting coffers of City Football Group. Suarez has played under Emery before as a loan signing at Sevilla. If he makes a contribution in this game it is likely to be off the bench. GS
Serie A: Roma v Milan
19.30 on Eleven Sports 2 & Premier Sports 1
As you can see there's a choice of platform for this game, that's because the ailing "Netflix for football" channel Eleven Sports had to sell off a lot of its content this week, including Serie A coverage, to Premier Sports. Eleven Sports will reduce the cost of the service from the start of next month, though where that leaves subscribers who paid up front for their service isn't clear. Premier Sports also picked up Eredivisie and Chinese Super league - so if you're looking for those games you know where to go. This game sees the two sides that lead a pack of clubs fighting for the 4th Champions League spot - a competition Milan have missed out on for the last five seasons. Roma on the other hand haven't missed out on Champions League in that time. Milan have replaced the out-going Higuain with 23 year old Krzysztof Pjatek for €35 million, a figure helped in no small part to his sensational start of the season with Genoa. He's already endeared himself to fans in the San Siro, scoring both goals in their Coppa Italia quarter final win over Napoli on Wednesday night. GS
Whatever you watch, have a great weekend.