Weekend Boxset: El Caraboa Gasico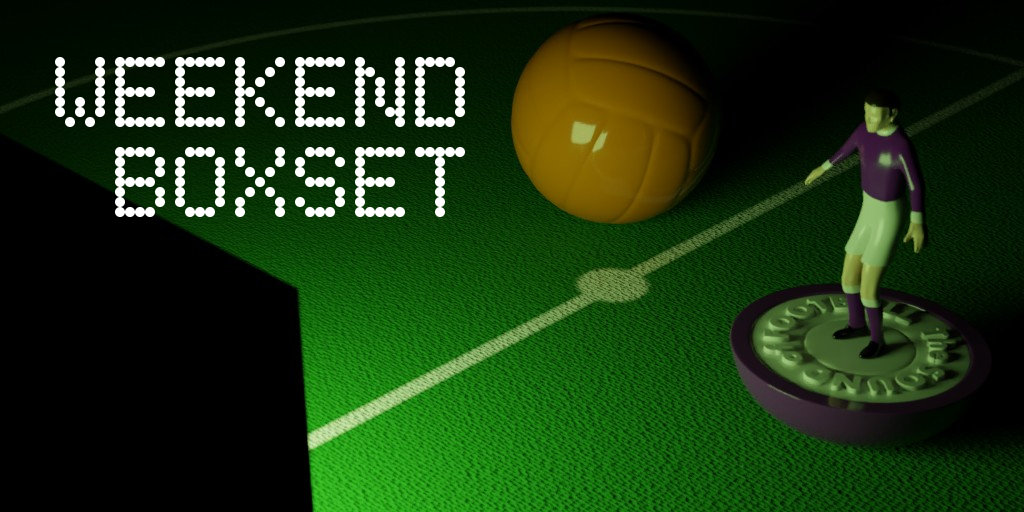 The first silverware of the year is on offer.
Seven great matches to take you from Friday to Sunday. It's the Sound of Football Weekend Boxset.


All times are GMT
Friday
Premier League: West Ham v Fulham
19.45 on Sky Sports Premier League & Main Event
Given some of the performances these sides have put in this season you'd be forgiven for wondering how the men in charge have both won the Premier League title in recent years. West Ham sit in a mid-table group of clubs that can seemingly give anyone a game but at the same time can shoot themselves in the foot against the most benign opposition. Much was made about Liverpool in their recent draw with the Hammers but there was little commending Pellegrini's side for their performance coming soon after their defeat of Arsenal - probably due to the two defeats they suffered in between those games. For Fulham, the bald facts are they are 8 points short of 17th place with 12 games to go and they've only got 8 points from their last 11. Fulham are still looking for their first win away from the Cottage this season and with the teams above them like Southampton, Burnley and Cardiff turning things around, it's going to take a miracle for Fulham to survive. Though it wouldn't be the first miracle Ranieri has performed. GS
Saturday
Bundesliga 2: Köln v Sandhausen
12.00 on BT Sport 2
Third place meets second from bottom: should be easy to pick a winner right? Wrong. This is 2. Bundesliga and this is Cologne who's lofty perch is looking a bit precarious after having lost three from their last four. The most recent loss was thanks to an injury time goal by Paderborn's Marlon Ritter in a 3-2 win only minutes after Köln's Florian Kainz was sent off. The performance was so poor that sporting director, Armin Veh, accused his players of being scared and warned that their promotion ambitions are in jeopardy. Sandhausen's social media are trying to promote the hashtag
#WirRockenDieRückrunde
in an attempt to enthuse their fans as the squad seeks to pull themselves out of the bottom three. So far the results aren't great but their two defeats were against decent teams, Union Berlin and HSV, which is no disgrace. They beat Bochum 3-0 and were robbed of a clear penalty in their last game, a 1-1 draw against Darmstadt, a game they otherwise dominated. "Now we bring the wrath and the anger in Cologne," said the club president Jürgen Machmeier. "We are strong enough to cause a surprise." TD
Championship: West Bromwich Albion v Sheffield United
17.30 on Sky Sports Football & Main Event
This season's promotion race in the Championship promises to be another classic with just three points covering the top four places. With Norwich and Bristol City also playing each other this weekend, the leadership of the table could take another turn with either of these sides capable of claiming it with a win here. Until next week at least. The Baggies were in one of their good runs when the sides met at Bramall Lane in December, running out 2-1 winners after going behind to David McGoldrick's opener. Since then the Blades have improved but are relying heavily on their home form to stay in the chase. We're not on the home straight yet but a win for either side could be the difference between automatic promotion and a play-off place. GS
Serie A: Frosinone v Roma
19.30 on Eleven Sports 2
While Frosinone is in the region of Lazio, it's a good 80km down the E45 from Rome - almost halfway to Naples - so it might be a bit of stretch to refer to this as a local derby. On first glance there doesn't seem to be much on offer here: Roma are making steady progress to securing a Champions League spot while Frosinone sit second from bottom looking at another swift return to Serie B. Things hardly get any more promising for
i Canarini
with the fact that they have yet to win at home this season. That said, they gave Lazio a good match in their last home game and were unlucky to get nothing from it. Either side of that game they got wins against Bologna and Sampdoria so there is some fight left in them. Frosinone's Stadio Benito Stirpe - named after their previous owner, the current owner's father - was completed in 2017, a full 43 years after construction started in 1974. Well it has been said that Rome wasn't built in a day. Fear not Tottenham fans, I'm sure you'll be back at White Hart Lane well before 2061. GS
Sunday
Premier League: Manchester United v Liverpool
14.05 on Sky Sports Premier League & Main Event
Back in December, when the two sides last met, Liverpool came away with a 3-1 win, which, to be fair, flattered the visitors. Their only goal came from an uncharacteristic fumble from Allison and Paul Pogba didn't leave the bench as Mourinho threw on the blunt force that is Marouane Fellaini at half time in an attempt to find a way through one of the finest defences in the land with the scores at 1-1. The result kept Liverpool at the top with United in a disappointing sixth. Today, one could argue that United's form is marginally superior to their visitors, with the Champions League loss to PSG the only blight on their record. By their own high standards, Liverpool should be doing better, losing the advantage to City following two disappointing draws against Leicester and West Ham. United's more assertive approach to their play has brought them plenty of goals from the rejuvenated Pogba and Martial while Rashford's performances in his favoured centre-forward role has earned him a bumper (and I do mean bumper!) new contract. Whether the team will have the maturity to temper their attacking enthusiasm against a Liverpool side as frugal at the back as they are devastating going forward remains to be seen. Either way, we should see a goal or two. JB
Caraboa Cup Final: Chelsea v Manchester City
16.30 on Sky Sports Football & Main Event
If the first domestic silverware of the season wasn't enough narrative for you, there is the added wrinkle of the fate of the Chelsea coach Maurizio Sarri. As an unapologetic football hipster (circa 2011) I was one of the many who welcomed the former Napoli coach and his tactical wondrousness to these shores. Now I am among the throng of hypocrites criticising him for his inflexibility and wrongful deployment of N'golo Kante. If the powers that be at Stamford Bridge see
Sarriball
as a long-term project then they should spare him the noose. However, that decision would be a lot easier if they could squeeze the League Cup in their cabinet. This will be far from easy given that Manchester City (who have won this trophy so many times in recent years they will soon be able to buy its naming rights) are really good and will probably win. If you're uncertain about this game then consider that this is probably Eden Hazard's last game at Wembley for a while. Unless Spurs draw Real Madrid in the Champions League next season. ARF! TD
Ligue 1: Monaco v Lyon
15.00 on BT Sport 2
Leonardo Jardim's triumphant return to Monaco has, so far, been pretty… well, triumphant. The Portuguese coach who delivered the Principalities first league title in 17 (seventeen) years was sacked after a poor start to this season, both domestically and in Europe. However, after an horrific misadventure with rookie coach Thierry Henry, Jardim is back and Monaco are out of the bottom three with two wins and a draw. The squad was helped with some interesting winter transfers. Including centre back, Naldo from Schalke, Cesc Fabregas and Gelson Martins who has scored two goals in just three appearances. Their opponents will present the home side with some tough questions. Their forward line consists of such talents as Memphis Depay, Mousa Dembélé and Nabil Fekir, who may well be off in the summer. This is the team that beat the all consuming PSG earlier in the month so don't be placing too much coin on the hosts. TD
Whatever you watch, have a great weekend.