Weekend Boxset: Delays expected at the Gatwick turn-off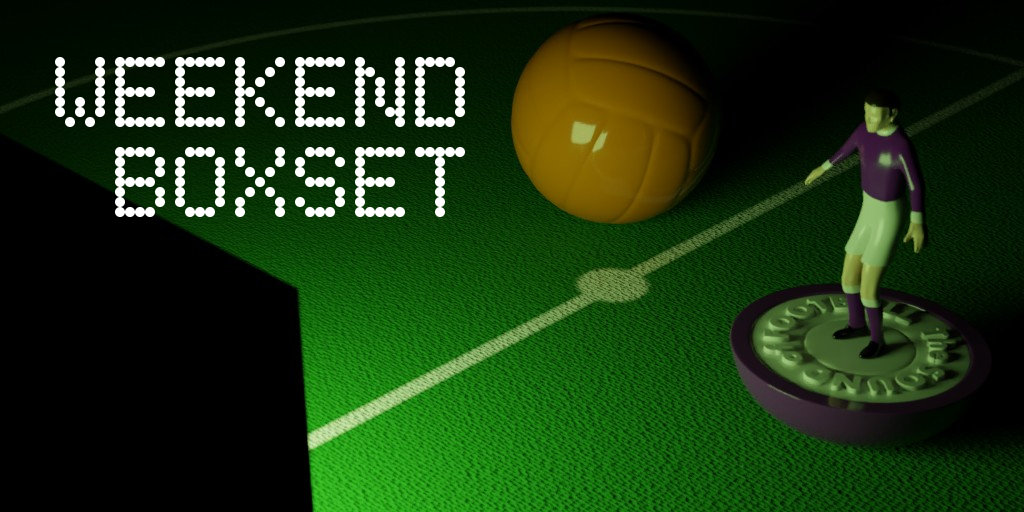 Plenty of stirred passions this week with crunch derbies in Hamburg, the Cote D'Azur and the M23.Seven great matches to take you from Friday to Sunday. It's the Sound of Football Weekend Boxset.
All times are GMT
Friday
Championship: Norwich City v Swansea City
19.45 on Sky Sports Football & Main Event
It's becoming a bit of a rarity to see one side remain top of the Championship across the whole weekend but with Norwich two points clear and with Leeds' tough trip to Bristol City this weekend it's a perfect opportunity for Daniel Farke's men to stretch their lead as they go into the final ten games of the season. Both Leeds and Norwich are tied on taking 21 points from losing positions in games this season - the Canaries turning matches around in five of their wins. In a 46 game season, those sort of performances are going to take it out of you, so we could easily see both sides stumbling over the line come May. Swansea's faint hopes of a play-off spot have taken a knock with recent defeats and they sit a little too comfortably in a congested mid-table. Swansea will of course enjoy another season of Premier League parachute payments next season. Norwich on the other hand know their own relegation dividend will be sharply reduced if they fail to go up. GS
Saturday
Premier League: Crystal Palace v Brighton & Hove Albion
12.30 on Sky Sports Premier League & Main Event
The M23 Clasico's origins go back to the 1970s when a clump of Brighton fans were accosted by a phalanx of brave Palace supporters for illegally deep frying puppy dogs round the back of the Happy Eater just outside Hooley. Since then, Brighton fans have harboured a deep resentment of the South London club, much like Ted Crilly's resentment of Dick Byrne in Father Ted. Fortunately this game is being played at a proper football ground rather than Brighton's Emirates mini-me stadium where there are not enough toilets and is populated by noughties refugees who moved down from London before the credit crunch and now have too many kids and not enough equity to move back. Of course, Brighton & Hove Albion's stadium isn't in Brighton or Hove (although it is in Albion). It is in Falmer, which is virtually Lewes. Seaweeds may argue that Crystal Palace don't play in Crystal Palace and they would be right but that's because Crystal Palace isn't an actual place, so there. TD
League One: Charlton Athletic v Portsmouth
17.30 on Sky Sports Football & Main Event
At the half way point of the season Pompey were four points clear at the top of the table and looked dominant in a strong promotion race. Since then it's been a pretty ordinary for the south coast side; last weekend's 5-1 win against Bradford being their first in the league since New Year's Day. While Charlton's recent form hasn't been much better, they will provide a much tougher prospect than the soon to be relegated Bantams were. One positive from Pompey's post-Christmas run is qualifying for the EFL Trophy final, which is at the end of the month against promotion rivals Sunderland. If Portsmouth fail to win today, it will need another trip to Wembley for them to return to the Championship. GS
Serie A: Chievo v AC Milan
19.30 on Premier 1
Slim pickings on offer for the Saturday evening slot and on paper a confident Milan going to an as good as relegated Chievo would seem to bit a bit of a mis-match - which it totally is. That said, it does give us a chance to have a look at Gennaro Gattuso's side who are enjoying a great run in Serie A. The addition of goal machine Krzysztof Piatek has consolidated their claim for a Champions League spot but they are still a long way from competing with Juventus - 24 points to be precise. If they are to have any hope of closing that gap next season they will have to start getting wins against their rivals in the top six - something they've only managed once in the league this season. They did recently beat Napoli in the Coppa Italia to progress to the semi-finals, a competition they have surprisingly little recent pedigree in having won it just once in the last 40 years. GS
Sunday
Bundesliga 2: St Pauli v Hamburg
12.30 on BT Sport ESPN
It took a nervy 1-0 win against Greuther Fürth, last weekend, to break a two game winless streak for HSV which saw them relinquish top spot in the Bundesliga 2 to FC Köln. Now the northern giant must travel the short distance to the district of St Pauli to play their bitter city rivals who themselves are only four points and two places behind them in fourth. Given the hosts humble roots, it is still something of a novelty to see this derby. St Pauli have always been well supported but the region of the city is very poor and has not been able to sustain top flight football, the usual natural environment of HSV. That's changed a lot now since the Pirates have become an internationally celebrated cult club which is turning a nice profit in merchandise sales. HSV are without their young striker Jann-Fiete Arp. The local boy hates St Pauli as his Instagram account testifies and would have relished the chance to stick it to the rivals before he leaves the club for Bayern in the summer. TD
Premier League: Arsenal v Manchester United
16.30 Sky Sports Premier League & Main Event
Both sides return from France having been involved in midweek European matches that ended 3-1. United's unlikely turnaround in Paris came with the help of an injury time penalty awarded by the VAR in what was seen by most onlookers as a very soft decision. Pinning the result to a dodgy handball does little to credit United's overall performance on the night, the type of performance they are regularly putting in for their stand-in manager Ole Gunnar Solskjær. In the Europa League on Thursday, Arsenal looked tired and severely short of imagination and inspiration. In contrast, Rennes were energetic, wily and used the electric atmosphere from a packed stadium to maximum effect. Arsenal's home performances this season have been markedly different to their away form - they've won eight in a row in the league at the Emirates - but it will require a Jekyll and Hyde transformation to turn themselves into a winning side against this rejuvenated United who have won their last nine away games in all competitions. GS
Ligue 1: Marseille v Nice
20.00 on BT Sport 1
See out the weekend with a raucous Cote D'Azur derby. Everyone knows who is going to win Ligue 1 but the team that grabs the other European spots is still a tale to be told. Only four points and four place separate these two with the home side in fourth. OM's Mario Balotelli looks set to face off against his old club. If he scores, he is less likely to celebrate as he did last week. After finding the net against Saint-Etienne, with a spectacular bicycle kick, the flamboyant Italian ran behind the goal grabbed a phone and posted his celebration on Instagram. Nice boss Patrick Vieira his doing a better job managing a club on the south coast than his compatriot and former Arsenal team mate, Thierry Henry. However, his players haven't celebrated a win with their away fans since November, picking up only three points in seven games on the road. TD
Whatever you watch, have a great weekend.
Terry and Graham