Weekend Boxset: FA Cup Quarter Finals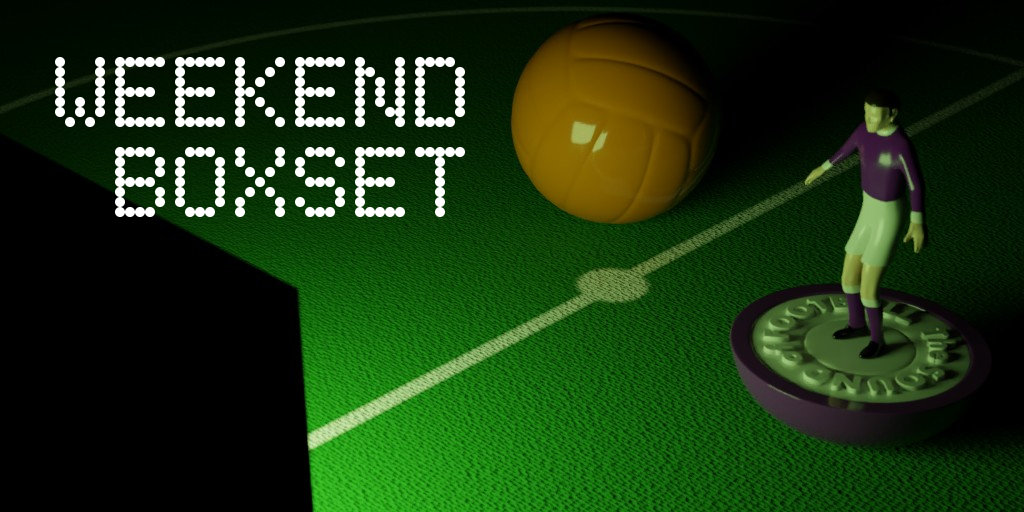 All the quarter finals of the FA Cup along with some key ties in the race for promotion and European qualification.Seven great matches to take you from Friday to Sunday. It's the Sound of Football Weekend Boxset.
All times are GMT
Friday
League One: Doncaster Rovers v Barnsley
19.45 on Sky Sports Football & Main Event
Second meets sixth in a nice Yorkshire derby at the top of League One. Barnsley were relegated from the Championship last season but always had grounds for optimism following a takeover in 2017 by a consortium that includes the Moneyball pioneer Billy Beane. Daniel Stendel is the coach. The former Hannover 96 boss is one of a number of German trainers making their way in the English Leagues and he's doing a pretty decent job, keeping more illustrious clubs out of the top two. Rovers boss Grant McCann will be watching this from the stands after being given a one match ban and £1,000 fine for abusive behaviour towards a match official during a 1-1 draw against Charlton earlier in the month. Fortunately, the former Northern Ireland international can go in the dressing room before the game and at half-time so there's no need for a laundry basket at the Keepmoat. TD
Saturday
FA Cup Quarter-Final: Watford v Crystal Palace
12.15 on BT Sport 2
I want some Cup action. It's not a distraction. Palace and Watford are similar sized clubs with similar sized ambitions. Both see the Cup as a realistic prize and are sufficiently comfortable in the Premier League to put their backs into this tie. Moreover, there is beef between these two sides. After the Hornets' 2-1 win over Palace in September, future Soccer Saturday backup pundit Troy Deeney admitted that he and his teammates "took turns" to kick Wilf Zaha during the match and used the striker's protestations about the amount of tactical fouls he receives to try and influence the referee. We can probably say that this game's officials are in for some hardcore chirping from the Palace players starting with the first Watford foul. Personally, I think the Palace players need to realise that if they can stand the test, their worst is better than Watford's best. TD
Alternative viewing: If it weren't for the above game our pick would unquestionably be the massive Yorkshire derby between Leeds United and Sheffield United (12.30 Sky Sports Football and Main Event). If the Blades can win at Elland Road they will claim their host's second place in the Championship.
FA Cup Quarter-Final: Swansea City v Manchester City
17.20 on BT Sport 2
It's less than a year since these two sides last met. At the start of that day back in April Swansea were four points clear of the relegation zone and had a game in hand over Southampton. The 5-0 defeat at the Etihad, signalled an acceleration in their crash from the Premier League - they lost their four remaining fixtures scoring just once. Looking to rebuild their club, Swansea brought in progressive English coach Graham Potter from Swedish side Ostersund, fresh from impressive Europa League performances against Arsenal. A work in progress, Swansea's return to the Championship has been unspectacular but for the moment the club is sticking with the plan and with Darren Moore's recent departure from West Brom, he is the only manager to remain in his post from last season's relegated sides. Comfortable in the lower reaches of the Championship mid-table, Swansea aren't in any danger of a similar post-City meltdown if they lose badly today against a side going for a quadruple. With no replay though, there's enough to encourage those of an optimistic outlook that maybe some magic might be found on the Welsh south coast. GS
FA Cup Quarter-Final: Wolverhampton Wanderers v Manchester United
19.55 on BBC One
This FA Cup quarter final sees a relatively inexperienced manager with a fine playing pedigree and a penchant for questionable transfer dealings come up against a side playing well above themselves.I am, of course, referring to Wolves manager Nuno Espírito Santo. As confident and articulate both on the touchline and with the media as the likes of Klopp, Santo's stock has deservedly gone up this season along with the standing of his club. Indeed, it was Klopp's FA Cup ambitions that were curtailed by Wolves in round three and now today's home side stand just one step away from their first FA Cup semi in over twenty years. In their way is a United side fresh from both Solskjær's first league defeat and an incredible win against PSG. Impressive in wins against Chelsea and Arsenal in previous rounds, United will also be encouraged by the return of both Herrera and Pogba for this fixture. Whatever the outcome, this does promise to be quite an encounter. JB
Sunday
FA Cup Quarter-Final: Millwall v Brighton & Hove Albion
14.00 on BBC One
Once this would have been a second tier fixture, of little interest to anyone outside Bermondsey or Falmer. However, the Cup has worked its magic and we are compelled to open our hearts. Presumably, Anthony Knockfart is clear to play rather than beginning an eight match ban for his brutal attack on Luka Milivojević during the M23 derby last weekend. "Knockers", as he is affectionately known, scored the winner in that game when he should have been off the pitch and Brighton should count themselves fortunate to call upon his services in this game. They should but they won't. Millwall meanwhile are going through hard times near the bottom of the Championship. However, their confidence was buoyed by a 2-0 win at the disgraced Birmingham City, their forth since a 1-0 win at Derby in February. The visitors are themselves flush from their derby success last week and as the Premier League team will be clear favourites. That won't deter Neil Harris's team with its raucous and occasionally violent fans. After all, these are things that dreams are made of. TD
Premier League: Everton v Chelsea
16.30 on Sky Sports Premier League & Main Event
Both teams find themselves at a loose end having been eliminated from the Cup; Everton by Millwall in the fourth round and Chelsea by Manchester United in the fifth. With Liverpool the only other top six side playing a league match this weekend, Chelsea have the opportunity to use their game in hand over their rivals and push back into the top four on goal difference. Everton already have enough points to avoid an unnecessary end of season crisis but last week's defeat at Newcastle - a game in which they led 2-0 at half time - was indicative of the poor form that has dogged their mid-season. Given their recent draw in the Merseyside derby at Goodison they certainly have it in them to cause Sarri's side problems. Whether or not they bother turning up though is anyone's guess. Chelsea's Champion League hopes may hinge on their next trip to Merseyside, when they face Liverpool between their Europa League quarter finals against Slavia Prague but they'll have to win here first to make sure they are in a position to make that match relevant. GS
Serie A: Milan v Inter
19.30 on Premier Sports 1
A Milan derby with more than just the bragging rights on offer as both teams attempt to secure Champions League football next season. Milan are on a run of six straight wins in the league but as mentioned before in this newsletter it's the games against their top six rivals they need to start winning. This match against their bruised co-tenants could be a way to start that winning habit. Inter were knocked out of the Europa League this week by Frankfurt, losing 1-0 at the San Siro after a goalless first leg. Dropping points in recent away games has seen Inter lose third place to Milan. With Napoli in similarly indifferent form second place is not beyond
i Rossoneri
. GS
Whatever you watch, have a great weekend.