Weekend Boxset: FA Cup semi-finals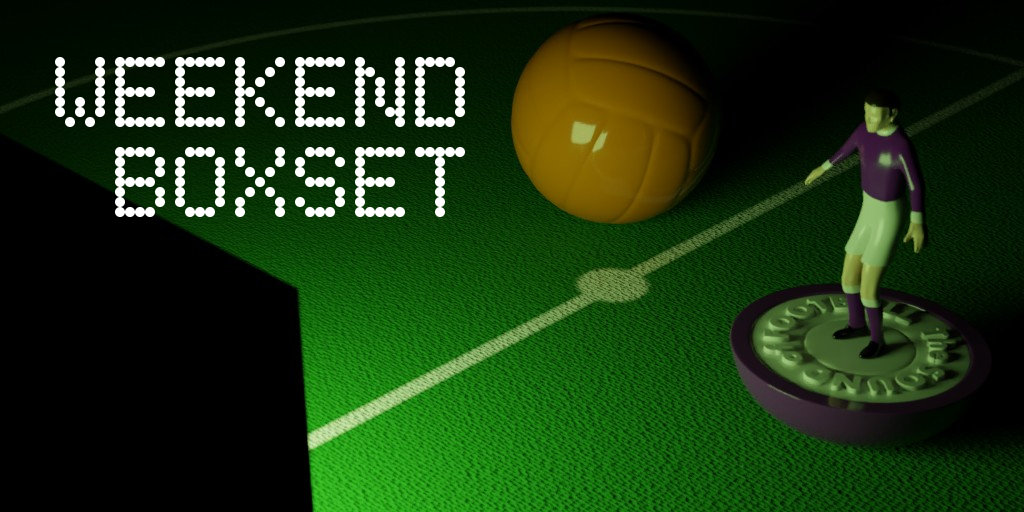 Two matches from Wembley dominate the action this weekend. With four teams left and one clear favourite, does the Cup have one more upset left in it?
Seven great matches to take you from Friday to Sunday. It's the Sound of Football Weekend Boxset.
All times are BST (GMT+1)
Friday
Premier League: Southampton v Liverpool
20.00 on Sky Sports Premier League & Main Event
In the now familiar order of things, Liverpool have the chance to retake top spot until Manchester City play again, only this time that won't be until Sunday week, just before the Reds' next game. Liverpool fans will of course have been poring over the run-in and the fixture they undoubtedly will be focusing on is City's trip to Old Trafford - the game in hand they'll have by not playing this weekend. That fixture is still three weeks away and Liverpool still have to go to places like St Mary's and do the business. For Southampton, last weekend's results did their chances of staying up a power of good but they are by no means out of danger. Maybe with so many of the Liverpool side preoccupied with the thought they won't celebrate if they score against their old club, the Saints might be able to snatch a point here. GS
Saturday
Championship: Norwich City v QPR
12.30 on Sky Sports Football & Main Event
With a seven point gap over Sheffield United in third, The Canaries can smell promotion. But with seven games and 21 points still to play for, those sunlit uplands of the Premier League must seem so small in a far away sense. The club's fans are taking it all in their stride, however. Two hundred of them have signed a petition for coach Daniel Farke to perform a lap of honour on horseback on the final home game of the season, whether they are promoted or neigh. The idea follows on from the "Farke's on a Horse" chant sung by the City fans which in turn relates to his days at Lippstadt where he once performed the same ceremony. Sadly there is nowhere near as much horsing around at QPR. Dismal results compelled the club to sack the coach, Steve McClaren. While relegation is unlikely, you have to ask if any thoroughbred coach would want that job. So far the only rider to step up to the starting gate is Charlton boss, Lee Bowyer. To be Frankie with you, I have a nagging feeling that they might find a better candidate at the glue factory. Arf! TD
FA Cup Semi-final: Brighton & Hove Albion v Manchester City
15.00 on BBC One
If you listened to this week's podcast you'll know this game is not my main focus but I'll come to that later. As I see it, City's priority for the remainder of the season is 1. Champions League 2. Premier League 3. FA Cup. On Tuesday, Pep Guardiola's team make a return
trip to Wembley
trip to White Hart Lane for what could be a bruising European encounter against a beatable but determined Spurs side. In my book that makes the English champions vulnerable for this game. Brighton's league form means very little in the cup, such is its magic, so maybe the Seaweed can force the game into extra time. This would be great for me because I will be watching the
Bayern Munich v Borussia Dortmund game on BT Sport
at the same time. Despite their wobble earlier in the winter, BVB are now two points clear of Bayern at the top of the Bundesliga and could strike a decisive blow in the title race with a win at the Allianz. Bayern go into the game buoyed by the 5 goals they scored against lowly Heidenheim in the Cup on Wednesday. Borussia go into the game buoyed by the four goals Bayern conceded to lowly Hiedenheim in the Cup on Wednesday. This is going to be a classic (but not a Klassiker). TD
La Liga: Barcelona v Atletico Madrid
19.45 on Eleven Sports 1/Premier Sports 1
Controversy reigns in Spain as Real Madrid supporting publication
Marca
denied Messi's masterful panenka free kick in the derby against Espanyol last week as actually a Victor Sanchez own goal. Needless to say Barca fans and neutrals alike were up in arms, crying foul and whatnot. Anyway,
Marca
are going to have an "internal review" to decide whether or not it was Messi's goal. They are expected to report their finding to the Office on Nobody Give A Toss within the next five working days. As you may have gathered the Spanish football news cycle is one notch above watching cars rust due the the fact that the title race is probably won by Barca who are eight points clear of second placed Atleti who are in turn five clear of Real. That is not to say this game is an unworthy pick, Quite the contrary, it will be a fascinating contrast of styles and Messi really is entering the trick-shot phase of his career. But in view of the fact that this is a top of the table clash, there is very little riding on it. TD
Sunday
Premier League: Everton v Arsenal
14.05 on Sky Sports Premier League & Main Event
It's a very tight race for those two remaining Champions League spots. Arsenal currently occupy fourth place but have a game in hand over their rivals and know they don't have to play any other side in the top six. That would suggest they're favourites to fill one of the berths but with five of their remaining seven games away from Fortress Emirates, that may not be as straight-forward as perhaps it should be. Everton seem to have taken to heart the turnaround they suffered against Newcastle and wins over Chelsea and West Ham will give them all the confidence they can get something against a side that rarely impresses on its travels. GS
FA Cup Semi-final: Watford v Wolverhampton Wanderers
16.00 on BT Sport 2
With the exception of City, all of the Premier League big beasts have been knocked out of this year's FA Cup, causing some to turn their noses up at this fixture - they are, of course, wrong. Both are enjoying their best top-flight campaigns in generations; indeed, Watford have already surpassed their highest ever Premier League points haul. Wolves sit one place higher than today's opponents in seventh and claimed the scalp of Manchester United in the week, a repeat of their heroics in the quarter finals. Wolves have form in this competition, having lifted the famous old trophy on four occasions. However, this will be their first semi-final since 1998. By contrast, Watford have reached the final only once, in 1984, where they lost out to an excellent Everton side, 2-0. For me, Wolves have too much quality for Watford to overcome and I can see Espírito Santo walking out alongside Guardiola in the final - undoubtedly two of the finest coaches in England. JB
Serie A: Napoli v Genoa
19.30 on Premier 1
This week saw international fans of Serie A being reminded yet again just how systemically racist it is. Having seen it so many times before, few are expecting many lessons will be learnt from the mindless actions of the home fans at Juventus' win in Cagliari. What made it worse this time was how Moise Kean's own teammate Leonardo Bonucci reacted in post match interviews before being briefed that he too was being stupidly racist. The Old Lady could have been crowned Champions this weekend had they not lost to Genoa a couple of weeks ago - their only defeat of the season. The result was all the more surprising in that Genoa are so very ordinary - they've been well beaten in both their games since. Comfortably second, Napoli themselves suffered a surprise defeat midweek away to Empoli, so they might feel they have something to prove ahead of their trip to London to play Arsenal in the Europa League. Hopefully with the pressure off both sides we can see a match fans of Italian football can be proud of. GS
Whatever you watch, have a great weekend.