Weekend Boxset for Easter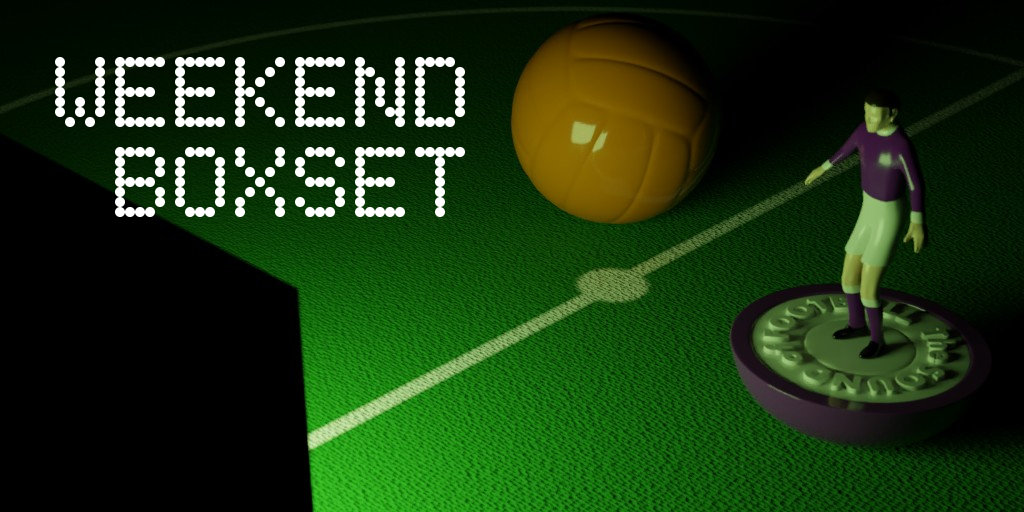 With a full round of fixtures in the EFL on Friday and Monday, a lot of the promotion of relegation questions will be answered this weekend.
Seven great matches to take you from Friday to Monday. It's the Sound of Football Weekend Boxset.
All times are BST (GMT+1)
Good Friday
League One: Sunderland v Doncaster Rovers
17.15 on Sky Sports Football & Main Event
Only a few short weeks ago, today's home side were sitting on a pile of games in hand with a ticket to a Wembley final tucked neatly in their top pocket. All was well with the world: birds were singing over the Stadium of Light despite the Roker Roar bellowing below, which was even taking on a more melodic tone in anticipation of the mighty Mackems taking their first step back to greatness with promotion to the Championship. The Lads, now in third, have only one game in hand over Barnsley and Wembley party-poopers, Pompey, are breathing down their necks. Add to that a handful of first-teamers now out through injury, and you can make a compelling case that the football gods clearly haven't read the script. Today's visitors are on an impressive run of four straight wins which should see them take sixth place and a chance to roll the dice in the play-offs. The King, Chris Maguire, should offer some hope for Sunderland as he returns from a fractured fibula. He is one for the big occasion, so his return to fitness comes just at the right time for his side's crucial run in. Lee Cattermole may also make a return which, I hope, might just help us prevent conceding five goals at home against an average side. Baaa! JB
Championship: Norwich City v Sheffield Wednesday
19.45 on Sky Sports Football & Main Event
If Sheffield United lose earlier in the day to Forest, a win for Norwich here will seal their return to the Premier League. The Blades are unlikely to lose at home, so the party will probably have to wait until Monday when the Canaries go to pre-season favourites Stoke. Wednesday's push for a play-off place has been pretty much finished with recent narrow defeats to Leeds and Villa, but since Steve Bruce took over at the start of February they've certainly shown enough to give Owls fans grounds for optimism next season. They will need as much optimism as possible because their ability to compete financially next season will be their sternest test with as many as nine of their opponents in the Championship benefiting from the advantage of Premier League parachute payments (should West Brom miss out in the play-offs and Sunderland get promoted). GS
Saturday
Premier League: Manchester City v Tottenham Hotspur
12.30 on Sky Sports Premier League & Main Event
After Wednesday's amazing Champions League match between these two sides, it's hard to imagine how they pick themselves up and start again at the same ground just a few days later. With the quadruple now gone, City still have it in the power to make history with an unprecedented domestic treble. For Pep Guardiola's side this match and next Wednesday's Manchester derby at Old Trafford will define their season; anything less than four points from those games puts Liverpool in the driving seat for the title. With all that pressure on the home side and Spurs still with work to do themselves, there's no reason this game won't be as explosive as the quarter final - only this time there won't be any VAR. GS
Easter Sunday
Premier League: Everton v Manchester United
13.30 on Sky Sports Premier League & Main Event
After four seasons of bouncing between 7th and 11th placed finishes in the Premier League, Everton find themselves 9th coming to the end of this campaign. In a season that could see their local rivals lift the title for the first time since English top flight football's re-invention, what now for the only permanent member of the Premier League that isn't one of the Big Six? The transformation of Tottenham in recent years has shown that astutely-run sides can compete on the world stage, even with their financially-doped rivals. Everton have watched Spurs pull away from them in the league table and are now seeing them do likewise in the rich-list table. From being a side within touching distance, Spurs now generate twice the income Everton do and that extra financial muscle is obvious in their performances. Looking at the list of other former contenders and winners since Everton last won the title in 1987 - Newcastle, Aston Villa, Leeds and Blackburn - you could say the Toffees have done the right thing. A small crumb of comfort for their fans at the end of another season that promised more than it has delivered. GS
Premier League: Cardiff City v Liverpool
16.00 on Sky Sports Premier League & Main Event
On a recent
200%
podcast, David Hartrick described Cardiff City boss Neil Warnock as "the bellend's bellend" and it is hard not to disagree. Even by his standards he has raised the bar in terms of his own unpleasantness. We all love having a pop at referees but his one eye comments about conspiracies and robotic officials, not to mention the fact that he's a horrific Brexiter means that I would love it… LOVE IT if Liverpool beat them. I'm not even attracted by the idea of the Bluebirds surviving at the expense of Brighton. This is because I want Palace to have a chance of reversing their gutless performances against the Seagulls next season. Liverpool need this if they want to keep up with Manchester City and let's face it, if they don't get this then they may as well concentrate on the Champions League. TD
Monday
League One: Portsmouth v Coventry City
12.30 on Sky Sports Football & Main Event
What will it take to get SISU out of Coventry? The football club I mean. The farrago of hedge funders that makes up the Sky Blues ownership have already taken the club out of the city and look set to do so again. It's a complicated story and this is supposed to be a match preview but basically, SISU took the stadium owners (Wasps RFC) to court because they don't think they should own the stadium. I know right? They've just lost the case and now find themselves in the unedifying position of having to negotiate a tenancy agreement with the same people they took to court. Consequently, a ground share with Birmingham City is in the offing. Everyone knows that they only bought the club so they could take ownership of the Ricoh Arena for their own narrow purposes. Quite what they intend to do now is anyone's guess but it's highly unlikely that they will do the decent thing and sell up. Anyway, with such existential threats on their minds it's to the players credit that they keep going and have a chance of helping out Sunderland. After having beaten the Black Cats 5-4, Mark Robins' team can add some equilibrium to the promotion race by getting a result at Fratton Park. TD
Championship: Brentford v Leeds United
17.15 on Sky Sports Football & Main Event
By the time they get to Brentford, Leeds will have already played a very stubborn Wigan on Friday, who while in a lowly position in the table have taken points off Bristol City and more impressively Norwich City in recent weeks. If the Yorkshire club can get three points from that encounter then this trip to the arse end of West London will not seem so daunting. Their main promotion rivals are Sheffield United who face tough games against Forest and Hull so it's quite possible that Chris Wilder's team will drop points over Easter and put Leeds in the driving seat. Brentford, meanwhile, are safe in mid-table and miles away from the play-offs. By rights they should be thinking of walks along the promenade and fish & chips at Harry Ramsden's rather than the task at hand. The time is now, Leeds. TD
Whatever you watch, have a great weekend.