Weekend Boxset: End of Part 1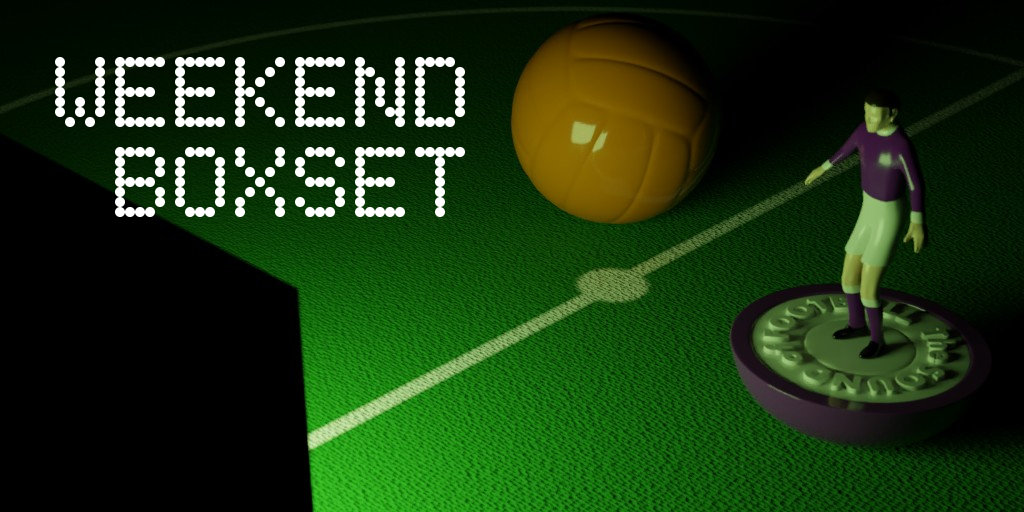 The calendar flips over to September this weekend, which means we should cram as much club football in as possible before next weekend's international break.
Seven great matches to take you from Friday to Sunday. It's the Sound of Football Weekend Boxset.
Get the Weekend Boxset in an email every week


All times are BST (GMT+1)
Friday
Championship: Cardiff City v Fulham
19.45 on Sky Sports Football & Main Event
Still very early days in the epic Championship season but this match will mean that all three teams who went down will have played each other - both of these sides having already benefited from wins against Huddersfield. Things looked to be on an upward curve for Fulham since their opening day defeat to freshly promoted Barnsley: three straight win were followed by a home defeat to Forest. Both defeats came in games where Fulham conceded early, which would suggest they struggle to break down sides that sit back. Luckily for them then that both of Cardiff's wins have come with late goals. More concerning for Neil Warnock will be that Cardiff have lost leads in every game they've scored in. A loan signing from Wolves, Ivan Cavaleiro has already impressed for Fulham, scoring three goals, all assisted by Tom Cairney. GS
Saturday
Premier League: Southampton v Manchester United
12.30 on BT Sport 1
It's not been the best of starts for either Hasenhüttl or Solskjær. The talk down our way is that the latter will be gone before Saint Nick starts his deliveries, and who can argue? Their reverse at home to Crystal Palace last week was so far away from expectation, I'd imagine Ole will have been updating his Linkedin profile on Sunday morning. How easy United are going to find it this season is anyone's guess. Jordan Ayew had so much time and space for Palace's opener, he could have stopped for a fag, and neither Rashford or Pogba can score a penalty between themselves. That said, Daniel James' goal was outstanding from both a team and individual perspective. On the South coast, it's been all change, which may account for their slow start. Hasenhüttl has virtually bought himself a new side, including Moussa Djenepo (Standard Liège) and Sofiane Boufal (Celta de Vigo) who were both involved in the goals at Brighton last week. I quite fancy Southampton to get a result in this one, but, I did say that Spurs would destroy the Mags last week, so what do I know? JB
Bundesliga: Union Berlin v Borussia Dortmund
17.30 on BT Sport 2
Some BVB fans on my Twitter timeline are losing the plot. Two games, six points and eight goals but still they complain. Such is the pressure the club has placed on itself to win the Bundesliga that its fans are too preoccupied with the
Manner Of The Win
to stop and celebrate the fact that they actually won. Chill out bros and enjoy the ride. Union, on the other hand, are still very much in the
Happy To Be Here
zone.
Die Eisernen
were beaten heavily in their first game at home to Leipzig but managed a 1-1 draw at Augsburg. They meet the Ruhr giants with freedom of a side with nothing to lose. In deference to my fellow Dortmund fans, I'll predict a 0-0 draw despite the fact that I think Borussia will score at least two goals. TD
Serie A: Juventus v Napoli
19.45 on Premier Sports 1
In England, where the transfer window has already closed, the discussion surrounding Alexis Sanchez's loan move to Inter has centred on what a terrible piece of business his whole deal at Manchester United was. In Europe however, where the transfer window is still resolutely open, the conversation has all been about how the Sanchez move will be the first domino in a serious of big money transfers amongst the top teams in Europe, including these two, though most of which centre on Neymar's exit from PSG. Juve have already signed Rabiot and resigned Buffon from the French giants but Dybala's proposed move to Paris is reliant on Neymar heading back to Barcelona. Napoli are in the hunt for Icardi, with Inter having a surplus of strikers having signed Lukaku as well as Sanchez from United, but latest reports suggest he doesn't want to go. In midst of all this there's a football game to be played. And it's one that is well wort watching, with both sides firmly expected to be the front runners again this season. The game will be much more fun than idle transfer gossip, which should hopefully die down after the window closes on Monday evening. GS
Sunday
Scottish Premiership: Rangers v Celtic
12.00 on Sky Sports Football & Main Event
Having successfully steered themselves into the group stages of the Europa League on Thursday, the top two sides in the Premiership enjoy the first of many Old Firm derbies of the season - which is exactly the same chain of events that happened this time last year. In that fixture at Celtic Park, the home side got a 1-0 win on their way to their eighth consecutive title but a home win here and we could have the beginnings of a genuine title race north of the border. Three games in and both sides are 100% and scoring freely. Celtic started their season with a 7-0 against St Johnstone, while Rangers got a 6-1 win the following weekend against Hibs. Evergreen Jermain Defoe got three of those for Steven Gerrard's side becoming the oldest Rangers player to get a hat-trick, beating Kenny Miller's record. GS
Premier League: Arsenal v Tottenham Hotspur
16.30 on Sky Sports Premier League & Main Event
Both teams appeared in this newsletter last weekend and if Arsenal's defeat at Anfield last weekend was easily predictable, Spurs defeat at home to Newcastle certainly wasn't. With the transfer deadline in Europe looming there is still doubt over the future of Christian Eriksen. In the final year of his current contract he's at an age (27) where players are looking for their biggest pay day. Eric Dier could get his first game time of the season as a stand-in for injured right back Kyle Walker Peters. Dier being preferred to an actual right back, Serge Aurier, who has only played for Ivory Coast since last appearing for Spurs in the Champions League back in early March. For an Arsenal side seemingly content with achieving fourth spot this season, defeat away to a genuine title challenger can be shrugged off. Spurs on the other hand will need dig deep here if they are to maintain their position as the best of the also-rans. GS
Ligue 1: Marseille v St Etienne
20.00 on BT Sport 1
Marseille's first win of the Ligue 1 season on Wednesday. A spicey 2-1 at Nice in which the referee suspended the game during the first half after persistent homophobic chanting from the home fans. Referees have been told to suspend games if the crowd sing homophobic songs. Hopefully, there will be none of that Vélodrome where new coach André Villas-Boas will hope to get some momentum in their pursuit of the title. St Étienne lost on Wednesday. Lille are mirroring their opponent's form in this fledgeling season. Les Verts finished fourth in the last campaign and may struggle to repeat that feat with the added burden of Europa League football. Neither team have any injury concerns ahead of this match. TD
Whatever you watch, have a great weekend.