Weekend Boxset: Kicking off season 2019/20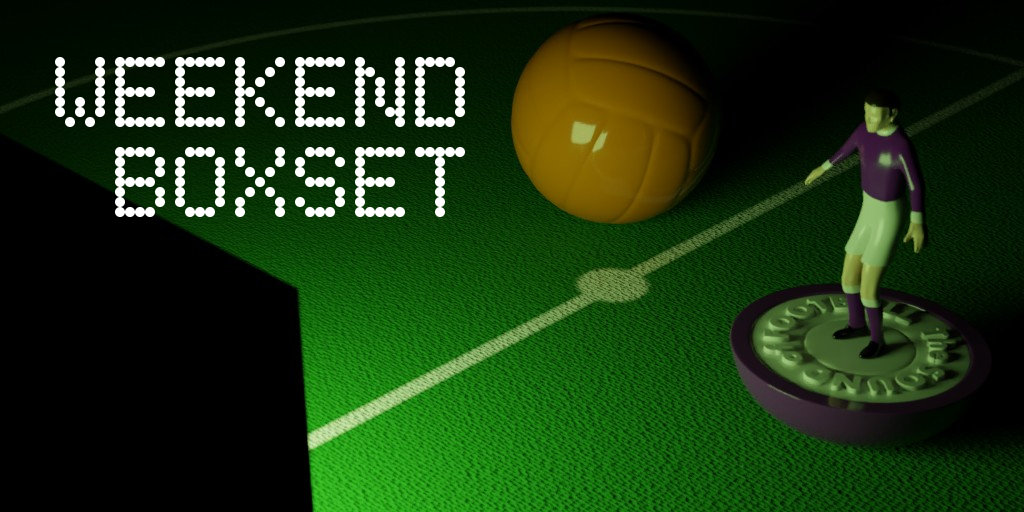 The new Premier League season kicks off with two of the newly promoted sides visiting the Champions League finalists.
Seven great matches to take you from Friday to Sunday. It's the Sound of Football Weekend Boxset.
Get the Weekend Boxset in an email every week
All times are BST (GMT+1)
Friday
Premier League: Liverpool v Norwich City
20.00 on Sky Sports Premier League & Main Event
Norwich are back in the Premier League and face one of the toughest opponents in one of the toughest grounds. As we know, Liverpool nearly won the league last season and would have done so comfortably if it weren't for that pesky Man City. If the Community Shield is any evidence (it's not) then it looks like the European Champions have not lost much momentum. At home against a newly promoted team, the Reds will be anxious to declare their intentions. Norwich have had something of a reboot under Daniel Farke, now starting his third season at Carrow Road. The German clearly has faith in the squad that got promoted. So far only three notable signings including Schalke keeper Ralf Fährmann who will bring tons of experience and Swiss international striker Josip Drmic would have been an amazing capture in 2014. TD
Saturday
Championship: Leeds United v Nottingham Forest
12.30 on Sky Sports Main Event
Two sides that should feel they've spent enough time in the Championship and deserve another crack at the big time. Leeds falling short last season was as tragic as it was predictable and if even they were twelve points clear by this Christmas, few people would put their house on them being a Premier League side this time next year. The good news is last week's straightforward steamrollering of Bristol City looked entirely free of any hangover from last season. Following the departure of Martin O'Neill in the summer the new man in charge of Forest is Sabri Lamouchi - you might remember him as the man in charge of Ivory Coast for their group stage exit from the 2014 World Cup. They took an early lead in their opening game at home against West Brom but were behind by half time and couldn't get back in the game. Another tough game here will probably prove just as fruitless but there can still be a feeling that better days are to come. GS
Premier League: Tottenham Hotspur v Aston Villa
17.30 on Sky Sports Premier League & Main Event
"Have Villa done a Fulham?" asks Twitter in relation to their transfer activity this summer. Presumably, this is in reference to Fulham last summer when they spent a bundle of cash on players and got relegated as opposed to the Fulham that did the same thing in 2001 and did pretty well. Villa have signed 12 players so far, including Tyrone Mings for £20 million which is either a huge waste of money or an absolute bargain depending on what division the club is in next season. While not going mad, Spurs have at last made some signings of there own. Tanguy Ndombélé from Lyon, Ryan Sessegnon from Fulham and Giovanni Lo Celso, the midfielder from Real Betis, all adding up to well over £100 million which is a lot (I think) However, The Paulo Dybala deal proved too expensive. Sessegnon and Lo Celso were Deadline Day signings so presumably will not feature in this game. TD
Ligue 1: Montpellier v Stade Rennais
19.00 on BT Sport 2
Two sides that impressed last season. 2012 champions Montpellier were just three points away from relegation in 2017 but finished sixth last season (would have been fifth if not for a final day defeat to Marseille who leapfrogged them). Rennes finished mid-table but won the French Cup against PSG with the help of a penalty shoot-out. Another season in the Europa League awaits for Rennes but it will be without two of their stars from that campaign. Hatem Ben Arfa has come to the end of his contract while lightning fast winger Ismaili Sarr completed his drawn out signing for Watford on Deadline Day. GS
Sunday
Premier League: Newcastle United v Arsenal
14.00 on Sky Sports Premier League
There's always pressure to impress in the first game of a campaign, especially if you've had the sort of summer that Newcastle have had. Getting rid of Rafa Benitez and replacing him with Steve Bruce looks like the perfect recipe for a swift return to the Championship but it's a move all too familiar for fans of the club during Mike Ashley's now 12 years as owner. Away from the managerial hot-seat, Newcastle's main summer activity has centered on two 22 year olds to wear the numbers 9 and 10. Brazilian centre forward Joelington comes in for a club record £40million from Hoffenheim without a jaw-dropping reputation but a lot of potential. French U21 winger Allan Saint-Maximin has already done the rounds in Ligue 1 but at £20million could prove a very shrewd purchase. The much fancied NIcholas Pepe was Arsenal's big summer purchase from Lille, but Dani Ceballos on loan from Real Madrid, could be a revelation as a stand in for the departed Aaron Ramsey. With Laurent Koscielny going back to France, the last minute signing of 32 year old David Luiz is a vital addition. Emery just has to now make it all work. His side could easily go into this game with the number of starting players players signed after Wenger in the majority. GS
Premier League: Manchester United v Chelsea
16.30 on Sky Sports Premier League & Main Event
Both teams start the season with expectations set pretty low. But despite or perhaps because of the hullaballoo surrounding both clubs, this promises to be an exciting match, Chelsea have a rookie coach in Frank Lampard and are living under a transfer embargo. That's an incoming transfer ban not outgoing. Which is a shame because the Blues have been compelled to say farewell to David Luiz who after recently penning an extension on his contract but has had a change of heart and asked to leave If it all goes to plan the Brazilian centre half will be an Arsenal player with all the hi-jinks that will ensue. Manchester United will be without Romelu Lukaku because he's gone to Inter. Even if he hadn't, it's unlikely that he would play because his coach prefers Rashford up front and the Belgian has been criticised for letting himself go during the close season. The United board are facing stiff criticism from fans for not strengthening in key areas. But they have managed to land Harry Maguire from Leicester and it's reported that the England defender will go straight into the side. TD
MLS: Atlanta United v New York City
21.00 on Sky Sports Football
Atlanta are only three seasons into their existence and have already won the MLS Cup. This season they are very much in the hunt for the Eastern Conference and this week beat Orlando to book a place in the final of the US Open Cup. NYC play Houston on Thursday. One of the three games that have in hand over their opponents. In fact if the Bronx based club can win all of their spare matches then they will be challenging for the conference title themselves. It's a tough challenge for the visitors because Atlanta have not lost in front of a fanbase that averages over 50,000 every game at the Mercedes Benz Stadium. TD
Whatever you watch, have a great weekend.