Weekend Boxset: FA Cup 2nd Round and Emery and Roland out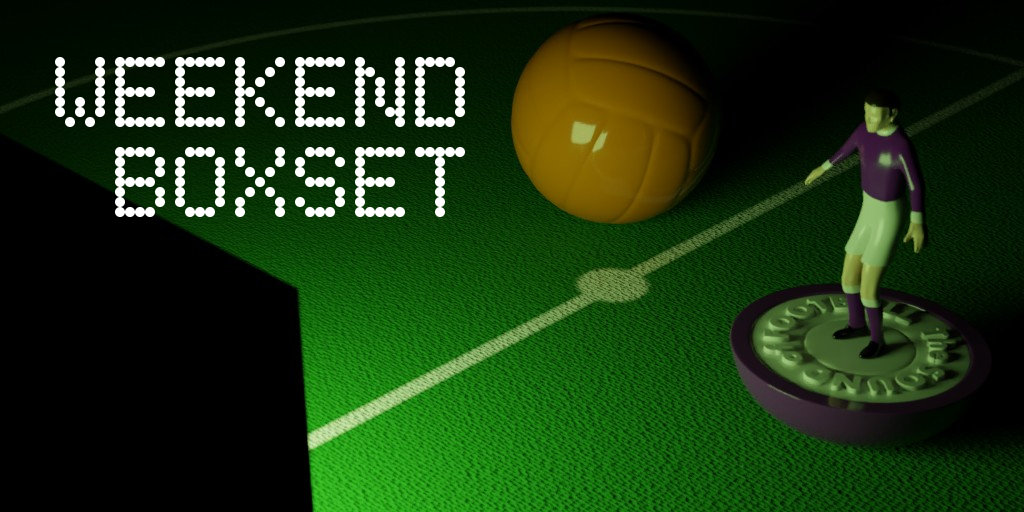 A little later this week due to all of the news happening on Friday morning. Of course, Arsenal and Charlton are here along with some great Cup action.
Seven great matches to take you from Friday to Sunday. It's the Sound of Football Weekend Boxset.
Get the Weekend Boxset in an email every week
All times are GMT
Friday
FA Cup 2nd Round: Malden & Tiptree v Newport County
19.55 on BBC Two
Along with Chichester City (who you can watch on BT Sport 1 at Tranmere on Sunday at 15.00), Malden & Tiptree are the lowest ranked teams left in the competition. Coming from the Isthmian League North in the fourth tier of non-league, the Jammers (so called because of the Tiptree conserves factory in the town) pulled off the shock of competition in the first round when they beat Leyton Orient at Brisbane Road. The Essex side have a close relationship with League Two Colchester United and often benefit from loans of their emerging talent. Manager Wayne Brown played for Colchester, coached the youth teams there and for a short spell in 2015 was caretaker manager. Having had an excellent run in the competition themselves last season, the Cup has been a welcome distraction for Newport from a worrying run of results in League Two that has seen them drop from promotion contenders to mid-table. All things considered, you can't help but feel that the magic is strong in this one. GS
Saturday
Championship: Charlton Athletic v Sheffield Wednesday
12.30 on Sky Sports Football & Main Event
This morning saw the news that absent owner Roland Duchatelet has sold Charlton to a consortium called East Street Investments. Loathed by the fans, the news of his departure will be celebrated; any thoughts of what the future may hold from the new Abu Dhabi backed owners can wait for another day. I've been to see Charlton play a few times over the years and one thing that's always struck me is how their support remains both friendly and passionate in equal measure. I saw Sunderland at The Valley last season and the noise the hosts generated put our famed travelling support to shame. The players picked up on this too, and we were lucky to get away with a draw that day. A promotion and an impressive start to the season, which included a win against high flying Leeds, have sadly begun to fade from memory. Just two points from their last six outings demonstrates the current predicament as does their failure to hold onto a lead in their last two games. It should be a party atmosphere at The Valley to welcome Garry Monk's good but certainly beatable Wednesday side. JB
FA Cup 2nd Round: Eastleigh v Crewe Alexandra
17.30 on BT Sport 1
Despite having joined the competition in the fourth qualifying round, this will be Eastleigh's fifth game following a pair of replays, both of which they won at home. Their (non-)league form isn't bad either, unbeaten in three and scoring eight goals. By contrast, League Two side Crewe Alexandra, enjoyed a fairly straightforward win in the first round despite a bizarre turn of events which saw both the referee, and his subsequent replacement, leave the field injured, with the match eventually overseen by just two officials - weird, eh? Their league standing is what makes Crewe the bookies' favourite in this one, sitting pretty in third place with only a couple of points between them and the top spot. They're probably right, but this is the FA Cup, so it's anyone's guess what will actually happen. Christ could ascend into the Silverlake stadium turning the Bovril into Brewdog and no-one would be that surprised. "Well mate, it's the magic of the cup, innit". JB
Alternative viewing: BBC Two is devoting 90 minutes to coverage of the draw for Euro 2020. The show starts at 17.00 but who knows when they will actually get around to pulling names out of hats.
Ligue 1: Reims v Bordeaux
19.00 on BT Sport Extra 2
Reims' impressive start to the season will have pleased French football nostalgists who remember the faded giants as the side that lost the first European Cup final in 1956 to Madrid (and did so again in 1959). It looked like they would improve on their impressive 8th place finish following their promotion back to the top flight but a run of four games without a win has seen them slowly sucked back towards a congested mid-table. Despite results, they continue to be tough to break down - no other team in the division has conceded fewer goals (7 in 14) this season. If they can just sort out scoring a few goals they could find themselves back in contention for a Europa League spot. Bordeaux currently sit fourth, just three points behind Marseille in second but know that clubs like St Etienne and Lyon are breathing down their necks. This match should be a good example of how, after PSG, the French league is wide open and unpredictable. GS
Sunday
Premier League: Norwich City v Arsenal
14.00 on Sky Sports Premier League & Main Event
The last time Arsenal sacked a manager the Spice Girls were at number one with
Wannabe
. If this was a long-read I could would go off on one about how that was a metaphor for everything that has happened since. Thankfully that kind of unnecessary grasping is where it should be, safely hidden behind a paywall. Unai Emery has gone because he had clearly run out of ideas at Arsenal, who have been quicker than most expected (though not in any way indecently rapid) in giving him the boot. Fan favourite Freddie Ljungberg is in temporary charge while the club line up someone to take over - the odds on favourite at the moment being Massimiliano Allegri. How the team will react to his departure is anyone's guess but it's unlikely they could get much worse than the clueless performances they've been putting in of late. A welcome three points for Daniel Farke's struggling Norwich side. GS
La Liga: Atletico Madrid v Barcelona
17.30 on Premier 2
After an unpredictable start to the season, things are settling down into a familiar pattern with Barcelona and Real Madrid at the top of the table. This is thanks partly to the indifferent form of
Atleti
who have won only two games in five. Their last league encounter was a disappointing 1-1 draw with another early pacesetter Granada who themselves are regressing to the mean. Lump that in with a difficult Champions League (they lost to Juve on Tuesday) and the faithful at the Wanda Metropolitano are in need of a good show against a top side. Speaking of, Barca were given a hard time by Leganes in their last league outing before coming back to win 2-1. However, Ernesto Valverde's players were given the night off on Tuesday by a wretched Borussia Dortmund in the Champions League. So the Champions, with qualification to the European knock out stages settled can concentrate on the league and keeping their hosts out of the title race. TD
Serie A: Verona v Roma
19.45 on Premier 1
Having acheived a return to the the top flight through the play offs after finishing 5th in Serie B last season, there weren't too many expectations put on a Verona side that has barely troubled Serie A since they were the shock Champions in the mid-eighties. That 1984/85 season stands as an insight into the workings of Italian football as it was the only season where referees were assigned randomly rather than by the
Designatori Arbitrali
. The random draw was brought in to quash accusations of corrupion following the
Calcio Scommesse
scandal. It only lasted a year, the next season they reverted to the old system and the
Scudetto
went to Juventus who had finshed sixth previously. It took another 20 years for it to officially come out that the big clubs had been illegally influencing referee selection. Verona are midtable and in fine form; having made Inter work hard for a win in the San Siro they will feel confident against a Roma side that lost to Parma in their last away game. GS
Whatever you watch, have a great weekend.