Weekend Boxset: Welcome back, Jose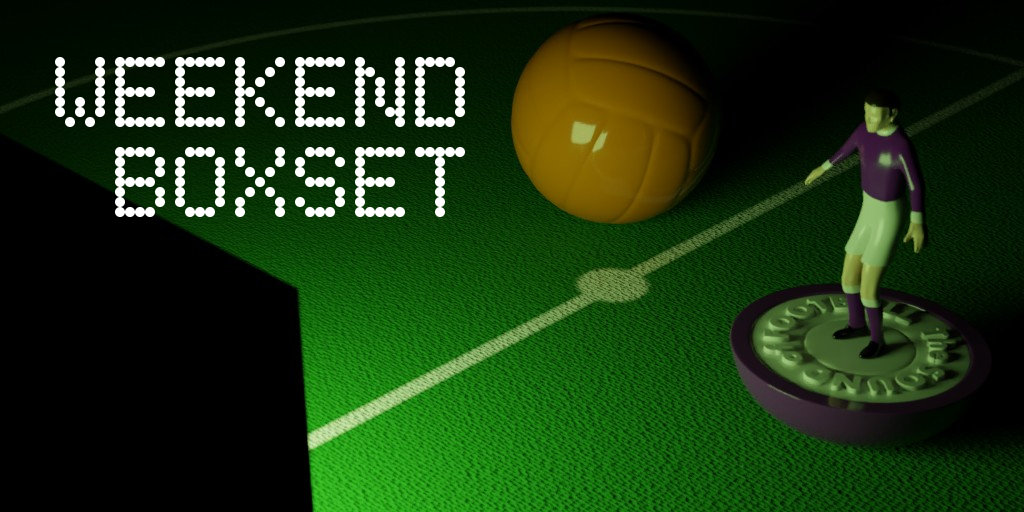 There's obviously only one story in town this week: Jose Mourinho replacing Mauricio Pochettino as Spurs manager. So of course this Weekend Boxset includes Spurs and three of Jose's former clubs.
Seven great matches to take you from Friday to Sunday. It's the Sound of Football Weekend Boxset.
Get the Weekend Boxset in an email every week
All times are GMT
Friday
Ligue 1: Paris St Germain v Lille
19.45 on BT Sport 3
When a club gets rid of one superstar coach linked with a number of the biggest jobs in Europe and replaces him with another, the ripples are felt far and wide. Within hours of Mourinho's appointment at Tottenham he'd already poached Joao Sacremento and Nuno Santos from Lille's coaching staff and has been making noises about also taking Luis Campos to be his Director of Football. All of which has incensed Lille's manager Christophe Galtier. Campos, has helped unearth a wealth of talent including Kylian Mbappe, Anthony Martial, Bernardo Silva and Nicholas Pepe (to name only a few) and has played a pivotal part in Lille's recent revival. That revival looks to have stuttered this season and Lille have won just one of their last 9 games. Poor form and a sparse coaching bench are hardly the best preparations for a trip to the Champions, even if you did finish second last season. PSG are by no means invincible this season and have been beaten by sides far more ordinary than Lille, but you can certainly see them taking advantage of this particular situation. GS
Saturday
Premier League: West Ham United v Tottenham Hotspur
12.30 on BT Sport 1
It's usually better to sack your coach at the start of the international break rather than the end. However, it looks like Spurs Chairman Daniel Levy was setting up what is, relative to the Premier League, an orderly transition. Mauricio Pochettino's dismissal as Tottenham manager was shocking yet unsurprising. Five wonderful, albeit trophyless, years came to an end due to poor results and amidst rumours of squad disharmony. The Argentine lost the dressing room and Levy lacks the money or will to change those who dwell therein. His replacement is a controversial choice. José Mourinho is a proven winner but some see him as a spent force, unsuited to the team's playing style or the club's image. Others question his recent judgements such as his treatment of Paul Pogba, that cringe-worthy advert for a gambling concern and sharing his office with Graeme Souness. In any event, the Special One's next adventure begins in the visceral atmosphere of a London derby at the Olympic Stadium against a West Ham team managed by Manuel Pellegirini, a veteran coach who has made a virtue of staying relevant. TD
Premier League: Manchester City v Chelsea
17.30 on Sky Sports Premier League & Main Event
With Liverpool beating them last time out, Manchester City have, albeit unwittingly, made the Premier League race slightly more interesting that it looked to be working out. No longer is this a two horse race, and the rise of Leicester and Chelsea is certainly welcome to anyone who follows England's top division. This actually might be a great game, where the majestic City come up against a Chelsea side who are without equal in their last half-dozen games. In addition, as current champions the weight of expectation sits firmly on City's shoulders while it could be argued that Chelsea are over-achieving. Whichever way you look at it, the hosts must come out fighting, which on any other day would destroy even the finest sides; however, Frank and his young-guns don't seem to be sticking even remotely to the script. Heart: Chelsea. Head: City. Reality: 0-0 bore-draw with all manner of VAR related shite. JB
La Liga: Real Madrid v Real Sociedad
20.00 on Premier 2
Gareth Bale is in a spot of bother. The Real Madrid forward celebrated Wales' Euro2020 qualification with his teammates and a Welsh flag emblazoned with the words "Wales. Golf. Madrid. - In that Order". It comes from a quote from former Real Sporting Director Pedja Mijatovic and was intended as a criticism of Bale's attitude. Now it is a song sung by Welsh fans and players alike. The reaction in the Madrid media has been sufficiently pearl-clutching as to embarrass even the most theatrical of dandies. But reinforcing Gareth's doghouse is the least of coach Zinedine Zidane's concerns. Poch is at large and has been previously tipped to replace Zidane. If they're not careful they could miss the bus on its way to Munich. Before long, Zidane could be looking for Football Ambassador jobs in the Middle East classifieds. More immediately is the visit of fifth-placed Sociedad with Real Madrid loanee, Martin Ødegaard at the heart of their midfield. The young Norwegian is the best of his craft in the league this season and is ready to signal his intention to be a future star in white at the Bernabeu. This could be a game for historians. TD
Sunday
Bundesliga 2: Stuttgart v Karlsruher
12.30 on BT Sport 3
The visitors are in tenth after five straight draws and the hosts are still third despite losing four of their last five. However, we're not here for the numbers but for one of the most incendiary derbies in German football, albeit an infrequently played one. Like Köln and Düsseldorf this is a rivalry between the two biggest cities in Baden-Württemberg and is tied to politics and economy. As Raphael Hönigstein wrote, "Stuttgart got the better part of the post-war deal... the city emerged as an industrial powerhouse whereas Karlsruhe had to make do with getting the federal court." The Spätzlefresser (noodle eaters) of Stuttgart have not lost to the Gelbfüßler (yellow feet) since 2007 when KSC embarrassed the then Bundesliga champions with a 1-0 win. They've only met five times since and VfB have always been on top. There will be too much adrenaline and fear to make this a decent game of football but the atmosphere will be positively feverish. TD
Women's Super League: Birmingham City v Chelsea
14.45 on BT Sport 1
After the big stadium excitement of last week's
Women's Football Weekend
it's business as usual this week with the cameras heading to Damson Park (home also to Solihull Moors). Chelsea, Manchester City and Arsenal have dominated the WSL in recent seasons, so when Birmingham finished in fourth place in the last campaign it marked them out as the "best of the rest". However, unable to match the level of investment shown by other clubs, they are struggling this time around. The loss of Ellen White to Manchester City in the summer has severely curtailed their goal-scoring, seeing them fail to find the net in four of their first five WSL games this season. For Chelsea, the season couldn't be going much better; top of the table and knowing that their already formidable side will be strengthened next month by the addition of Matildas superstar, Sam Kerr. It looks a tough ask for Birmingham but they will hope to spring a surprise against Chelsea in the same way Brighton did earlier in the season. GS
Premier League: Sheffield United v Manchester United
16.30 on Sky Sports Premier League & Main Event
Having faced the chopping block at regular intervals this season, Ole Gunnar Solskjaer's neck has been spared by a reasonable run of games between the last two international breaks. A home draw with Liverpool was followed by his side breaking their away hoodoo with three straight wins. That was largely undone by defeat at Bournemouth but as ever he's bounced back again. Now the biggest threat to his position looms in the shape of a jobless Mauricio Pochettino, a man who has been relentlessly touted for the job (usually by ex-United players). His side sit a point behind the Blades at the top of the pack that has been cut adrift from the Champions League places but this season Bramhall Lane is not the sort of place you want to come if you're trying to save your job. While not as impressive as their away form, Chris Wilder's side - still largely built around a nucleus of players from League One - are proving very tough to break down and seem to be relishing their battles against the biggest names in the Premier League. It would be nteresting to know how many spotters Sky Sports will have scanning the stands in search of an undercover Argentine. GS
Whatever you watch, have a great weekend.