Weekend Boxset: Bundeslga's back. Oh yes, and there's Liverpool v Man U too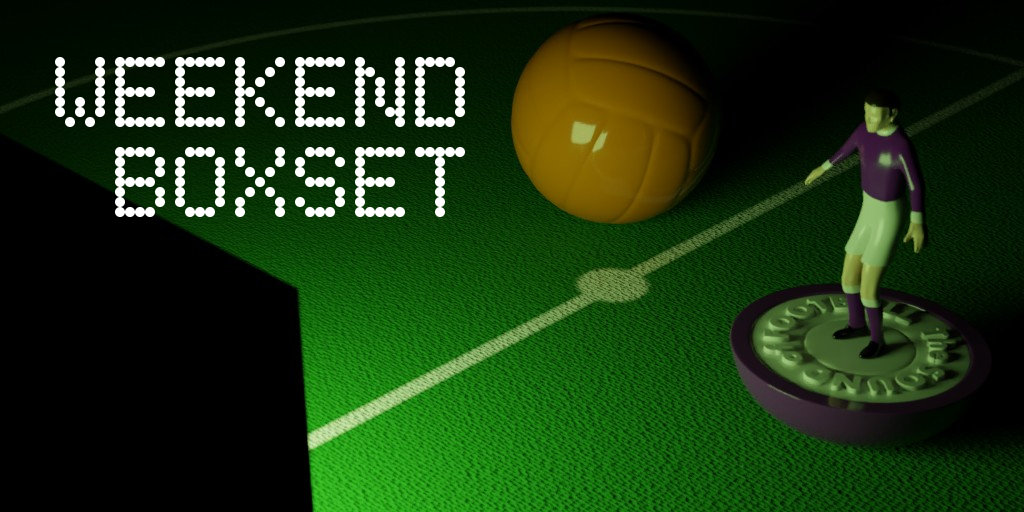 A real quality mixed bag of fixtures this weekend including a Lisbon derby, a crunch WSL title match and the return of the Bundesliga from it's winter break.
Seven great matches to take you from Friday to Sunday. It's the Sound of Football Weekend Boxset.
Get the Weekend Boxset in an email every week
All times are GMT
Friday
Primeira Liga: Sporting v Benfica
21.15 on FreeSports
Sporting have their work cut out in this one. Benfica are dominating Liga NOS at the moment, having lost only once, back in August, and winning all of their other games. The main man on the red side of Lisbon is Pizzi who has been involved in exactly half of
As Águias
forty goals this season. Stop Pizzi, stop Benfica? Perhaps not. Both Vinicius and Swiss forward Seferovic are happy to contribute to the goals. I my view, their hosts, three places and a massive sixteen points behind, shouldn't be too quick to write themselves off. They've won three of their last four and that defeat came at the hands of Porto who were riding their luck that night. All eyes will be on Bruno Fernandes who Ole Gunnar Solskjær is trying to tempt to Old Trafford. That is, of course, if he even sets foot on the pitch. There are, reportedly, sixty-million reasons why Sporting won't want to risk their creative midfielder. For me, Benfica will run out winners in this one, but Sporting will provide a much sterner test than Aves and Rio Ave who, to their credit, both struck the first blow before ultimately being overcome by the Champions. JB
Saturday
Premier League: Watford v Tottenham Hotspur
12.30 on BT Sport 1
Anyone who'd have said that come the new year Watford would be one of the form teams would have received a furrowed brow from me and quite possibly a concerned call to a local institution. He may not be the most fashionable choice of manager, but Nigel Pearson is getting some outstanding performances out of his side. Messers Deeney, Sarr and Deulofeu have been key in this turnaround and promise to give Spurs plenty to think about in this one. Watford will also benefit from the cancellation of their FA Cup replay against Tranmere due to adverse weather conditions. No such rest for Spurs who edged past a spirited Middlesbrough at the second attempt following only a few days from an unfortunate loss to champions elect, Liverpool. They may be tired, but they can look forward to a debut from the highly rated Portuguese starlet, Gedson Fernandes. They'll need him too, as their midfield will be missing the imposing Moussa Sissoko for the next few months and Eriksen could leave any moment. Those are big shoes to fill for a player barely able to get a start at Benfica. He'll also find this fixture something of a baptism of fire against a physical and motivated Watford side, hellbent on staying in the Premier League. JB
Bundesliga: RB Leipzig v Union Berlin
17.30 on BT Sport ESPN
When Rasenballsport beat Union 4-0 on the opening day of the season there were more than a few pundits who stroked their imaginary beards, pulled on their imaginary pipes and said "Yep. I knew it". While delighted that Union had been promoted, many thought this motley band of veterans and journeymen weren't up to the job. Well, it turns out that we… I mean,
they
were wrong. The Berliners sit comfortably in 11th and while not safe there are more established clubs in far less comfortable positions than they. That said, this return fixture may well go the same way as the last. The Leipzig energy drink concern sit atop the table on merit and could easily win their first league title come May. This fixture enjoys a degree of novelty in that it's between two clubs from cities in the old DDR. However, there is no solidarity between the two. Union, as a proud left-wing club, consider Leipzig and it's uber corporate, 50+1 circumventing owners, to be the antithesis of their values.TD
Scottish FA Cup: Dundee v Motherwell
19.20 on BBC Scotland
The fourth round welcomes the top four of the Championship and all of the Premiership, all fighting for the right to get knocked out by Rangers or Celtic in a later round. Motherwell, currently third in the top flight and 6 times winners of the cup, last lifted the trophy in 1991 after beating their opponent's neighbours, Dundee United, in a barnstorming 4-3 win after extra time. You have to go back a lot further for Dundee's solitary win. A rare final at Ibrox in 1910 against Clyde that went to two replays. John "Sailor" Hunter finally scored the winner for The Dee. A year later, Hunter became club manager. A job he would keep until 1946. In truth, the Championship side will need a healthy dram of the spirit of Sailor to end 110 years of hurt. But a fair wind and a passionate home crowd might, at least, help them into the next round. TD
Sunday
Women's Super League: Arsenal v Chelsea
14.00 on BT Sport 1
After the swell in public interest during last summer's World Cup, the next challenge is to show that women's football exists outside of summer tournaments. Crunch title fights like this should help with that. Reigning champions Arsenal are top of the table but their only defeat this season came at the hands of today's opponents. Chelsea are unbeaten but sit third. The result of this game won't hand the title to the winner - Manchester CIty will still have a huge say in that - but with only 22 games in the season there is precious little opportunity to make up any ground lost. Beyond vital WSL points, what really makes this game stand out is that it features two of the best players in the world right now: Arsenal's Viv Meidema and Chelsea's new signing Sam Kerr. Kerr's arrival at Chelsea is perfectly timed for Emma Hayes' side who are still missing the attacking presence of England star Fran Kirby, who has been out for seven weeks now with a virus. That said, Kerr will be joining her Australia teammates in China in early February for a short qualification tournament for this summer's Olympic games, putting more pressure, if it was needed, on getting a result here. GS
Premier League: Liverpool v Manchester United
16.30 on Sky Sports Premier League
Looking at the line-ups for the last time Manchester United won at Anfield - almost four years ago to the day - you can see how things have changed for both clubs since Jurgen Klopp took charge of Liverpool. In that time Klopp has built the best team in the world with a net spend of less than a quarter of what Manchester United have spent to simply stand still. This is supposed to be the time when Liverpool's fixture pile up was meant to see them coming down to earth but instead it just seems to have consolidated their resolve. Having kept just two clean sheets in their Premier League games up to the start of December, they haven't conceded any goals in their last six. What hope is there for Ole's plucky underdogs? Frankly, not much. GS
La Liga: Barcelona v Granada
20.00 on LaLigaTV (Sky 435)
Last weekend, while in Saudi Arabia for the Supercoppa and with coach Ernesto Valverde still in post, Barcelona sporting director Eric Abidal offered Valverde's job to Ronald Koeman, who said no, and then Xavi Hernández who also turned the job down. The overtures were in public and the rejection left the club humiliated and Valverde insulted. When everyone came home they turned to Quique Setién who did not refuse and Valverde was finally put out of his misery. If you're a long-time Boxset reader you'll know of my preoccupation with Setién's Betis side. In their pomp, his team played beautiful football and the 61-year-old now has an unexpected opportunity to coach one of the best teams in the world. The backroom politics of Barca being what they are (there's an election in the offing) Setién may not stay long, so let's enjoy what could be some five-star football from Messi and co, albeit without Luis Suarez who is out for four months. They start at home to a Granada team whose early-season heroics are a diminishing reflection in the rearview mirror. TD
Whatever you watch, have a great weekend.