Weekend Boxset: Big pictures, small screens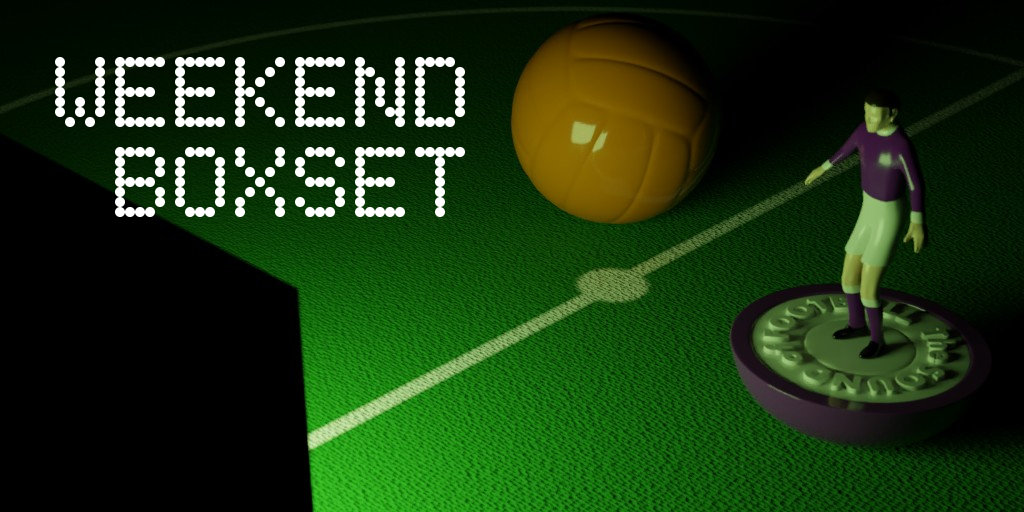 After an international break filled with controversy surrounding the future of club football in England, it's good to have some actual football to watch.
Seven great matches to take you from Friday to Sunday. It's the Sound of Football Weekend Boxset.
Get the Weekend Boxset in an email every week
All times are UK (BST)
Friday
Championship: Derby County v Watford
19.45 on Sky Sports Football & Main Event
Away from all the drama surrounding the Premier League and the EFL this week, rumours of a managerial change at Pride Park were surfacing and promptly rubbished. The story goes that Philip Cocu's unimpressive reign as Derby head coach will come to an end this weekend and he'll be replaced by none other than Wayne Rooney. Of course he doesn't have any of the required coaching badges, so he'll be assisted by former Rams' boss John Gregory. The rumour has been dismissed as "laughable" by those who know better, but the fact that Rooney and Gregory share the same agent throws a few crumbs to feed the conspiracy. At the time of writing Ismaila Sarr is still a Watford player despite continued interest from Crystal Palace and a rejected bid from Manchester United. The domestic transfer window closes just three hours before this match kicks off but for now the 22 year old Senegalese attacker looks set play in this one. GS


Saturday
Premier League: Everton v Liverpool
12.30 on BT Sport 1
The city of Liverpool going back into the highest level of lockdown this week has overshadowed what promises to be the most exciting and competitive Merseyside derby for a few years. Everton are top of the league and loving it. Yes, it's early days but they are a side transformed under Ancelotti and certainly look capable of handing Jurgen Klopp's champions another shock. Meanwhile, there's a bit of reputation management to be done in the red half of the city. If being on the end of a 7-2 shoeing wasn't bad enough, they now have to do a PR job on the mess left behind from Project Big Picture, a plan co-authored by their owner John W Henry. All the pubs in the city will be closed this weekend and people are prohibited from visiting other households, so expect plenty of videos on social media of some very enterprising scouse solutions for watching the game. GS


Serie A: Napoli v Atalanta
14.00 on Premier Sports 1
Usually whenever an unfashionable side transforms into the most entertaining in their league, it's a one season thing. How it usually works is the head coach is lured away by one of their giant rivals in a desperate and disastrous bid to make them relevant (think Niko Kovac, Quique Setien), and their players bought up and promptly forgotten (Danny Drinkwater still has two years left on his Chelsea contract). For Atalanta though, the Gian Piero Gasperini party bus is still rolling - his side scoring 15 goals already in their three matches so far. Maybe having already done the calamitous five game spell in charge of Inter in 2011, the 62 year old Gasperini is happy to see this out, and with pretty much the same side that took PSG close in the Champions League quarter finals, they remain the ones to watch in Serie A. Napoli's season had started just as positively until their fixture against Juventus. After two of their players tested positive for Covid-19, their local health authority ordered them not to travel - a decision that led to them to not only forfeiting the match 3-0 but being docked a point too. This is how things work in Italy. GS


Premier League: Manchester City v Arsenal
17.30 on Sky Sports Premier League & Main Event
Arsenal's victory over City in this summer's FA Cup semi-final is seen as the turning point of Mikel Arteta's reign as manager: the point at which his vision started to be realised on the pitch. It was a result all the more surprising given their performance at the Etihad in the Premier League just a month before: a 3-0 defeat in which the Gunners failed to register a single shot on goal. Arsenal have certainly improved and strengthened with their £45 million deadline day signing Thomas Partey from Atletico Madrid set make his debut here, but their recent lacklustre display against Liverpool shows there's certainly more work to be done. Arteta's friend, Pep Guardiola was full of praise for his former assistant after that semi-final but measured that praise with an attack against his club - a barb directed at Arsenal's involvement in seeking City's removal from European competition. There's a rivalry here, some it friendly, some it definitely not. GS


Sunday
Premier League: Crystal Palace v Brighton & Hove Albion
14.00 on Sky Sports Premier League & Main Event
Another match that showcases two English managers in one of English football's less obvious rivalries. Brighton boss, Graham Potter, is an impressive coach who can look forward to a long and productive career. His opposite number, Roy Hodgson, has refined a tactical approach which is not suitable for all clubs but is right up Palace's street. Roy's methods are well suited to disrupting the opposition with an ultra-defensive approach and rapid forwards to hit on the counter. And this season, the 4-0 thrashing at Chelsea aside, his team is doing OK (everyone is losing to Everton, right?). Falmer have had a tricky start to the season. The standout performance being that seriously last-minute defeat to spawny Man United. So far, Tariq Lampty is the shining star in the Seaweed's attack but he may not be quite fit for this one tragically. You feel that once they get into some of the more mid-table sides, such as the hated Crystal Palace, they will start moving up the table. TD


Premier League: Tottenham Hotspur v West Ham United
16.30 on Sky Sports Premier League & Main Event
To say that there is an edge to this derby would be an understatement. While the North London Derby enjoys greater emphasis, Tottenham and West Ham have been duking it out since 1898. In fairness, the cockneys probably take this fixture a bit more seriously than their north London neighbours and this fixture has been plagued with reports of some of the less evolved Irons fan taunting their Spurs fans, well known for their high proportion of Jewish supporters, with anti-Semitic chants. Happily, that's not going to happen in this game so we can look forward to a match between two teams in decent form, much to the surprise of some West Ham supporters. Sadly it may be too soon for their new signing Saïd Benrahma, the exciting new winger signed from Brentford, to feature. Spurs also have a new winger: one Gareth Bale who started training on Wednesday and may feature, albeit from the bench. TD


Ligue 1: Lille v Lens
20.00 on BT Sport 1
Zut Alors! Le retour de le Derby du Nord. Yes after five years, the big northern derby is back. And what a derby it promises to be. Both teams are off to a rocketing start with
Les Dogues
in second place in Ligue 1 and their hated rivals in third! Quite remarkable for the newly-promoted side. The fact that only 1000 fans are allowed in the stadium hasn't dampened the passion for this match. Last Sunday, a few Lens fanatics, snuck into LOSC's training complex and placed a banner reading "Lille is mierda" inside the grounds. While those young men think very carefully about what they've done, the rest of us will be watching Jonathan Bamba, Lille's summer signing from St Etienne. The 22-year-old attacking midfielder has 2 goals and 2 assists this season and is being ferociously scouted by all the top clubs in Europe, except probably Manchester United. It could be an emotional night for Lens striker Gael Kakuta. Chelsea fans may remember this hot young prospect who joined their youth team from Lens back on 2007. Well, he's back at his boyhood club and lines up against the team his uncle used to play for. Kakuta has four goals already this season. Could we see a fifth? Don't miss this one. TD
Whatever you watch, have a great weekend.