Weekend Boxset: Golden tickets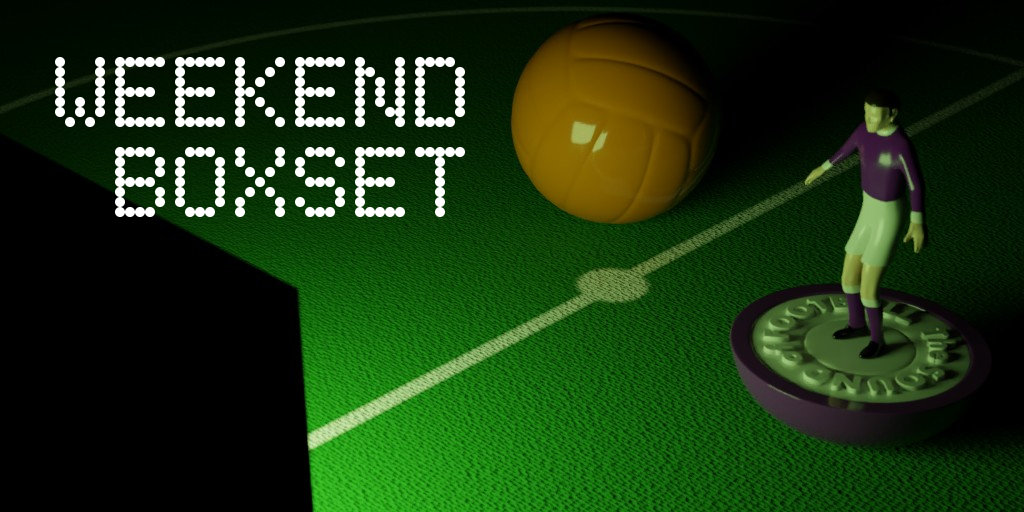 Fans are starting to be allowed back into stadiums in England - will this mean a change in fortunes for some teams? There are certainly plenty of clubs hoping so.
Seven great matches to take you from Friday to Sunday. It's the Sound of Football Weekend Boxset.
Get the Weekend Boxset in an email every week
All times are UK (GMT)
Friday
Bundesliga: Hertha Berlin v Union Berlin
19.30 on BT Sport 2
Things are looking up in Berlin. Their fancy new international airport is finally open for business and the capital can now boast two first division clubs, albeit with quite different outlooks on life. Hertha are rich, outward-looking and welcoming to anyone who wants to join their project. Union are also welcoming to anyone, as long as they live in Köpenick. From the internationalist former West Berliners to the hyperlocal club from the east, this is a clash of cultures. Despite all their money, it is not Hertha who have the upper hand going into this match. With only eight points from nine games, Bruno Labbadia is struggling to find the right blend. However, he can take solace from shutting out free-scoring Bayer Leverkusen last week. Union on the other hand are riding high in sixth place. No difficult second season in the Bundesliga for
Der Eisern
. Coach Urs Fischer has pivoted his team from hard-working pragmatists to the third joint top scorers in the league. This is thanks largely to the summer arrival of top poker player and former German international Max Kruse. The swashbuckling maverick center-forward scored a worldy to earn a point against Eintracht last week and has brought tremendous energy to the Union frontline. TD
Saturday
La Liga: Sevilla v Real Madrid
15.15 on LaLigaTV
"I'm not going to resign," claimed Real Madrid coach Zinedine Zidane following his team's 3-2 Champions League defeat to Shakhtar Donetsk on Tuesday. That has not stopped the Spanish media from speculating who would replace him, irrespective of whether he resigns or is sacked. The loss comes off the back of the 2-1 reverse to Alaves in La Liga and sees
Los Blancos
in fourth place. If there is to be a turning of the corner it will have to be done without Eden Hazard. The Belgian is has been unlucky with injuries and made just a handful of appearances since moving from Chelsea. He knacked his leg again last weekend and will be out for at least three weeks. Sevilla meanwhile are overcoming the disappointment of not defending their Europa League crown by dint of the fact that they are through to the knock-out phase of the Champions League. Their 4-0 hammering to Olivier Giroud and Chelsea on Wednesday was too little too late. Domestically, a hard-fought 1-0 win at Huesca, last week, lifted Julen Lopetegui's team to fifth in the La Liga table. For this game, they can expect a real Real backlash but on current form, you have to say they are well placed to heap even more pressure on Zidane. TD
Serie A: Juventus v Torino
17.00 on Premier Sports 1
It's twenty five years since Torino won an away
Derby della Mole
, and one look at the table - Juventus unbeaten, Torino one win in nine - would suggest that they won't be breaking that run here. Or could they? Personally, I think they have chance - it's slim, but it's still a chance. Juventus had already secured passage to the knockout phase of the Champions League before Wednesday's straightforward win against Dynamo Kyiv but domestically things things haven't been great as they strive for a tenth consecutive scudetto. Yes they haven't lost but they've won just three of the eight games they've actualy played (their other win being the awarded match against Napoli). The story of Torino's season so far has been one of frustration: in just nine games they've dropped an incredible 16 points from winning positions. Torino have the look of a side for whom things could turn around with one decent win, it's not impossible that it could be in the toughest place to get one. GS
Premier League: Chelsea v Leeds United
20.00 on Sky Sports Premier League & Main Event
A fixture once synonymous with violence on and off the pitch, will a separation of 16 years have defused the enduring ill-feeling between these clubs? In the early seventies both sides typified the very English-style of the time: silky skills in possession, leg shattering tackles when not. But the narrative of the sides were the polar opposites, based around North-South stereotypes - Leeds were gritty northerners, Chelsea were flash southerners. Beyond the seventies, the rivallry lived on, as both clubs diminished and played each other in the second tier and then came back to the top level to challenge again. Even after Leeds dropped out of the Premier League (just as Chelsea were about to be transformed by Roman Abramovic) the rivallry was maintained by disgruntled Leeds fans when former Chelsea owner Ken Bates took over the club and installed Dennis Wise as manager. Frank Lampard's side are in great form having tighened up at the back: after their two 3-3s against Southampton and West Brom, they've only let in two goals in the ten games since. With Leeds also sorting things out at the back, with clean sheets against Arsenal and Everton, it's likely that one goal could settle this. GS
Sunday
Ligue 1: Lille v Monaco
12.00 on BT Sports 3
Monaco have found their scoring boots and look a team transformed. Summer signing from Leverkusen, Kevin Volland has hit five in the last four games and is producing a potent strike partneship with Wissam Ben Yedder, the pair involved in 16 of their club's 22 goals this season. Second-placed Lille faced the start of the season without an attack following the departure of Victor Osimhen and Loic Remy.
Les Dogues
opted to go for youth and experience in replacement with 20 year old Canadian international Jonathan David and 35 year old Turkish striker Burak Yilmaz. A club record signing at €30million from Gent, David shone as the top scorer in last year's CONCACAF Gold Cup but is a long term investment for the club. Yilmaz however, a journeyman from the Super Lig, has found French football to his liking with eight goals already for the club. On a personal note, we at the Sound of Football were due to watch these sides play each other earlier this year on our annual weekend away. That was due to happen in March but the fixture fell just a few days after the borders closed and football shut down. We still have the credit for the tickets, hopefully with the vaccines close to be being rolled out, we can use that credit at some point in the near future. GS
Premier League: Tottenham Hotspur v Arsenal
16.30 on Sky Sports Premier League & Main Event
To me, Arsenal coach Mikel Arteta is a rookie coach who's only been at the club for five minutes and needs more time to get it right. But to many Gooners, he's a disgrace of a manager who should be sacked and replaced with… well I'm not sure they've thought that far ahead. There is even talk of a socially distanced protest march before this derby game pressure the club to get him out. Personally, I think a plane banner is more effective but we have to make allowances in these difficult times. Anyhoo, club captain Pierre-Emerick Aubameyang believes that victory on Sunday could be a "turning point" because that really is how life works. It can't help the ordinarily frazzled psyche of the average Arsenal fan that their hated rivals, Tottenham, are top of the table. With eight points the difference between the two it's not so much a case of mind the gap as it is try not to corbonise your junk as you piss on the electrified rail. Believe it or not, some joker on here implied that Spurs coach Jose Mourinho was passed it. I'd hate to see the state of his Spotify Wrapped. TD
Premier League: Liverpool v Wolverhampton Wanderers
19.15 on Amazon Prime Video
Following a gruelling four games across ten days, the hosts will be glad of their relatively substantial four day break to prepare for the arrival of Wolves. Indeed, Amazon's pitch-side correspondent may also have breathed a sigh or relief. This isn't the Liverpool we've come to know under Klopp: despite only being matched by Chelsea going forward, their defensive record is the among the worst in the top half of the table, and gives some in the bottom half a run for their money. To be fair, they've suffered injuries which have disproportionately affected their back line, but Champions come through these kinds of setbacks. Wolves, seemingly happy in their preferred seventh spot, have their own injury issues. Raúl Jiménez suffered a fractured skull in last week's win over Arsenal and, having undergone surgery, will be missing for some time. For stats fans, this will be the first time Jiménez has not been part of the Wolves match-day squad since his arrival at the club in 2018. Add to that his contribution of a staggering one-third of his club's goals last term, you can see why he'll be a big miss. Fellow forwards Neto and Podence have scored enough between them to cause Liverpool a headache in a match that could see Liverpool return to the top or Wolves break into the top four. JB
Whatever you watch, have a great weekend.