Weekend Boxset: FA Cup 4th Round 2020/21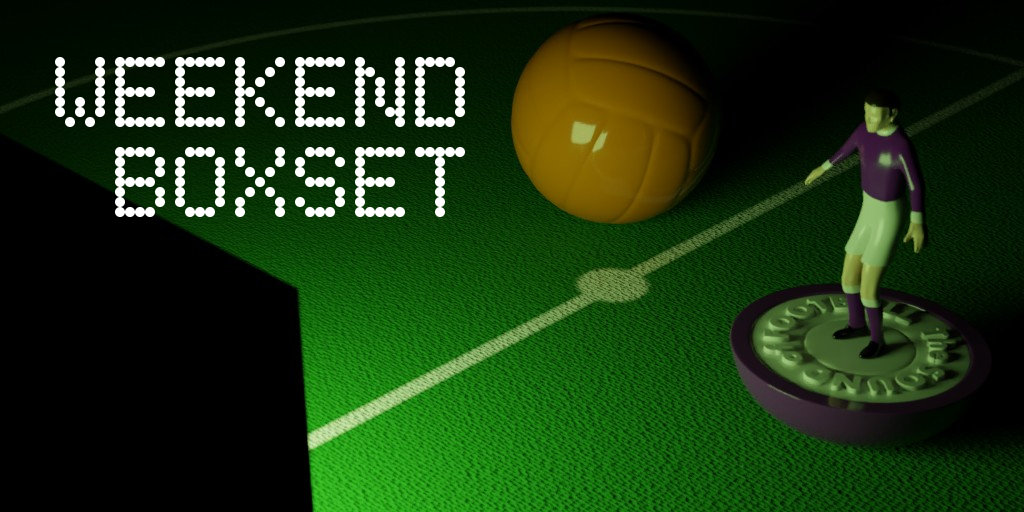 It seems strange that everyone goes into the Fourth Round of the FA Cup knowing who they might face if they win. But strange isn't always a bad thing, maybe this will be the new way of doing things from now on.
Seven great matches to take you from Friday to Sunday. It's the Sound of Football Weekend Boxset.
Get the Weekend Boxset in an email every week
All times are UK (GMT)
Friday
FA Cup Fourth Round: Chorley v Wolverhampton Wanderers
19.45 on BT Sport 1
If anyone needed a reminder of the magic the cup, the celebratory scenes after Chorley's win against an unrecognible Derby side in the last round would have brought joy to everyone who saw the video. Well almost everyone, there were those who pointed out that maybe a room with no windows filled by a lot of sweaty men bellowing out Adele at the top of their voices may not have been the most sensisble thing to do in times of social distancing. And they'd be right, I suppose. Compared to their excellent league form in recent seasons, Wolves are on a poor run right now; their victory against Palace in the last round being one of just two wins in ten since the end of November. Of course, trying to maintain their excellent level of performance isn't helped when the bigger clubs keep pinching your best players but with higher places in the league moving out of reach, this competition could allow Nuno the opportunity to prove that he is more than just Jorge Mendes' shopkeeper. Because of the compressed format this year everyone in this round already knows their who their opponents will be in the next round. The winners here go through to the fifth round to face whoever comes out on top between... GS
Saturday
FA Cup Fourth Round: Southampton v Arsenal
12.15 on BT Sport 1
When these sides met at this stage in 2017 it was an easy win for Arsenal against a much-changed Saints side that had just qualified for the League Cup final by beating Liverpool across two legs. Theo Walcott, now back at Southampton, scored a hat-trick but Danny Welbeck had already won the game with the first two in a 5-0 romp for the Gunners. Both sides sit comfortably mid-table in the league and while they can have reasonable expectations of climbing higher, this competition could be the easier route to European football next season, so there's no reason at all for them not to go for it. Arteta could have one eye on this season's Europa League, which restarts next month but he'll be acutely aware of how winning this competition last season did his reputation the power of good. Arsenal have tightened defensively and having trimmed some of the fat from his squad this week, this should be a much different game to the uneasy 1-1 draw the sides played out in mid-December. GS
La Liga: Sevilla v Cadiz
15.15 on LaLigaTV
Before their Copa del Rey match against second division Girona, last weekend, Cadiz coach Álvaro Cervera said that the cup was not the focus this year and all eyes were firmly on the prize of staying in the top flight, having been promoted for the first time in 14 years. This is just as well because they lost 2-0 and are now free to concentrate on La Liga. So far they're having a decent season with the win against Barcelona being a high point. But the Yellow Subs will rue their defensive lapses in their 2-2 draw against Levante on Tuesday. Their fellow Andalusians, Sevilla, needed a last-minute penalty save from Bono to protect the three points in their midweek win at Alaves. Incidentally, Suso's, winning goal in that game really was the sweetest thing. Julen Lopetegui's team have lost just once in their last ten league matches and are fifth going into the matchday. TD
Bundesliga: Hertha Berlin v Werder Bremen
17.30 on BT Sport 2
Time is running out for Hertha coach Bruno Labbadia. His expensively assembled team have mustered a measly seventeen points in as many games and sit just two places off the relegation playoff spot. This is a poor return for the money spent on a squad expected to challenge for honours, this season. After their 3-0 loss to Hoffenheim on Tuesday, the consensus is that Bruno is sadly, for the chop. The question is, will Werder be the team to exercise the coup de grace? Bremen were extremely unlucky to not get a point on Tuesday against Monchengladbach. They missed a couple of great chances to score, including a post smacker from the returning Milot Rashica. Coach Florian Kohfeldt may look to striker Davie Selke to bring some pain to the Olympiastadion. The former German under 21 is on loan from the Berlin club, is eligible to play and will have a point to prove. TD
Sunday
FA Cup Fourth Round: Brentford v Leicester City
14.30 on BT Sport 1
Brendan nervously twirls his darts between his fingers, he has the time it takes for Bully's Prize Board to turn around to make his decision: take the money or go for the car. Leicester are genuine title contenders this season, and while he collected plenty of silverware in Scotland, the memory of his 2014 Liverpool side literally stumbling at the last will always haunt him. They can win this competition, but they will need to choose to, and all the time the Premier League title - let alone a Champions League spot - is up for grabs, the famous cup has to take second place. Brentford are third in the Championship, with their own pain of missing out on promotion last season. Both sides would fancy their chances against the winners of Blackpool v Brighton for a place in the Quarter-finals, and from there - who knows. GS
FA Cup Fourth Round: Manchester United v Liverpool
17.00 on BBC One
Now I know what you're thinking. We recommended this game last week and it was a complete turkey, but trust me this one will be a lot better. In the space of a week since that awful 0-0 draw, United have retaken the top spot in the league and Liverpool have been plunged into crisis, relatively speaking of course. People are coming around to the idea that this United might be as good as the players they have. On the other side, Liverpool can't go much longer before the goals start raining in, can they? Some observers believe that Liverpool are hitting a period that Dortmund experienced after Klopp won back-to-back titles. To me, that seems a lazy take and one easily picked apart but that won't stop me suggesting that Terry writes 1000 words about it for our blog. To be honest, I wouldn't blame you if you chose to switch over to
Lazio v Sassuolo
or
Hoffenheim v Koln
instead of this one but maybe we should enjoy this cup clash of the giants of English football while it lasts: if leaked JP Morgan documents are to be believed, this fixture may soon be exclusive to
a global Super League of the world's richest clubs
.
Plus ca change
. GS
Ligue 1: St Etienne v Lyon
20.00 on BT Sport ESPN
Having both had their periods of dominating French football in the past, this fixture endures as one of the biggest local derbies in France and, even without fans, the result and performance for both sides could be season defining. Lyon have been jostling for top place with PSG and Lille but a draw against Rennes and a surprise defeat to Metz have seen drop off in the chase for their first title since 2008. Despite not having won the Ligue 1 title since 1981, St Etienne still hold the record for most wins with ten, one more than PSG and Marseille. Having looked as if they were turning a corner with impressive draws against PSG and Monaco,
Les Verts
lost to relegation rivals Strasbourg and Reims to slip back down the table. Both sides need a change in fortunes, a good derby win would go a long way, defeat though could spell disaster. GS
Whatever you watch, have a great weekend.