Weekend Boxset: Grand national derbies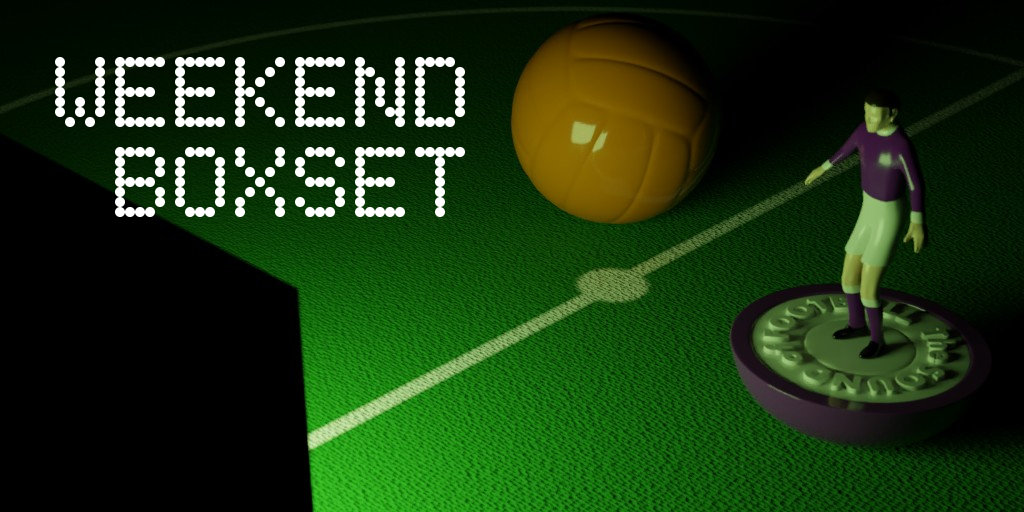 Two Manchester United sides have the chance to go six points clear of their nearest rivals at the top of their respective tables as they take on the current champions in the Premier League and WSL.
Seven great matches to take you from Friday to Sunday. It's the Sound of Football Weekend Boxset.
Get the Weekend Boxset in an email every week
All times are UK (GMT)
Friday
Bundesliga: Union Berlin v Bayer Leverkusen
19.30 on BT Sport 1
This season, much to the chagrin of their better-off neighbours, Union are the top club in Berlin. Urs Fischer's side are fifth in the table and have the rare luxury, for a club their size and with their squad depth, of having to worry about the prospect of playing in the Europa league rather than the 2 Liga next season. Liverpool fans may be interested in the development of Taiwo Awoniyi. The 23-year-old striker signed for the Reds in 2015 and has been out on loan to six different clubs. Since joining Union in September the Nigerian has scored five goals in 10 games, acting as a more than able deputy to the injured Max Kruse. Bayer Leverkusen's title challenge has taken a bit of a knock since their last-second loss to Bayern just before Christmas. However, Peter Bosz' team remain enduringly watchable and this will be an even and entertaining match. TD
Saturday
Premier League: Wolverhampton Wanderers v West Bromwich Albion
12.30 on BT Sport 1
Having bigged up the Wolves on this week's podcast, they only go and lose to Everton. Nevertheless, I've still got fuzzy feelings about the Molyneux club and maintain that they are a good bet to win the Cup and will make short work of Big Sam's West Brom (to use their new official name). The Baggies didn't really get much of a new manager bounce (or boing), despite a decent, if incredibly lucky, point against Liverpool. That well known Allardyce defensive organisation was absent against Villa, Leeds, Arsenal and most embarrassingly, Blackpool in the Cup. Now they face their fierce black country rivals who are themselves anxious to claim victory for the pride of their absent fans and to get back in the Europa League hunt. A big performance is required by both teams. TD
Premier League: Leeds United v Brighton & Hove Albion
15.00 on Sky Sports Premier League & Main Event
A little later than usual in the calendar, this match marks the halfway point in Brighton's season. The last time I previewed one of their matches for the Boxset I said that they were in danger of falling into a relegation scrap they didn't need to be in. With just two wins so far this season it's safe to say that danger has arrived. 35 points has been enough to secure safety for the last four seasons in the Premier League and while they have only lost as many games as today's hosts, their inability to covert draws to wins means they've already been overtaken by Burnley, and Fulham - unbeaten in six - have two games in hand to close a two point gap. Leeds will certainly approach this game much differently than their less than tepid display against Crawley in the Cup last weekend but trying to predcit the outcome of this one seems foolhardy. That saidm should it go with current form, viewers will probably be left afterwards feeling that the Seagulls should have come away with more. GS
Premier League: Leicester City v Southampton
20.00 on BT Sport 1
It's fair to say that things have changed somewhat since these two sides met in 2019 and Leicester thrashed the Southampton 9-0. It wasn't easy but the Saints did go marching back from the despair of that defeat, under coach Ralf Hussenhuttl, of whom few would have been surprised to see him sacked. But the board kept faith with the Alpine Klopp and have been rewarded with a team that has one of the tightest defences in the Premier League and, last time out, beat the Champions Liverpool with an extremely emotional and disciplined 1-0 win. Sadly, for them, striker Danny Ings got the dread COVID and is out but a victory could see them back in the top four. Leicester City should have qualified for the Champions League last season but they never got to grips with the post-lockdown restart to the campaign. Assuming there are no unanticipated developments (and that's a big assumption) and assuming Vardy keeps fit, the Foxes should be in the there-or-thereabouts frame not just for the top four but for the title. TD
Sunday
FA Women's Super League: Chelsea v Manchester United
14.30 on BT Sport 1
Unlike the "boys will be boys" finger-wagging of lockdown violations by their male counterparts, the anger generated from ill-advised trips to Dubai by some of the top players in WSL clubs has highlighted a significant difference in expectations of the behaviour of female players. Much of that is do with the separation of the top flight of the men's game and the so-called non-elite level. In the women's only the top two levels have been allowed to continue playing, and there is an underlying feeling that privilege is extremely fragile. United's manager Casey Stoney apologised for allowing some of players making the trip, even though none of them broke any rules or came back infected. All of which distracts from what should be the game of the season so far in the WSL with both sides undefeated and occupying the top two positions. Chelsea will be delighted with return to form of Fran Kirby, having missed almost a year from the game with career threatening pericarditis, she scored four goals in an hour against Reading. Some added spice to this game will be whether either of the head coaches will asked to lead Team GB in Tokyo now that Phil Neville looks likely to be heading to Inter Miami. GS
Premier League: Liverpool v Manchester United
16.30 on Sky Sports Premier League & Main Event
Since just Christmas this hugely unfancied United have gone from being five points behind Liverpool to three points clear of them at the top of the table. Every instinct says that this is where United get found out, happily torn apart by Klopp's men and order is be restored, but these are uncertain times and Ole's unlikely table toppers continue to surprise. Maybe it was the lack of a win in three games that forced Klopp to name an uncharacterically strong side for LIverpool's cup tie against a youthful Aston Villa last week, which they won comfortably in the end. Whatever the result of this game it perfectly sets up next weekend when the sides meet again at Old Trafford for the next round of the Cup. GS
Serie A: Inter v Juventus
19.45 on Premier Sports 1
When you're done with the biggest game in English club football, why not settle down for the biggest game in Italian club football, the
Derby D'Italia
. An already watchable match is made even more intriguing by the two men leading the opposing dugouts. Andrea Pirlo was Antonio Conte's first signing at Juve in 2011 and the pair won three league titles in three seasons together. In his biography Pirlo heaps praise on the man who coached him at club and national level: "If Arrigo Sacchi was a genius, then what is Conte? I am extremely lucky that I met Antonio Conte. I had so many coaches to compare him to, and he is the one who surprised me the most". It could be the best time for him to get one over his old boss with Inter dropping in their last two games while Juve are in their best form of the season with three straight wins. While these two slug it out in a season defining match, the real winners of the weekend look likely to be Milan, who are already three points clear at the top and face a Cagliari side on a run of defeats. GS
Whatever you watch, have a great weekend.