Weekend Boxset: EFL play-offs 2021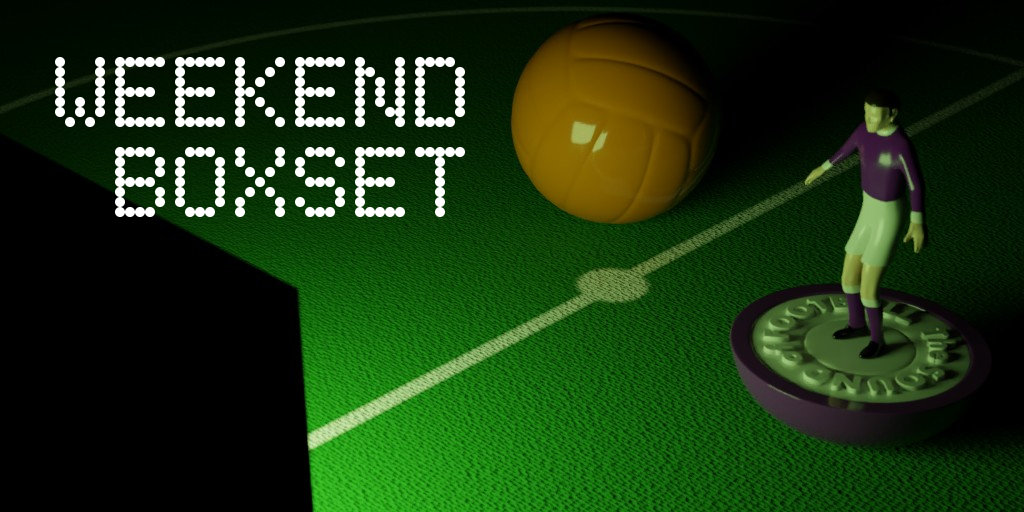 It's the final Boxset of the season and the final round of fixture in Europe's top five leagues with titles, relegation and European football up for grabs. Our focus though is on the EFL: Wembley awaits as we find out who will get to the play-off finals.
Seven great matches to take you from Friday to Sunday. It's the Sound of Football Weekend Boxset.
Get the Weekend Boxset in an email every week
All times are UK (BST)
Friday
League One Play-off Semi-final 2nd Leg: Blackpool v Oxford United
19.45 on Sky Sports Football & Main Event
On the podcast this week, Jan picked out Blackpool as the ones to watch in the League One play-offs, and so it proved as they beat in-form Oxford United 3-0 in front of 4000 fans at the Kassam Stadium. While the scoreline sounds emphatic, the game itself was much closer, the result hinging on a three minute period in the first half when Oxford conceded twice. No side has ever come back from a three goal deficit in an EFL play-off semi-final, and Karl Robinson's task of lifting his side is made even tougher knowing that Blackpool have the meanest defence in the division. In the second half of the season, Neil Critchley's side were the best in League One, earning 46 of their 80 points and conceding just 13. It's Critchley's first full season in management having joined in March 2020 from coaching Liverpool U23s. His most notable experience before joining was stepping in for Jurgen Klopp to lead a makeshift Liverpool side in the domestic cups while the first team was playing in the Club World Cup. The tie may be as good as over but this is still a good opportunity to see this Blackpool side on the road back after the Oyston era. GS
Saturday
Championship Play-off Semi-final 2nd Leg: Brentford v Bournemouth
12.30 on Sky Sports Football & Main Event
The Cherries travel to West London with a slender 1-0 lead. It's been a difficult season for the south coast club. The change of manager in February got things back on track but they entered the play-offs on the back of a three-game losing streak at the conclusion of the regular campaign. The first of those three defeats was to their opponents. The first leg one-goal advantage they gained at Dean Court, therefore, is something of a surprise and they should expect a spirited response from their opponents. Brentford's rise from a middling third division club to a would-be Premier League outfit has been years in the making and impressive to behold. However, their selling policy may have cost them an automatic spot this season after losing Ollie Watkins and Said Benrahma last summer. If they stay down again there may be another clear out, starting with 31 goal Ivan Toney. TD
League One Play-off Semi-final 2nd Leg: Sunderland v Lincoln City
15.30 on Sky Sports Football & Main Event
I'll make no apology for the fact that this preview will be fairly Sunderland heavy, so feel free to skip on to the next preview if this isn't your particular cup of tea. So, providing the following survives Producer Graham's editing, I'll press on. Despite the fact that The Lads delivered such a dreadful parade of results leading up to this particular set of fixtures, I found myself giddy with excitement when I sat down to watch the first leg on Wednesday evening. Anyone who witnessed Sunderland's piss-poor attempt to breakdown a Lincoln side who stuttered towards the season's end, will appreciate and understand how my anticipation turned to frustration. My poor keyboard! The fact that Liam Bridcutt, who was the perfect definition of bang-average during his time on Wearside, orchestrated our destruction, rubbed salt into an already impressive wound. It is true that a two-nil reverse isn't insurmountable and that come tea-time Saturday, Sunderland could be looking forward to another Wembley final. It's also true that the side who shows the most desire to win and is better at playing actual football will go through. Sadly, I think this will be Lincoln. Even if they are overcome, Sunderland would have break down Blackpool's miserly defence in the final (sorry Oxford fans). In an interview last year, former Sunderland Chairman, Bob Murray, recalling the clubs fortunate promotion in 1990 at the expense of a crooked Swindon, concluded that 'it was too soon for us'. I think that is also true of this Sunderland side. Our new owner will invest in the squad over the summer which will give Lee Johnson a chance to do it properly next season. Then we'll be ready for promotion. JB
Alternative viewing: if, like Jan, you want a break from the play-off action you could instead tune in to the climax of the Bundesliga and La Liga. In Germany the actions kicks off at 14.30. Bremen, who have only ever spent one season outside of the Bundesliga since its foundation in 1963, sit in the relegation play-off place a point behind Bielefeld. Respectively, they play 'Gladbach (on BT Sport ESPN) and Stuttgart (on BT Sport Extra 1) away, both of which still carry Conference League hopes (if that's such a thing). Köln are a point behind Bremen in the automatic relegation position and they face already relegated Schalke on BT Sport Extra 3. In Spain things are much more clear cut. Atleti need a win away to relegation threatened Valladolid (on Premier Sports 2) to hold off Real who face Villarreal (on Premier Sports 1) who will be looking to upgrade their Conference League place to a Europa spot, but of course they can upgrade that to a Champions League spot by beating Manchester United in the Europa League final on Wednesday. Should the sides finish level on points, Real will win the title by having the better head to head record. It's a 17.00 kick off in Spain.
Championship Play-off Semi-final 2nd Leg: Swansea City v Barnsley
18.30 on Sky Sports Football
The discovery of football's version of
Moneyball
has become the game's Northwest passage over the last decade or so. A whole industry has been created trying to replicate the data-driven sabremetric reruitment system that had a transformative effect on baseball side Oakland Athletics (and led to a film with Brad Pitt). Intense analysis of statistics, tactics and scouting has been credited with the recent success of Liverpool and Leicester, among others, and now the original architect of
Moneyball
, Billy Beane, is an investor in Barnsley. Under coach Valerian Ismael, this young team (only four squad members are over 25) has brought ultra-high intensity football to the Championship. No team wins more balls in the final third or has a lower completed pass per shot ratio - metrics that are essential when you're playing the numbers game. Swansea manager Steve Cooper will have to put aside the speculation linking him to the vacant positions at Palace and Spurs, as he looks to hold on to the slim 2-1 advantage he has from the first leg. Should be a cracker. GS
Sunday
League Two Play-off Semi Final 2nd Leg: Morecombe v Tranmere Rovers
12.30 on Sky Sports Football
Who fires their coach just before a tilt at the play-offs? Former FA chief executive and Tranmere chairman Mark Palios that's who. Keith Hill got his marching orders just three days after Tranmere held on to the final play-off spot, and Ian Dawes has stepped in as caretaker for the second time this season. Having had 75% of possession and 17 goal attempts in the first leg, Tranmere must be wondering how they go into the second leg 2-1 down. There's still all to play for to see who will most likely face Newport in the final, the Welsh side holding a 2-0 advantage in their semi-final against Forest Green (which is on Sky Sports Football from 18.30). GS
Premier League: Leicester City v Tottenham Hotspur
16.00 on Sky Sports Football
As if the Spurs ownership couldn't be more dislikable. Mere weeks ago Daniel Levy and his mob were actively seeking to join a league that they were never likely to win. This week they reopened the doors to the new stadium only to plonk their fans in the cheap seats up in the gods. The club's lack of ambition is becoming apparent, even in the dressing room with star striker, Harry Kane, fed up enough to ask for a transfer, presumably to Manchester City. Many of the supporters have had enough and want the owners out. The trouble with that is who will replace them? In any event, if Spurs win this match they should qualify for the Europa or Conference league and salvage something from this dismal season. Leicester on the other hand have a fine piece of silverware in the shape of the FA Cup to show for their campaign. The narrative surrounding that club is the polar opposite in tone by comparison to their visitors. So much so that even commentators who hitherto disliked them are wishing them well. Champions League qualification is out of their hands sadly. They need Liverpool to drop points against Palace which is unlikely, or for Chelsea to slip up at Villa Park. Still, hopefully, the players will sign the season off with a positive win in front of their own fans. TD
Ligue 1: Angers v Lille
20.00 on BT Sport 1
Having failed to beat St Ettiene in midweek, Lille have kept the title chase in France going until the final weekend. PSG are a point behind and have a significantly better goal difference, so Lille know that only a win will do - and they
should
get it. Safe from any relegation worries, Angers are very much in their
tongs
, having lost six of their last seven games, their only win coming against bottom side Dijon. While things look comfortable for them this season, next season may be a struggle for Angers as they start a FIFA transfer ban this summer. The sanction was brought about after the transfer of Kevin Bernanga, who joined Paris FC from Spanish side Deportivo Xerez only to then be signed by Angers. This relay transfer allowed Angers to circumvent compensation fees to the original club. Be ready with the remote to switch over to BT Sport 2 to keep up to date with what's going on in Brest v PSG. Brest are in danger of dropping into the relegation play-off place, currently occupied by a resurgant Nantes, but having already lost 3-0 to PSG twice this season, that game is only going one way. GS
Whatever you watch, have a great weekend, and see you next season.