Weekend Boxset: FA Cup Final 2021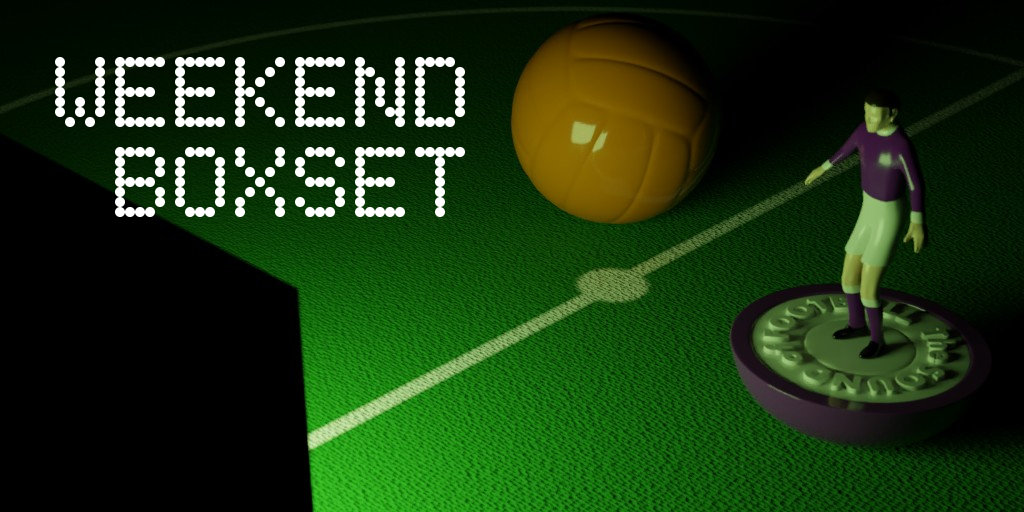 Chelsea chase silverware in finals of the FA Cup and the Women's Champions League. There's also the penultimate round of fixtures in Spain, Germany and Italy.
Seven great matches to take you from Friday to Sunday. It's the Sound of Football Weekend Boxset.
Get the Weekend Boxset in an email every week
All times are UK (BST)
Friday
Premier League: Newcastle United v Manchester City
20.00 on Sky Sport Premier League & Main Event
Something strange started happening at St James' Park in the middle of last month. With nearly everyone in football writing off Newcastle as a relegation certainty, Steve Bruce's side started winning games. Tough games too: away to Burnley, home to West Ham culminating in the thrashing of Leicester City away from home - there was even a score-draw against Liverpool in there. In fact, it could be argued that their renaissance started in late February where their god-awful decline was arrested with a clutch of useful draws. Those who prefer their football to be played south of the Tyne will recall that Brucey did something similar during his time in charge of Sunderland. He was sacked the following season - funny how history often repeats. While all of the numbers (and I do mean all) point to a win for the newly crowned Champions, it's hard to imagine that Pep will have his mind on anything other than the Champions League final. Don't expect the likes of De Bruyne, Foden or Dias to feature too prominently. As for the rest of the squad, they may well be suffering the effects of their midweek pizza and booze-fueled dancefest. If I may, I'll make not one, but two predictions here: one, the (dirty) Mags will scrape a draw; two, by the end of next season this fixture will be more about geo-politics than football. Enjoy. JB
Saturday
Bundesliga: Hertha Berlin v Köln
14.30 on BT Sport 3
Cologne's 4-1 defeat to Freiburg last weekend broke a two-game-winning streak under new coach Friedhelm Funkel and stunted the relegation-threatened team's revival. The defeat, though heavy, flattered Freiburg somewhat. Their third and fourth goals came in injury time and Ondrej Duda missed a penalty and the chance to level up to 2-2. His unfortunate miss aside, Duda is in good form and their is still confidence in the camp. Hertha still have ambitions to be a big city club rather than a division 2 club in a big city. Their 2-1 over Schalke on Wednesday has put points and clubs between them and the drop zone. Pal Dardai's team is unbeaten in five and will consider themselves safe with three points in the Olympiastadion. If you've got two screens then keep an eye on Augsburg v Werder Bremen, the other relegation scrap on at the same time. Both teams are in wretched form but FCA have the slight points advantage. I think it could be curtains for Werder sadly. All of these teams will be looking at Hoffenheim hoping they can beat Arminia. It's going to be an almighty scrap next weekend, whatever happens. TD
FA Cup Final: Chelsea v Leicester City
17.15 on BBC One and BT Sport 1
20,000 will be in Wembley for a joyous display of better times ahead; a further cause of celebration on what should be English football's most celebrated day. Joyless bread-heads may look at this game and argue that the crunch Premier League meeting between these sides next Wednesday is more important. And yes, in terms of money, they may have a case, but let's face it, you can't hire an open top bus to parade a fourth place finish. In reality though, in the position these clubs are in, they can only approach both games with the mentality of putting out their best sides and winning them both. For Leicester, lifting the FA Cup for the first time would be a fitting reward for an excellent couple of seasons under Brendan Radgers but recent results give the impression that they (much like everyone else) are running on fumes. While they may be the form side going into the game, Tuchel's Chelsea were left scratching their heads against Arsenal in midweek, unable to break Arteta's side down after gifting them a first half goal. It's unlikely to be a goalfest, but neither should it fade out into a game both sides are unwilling to lose; of the games these sides have this week, this is the one they can afford to live a little more dangerously in. GS
Serie A: Roma v Lazio
19.45 on Premier Sports 2
For most local derbies, previews in this organ have lamented the lack of fans in the stadium to give the game that extra edge, however, given the continued behaviour over a number of years from sections of Lazio fans, the absense of racist and anti-semitic chants and banners will be a pleasant relief. It's the penultimate round of fixtures in Serie A and with the title already sewn up by Inter, the big story is whether or not Andrea Agnelli's Juventus will miss out on Champions League football next season. Had the
Derby d'Italia
not clashed with the FA Cup final, it would probably have made it into the Boxset ahead of this, but the
Derby della Capitale
is always a worthy alternative. Lazio have a very winnable game in hand against Torino, which keeps alive their faint hopes of upgrading their guaranteed Europa League place. Those hopes would have disappeared had Ciro Immobile (who else) not found the net in the fifth minute of injury time against already relegated Parma on Wednesday. The goal was Immobile's 150th for the club and makes him their all-time top scorer ahead of legend of Italian football Silvio Piola. Roma can't do any better than their current seventh place and only Sassuolo, two points behind them, are capable of denying them their place in the inaugural UEFA Europa Conference League. GS
Sunday
National League: Stockport County v Torquay United
12.15 on BT Sport 1
Ten years ago, Stockport finished bottom of the Football League and were demoted to non-league football. In the same month Torquay lost out on promotion to League One against Stevenage in the play-off final at Old Trafford but were themselves relegated out of the league (for a second time) in 2014. By that time County had fallen one step further, a level the Gulls would join them at in 2018. Both sides won their respective North and South National League titles in 2019 and now find themselves battling for promotion back to the EFL. With three games to go, Torquay, under the evergreen Gary Johnson, are just two points behind Sutton at the top. County's hopes of automatic promotion are realistically now only mathematical but with Hartlepool breathing down their neck, they still have work to do if they want to avoid an extra round of the play-offs. With Sutton and Hartlepool facing each other next week, there are still some twists ahead in this promotion race. GS
La Liga Penultimate Round: All matches
17.30 on LaLigaTV
After the midweek round of fixtures, it looks like the two Madrid clubs are emerging as the most likely to win La Liga. Atleti had a characteristic wobble against Real Sociedad on Wednesday but they held their nerve and prevailed with a 2-1 win. A result and performance that visibly lifted the player at the final whistle. Their next opponents are Osasuna, one of the few teams who have nothing to play for. Barcelona meanwhile, while not out of it, surrendered a 2-0, and then a 3-2 led to a draw with Levante on Tuesday. The Catalans can't be ruled out but the team most likely to capitalize is Real Madrid who were excellent against a tough Granada side yesterday. That said, the current champions won't enjoy their trip to Athletic Club. My instinct however is that neither of the top two will drop points in the final two fixtures. However, after the season we've had, only a maniac put any money on it. Worth bearing in mind that there are still Europa and Conference League places up for grabs and there are just five points between the bottom six clubs. It's going to be a busy night in the La Liga TV gallery. TD
UEFA Women's Champions League: Chelsea v Barcelona
20.00 on BT Sport 2
After the past fourteen finals being won either by teams from Germany or Lyon, this season a new name will be added to the top prize in Women's football in Europe. This is Chelsea's first UWCL final, and they're only the second English team to make it this far after Arsenal back in 2007. Having retained the WSL title in what has been its most competitive season, Emma Hayes has the chance to take this side of world class players one step further. They've already faced Spanish opposition in this competition, beating Atletico Madrid in the Round of 16 but this Barcelona side wil provide a significantly sterner test. The Spanish league is still being played but having won all 26 of their games so far and conceding just five goals, it's fair to say Barcelona are a step above everyone else. And they've acheived this dominance with a mostly Spanish squad, although Norwegian winger Carolin Graham Hansen and Dutch Euro 2017 player of the tournament Lieke Martens are notable exceptions. No relocation of this final means that no spectators will be in the ground in Gothenburg, and with Sweden still on the amber list, the Chelsea players should have to self-ioslate at home for ten days when they return. What that means for their FA Cup game against Everton next week is anyone's guess. GS
Whatever you watch, have a great weekend.