Weekend Boxset: Klopp v Tuchel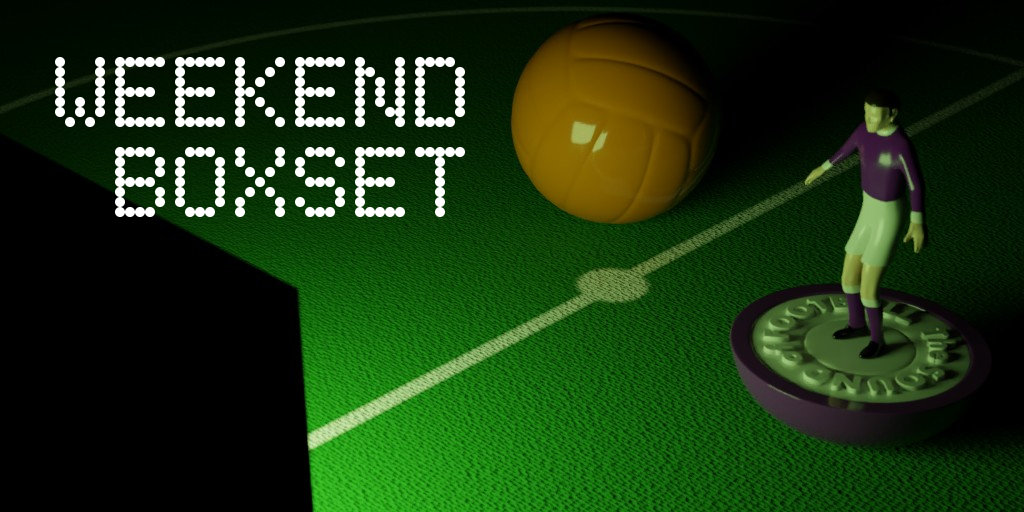 The bank holiday weekend is upon us - it must be time to start complaining about the positioning of international breaks.
Seven great matches to take you from Friday to Sunday. It's the Sound of Football Weekend Boxset.
Get the Weekend Boxset in an email every week
All times are BST
Friday
Bundesliga: Borussia Dortmund v Hoffenheim
19.30 on Sky Sports Mix
Dortmund's defeat to Freiburg last week was a textbook example of 1. how to convincingly win a football match with only 23% possession and 2. the importance of consistent management. Like Dortmund, Freiburg frequently turnover players but stay successful because of their coach, Christian Streich, who has stuck around for nearly a decade. Borussia meanwhile are on their fifth coach since Thomas Tuchel left in 2015. Every couple of years it's like "Ooooh we love our shiny new coach and can't wait to get started. Of course it will take five to ten games to adapt to his style of play" and in that time, Bayern, Leipzig and A.N. Other (probably Leverkusen this season) are over the horizon. I hope Marco Rose is a success but my worry is that if Dortmund don't finish at least second he'll be chopped for the next sexy young coach from the Red Bull factory. Anyhoo, Guererro and Hummels are fit so there's a chance that they can keep the door shut against a free-scoring Hoffenheim who stuck by their coach, Sebastian Hoeness, despite his disappointing first season. If only there was some sort of lesson there. TD
Saturday
Championship: Derby County v Nottingham Forest
12.30 on Sky Sports Football & Main Event
The match they call
El Cloughico
, after the talismanic manager who led both sides to league titles and Forest to two European Cups, all in the space of a decade. While the triumphs of both sides are rightly celebrated, the number of fans who can remember those days are becoming a minority. Even if you combined the number of seasons these sides have spent in the Premier League, it would still be fewer than Bolton Wanderers. And that sitution is unlikely to change any time soon. Four defeats from four for Forest and a hammering in the EFL Cup against Wolves would suggest that things are looking grim for Chris Hughton. A poor start by any measure but all four league defeats have been been by a single goal, so it would still be too soon to suggest that Forest are nailed on for relegation. Having themselves survived relegation on the pitch on the final day of last season, Derby also survived relegation by the authorities following the EFL's decision not to dock them points, yet anyway. With a minimal squad for Wayne Rooney to choose from, two takeover bids falling through and a suspended three point dedcution still hanging over them, it's going to be another very long, worrying season for Derby fans. GS
Premier League: Liverpool v Chelsea
17.30 on Sky Sports Premier League & Main Event
The prospect of Romelu Lukaku going up against Virgil van Dijk should be enough to sell this game on its own. Chelsea breezed through their opening fixtures against Palace and Arsenal with Lukaku looking at his imperious best, returning to the Premier after scoring 64 goals in two seasons in Italy. This game against one of their genuine title rivals will provide a much sterner test, with Liverpool also yet to concede a goal this season. While Cheslea seem to have found the final piece of the jigsaw with the Belgian striker, Liverpool still need to solve their issue of settling on a playmaker in the middle of the park. It's a role that both Naby Keita and Thiago have so far failed to show their undoubted best as replacements for Gini Wijnaldum, who has gone to PSG. Both sides need to improve on last season if they are to close the gap between themselves and the sides from Manchester. While it's still far too early to draw too many conclusions from a one-off fixture, three points for either side could prove vital by the time May comes around. GS
Ligue 1: Marseille v St Etienne
20.00 on BT Sport 3
You can't keep your eyes off OM. Jorge Sampaoli's team play high tempo football, with imperial phase Dimitri Payet leading the line. The team is also at the centre of French football's latest controversy. During the derby at Nice last weekend, the players refused to return to the field after the referee suspended the match following an on-pitch melee between home fans, Marseille and Nice players, plus the coaches. The catalyst was a bottle thrown by a fan that hit Payet which the striker picked up and threw back. Payet suffered similar abuses at the start of the season at Montpelier and the players clearly decided that a 3-0 defeat for refusing to resume the game was preferable to resuming the ordeal of playing the remainder of the match. The French authorities are now involved and the matter is likely to escalate. OM were a goal down at the time so they may have lost anyway. It's still too early to say how good the team will be this season but I can certainly attest that they are a great watch. Lots of tempo and energy. St Etienne, on the other hand, are keeping their powder dry with three draws, characteristic of coach whispering Claude Puel's Colin Robinson approach to football. Somehow I doubt
Les Vert
will suck the life out of the Velodrome. TD
Sunday
Scottish Premiership: Rangers v Celtic
12.00 on Sky Sports Football & Main Event
Defeats for both of the Glaswegian giants among the opening rounds of fixtures has certainly livened up the start of the Premiership season. Celtic's first day defeat to Hearts, was a tough start for new manager Ange Postcoglou, the former Socceroos head coach joining from J-League side Yokohama F Marinos. The following weekend Dundee United brought an end to Steven Gerrard's 40 game undefeated run in the league; Jamie Robson with the only goal of the game. Since then both sides have successfully progressed to the new, much trimmer group stage of the Europa League. Trimmer and more challenging, with Rangers facing Lyon, Sparta Prague and Brondby, while Celtic go up against Leverkusen, Betis and Ferencvaros. It should be a fierce atmosphere for the first Old Firm match at a full Ibrox since December 2019 - the last time Celtic won the fixture. There won't be any Celtic fans in the ground after Rangers decided not to allocate an already meagre 700 seats to away fans after not receiving confirmation that their opponents would offer the same when the sides meet next in January. GS
Premier League: Burnley v Leeds United
14.00 on Sky Sports Premier League & Main Event
There are certain things that happen at the start of a season that, no matter how regularly they occur, always generate a lot of column inches. Of course you have transfer talk and how ridiculous the spending is, but there's also opinions on matters such as the non-value of the League Cup, the incredulity inspired by the first international break (that's next weekend), and of course there's always going to be little tweaks in the way games are officiated. This season, in the Premier League, referees are letting stuff go in a bid to allow the game to flow. Maybe a little too generously for some. After a couple of years of VAR awarding penalties and red cards that were otherwise missed by the on-field official, now the PGMOL have decided that we need less cards and more action. Jurgen Klopp, after his side's win over Burnley last weekend, proffered that if that's what fans wanted to see then maybe they should watch wrestling instead. Matters tend to calm down after a few weekends and more results are in but for now the focus will be on what is called and what isn't. While Sean Dyche and Marcelo Bielsa adopt differing styles of play, both will see the changes as an opportunity they have yet to take full advantage of as they search for their first win of the season. This one could get pretty tasty. GS
La Liga: Atlético Madrid v Villarreal
21.00 on Premier Sports 1 and LaLigaTV
We alluded to this on the latest podcast but the season has started too early in Spain and we have the results to prove it. Last week, Real Madrid's madcap 3-3 draw with Levante aside, no team managed more than one goal. Also, there have been five goalless draws over the first two weeks. That's compared to one bore draw in Germany, none in the Premier League and only one in France over three rounds of fixtures. Villareal are responsible for two of those five nil-nils. The first was with only ten men against Granada, the second at Espanyol. However, the Yellow Submarines ran the European Champions, Chelsea, all the way to a penalty shoot-out in the UEFA Supercup and we know they can be dangerous. Atleti are happily free of the shame of not having scored and sit in second, behind Sevilla in the table. All three of the champions' goals have been scored by one player, the Argentine winger Ángel Correa. Diego Simeone will be hoping that his other illustrious strikers can find the back of the net. Last week, he added some extra competition up front in the shape of Matheus Cunha, one of the few Hertha BSC players to escape last season with any credibility. However, I imagine it'll be too soon for the Brazilian striker to feature in this game. TD
Whatever you watch, have a great weekend.