Weekend Boxset: When Messi came to town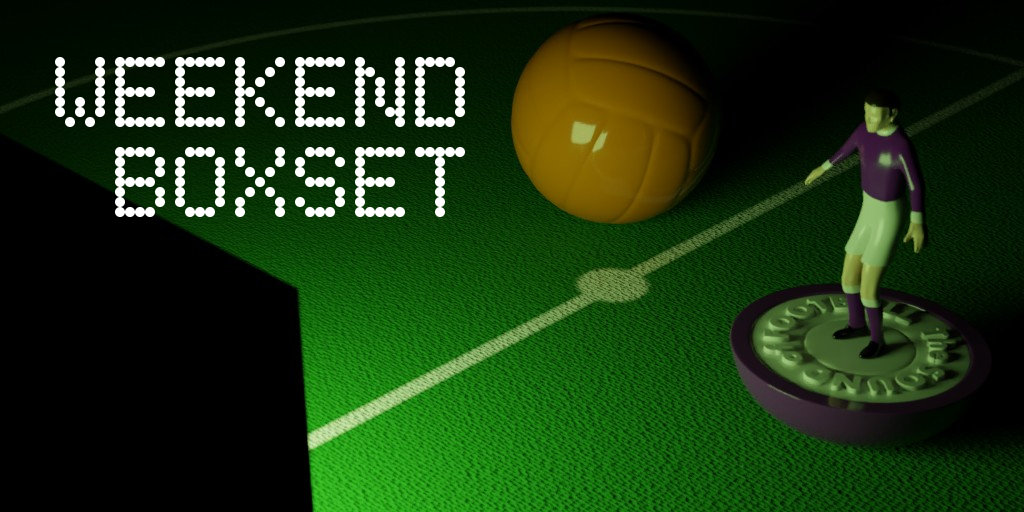 Messi looks set to play a part for PSG for the first time in what promises to be a fascinating, if even more lop-sided, season in Ligue 1. Also, Romelu Lukaku could make his second debut for Chelsea to heap more woe on an already under pressure Mikel Arteta.
Seven great matches to take you from Friday to Sunday. It's the Sound of Football Weekend Boxset.
Get the Weekend Boxset in an email every week
All times are BST
Friday
Ligue 1: Brest v Paris Saint Germain
20.00 on BT Sport 2
All the talk is that this will be the game in which PSG bring out Messi. So Brest will be all doom and gloom, right? On the contrary, they were always going to lose to
Les Parisiens
with or without him, they always do. Now at least they can lose with a bit more celebrity sparkle. Brest's 58 year old head coach, Michel Der Zakarian, was so taken with the idea of Messi arriving in Ligue 1 that he said it gave him a "hard on". There's no doubt that this PSG side of world all-stars will dominate the league this season but of course it's the Champions League that still eludes them. During a brief period of success they enjoyed in the 1980s, Brest themselves had a habit of buying up South American players - including Jorge Higuain, father of Messi's international teammate and perennial fall guy, Gonzalo, (who was born in Brest). The club was overspending though and collapsed under its debt in 1991, leaving a young David Ginola to be snapped up by PSG. Nothing is ever new in football. GS
Saturday
Championship: Queens Park Rangers v Barnsley
12.30 on Sky Sports Football & Main Event
Finishing in the play-off places in their first season after promotion from League One, was Barnsley's highest league finish in 20 years. The coach who led them their, Valerian Ismael, has gone to West Brom and it's now up to Markus Schoop from Austrian Bundesliga side Hartberg to carry on the Moneyball-esque project of owner Chien Lee. Mark Warburton is now QPR's longest serving manager since Ian Holloway's first spell in charge that ended 15 years ago; Warburton being the 14th "permanent" holder of the post in that time. It's fair to say they've been on a bit of a rollercoaster in that time; a mixture of skirting relegation to League One, winning the Championship in 2011 and the play-off final in 2014 (and getting into trouble with breaking FFP in the process). But since former chairman Tony Fernandes decided to take a backseat, things appear to have settled down a bit. Their 9th placed finish last season was their best in the six seasons since returning to the Championship and, so far, results for this campaign look promising. A home draw against Millwall on the opening day was followed by a convincing away win against newly promoted Hull and a thrilling 3-2 victory at Middlesborough in midweek despite having to play most of the second half a man down. GS
Bundesliga: Bayer Leverkusen v Borussia Mönchengladbach
17.30 on Sky Sports Football
Both teams kicked off their Bundesliga seasons with a 1-1 draw. 'Gladbach's draw against champions, Bayern, was a game that they could have won were it not for a couple of dodgy non-penalties. Leverkusen's draw at the wily Union Berlin was a well-matched encounter. The
Werkself
shaded the first half but lost momentum in the second. Anticipation is high in both camps as they start the season with new coaches. Adi Hütter at Gladbach joins from Eintracht Frankfurt. His teams are well known for fast-paced, high emotion football. Meanwhile, the new Leverkusen coach, Gerardo Seoane, won three league titles and the cup with Young Boys in Switzerland. The Luzern-born 42-year-old takes a well-trodden path for Swiss coaches to the Bundesliga. Keep an eye out for Lars Stindl was impressive for BMG to setting up Alassane Pléa's goal against Bayern. The Gladbach skipper has always been a class act but I think will thrive under Hütter. Bayer's Euro hero Patrik Schick was overshadowed by goalscorer Mousa Diaby against Union but played well and could use his summer exploits as a springboard for a productive season. TD
Ligue 1: St Etienne v Lille
20.00 on BT Sport 1
With the arrival of Lionel Messi at PSG you might be one of the many people tempted to watch a bit more French football. If so, why not take in this fixture between the most succesful side of all time against the current Ligue 1 champions. Usually when a side that isn't PSG win the French title, they are completely dismantled but there has yet to be a noticeable exodus from Lille. Players deep into their 30s, like Jose Fonte and Burak Yilmaz, are hardly likely to top many shopping lists but were key to their success last season. Their talented younger players, like Sven Botman and Renato Sanches, have caught the attention of Premier League clubs, probably up to the point when they remember that it's the same Renato Sanches who failed to impress at Swansea. Maybe the hum of transfer speculation is behind the disappointing start for
Les Dogues
. Having got the better of PSG in the curtain-rasing French Super Cup, they had to steal a point against a ten man Metz having been 3-1 down and followed that with 4-0 home defeat to Nice. Both oppoenents along with today's hosts made up the mid-table at the end of last season, which implies that things will get tougher for the champions and should embolden Claude Puel's St Etienne side who are unbeaten after two games but still looking for a first win. You also might be pleased to learn that
Sarah Cracknell and the boys have a new album out next month
. GS
Sunday
Premier League: Southampton v Manchester United
14.00 on Sky Sports Premier League & Main Event
It's 20 years this week since Southampton played their first game at St Mary's. While their record at the old ground against United was suberb (four wins from their last six meetings at The Dell) their record since moving is not. You have to go back to 2003 for their only win in this fixture: James Beattie getting the late winner in a game that included a very early appearance from Cristiano Ronaldo, who came on for United as a second half substitute for Kleberson. Given the opening weekend that these sides had, it's hard to imagine that run coming to an end here. When the Saints went in a goal up at Goodison Park last weekend, their fans might have though that pre-season fears based on mainly outbound transfer activity were unfounded, with the goal coming from one of the players coming in, Adam Armstrong from Blackburn Rovers. However, Everton resurged in the second half, running out 3-1 winners. In contrast, United's opening game was pretty much the perfect start for them: a hat-trick from Bruno Fernandes and a talismanic performance from Paul Pogba, tearing apart Leeds United at Old Trafford 5-1. The last meeting between these sides was the 9-0 in February. Unless Ralph Hasenhuttl has something special up his sleeve, this match might have to turn into damage limitation. GS
Premier League: Arsenal v Chelsea
16.30 on Sky Sports Premier League & Main Event
Few things in life epitomise all things Sunday than the traditional family roast, a welcoming parish vicar and 'the Arsenal' filling their usual TV spot in late afternoon. To be fair, they played on Friday last week and lost; perhaps they'd return to the dizzy heights of the invincibles era if only someone would give them a 3 o'clock Saturday kick-off, godammit! Like the fall of Kabul, anyone with even a modicum of insight could see the Brentford loss coming. Plucky new-boys versus Premiership royalty in the season opener has banana skin written all over it. Perhaps Arteta was sharing a sun lounger with Dominic Raab while prepping for the game? Regardless, he'll hope to have both Lacazette and Aubameyang back in the side, and there's the potential that Martin Ødegaard may be signed in time. There's little doubt that the home side aren't necessarily favourites for this one, but I doubt any team would look forward to facing Arsenal with those boys in the lineup. Today's visitors arrive off the back of a convincing win over a Palace side in something of a transition. Star of the show was academy product Trevoh Chalobah, who, having impressed in the UEFA Super Cup, went one better with an absolute thunderbastard in his league debut. Today's debutant, Romelu Lukaku, may actually take the pressure off the young starlet. I do hope Chelsea handle Chalobah's prodigious talent better than they did Lukaku's. Back in 2013, I convinced Mrs Bilton to take a day trip to what I described as 'the Paris of the Black-Country' to see Sunderland take on West Brom. That day I saw on-loan Lukaku single-handedly destroy Martin O'Neill's side in a victory that no doubt contributed to the Irishman's dismissal. Such was his ability, pace and strength that I couldn't work out why he wasn't starting for Chelsea. Ultimately, everyone in the football world has now seen what I saw that day, and a thoroughly humbled Chelsea were forced to spend £100 million to bring him back. JB
Serie A: Napoli v Venezia
19.45 on BT Sport Extra 1
What do you do to celebrate winning the play-offs if you're a team from Venice? You put the whole team on a huge gondola around the canals, of course. After a 19 season absense, Venezia are back in Serie A, having survived no less than three bankruptcies along the way, and each time having to start again from the bottom - most recently in 2015. Napoli themselves made that same journey in the early 2000s but bounced back to become Serie A's "nearly men" of the last decade, finishing runners-up four times in the space of seven seasons. Having finished outside of the Champions League places for the last two seasons,
I Partenopei
finally decided that having Gennaro Gattuso as head coach wasn't such a great idea after all and have pulled Luciano Spalletti out of semi-retirement to replace him. It's been two years since Spalletti was sacked by Inter but it looks like he'll be working with largely the same squad as his predecessor. Club president Aurelio De Laurentiis has told the new manager there's no money for new players in this window, and the club could be set to cash-in on club captain and top scorer Lorenzo Insigne who is being looked at by Everton and Inter and is in the final year of his contract. GS
Whatever you watch, have a great weekend.