Weekend Boxset: Filthy lucre and dirty Mags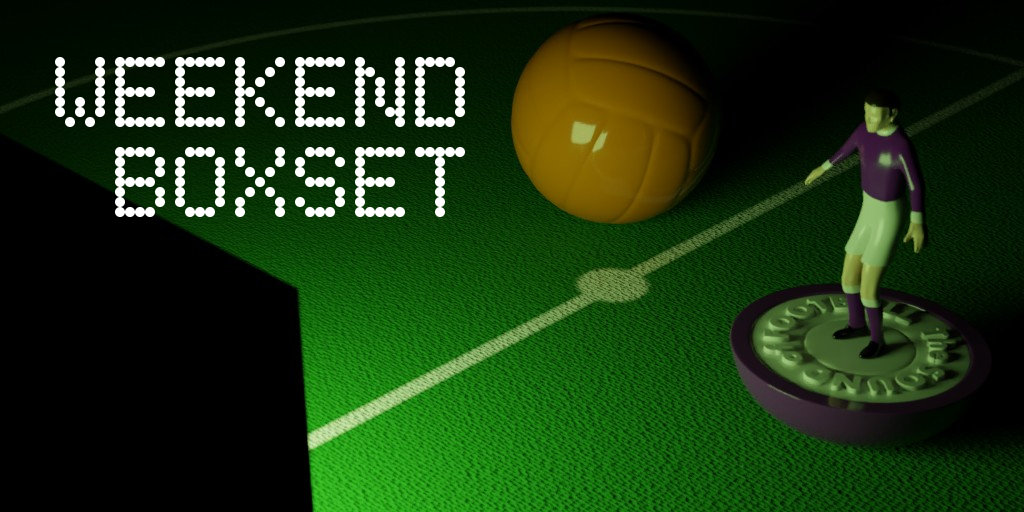 It's been a big week for Newcastle United off the field but now they have to start changing things on the field, in a game that could see both managers sacked after the final whistle.
Seven great matches to take you from Friday to Sunday. It's the Sound of Football Weekend Boxset.
Get the Weekend Boxset in an email every week
All times are BST
Friday
Bundesliga: Hoffenheim v Köln
19.30 on Sky Sports Football
There were a few raised eyebrows when Sebastian Hoeness was retained for another season. The former Bayern Munich II coach has had a pretty underwhelming time since joining at the start of the last campaign. However, Hoff are going through something of a grey mouse period in general so perhaps the powers that be don't see the harm in continuing with the 39-year-old and giving him time to learn his trade. I'm sure the fact that he's the nephew of former Bayern President Uli Hoeness and great mate of Hoff patron Dietmar Hopp has nothing to do with anything. Meanwhile, in Cologne, Effzeh have found their goat whisperer. Steffen Baumgart, formerly of Paderborn, has taken one of the least interesting teams from last season and made the fun, exciting and dangerous. His paunched belly, tracksuit bottoms, white flat clap and touchline antics that have enraptured the fans are the antitheses of the modern coach. But these affectations belie a keen man-manager and first-class tactician. Standout players are the midfield maestro Moroccan Ellyes Skhiri and powerful, demonstrative Anthony Modeste. TD
Saturday
Championship: Fulham v Queens Park Rangers
12.30 on Sky Sports Football
As rivalries go, West London derbies aren't noted as being particularly vociferous, which might be down to the fact that the protagonists rarely stay too long enough in the same division to generate the required amount of beef to get fans in a fluster. Today though we can look forward to two crackers from either end of the Boat Race course. First up, Fulham welcome their (albeit brief) former landlords with both sides in the play-off positions and both leading the table on goals scored. QPR's strong start to the season was halted by three straight defeats but there's no shame in losing by the odd goal to West Brom and Bournemouth and they have since won their last two. Fulham however will have had the international break to stew over what happened in the 4-1 home defeat to Coventry. Mark Robins' side went into the game against Fulham on the back of a 5-0 defeat to Luton and when they went in at half time a goal down, it seemed that Coventry's decent start to the season had come to a predictable end. In form Swedish striker Viktor Gyokeres had other ideas, capitaliing on a meltdown in the Fulham defence. A wake up call for Marco Silva in his side's hunt for another futile season in the top flight. GS
Premier League: Brentford v Chelsea
17.30 on Sky Sports Premier League & Main Event
Having provided two belting games against Arsenal and Liverpool at their new home stadium, another barnstormer is expected as Brentford host top of the table Chelsea. Thomas Frank's side keep pulling out top drawer performances away as well at home. Ivan Toney has drawn many of the plaudits in that time but the performances of Ethan Pinnock, Bryan Mbeumo and goalkeeper David Raya are also worthy of recognition. Chelsea's top position in the early table is all the more impressive when you remember they've already played all their Big Six rivals with the exception of United - three of which were away from Stamford Bridge. While there is little historic rivalry between the sides - they've played more friendlies against each other than competitve games - the atmosphere should be electric, which should translate to a breathless display on the field. As London derbies go, this one should tell us a lot more about Tuchel's Chelsea than their straightforward wins over Spurs and the Gunners. GS
Ligue 1: Lyon v Monaco
20.00 on BT Sport 3
Tenth place after nine games is not exactly the start to the season that Lyon had in mind. After finishing fourth under coach Rudi Garcia, last season, big things were expected with incoming coach Peter Bozs. However, the likeable Dutchman with an agreeable playing style has not really lived up to his Ajax days in the middle of the last decade and OL have too many draws. Rayan Cherki the latest hotly tipped graduate of Lyon's famed academy system was expected to break through this season. But the 18-year-old, who has drawn comparisons with former player Karim Benzema, is yet to come out of the blocks. All of that said, the season is still young and OL are just one point behind their opponents, who are in sixth. Nico Kovac's team haven't lost in all competitions since a 2-0 home defeat to Marseille, six games ago and have only lost once away from home in the league. Wissam Ben Yedder continues to be the most eye-catching player with five goals, so far this season. TD
Sunday
Championship: Swansea City v Cardiff City
12.00 on Sky Sports Football
The South Wales derby needs very little hype but instead of a contest between play-off challengers, as they have been for the past two seasons, this game sees both sides hovering above the relegation zones and separated by whoever has the least terrible goal difference. Mick McCarthy turned things around for Cardiff when he took charge in January, but having shored up the defence, it appears opponents have become wise to the gaping holes in midfield that appear when you just keep chucking centre backs at a problem. On a run of defeats and having been hammered by West Brom and Blackburn, Big Mick decided to shift to a back four for the game against Reading. They lost 1-0, but the manner of the defeat shows promise that better times could be ahead. Despite being in the same area of the table, Swansea don't appear to be in as bad a place as Cardiff right now. Too many draws is what's keeping Russell Martin's side down. All signs point to another one here. GS
Premier League: Newcastle United v Tottenham Hotspur
16.30 on Sky Sports Premier League & Main Event
Unless you've been on the moon, or perhaps locked up in a Saudi hell-hole for insulting the absolute monarchy, you'll be well aware that today's hosts are now under new ownership. After fourteen hellish years under the ownership of wide-boy billionaire, Mike Ashley, the Geordie Nation breathed a collective sigh of relief when he finally sold up and walked away with £305 million. The issue for anyone interested in the game, or indeed human rights, is where that £300 million came from. Saudi Arabia's Public Investment Fund have stumped up 80% of that figure and have promised a massive injection of investment into the long suffering club. In a drive to prove they're not that evil after all, Crown Prince Mohammed bin Salman ploughed his nation's considerable wealth into Facebook, Disney and Uber. Possibly admitting privately that he didn't think those investments through, he turned his attention to those perennial, lovable underdogs on the Tyne to wash clean his country's god-awful reputation. Of course, the Geordie Nation can't help who owns their club; modern football is owned by a clutch of play-boys, oligarchs, subversive nation states and puppets of the Chinese Government. In truth, the majority of the fans are overjoyed, not that they're now followers of the richest club on earth, but that their beloved Newcastle is no longer in the hands of Mike Ashley. This Sunday, they get their chance to celebrate that fact. A sold out St James' will bear witness to the beginning of a new era, not just for this set of supporters, but for the wider football world. This may spell the end of football, but watching the (dirty) Mags's ascent will be a lot of fun. Incidentally, there is a match going on at the same time, which does actually matter to both sides. There are doubts that Steve Bruce will be there (why would he want to be?), and defeat might just mean that Nuno is out on his ear. Lots to see here. The football is second fiddle to the spectacle this, no-doubt, will be. Truly unmissable. JB
Serie A: Juventus v Roma
19.45 on BT Sport 1
There was a time when the two managers here would have been near the top of the list as most likely replacement for Steve Bruce at newly monied Newcastle. Two seasons ago either Allegri or Mourinho would have made that required statement of intent to make people sit up and take notice. As it is this game looks to be one between sides looking to remain in the Champions League reckoning rather than mounting a serious attempt to catch the fast disappearing Napoli. In fairness, Allegri has a very different Juventus side to the one he last managed and has put three wins together since their horror start to the season. Given the position they were in, the manner of those wins probably shouldn't be questioned but they were unconvincing - needing a very late Locatelli strike to win the Turin derby, and having to come from behind to beat lowly Spezia. Mourinho's bright start in charge of Roma has stuttered with defeats to Lazio and Verona. That derby defeat could have been very different had Lorenzo Pellegrini not been suspended for it having been sent off in the final minute of the previous game against Udinese. Pellegrini has been the star man for Mourinho's side this season and will be the one to watch here. GS
Whatever you watch, have a great weekend.