Weekend Boxset: Super-er Sunday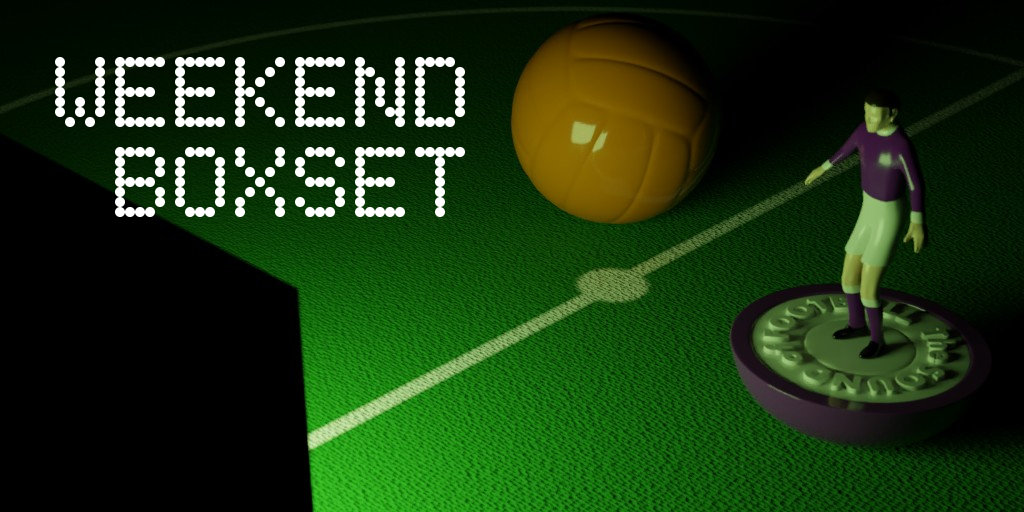 Some weeks it's an easy job picking the games for this collection of previews. Other weeks, the schedulers seem to conspire against us, putting some of the biggest games on the planet right up against one another. This Sunday is one of those days - you might want to sort out a second, maybe a third, screen.
Seven great matches to take you from Friday to Sunday. It's the Sound of Football Weekend Boxset.
Get the Weekend Boxset in an email every week
All times are BST
Friday
Premier League: Arsenal v Aston Villa
20.00 on Sky Sports Premier League & Main Event
Just one point and one place separate the two sides kicking off your weekend. Both will have made the most of a full week without a match following difficult ties last time out. The more positive of the two was Arsenal's comeback against Patrick Viera's Crystal Palace where Alexandre Lacazette ensured a share of the points with a goal in the 94th minute. That said, Palace bullied them off the ball on the way to scoring both of their goals last week, perhaps underlining how much they miss Xhaka's physicality. For their part, Villa were 2-0 up against West Midlands rivals, Wolves, with eighty minutes gone, only to throw it all away. They were good for the lead they inexcusably gave away, and have taken points off United, Everton and the (dirty) Mags (who hasn't?) so far this season. A win today for Arsenal will see their unbeaten run stretch to six games; not bad for a side every man and his dog wrote off before August was done. Aubameyang has scored in each of the last three home games, but they may well struggle for pace if Saka fails to recover from his calf injury. Personally, I think the Gunners have enough to overcome this villa side. 3-1 to the Arse. JB
Saturday
Championship: Cardiff City v Middlesbrough
12.30 on Sky Sports Football
A mere week after Steve Bruce was inducted into the LMA Hall of Fame (and then became jobless) it's fitting that we have an encounter between two managers that are already in that exclusive club. These managers have crossed swords in the dugouts 19 times - more than anyone else they've faced in their long careers. Neil Warnocok edges it slightly with nine wins to seven and should extend that lead here having hit a patch of good form after a slow start to the season. We featured Cardiff last week in the South Wales derby, which the Bluebirds lost, badly - their seventh defeat in a row. And things don't look like improving any time soon given their shaky financial position. Owner Vincent Tan's leisure business empire has been hit hard by Covid and the club has three large court cases hanging over them which could cost the club in excess of £40 million. All of which means McCarthy's position is perhaps more secure than you would expect with the club unlikely to part company with him when he's contracted to the end of next season. GS
FIFA Women's World Cup 2023 Qualification UEFA Group D: England v Northern Ireland
17.30 on ITV
Another milestone moment for women's football in England as the Lionesses play their first competitive match at Wembley. Competitive in the sense that the result means something but, on paper at least, this should be a comfortable win for England. Northern Ireland's only two WSL players in ther squad, Everton's Simone Magill and Birmingham's Rebecca Holloway, look set to miss the game which won't help their chances. As a team, Northern Ireland are an improving side, evidenced by their inclusion in next Thursday's draw for Euro 2022 to be held in England next summer. They qualified by way of beating Wales to the play-offs, by away goals on head to head record, where they beat the more fancied Ukraine in both legs. Whether they reach the play-offs this time around will largely depend on how they do against Austria who they face on Tuesday in Belfast. The play-offs for the Women's World Cup this time around are very complicated affair: essentially if you get there with a good record you can get through by winning a single game, if not you might have to compete in a mini-tournament in Australia or New Zealand in early 2023. GS
Serie A: Bologna v Milan
19.45 on BT Sport 1
In football terms, Bologna is a name of the past - a side that dominated the pre-war early days of Serie A but has to look back to the 1970s for its last silverware. In modern times,
I Veltri
have suffered financial mismangement like so many other Italian sides but have held on to a top flight place for all bar four of the past 25 seasons - invariably in the lower part of mid-table. Not much more was expected of them this season but if their 3-0 victory over Lazio a couple of weeks ago is anything to go by, they could be a side to watch. That result kept Sinisa Mihalovic in his job at the club, but also highlighted some of the young international talent he's assembled there. 22 year old Gambian striker Musa Barrow scored the opener and is developing a key partnership with the more experienced Marko Arnautovic leading the line. 21 year old defender Arthur Theate scored the second and was then called up into the Belgium squad for the Nations League Finals. The third was scored by yet another exciting Scottish left wing back, Aaron Hickey, who at just 19 has already caught the eye of a number of Premier League clubs. Milan are still unbeaten in Serie A but come into this on the back of a third straight defeat in the Champions League, this time away to Porto. GS
Sunday
Bundesliga: Köln v Bayer Leverkusen
14.30 on Sky Sports Football
Introducing the derby that's not a derby. Leverkusen is the next town over to Cologne. The
Werkself
fans hate Köln who in turn are more contemptuous and regard Monchengladbach as their proper rivals. B04 are plastic and unworthy of the term, according to
Effzeh
. That said it's harder to patronise a club to which you frequently lose: of the 14 games played in the last decade, Leverkusen had won seven to Köln's three. Both teams had an entirely forgettable last weekend. Bayer's 5-1 evisceration to Bayern Munich was foreseeable as much for their tendency to fade in the face of imposing opposition as the fact that Bayern are possibly the best club side in the world. But Köln 5-0 defeat to Hoffenheim was more of a shock. The goat whisperer coach Stefan Baumgart will expect a response. Skipper Jonas Hector should be back from injury but midfielder Ellyes Skhiri is crocked and will be missed. TD
Premier League: Manchester United v Liverpool
16.30 on Sky Sports Premier League & Main Event
Manchester United won their midweek Champions League game against Atalanta. Everything is fine. You can go about your business. Move along. While the heat of the moment narrative of Wednesday night was dominated by the excitement of the second half comeback from 2-0 down and the winner from Cristiano Ronaldo, the more measured reaction to the game came from Paul Scholes: "Go and do that on Sunday and see what happens. Jurgen Klopp will be rubbing his hands together." On last weekend's displays, United's late defeat to Leicester and Liverpool's steam-rollering of Watford, you can only see one outcome for this game. How will Ole get out of this scrape? Probably by throwing on a couple of £70 million forwards like he usually does. GS
Alternative viewing: We went with this game on Sunday afternoon but you're spoilt for choice with some of the biggest games in European club football happening around the same time. At 15.15 on LaLigaTV is El Clasico Barcelona v Real Madrid, while on BT Sport 2 from 17.00 is Roma v Napoli. Later in the day at 19.45 you have the Derby D'Italia Inter v Juventus on BT Sport 1 or Le Classique PSG v Marseille on BT Sport 2, either worthy of being in this Boxset but we've gone for...
La Liga: Atlético Madrid v Real Sociedad
20.00 on LaLigaTV
They may have played a game more than Sevilla, Real and Atlético Madrid but Real Sociedad's top spot is not undeserved. The Copa Del Rey holders are unbeaten since the first game of the season when they surprisingly went down to mid-table Barcelona. Here is a club with sound recruitment and a first-class academy and its virtues are being rewarded. But La Real are beset with injury problems, the latest being top scorer Mikel Oyarzabal with a muscle problem. So this would be a good time for Alexander Isak to notch his first league goal of the campaign. The highly-rated Swedish striker scored in the Europa League, albeit incredibly, fortunately, at Strum Graz last night. As reported in box sets passim, Atleti have needed late goals to purloin points and are struggling for rhythm despite being just three points from the top. Coach Diego Simeone is doing his best to take pressure off his players by wading in on the highly controversial coach's post-match handshake debate on Tuesday. Levity aside, the narrow Champs League loss to Liverpool was tough to take but will have put the player's backs up sufficiently to set up, what was already a tasty fixture. TD
Whatever you watch, have a great weekend.