Weekend Boxset: Washed out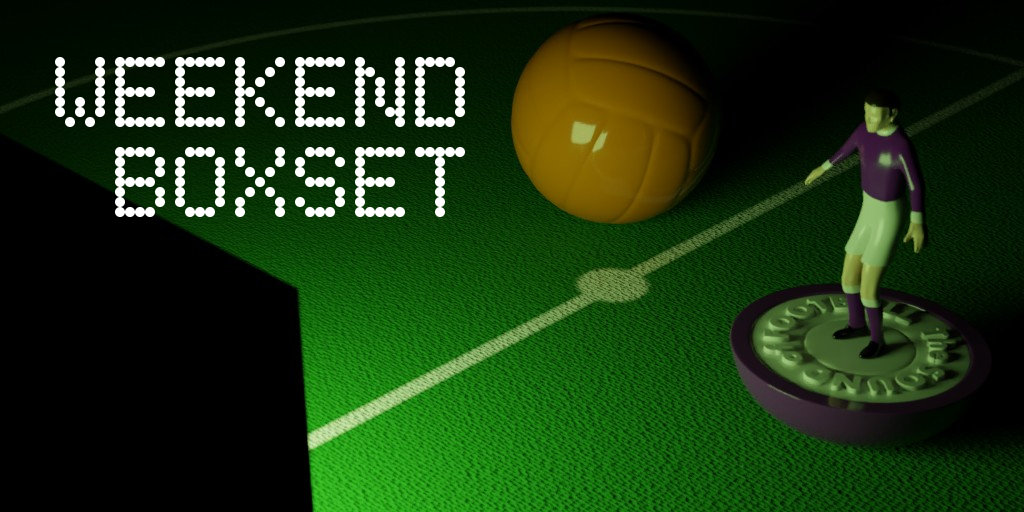 It's been a seismic week in the Premier League. It was already looking to be season of power-shifts but now all that narrative seems to boil down to one game at Stamford Bridge on Sunday
Seven great matches to take you from Friday to Sunday. It's the Sound of Football Weekend Boxset.
Get the Weekend Boxset in an email every week
All times are GMT
Friday
Championship: West Bromwich Albion v Huddersfield Town
20.00 on Sky Sports Football
If West Brom thought that their problems would be over when they wheeled in Steve Bruce, they were sorely mistaken. Since joining in early February, the Baggies have only one win which was last week against Hull City. Reports abound of dressing room splits and a disaffected squad that needs a refresh. One wonders why Bruce left the comfort of his money room to take on this thankless task. Despite his decent record at this level, the veteran coach has put a few noses out of joint through his career, including Albion's opponents. Bruce's second job was at Huddersfield back in 1999 and it ended acrimoniously with the then chairman casting aspersions about the manager's transfer dealings. The Terriers have had a tough time of it since their relegation from the Premier League and are undergoing a protracted change of ownership. On the pitch however, things are looking up under Carlos Corberán. After four straight league wins the Yorkshire club are third in the Championship, about where West Brom think they should be. Defeat in the Cup to Forest is a bit of a bummer but they must fancy their chances of bouncing back and taking the boing out of the Baggies. TD
Saturday
Premier League: Brighton & Hove Albion v Liverpool
12.30 on BT Sport 1
Have Brighton finished up for the season? Nestled in the middle of the table between other teams planning ahead for next season, the Seagulls appear to have been in their flip-flops since Christmas, safe in the knowledge that there were at least half a dozen sides that would be below them in the final table. Just three wins since September should be relegation form but until recently Brighton were getting by on draws. That's changed now though with four straight defeats; their worst run since Graham Potter took charge after the end of 2018/19. If they lose this one it will be the first time they've lost five league games in a row since Dean Wilkins was just about keeping them in League One back in 2007. If Brighton fans can draw on any hope, it should come from the display the team showed at Anfield in October, which saw them take a point having been two goals down in the first half (it would have been three without a VAR handball intervention). Since then Liverpool have been pretty much their usual irresistible selves but did suffer their first defeat since Christmas in the Champions League in midweek. Well defeat might be a little harsh: they were already 2-0 up on aggregate and were always going to see the game out after Alexis Sanchez picked up a second yellow just after Inter got their only goal. The card seemed a little harsh, for the spectacle of the game if anything else. GS
Premier League: Manchester United v Tottenham Hotspur
17.30 on Sky Sports Premier League & Main Event
The term "Spursy" doesn't just apply to Spurs, does it. In fact, the quality of producing wildly fluctuating performances and snatching defeat from the jaws of victory is one shared by most clubs. But because Spurs are one of the biggest, most traditional clubs and with a highly strung fanbase to adopt such characteristics, the naming rights go to them. What they're going through now is ultra Spursy. Time to crack open our heads and feast on the goo inside because we lost to Burnley and got knocked out of the cup by Boro. But wait, we've just put nine past Leeds and Everton. Save the goo for another day, lads. It's possible that, in time, this may change but I doubt it. You can't rewrite a club's DNA. Better to love who you are. Man United don't have the luxury of being labelled with fun attributes. They're just awful. The squad consists of either disinterested clock punchers or self-absorbed egotists. If you can't raise yourself to at least spare your dignity and put up a fight against your city rivals then you deserve everything Roy Keane has to give you. Let the halls of Old Trafford ring to the sound of Micah Richard's cackles. That said, no doubt there will be some performative bounce-back coupled with yet another burst Tottenham bubble and they'll be 3-0 up at half time so they can coast the rest of the game.TD
Scottish Cup quarter final: Hearts v St Mirren
19.45 on BBC Scotland & iPlayer
For the second season in a row, the Scottish Cup's quarter finals are all Premiership. Hearts have gone deep in this competition in recent years; losing finalists in 2019 and 2020. The sides faced each other in the league at St Mirren Park just a week after the draw for this tie was made. That game was Steve Robinson's first game in charge of the Buddies having taken over from Jim Goodwin, who left to take the vacant role at Aberdeen. Hearts ran out 2-0 winners but the match was turned in the middle of the first half by a straight red card for St Mirren's Conor Ronan, on loan from Wolves. Ronan has since made amends, getting an injury time winner in midweek against bottom side Dundee, giving Robinson his first win. St MIrren have already beaten one Hearts side on the way here, comfortably beating League 2 new boys Kelty Hearts in the previous round. The remaining ties in the round see Hibs travel to Motherwell (
BBC Scotland, Sunday 12.30
) while the Old Firm are both heading to Dundee: Rangers playing Mark McGee's Dundee FC (
Premier Sports 1, Sunday 16.00
) while Celtic take on Dundee United (
Premier Sports 1, Monday 19.45
). GS
Sunday
Premier League: Chelsea v Newcastle United
14.00 on Sky Sports Premier League & Main Event
Chelsea have gone from being one of the richest football clubs in the world to effectively in administration. The UK Government sanctions against the Blues' owner Roman Abramovich have resulted in spending and trading restrictions that, if they continue for much longer could, at the very least, put the club into actual administration. Hopefully for the fans, players and staff a new buyer can be found but it's likely that with the Abramovich era over, Chelsea's days as a top English and European club are numbered. So far the players have not been bowed by their abrupt change in circumstances. In so far as they did for Norwich on Thursday. Let's see how their resolve holds up as the sanctions start to bite. Perhaps Newcastle will see a power vacuum left by the west Londoners that they can fill. That's possible, assuming the fall of the Roman Empire doesn't spook their sports washing owners or that there are some wider restrictions on club spending that are enforced as a consequence. What we do know is that Newcastle are not going down and should be congratulated on their January recruitment. The tireless Chris Wood got his first goal for his new club last night against Southampton, as did Bruno Guimarães on his first start. Unlike Norwich, the Dirty Mags will be well up for this game. And with plenty of banter flying between the two sets of fans this should be emotional. TD
Premier League: Arsenal v Leicester City
16.30 on Sky Sports Premier League & Main Event
Ok, I think we can say it now, Arsenal are good. Not City good or Liverpool good. Not really even Chelsea (as was) good, but good nonetheless. Certainly good enough to finish the season in the Champions League places, though in honesty all that really requires is being better than Manchester United and Spurs. Slowly but surely Mikel Arteta is building his team with an exciting line up of young talent. Sure, they're still capable of almost messing it up - Moussa Sissoko's late goal for Watford last weekend gave Arsenal fans an unnecessarily interesting final five minutes - but served as a reminder that this still is Arsenal after all. Leicester haven't had the most memorable of seasons but it could still end in more silverware through the Europa Conference League. Having let themselves down in the Europa League they now find themselves with one foot in the quarter finals of UEFA's new third competition, having beaten Rennes 2-0 at the King Power on Thursday night. Maybe that goes some way to explain the difference between the two sides domestically: with Arsenal making the most of missing out on their usually regular Thursday night European football. GS
Serie A: Torino v Inter
19.45 on BT Sport 1
The absorbing title race in Italy looks like it should play out as expected this weekend with all three contenders in games they
should
win. All three sides held top spot at some point between Friday and Sunday with Milan finishing there at the end of the weekend by beating the previous week's leaders, Napoli. Inter had temporaily taken top spot on Friday with a comfortable win against bottom side Salernitana. That win broke a run of four games in the league without a win but now without the distraction of the Champions League (as mentioned above) they can now focus their energies on retaining their title. Torino are going through a bit of a sticky patch themselves have lost their relatively good home form. But they remain capable of giving anyone in the division a game. The only time they've lost by more than one goal this season was in the crazy finish at Udinese at the start of February. The game was goalless when the fourth offical signalled an extra five minutes to be played. Injury time saw a red card for Torino's Rolando Mandragora and two goals for Udinese. It was a first half Denzal Dumfries goal that settled it for the home side when these two met at the San Siro at Christmas, it's likely a single goal will be the decider this time too. GS
Whatever you watch, have a great weekend.