Weekend Boxset: Fairytales and nightmares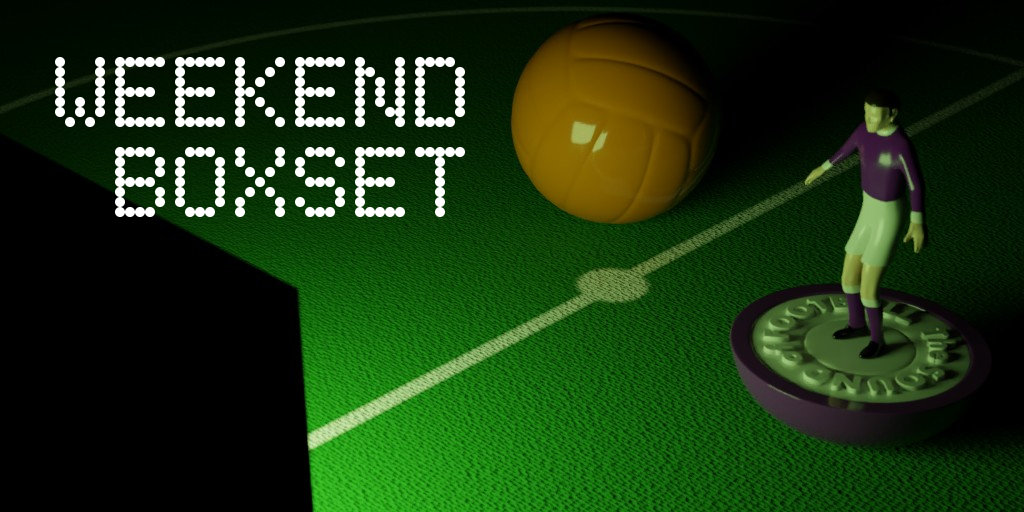 This week we have a number of games that might be a little over-hyped - but that shouldn't put you off watching them. We've also got an intriguing Copa del Rey final as well as a potential fairytale, as a team of part-timers try to make it to the top flight of Scottish football.
Seven great matches to take you from Friday to Sunday. It's the Sound of Football Weekend Boxset.
Get the Weekend Boxset in an email every week
All times are UK (GMT+1)
Friday
Scottish Championship: Kilmarnock v Arbroath
19.45 on BBC Scotland & iPlayer
Both teams were relegated from the top flight when the league was restructed in 1975, Kilmarnock missed the cut off by just two points and are were soon back playing with Scotland's elite. Arbroath meanwhile were a distant bottom that season. Since then, they've bounced around the lower divisions, never playing in the reduced top flight, but that could be about to change. The Red Lichties are just a point behind table leaders Kilmarnock in the chase for the only automatic promotion place to the Premiership. Expect a very tight game that could well be decided by a single goal. After three meetings between the sides this season Kilmarnock have yet to score, while Arbroath have grabbed second half winners in the two most recent games. Now 68, Arbroath manager Dick Campbell is a seasoned campaigner in the mid-divisions of Scotland. Having taken charge of the side in 2016 when they were near the bottom of League Two, he's now on the brink of winning his third promotion with his part-timers. Arbroath have proven to be hard to beat this season (unless you happen to be Inverness - responsible for half of their four losses) but should they lose today they will still be almost assured to take second place. While that would be a disappointment, it would give his side their highest finish in decades, as well giving them the seeded route into the Premiership play-offs. It was the play-offs that did for Kilmarnock last season, ending an unbroken run of 28 seasons in the top flight. Having finished second from bottom in the Premiership they were beaten by Dundee in both legs of the final. GS
Saturday
Premier League: Arsenal v Manchester United
12.30 on BT Sport 1
It's been almost 20 years since this fixture was the biggest game of the season, now not even in Sky's prime slot, it's up to BT to market a fixture that to many looks like two bald men fight over a comb. Arsenal were having one of the best seasons for a while until a run of three defeats against opponents that while tricky were beatable. Before the midweek win at Stamford Bridge, it emerged in
The Athletic
that Arsenal were to employ the services of a consultancy firm to analyse the culture of the club in a bid to rediscover the magic they once had, in a project they've called
The Arsenal Way
. Shoreditch-based brand consultancy People-Made have worked with businesses as diverse as Harrods, Virgin, Burger King and Stella McCartney. Whether this will be enough to turn Arsenal into genuine challengers is yet to be seen but for both clubs it seems clear that just getting different players may not be the answer to their problems. For years it was convenient and largely accurate for these sides to blame their downturn on an inability to compete with financial loss-absorbing sportwashers. However recent years has seen the success of first Leicester and now Liverpool - clubs that spent money on the players they needed and got the best from them. Less than a week on from another humiliation against Liverpool, United handed the keys of the club to Ajax boss Erik Ten Hag - their fourth head coach of the season. Of course, all the talk is of which players are going out and which players are coming in - all the talk that is, which isn't concerened with the growing unrest among the United fanbase surrounding unfulfilled promises from Joel Glazer in the aftermath of the ESL collapse. Maybe while they're at the Emirates they should also take a few cards from the brand people. GS
Bundesliga: Bayern Munich v Borussia Dortmund
17.30 on Sky Sports Football
You may recall the last encounter between these two: a 3-2 win by the Bavarians that had BVB's Jude Bellingham so angry with the referee, Felix Zwayer that the Englishman almost ended up in court and Zwayer had to take a holiday. That win was the seventh straight victory for Bayern against Dortmund. And in the last ten seasons the Ruhr club had only won once in the Bundesliga, making this a one-sided rivalry. Dortmund's last win against Bayern was in the cup in 2017. The backdrop to this game, on Dortmund's side is the impending announcement that Erling Haaland is taking an emotional journey to the land of his father: Manchester City. However, the Norwegian is still focussed on his current team and scored a brace in the 6-0 demolition of Wolfsburg last weekend. Meanwhile, Julian Nagelsmann's chops are under scrutiny following an unconvincing win over Bielefeld and unexpected Champions League exit to Villarreal. This Bayern team is far from its best and should have been put under greater pressure by Dortmund and Leipzig. But if Bayern win, they may be crowned champions for a 10th successive season. Something Borussia Dortmund will try to stop happening in this match. TD
Copa del Rey Final: Real Betis v Valencia
20.00 on Premier Sports 1
A cup final between two teams with very different playing styles, both desperate for silverware. Manuel Pelligrini's Real Betis play exciting attacking football. In contrast, Valencia opt for high-level shithousery, under coach Jose Bordelas. In this week's pod I was critical of Bordelas' tactics but the fact is, the former Getafe coach has done a great job making the one-time Spanish giant relevant after years of mediocrity and mismanagement. That said,
Los Che
did lift the trophy as recently as 2019. Similarly, Betis thanks to good stewardship, look like achieving ambitions appropriate for their huge support base and massive stadium. With Sevilla's European exploits in recent years and Betis' emergence we are seeing the rise of football in Andalusia to the national stage. Betis won their second and last Copa del Rey in 2005. It's possible that Pelligrini's side may miss out on Champions League football, but a cup win will make up for that. Both sides lost in the midweek fixtures, no doubt with their minds on this game. The final is being played in front of a full house at a neutral venue although Betis may have the advantage as it's in their home city of Seville. TD
Sunday
Premier League: Chelsea v West Ham United
14.30 on Sky Sports Premier League & Main Event
We're in that period of April where the end of the season is before the horizon but there is still quite a lot of football left to play. Chelsea have got their cup final appearance: that's safe. But there is still the small matter of retaining their Champions League place. While the Blues are probably in the box seat to take third or fourth, the work still needs to be done and the club's new owners will have their balance sheets at the ready to calculate the extent of the budget cuts, depending on the outcome of the league season. The Legitimate Businessmen who take over at Stamford Bridge will not underwrite the club to the extent of their predecessor. There are bound to be cutbacks, starting with coach Thomas Tuchel if he messes up the Premier League season. Happily, the happy Hammers have no such pressure. David Moyes' team have dropped off but for a perennial mid table club these are golden days. A return to the Europa League next season is well within their reach. That is assuming they don't play in the Champions League by winning the Europa League which they must be favourites to do. TD
Premier League: Liverpool v Everton
16.00 on Sky Sports Premier League & Main Event
Everton's 2-0 victory at Anfield was only 14 months ago but considering the journey both clubs have taken it could be 14 years. The Toffees, led by Carlos Ancelotti, took full advantage of Liverpool's post title hangover season to register a famous and rare win. Were that result to be repeated this weekend it would come as a major shock. It may be Premier League hyperbole but folk are saying that Liverpool are one of the best teams in Europe and in another league would be strolling away with the title. As it is, Jurgen Klopp's championship aspirations rely on winning every single game between now and the end of the season and hoping (probably in vain) that Manchester City drop points. Normally a fierce derby against city rivals would be a potential banana skin. And on paper, it is. However, if Liverpool can't beat Frank Lampard's Everton then they deserve second place and we should all dial down the hype. Everton can look to a hard-fought point against a meandering Leicester City for encouragement but recent defeats to Burnley and even worse, Manchester United show that this is a team, barely worthy of being called a Premier League club. TD
Serie A: Lazio v Milan
19.45 on BT Sport 1
This is second part of a Milan v Rome double bill this weekend, after Inter host Roma (Saturday 17.00 on BT Sport 3, once the embargo's finished). Milan still hold the lead in the table though Inter have an all important game in hand and, as well as looking to retain their title, are chasing the double. Milan head coach Stefano Pioli led Lazio to third place in 2015 but was relieved of his duties during a disappointing campaign the next season and was replaced by Simone Inzaghi, who managed them for the next five years (except for two days when Marcelo Bielsa was charge - but that's a whole other story). Inzaghi is now at Inter, and it's now former Chelsea and Juventus manager Maurizio Sarri in charge. After a season of so-called Sarri-ball - his system of high-pressing and pushing-up quickly from the back - things haven't really changed that much at Lazio: they're still outside the top four and still relying on Ciro Immobile for a good chunk their goals. That said, in the second half of the season they've been as good as any of the sides in the Champions League spots and only Inter have outscored them. With only four games to go after this one, this is Milan's toughest match of the run-in as they chase their 19th Scudetto and first since 2011. GS
Whatever you watch, have a great weekend.