Weekend Boxset: Premier League winners 2021/22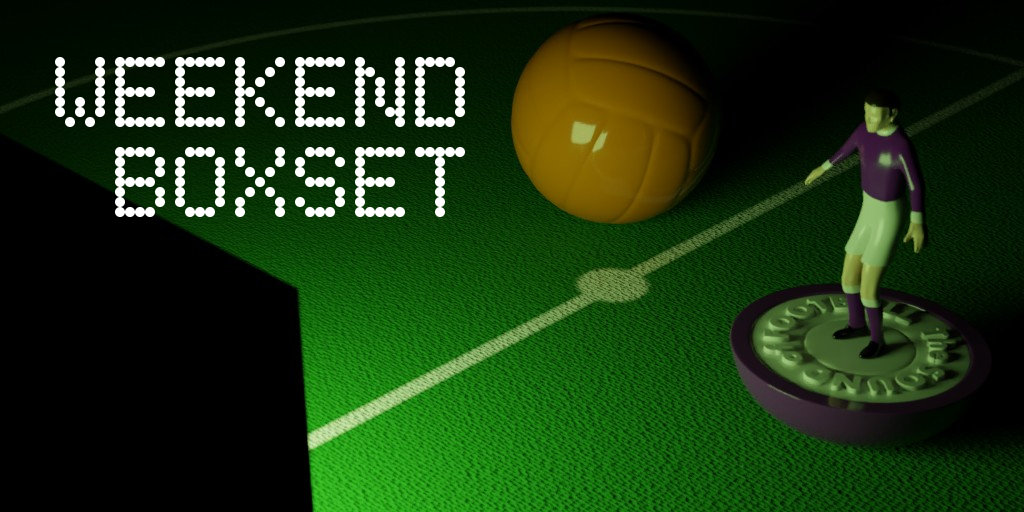 This weekend is dominated by the clash between first and second in the Premier League. Far away from everyone else but just a point between them. It's 2018/19 all over again - almost as if Covid never happened.
Seven great matches to take you from Friday to Sunday. It's the Sound of Football Weekend Boxset.
Get the Weekend Boxset in an email every week
All times are UK (GMT+1)
Friday
FIFA Women's World Cup 2023 qualifying - UEFA Group I: Wales v France
19.45 on BBC Two Wales & iPlayer
It's the penultimate international break for World Cup qualification. Wales currently sit second in their group just two points ahead of Slovenia. For the Welsh a win would not only make their position in the table more secure, it might also see them finish as one of the better runners-up, which is an important consideration when it comes to the complicated play-off system. The nine sides finishing second in the UEFA groups will be ranked according to their performances. The best three get to skip the first round of play-offs, and then play the winners of the three games played between the remaining six. With me so far? The three winners of those games are then ranked on qualifying and play-offs, and the best two qualify for the finals. The winning side with the worst record goes into an inter-continental mini-tournament in Australia and New Zealand next February with nine other sides from across the globe to decide the final three places. France won't officially secure qualification with a win but they'll need just a point from their last three games. If you want to extend your viewing, feel free to tune into the first half of the formailty that will be England soundly beating North Macedonia on ITV4 (kicking off at 19.00). GS
Saturday
Premier League: Everton v Manchester United
12.30 on BT Sport 1
Don't worry Everton fans, Frank Lampard has an excellent record in the Championship. Well, he doesn't really but hey, if Marco Silva can lead a team out of the Championship then Frank Lampard shouldn't have any problem doing the same. Relegation concerns became very real indeed for the Toffees this week with a 3-2 defeat at Turf Moor. Now they sit just a point ahead of Burnley and the dropzone. After 68 unbroken seasons in the top flight, Everton could be about join a special list of sides that were too good to go down, until they did. As with Forest, Villa and Newcastle in the Premier League era alone, history won't save you - although UEFA seem to have some ideas about that. The news from European football's governing body that the Champions League will introduce qualification through a side's coefficient ranking is good news for sides like United who, this season at least, face an uphill challenge to qualify for the better European competitions. Sadly for them, the new rules don't come into place until 2024 so they will just have to do it the hard way for now. However, if they fail to qualify for any European competition this season and the next, the damage to their ranking could mean that even these questionable changes may not be able to help them. GS
Bundesliga: Hertha Berlin v Union Berlin
17.30 on Sky Sports Football
It is still something of a novelty to see a Berlin derby in the Bundesliga, with Union being very recent additions to Germany's top flight. However, in the nearly three seasons since their promotion,
Die Eisernen
have overcome Hertha to become the best club in the capital, much to the chagrin of the
Die Alte Damen
. Urs Fischer's team have had a few setbacks, in particular losing striker Max Kruse to Wolfsburg in January. But the Nigerian forward Taiwo Awoniyi has filled the breach and they are in a comfortable eighth place. The 24 year old was on loan from Liverpool last season and signed permanently in the summer. There is talk of a return to England. Hertha meanwhile are a basket case with an overpaid rabble of a squad who have resorted to hiring Felix Magath as their third coach of the season. A brief spell in China aside, the veteran hasn't worked since he was at Fulham in 2014 and his methods are considered to be a touch out of step. But he has one win out of his two games and he can be relied upon to set his team up to be hard to beat underdogs. TD
Further reading:
You can read an extended preview of this match in Terry's blogpost, which looks at the rich culture of football in Berlin.
La Liga: Real Madrid v Getafe
20.00 on LaLigaTV & Premier Sports 2
So this is a local derby but a very friendly one. Getafe was formed in 1982 from the merger of two clubs, one which was founded by Real Madrid fans living in the town. Their stadium is named after a legendary Madrid player (Alfonso Pérez) who hailed from Getafe but never played for the club. This is not to say that Getafe are in any way subservient to their illustrious neighbours. In fact in the last two encounters between these two, the smaller club are unbeaten; winning 2-1 in the reverse fixture in January and managing a goalless draw in April last year. However, both those games were at home and their record at the Bernabeu is quite different. The last time Getafe won in Madrid was February 2008, so I would not be putting any money on a surprise away win. Real Madrid may have been fortunate against Celta last weekend but ruthless against Chelsea on Wednesday with Karim Benzema now in his imperial phase. Quique Sánchez Flores' best hope is that the opposition are a little jaded after their emotional night at Stamford Bridge. Otherwise it's three more points and one step closer to the title for Real. TD
Sunday
Premier League: Norwich City v Burnley
14.00 on Sky Sports Premier League & Main Event
Before the tie to decide the winners of this season's Premier League, we have a scrap between two sides trying to remain in it. With the number of potential sides available to replace them in the dropzone whittling down to just one, Everton, the likelihood is that there will be no escape for at least one of these teams. For Norwich, a sixth Premier League relegation looks very much like business as usual - take the hit, enjoy the parachute payment, get promoted again. For Burnley, their five unbroken seasons in the top division have seen them finish top half twice and even given them European football (although admittedly a very short run). Both sides lack goals, a problem that has become more acute for Burnley since losing their top scorer for the past four seasons Chris Wood to Newcastle in the January window. For Norwich, the problem is even more alarming: aside from Teemu Pukki (who has eight), the only other player to score more than one goal this season is Josh Sargent - and he got both of his in the same match against the other relegation-placed side Watford. A draw here looks inevitable but will not suit either side, especially if Watford manage to pick up three points from their home game against Leeds on Saturday. GS
Premier League: Manchester City v Liverpool
16.30 on Sky Sports Premier League & Main Event
The first of a double-header between these two top sides in English football. After this match there is the FA Cup semi final the following week. Both teams did well to negotiate their way past the first legs of their Champions League matches on Tuesday. And with just a point separating them at the top of the table, this game takes on genuine significance even if it's a touch hyperbolic to call it a title decider. Neither side have any new injury problems so there can be few excuses on that score. But recent form between these two sides favours the Manchester club. Liverpool have not won at the Etihad since they knocked City out of the Champions League in 2018 and they have not won in the league since November 2015. But in view of the stakes and the form of both sides I think we can discount the head to head. The Reds have won their last 11 domestic games while City have dropped points recently at Crystal Palace and were defeated at home to Tottenham Hotspur. I think that the draw looks most likely to me. Four of the last eight encounters have ended honours even. TD
Serie A: Torino v Milan
19.45 on BT Sport 1
If it's Sunday night it must be time for the next thrilling installment of the Italian title race. In last week's episode, Inter clawed their way back into contention with a 1-0 win in the Derby d'Italia, while Milan saw their lead at the top of the table shrink to just one point as they failed to convert any of their 33 goal attempts in a goalless draw with Bologna at the San Siro. It marks a worrying trend for the Rossoneri, as they've scored just four goals in their last six games. Thankfully for them they've only conceded one goal in those games, which has kept the results coming in. Torino are not a side you want to play if you're looking to rediscover your scoring touch - only the top four sides have managed to concede fewer goals all season. Comfortably safe from any relegation worries but far adrift from the European places, Torino haven't much left to play for in the remainder of the season but have already added a twist to the title race: it took an injury time Alexis Sanchez equaliser for Inter to rescue a point in Turin last month. With both Inter and Napoli playing at home this weekend we could see yet change at the top of the table going into next week. GS
Whatever you watch, have a great weekend.