Weekend Boxset: Berlusconi returns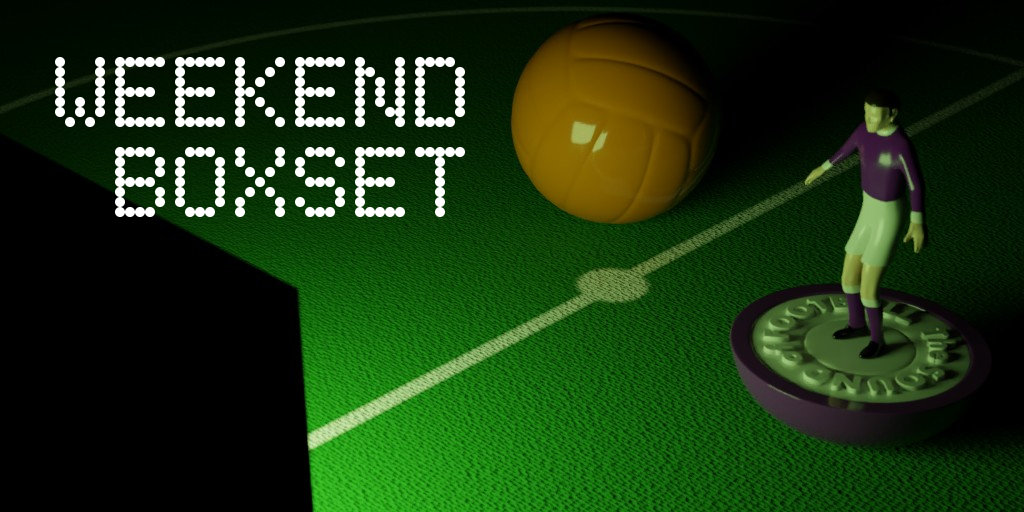 Gerrard v Lampard. Berlusconi back in Serie A. It's just like the old days.
Seven great matches to take you from Friday to Sunday. It's the Sound of Football Weekend Boxset.
Get the Weekend Boxset in an email every week
All times are UK (GMT+1)
Friday
Championship: Watford v Burnley
20.00 on Sky Sports Football & Main Event
It's fair to say that Watford go through their managers with the same grace and dignity that Norovirus has as it negotiates its passage through the human body. This being the case, you'd expect someone with the obvious potential of Rob Edwards to have chosen his next step more carefully. Perhaps a stint as a dental hygienist for a Great White shark would have more longevity than Head Coach of Watford. Unless it's all about the money, which, of course, I'm not suggesting for a second. To be fair, Watford have started well, and perhaps a young forward thinking coach is just what they need to add a little stability. Also interesting, is what Vincent Kompany is doing up at Burnley. Having raked in tens of millions selling the some of their best players which, to be fair, got them relegated, Kompany has brought in about a dozen players ranging from his native Belgium, Manchester City and Chelsea's youth sides and a few starlets from the EFL. What is encouraging is that Burnley, in contrast to their approach of recent years, are playing with the same possession based game that Kompany learned in his time with City. It is only two games, but there may be signs that both of these clubs may be throwing off the shackles of years of dogma and attempting something of a reinvention. Well worth a watch, this one. JB



Saturday
Premier League: Aston Villa v Everton
12.30 on BT Sport 1
With win percentages in the mid-30s, the uncomfortable midfield pairing of England's so-called Golden Generation have still to convince as Premier League managers. Lampard's side did well enough against an under-cooked Chelsea side, losing to a second half penalty, the only goal of the game. Villa's opening day defeat to Bournemouth however was much more concerning. Philipe Coutinho, whose loan from Barcelona was made permanent in the summer, is still struggling to recapture the good form he showed when he returned to the Premier League in January. But what has Villa fans more worried is the current situation with Tyrone Mings. Gerrard has clearly had a falling out with him, stripping him of his captaincy and leaving him to watch from the bench as Villa struggled to contain the newly-promoted Cherries. While incoming centre half Diego Carlos from Sevilla is a fine addition to the starting line-up in his place, Mings is popular amongst fans and team-mates, and any problems between him and the manager could be indicative of deeper issues within the squad. Both managers need the win, the question is how badly. GS



Premier League: Brentford v Manchester United
17.30 on Sky Sports Premier League & Main Event
So much for the honeymoon, darling. Erik ten Hag's first proper game as Manchester United boss revealed the full extent of the challenge. The Dutchman's had a great coaching career so far but United is not Ajax. The Amsterdam club is so well run that it could make average managers look good. United on the other hand are a mess and these are far from optimal conditions for the 52-year-old to take charge. Moreover, his transfer targets, including his dogged pursuit of Frenkie De Jong as though he were the only midfielder in the world, the decision to play Christian Eriksen up front for the first time in over a decade plus his handling of Cristiano Ronaldo does not reflect well on his leadership so far. Meanwhile, in the crumbling stands of Old Trafford another fan protest is in the offing. It's good to be back, isn't it? Brentford may have said goodbye to the aforementioned Eriksen but have strengthened in the summer and you won't find them on that many coupons to be relegated come May. They fought back well against Leicester last weekend and will relish their potential role in the United Psychodrama this weekend. Bring popcorn. TD



Serie A: Monza v Torino
19.45 on BT Sport 3
Milan hold the Scudetto, Berlusconi is back in Serie A. James Richardson is presenting the coverage in the UK. Is it the early nineties all over again? A quick look at my waistline says definitely not. But there is a nice old school feel about Italian football again. Former AC Milan owner, Silvio Berlusconi, assisted by his long-time lieutenant Adriano Galliani, is now owner of newly promoted Monza, the latter being a lifelong fan. Berlusconi took over in 2018 and they have risen from the depths of Serie C to the top flight for the first time in their history. I wonder what the Duce's angle is? Is it love or another strategic play for world domination? In any event, now that they're up, the Biancorossi are planning on staying there. "It took Monza 110 years to win promotion," said Galliani, "so I really don't want it to take just a year to go back down." Much hinges on 27 year old midfielder Stefano Sensi who is on loan from Inter. A good indicator of their prospects will be how they get on against a Torino side who are expected to be resolutely mid-table again this season. TD



Sunday
Premier League: Nottingham Forest v West Ham United
14.00 on Sky Sports Premier League & Main Event
It should be a wonderful atmosphere in the Sunday sunshine for the first Premier League game at the City ground since May 1999. Of course back then they called it the Carling Premiership, but having already been relegated three games earlier, they signed off with a home win against Leicester in what was Ron Atkinson's last game as a football manager. 19 managers and a three season spell in the third tier tells you most of what you need to know about what's been going on at the club in the intervening years. Steve Cooper will have easier games this season than their opener away to Newcastle. His side did well to hold out for almost an hour of constant pressure but will be looking for a more expansive performance against a West Ham side who have only won once on the road since New Year's Day. The Hammers had to put up with being the Aunt Sallys of the opening day, being the victims of Erling Haaland's rampaging Premier League debut for the Champions. West Ham were still in the Champions League places as late mid-February last season and with Declan Rice still at the club and new options up front coming in they will still consider themselves more than capable of another European place. Thankfully no one has to play City every week, or Newcastle for that matter. GS



Premier League: Chelsea v Tottenham Hotspur
16.30 on Sky Sports Premier League & Main Event
The addition of Richarlison and Ivan Perisic to the Spurs squad have certainly caught the attention in the summer window, but it was the January window where the work really began. The Juventus pair of Dejan Kulusevski and Rodrigo Bentacur had a transformative effect on Antonio Conte's side when they joined on loan at the start of the year. The former continued his good form in the opening weekend, scoring one and creating another, adding to his 13 goal involvements in 18 Premier League games last season. The 22-year-old is contracted to his parent club until the end of next season but having failed to impress Allegri is likely to see that out in London. I mentioned last week that with so many attacking options for Chelsea, some may be considering their future at the club, and sure enough, come Monday, Callum Hudson-Odoi had put in a transfer request. While the rumour mill is still suggesting Chelsea will remain bullish in the transfer market - including hijacking United's chase for Frenkie de Jong - there could be just as many going the other way. Received wisdom in this matter is that successful clubs get their business in early, this match might be a good test of that theory. GS



La Liga: Almeria v Real Madrid
21.00 on LaLigaTV & Premier Sports 1
It's been seven seasons since Almeria said adios to La Liga and until recently a return looked unlikely. But then the Andalusian club won cochona in the bingo and were bought by Saudi Arabian minister Turki Al-Sheikh in 2019. One of his first signings was current Liverpool striker, Darwin Núñez for over £13 million. That signing set the tone for the club's direction and last season they won the championship. No doubt his club's success served as a distraction for Mr Al-Sheikh from the rumours over the disappearance of his ex-wife, the Egyptian singer Amal Maher. Happily, Ms Maher resurfaced last month and reassured everyone that she'd been sick with COVID and nothing more sinister than that. Meanwhile in Madrid, Comunicadooficiale have been a bit thin on the ground at the Bernabeu this summer. So faronly Antonio Ruddier and Aurélien Tchouameni have been brought in to bolster their defence and midfield. I say "only" but both are excellent signings. Irrespective Los Blancos should be a decent bet to retain their title, assuming some of their ageing World Cup stars survive the dessert heat in November and especially if Barcelona can't get their new signings registered in time. The Champions kicked off their season early with a satisfying 2-0 win over Eintracht Frankfurt in the UEFA Supercup. TD



Whatever you watch, have a great weekend.