Weekend Boxset: Seconds in charge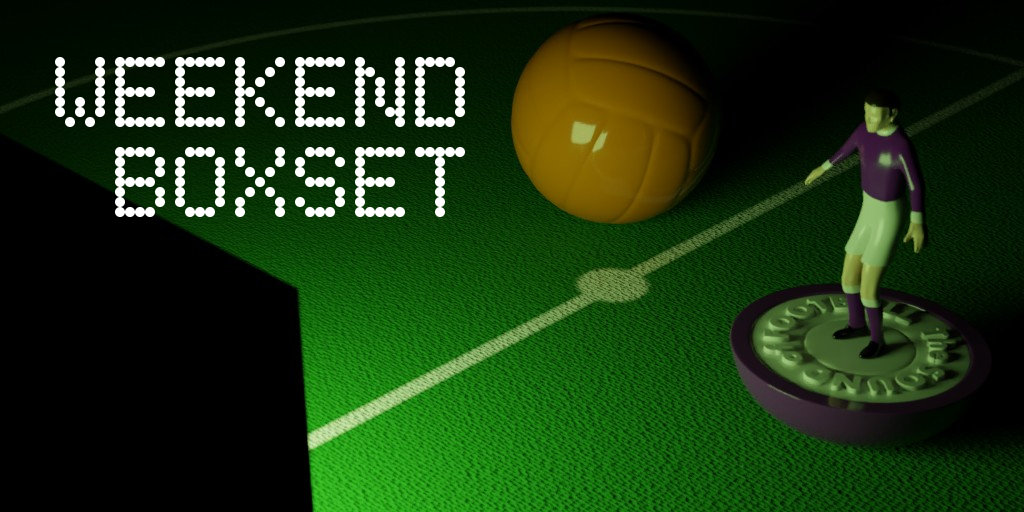 Will Conte and Tuchel avoid a touchline ban after last weekend's shenanigans, or will it be up to their assistants to provide the headlines?
Seven great matches to take you from Friday to Sunday. It's the Sound of Football Weekend Boxset.
Get the Weekend Boxset in an email every week
All times are UK (GMT+1)
Friday
Championship: Norwich City v Millwall
20.00 on Sky Sports Football
Norwich make a habit of bouncing back after relegation, they've done it six times since they first got to the top flight 50 years ago. They got their first win of the season against Huddersfield in midweek but can count themselves unlucky not to have taken more than a point from their first three games, creating 46 attempts on goal, but converting just twice. What will be a concern for Dean Smith is the fitness and form of his main striker Teemu Pukki. The 32-year-old Finn's last two seasons in the Championship have seen him score 56 goals but he's yet to get off the mark this season and missed the Huddersfield game with a foot injury that could yet keep him out of this one. Millwall have strengthened their attack in the summer, taking up their option to buy Benik Afobe after a season long loan from Stoke and a couple of intriguing signings from Europe. Andreas Vogslammer joins Millwall from Union Berlin and could make his debut here. The 32-year-old was a regular goalscorer for Armenia Bielfeld in Germany's second tier but struggled in the top flight. Joining him from Dutch side Fortuna Sittard is Zian Flemming, who's been given the number 10 shirt and has already been dubbed the
Bermondsey Bergkamp
. So more firepower for Millwall but do they even need it? Looking at a second defeat of the season in midweek, 2-0 down at 90 minutes at Swansea, two injury time own-goals saw them snatch the unlikeliest of draws. GS
Saturday
Premier League: Tottenham Hotspur v Wolverhampton Wanderers
12.30 on BT Sport 1
Antonio Conte expects to be on the touchline for this encounter despite receiving a post-match red card along with Thomas Tuchel, for their behaviour after the final whistle on Sunday. Conte accepted the charge from the FA on Monday and for him the matter is closed and we should all just draw a line under it. For some reason, that defence doesn't seem to wash as well as it used to. Spurs will certainly feel like they got more from that game than Chelsea did; snatching a draw with a big helping of dark arts and making the most of a questionable non-use of VAR. It's Wolves fifth consecutive season in the top flight - their best run for 40 years - and while they are still looking for their first win, there's nothing to suggest from their performances so far that they will struggle in this campaign. Wolves hope to clear Matheus Nunes' registration in time for this one having signed him from Sporting for a club record €50million yesterday. The 23-year-old midfielder led the way in stats for dribbles in last season's Liga Portugal and it's fair to say that for Matheus the future is looking Rosé. Get used to that one, it won't be the last time you hear it. Bruno Lage's side ran out 2-0 winners the last time they went to Spurs in February, during a run of poor results that threatened Conte's side's chances of European qualification. As was shown last weekend, they look to be made of sterner stuff now. GS
Bundesliga: Union Berlin v RB Leipzig
17.30 on Sky Sports Football
The Big One. It's rare to see a top Bundesliga clash between two clubs from the old German Democratic Republic. But being of the old East Germany is really the only thing that these philosophically and diametrically opposed clubs have in common. Union are a club that was almost literally built back by its fan base. They are principled and passionate evangelists of supporter ownership and in my opinion, have flourished because of that principle and not despite it. RB on the other hand exists primarily to promote Red Bull and regard their fans as customers. Union's squad, coached by Urs Fischer consists of underrated cut-price players and represents a totally different method of recruitment to RB's multi-national talent farm that has offices in New Jersey, Sogakope, São Paulo and of course Salzburg. I'll leave you to decide which has greater sporting merit and is more sustainable. So, there is more at stake than just three points and you can be sure that the politically engaged fan base at Stadion An der Alten Försterei will likely greet the opposition with insulting choreos and fireworks. This is a key battleground in the fight for football's soul and I encourage you to pick a side. TD
Primeira Liga: Porto v Sporting
20.30 on BT Sport 1
Last season's Liga Portugal champions, Porto, host Sporting who finished comfortable runners up, six points behind. Despite both clubs cashing in on talent over the summer (both have raked in a near €70m), they have replenished their respective sides and will, no doubt, both be there or thereabouts come the end of the campaign. Such is the way with Portuguese football; Liga Portugal is of a sufficiently high standard for players to showcase their talents, but sadly the fiscal fire-power of the bigger leagues often sees them move away. The latest of this crop is Sporting's Matheus Nunes who after scoring last time out against Rio Ave, has since left to join Wolves (see above). His former club will start out as the under-dogs tonight, having failed to match their opponents fine start with a draw and a win. To be fair, their draw came in a 3-3 thriller at the always excellent Braga, which left the team from the capital counting their blessings as VAR prevented them going down 4-3. Against any other opponent (save the other two 'big' sides) their lack of defensive solidity could be explained away as first match nerves, but Braga are a seriously good side and exposed Sporting regularly across the game. By contrast Porto have shown no such frailty. Their opening day 5-1 demolition of perennial mid-tablers Maritimo, saw the always impressive Iranian international, Mehdi Taremi bag a brace. If he's got his shooting boots on (which he usually has), it may be a long evening for Sporting. With Sporting having won only one of the last six meetings, I think it's clear which way this one is going. There's also the added spice that this fixture usually throws up a red card or two, so even if you're neutral, you'll be kept entertained. JB
Sunday
Premier League: Leeds United v Chelsea
14.00 on Sky Sports Premier League & Main Event
Despite the disappointment of the last-minute equaliser against Spurs in
The Battle of the Bridge 2
last Sunday, Chelsea have the basis of a cracking football team with committed players and a head-coach who is more confident than ever. During our brief discussion of the touchline antics during and after the match, in this week's pod, it occurred to me that Thomas Tuchel's performative antics are a sign of increased confidence in his own position. With the ownership uncertainty of last season over, Tuchel now believes that his place is secure. So, what better way to show it than to channel Mourinho and demonstrate a flagrant disregard of his technical area before engaging in handi-cuffs with his opposite number. It sounds silly when you say it out loud, but this is the kind of shit that alpha males just can't get enough of. Leeds United boss, Jesse Marsch, is himself no stranger to man-baby trash talk. Just ask Bruno Lage. The former RB Leipzig coach had some big shoes and an even bigger personality to fill after replacing the sainted Marcelo Bielsa. A bit of touch-line shenanigans can be an effective short cut. It's no substitute for good coaching and he said after the Southampton game last Saturday that there was a feeling that his team was moving in the right direction and for much of the game you could see why. But resilience against committed opponents is very much a thing in this here Premier League and Leeds will need this in spades against their visitors if they want to get anything from this one. TD
Premier League: Newcastle United v Manchester City
16.30 on Sky Sports Premier League & Main Event
We're almost at the end of the second transfer window since Newcastle changed ownership but their transformation into a new power in the Premier League looks more of a gradual building process rather than a spending spree. Half of their outfield players that started last weekend were in the starting line up when these sides met at St James's Park in December, when Eddie Howe had been in charge just over a month. Financial rules will keep the spending in check until Newcastle can start challenging for European places. Youth development expenses and investment into women's football are exempt from FFP (or FSR as it's known now), which is why both City and Chelsea have led the way in these areas in recent years. That's a long-play strategy and Newcastle will certainly follow the same path but it will need plenty of time. The match in December finished 4-0 to City but after the January window closed the Dirty Mags won seven of their eight remaining home games. Both sides have yet to concede a goal so far though their expected goals against stats (xGA) are a world apart. City's is a miserly 0.37 whereas Newcastle's is 1.84, most which were denied by the heroics of their newly signed goalkeeper Nick Pope in last week's 0-0 against Brighton. Most of the pre-match speculation is how to deal with Erling Haaland. He was almost shut out of last week's match against Bournemouth, touching the ball just eight times in the 74 minutes he was on the pitch - although one of those was an assist. Unfortunately for Bournemouth, while their plan worked to a point, it just left areas for De Bruyne and Gundogan to do what what they do. GS
La Liga: Real Sociedad v Barcelona
21.00 on ITV4, LaLigaTV & Premier Sports 1
In the nick of time, Barcelona registered four of their five players before last Friday's home game with Rayo Vallecano. Although Robert Lewandowski, Raphina and co would have prepared for the match it could not have been easy for head coach, Xavi, as he must have also had to prepare a different line-up if the club were unable to pull the necessary levers in time. This plus some dogged defending and high quality shithousery from the opponents explains the disappointing 0-0 score line. He may not have scored on his debut but Lewandowski's personal xG was 1.2, so I don't think anyone should be too concerned about his form. Except for the Real Sociedad coach Imanol Alguacil. His team played a patient match against a dogged Cadiz side last week and were rewarded with a 1-0 win thanks to their eye-catching forward Takefusa Kubo. Veteran winger David Silva is still a super little player and the Basque club, while very far from being title challengers, will be strong again this season, so Barca beware. If you're in the UK then you can benefit from free-to-air coverage of this match on ITV who struck a 10 game a season deal with La Liga. Sadly, acknowledged Spanish football specialist and friend of the pod, Jon Driscoll, won't be on commentary. But his fellow
La Liga Weekly
podcaster, Terry Gibson, will be the expert summarizer. TD
Whatever you watch, have a great weekend.